Over the past few years, we have analyzed 300+ businesses ranging from communications platforms like WhatsApp all the way to payment giants like PayPal.
While the reason why these companies are successful is certainly multifaceted, it cannot be denied that the business models they adopted have played a key role in their rise to prominence.
Take, for instance, the investment app Robinhood, which has upended traditional trading platforms by offering commission-free trading. The app's business model, largely based on payments for order flow, has been a key enabler of its success.
Masayoshi Son, founder of Softbank, reiterated the importance of adopting the correct business model. He stated that "money is available from investors as long as you have a great business model and a talented leader."
In this article, we list the more than 40 business models that are popular in 2023 and beyond. This list is, furthermore, consistently updated to reflect the business model developments we see across all industries.
But before we get started, let's set the stage and define what a business model actually is.
So, What The Heck Is a Business Model?
A business model describes how an organization plans to generate revenue. More precisely, it details what products or services a firm aims to sell, how it intends to market and distribute them, and what expenses it will incur in the process.
Those inputs then determine the profit that said company is expected to generate on an ongoing basis.
The term 'business model' first appeared in academia in 1957, yet remained scarcely used up until the late 1990s.
However, the turn of the century saw interest in the concept greatly accelerating. Both academics and authors (see graph below) repeatedly began to mention and dissect the concept in their writings.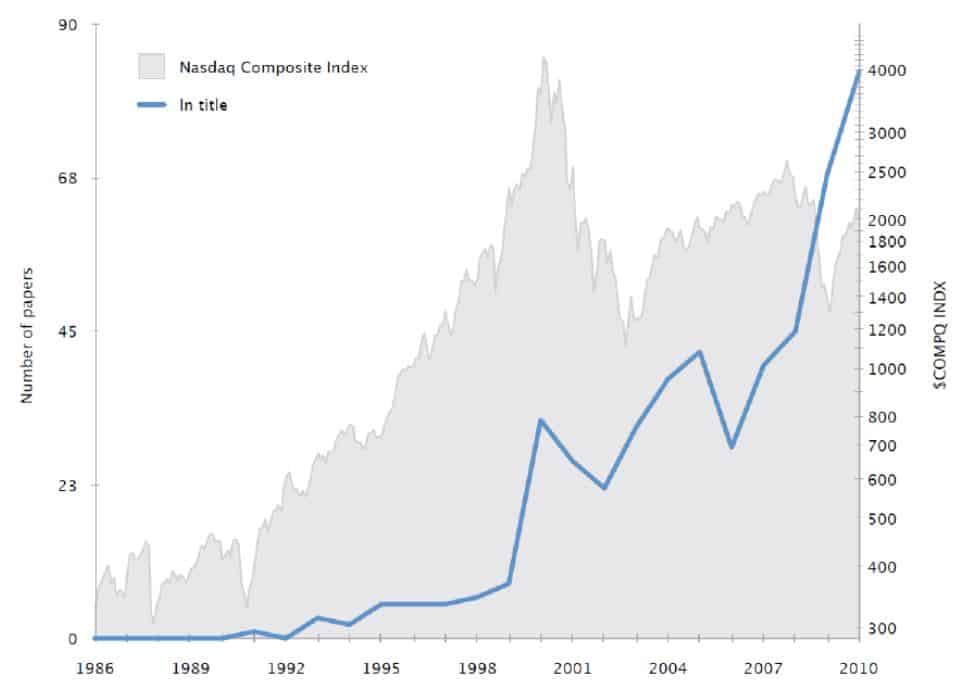 Numerous internet startups at the time, as writer Michael Lewis pointed out, utilized the term "to glorify all manner of half-baked plans" in an effort to distract from the fact that they were burning through cash left and right. The above-shown graph further underlines the symbiotic relationship between the business model concept and tech-enabled companies.
In fact, many founders used it to their advantage, thus allowing them to raise funding that their businesses didn't necessarily deserve. And since there wasn't any historic sales data to judge these companies on, telling a story as Lewis put it became their biggest strength.
But as the internet matured, so did the business models that organizations adopted. Many traditional firms, such as Disney (streaming) or Walmart (Plus), have partially adopted internet-based business model strategies as well.
Although a unified definition of business models is yet to be established, their importance simply cannot be denied.
Is There a Best Business Model?
To make a long story short: no, there is no best business model. Adopting a winning business model strategy is dependent on a variety of factors including (but not limited to):
The skills of the founding team
The capital requirements to get the business off the ground
The amount of capital at the founders' current disposal as well as their ability to attract additional funding
The competitiveness of the industry
The current and expected size of the market
The cost of acquiring and retaining customers
External factors such as the political climate, interest rates, technological advancements, and so forth
Current laws and regulations
The availability of skilled labor
The time it takes to get to market
Finding a problem worth solving
… and so much more. Traditionally, entrepreneurs have relied on frameworks, such as the Business Model Canvas, to devise winning strategies.
However, with the advent of the internet and associated services, such as cloud storage, no-code tools, collaboration platforms, ad-based promotion platforms, and so forth, this has become increasingly less relevant.
Detailed business plans have been replaced by the rapid testing and iteration of ideas, which have become the dominant form of business model validation among tech-based and many other startups.
It has to be noted, though, that not all industries fall under this premise. For instance, biotech firms or financial services are often subject to regulations that prohibit them from brute-forcing their way into markets.
For the rest, this has become the modus operandi. Eric Ries, author of The Lean Startup, popularized the concept of the Minimum Viable Product (MVP) – a term initially coined by Frank Robinson in 2001.
An MVP is a product with just enough features that can attract the first set of users. Instead of spending exorbitant amounts of cash on developing an idea, founders can get something off the ground in a quick manner and then reiterate based on the feedback they receive.
Lean startups are based on the Build-Measure-Learn (BML) feedback loop. Startups, if not obligated by law, should get a product out as soon as humanly possible.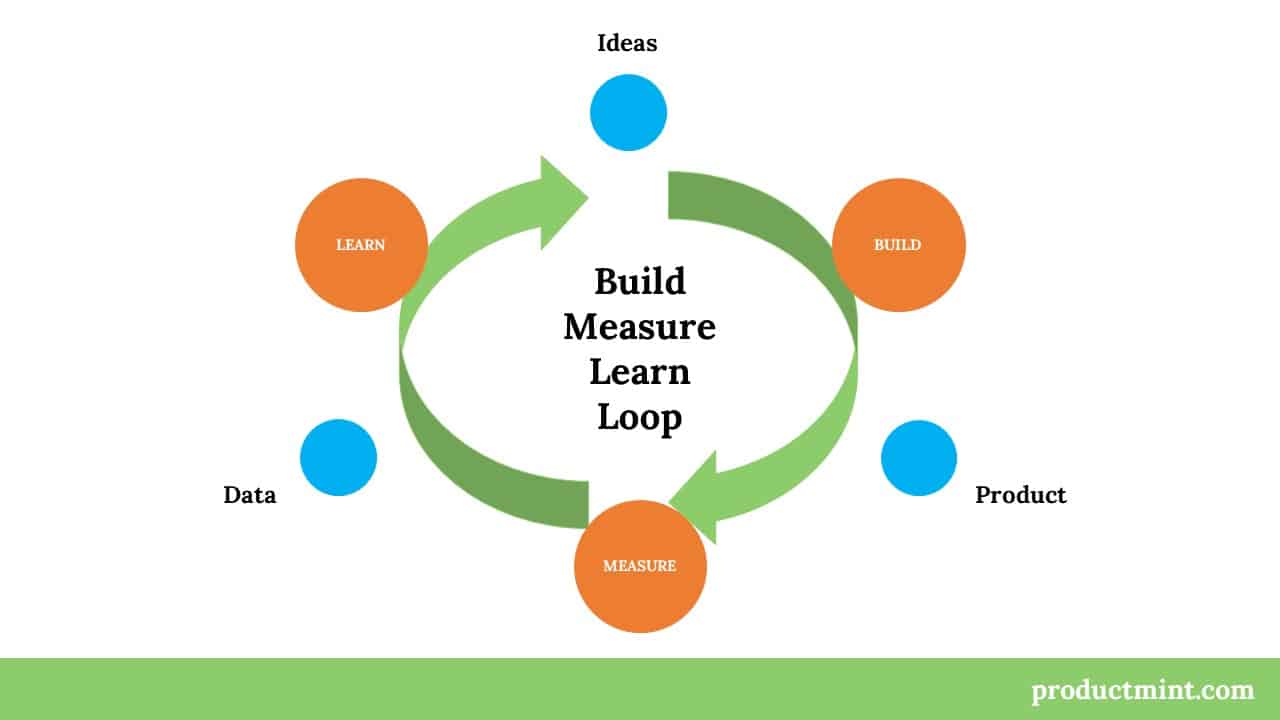 For example, Dropbox founder Drew Houston thought that people would appreciate a service that offered free hosting. Instead of building out an expensive product, he simply created a 90-second promotion video that described what the product would do. After receiving close to 10,000 signups in the first week or so, he had all the confirmation he needed that this is what people would want.
Once you release your product into the wild, it's time to measure its adoption, for instance by collecting data on user growth, usage time, bounce-off points, or simply by asking your users what they like and dislike.
At that point, founders should have enough data points to assess whether their idea has legs or not. If it doesn't, then it advised pivoting to a different idea altogether.
With that being said, let's take a deep dive into the 40+ business models that are currently dominating.
1. Advertising-Based Business Model
Advertising has been the main source of revenue for many media organizations, whether it's newspapers, TV stations, and radio networks. In fact, productmint itself derives most of its income from display advertising in an effort to keep content free to consume.
While the internet has decimated advertising revenues across traditional media companies, it has also led to the creation of some of the world's biggest companies such as Google or Facebook (now Meta).
Previously, advertisers lacked reliable data to assess how effective their campaigns on TV or in the newspaper were. Cookie-based technology and sometimes invasive data collection practices now allow advertisers to better target consumers based on characteristics such as their gender, age, location, and so forth. This has vastly improved their return on advertising spend (RoAS).
Advertising on the internet occurs through a variety of mediums. Examples include banner ads on websites, video ads before, after, or in-between content, and native ads that are shown on your social feed have become dominant forms of advertising.
The key to making the advertising model work is to drive huge volumes of eyeballs. After all, most companies that rely on advertising are compensated either when an ad is viewed or clicked on. Demographics and niche play a crucial role as well. For example, a financial ad aimed at American yields substantially more than one in the gaming niche tailored toward citizens in developing countries. This is because advertisers are willing to spend more in certain niches and demographics to acquire customers than they are in others.
2. Affiliate Business Model
Affiliates are companies or individuals that recommend a given product or service. They then receive a percentage-based or fixed commission if the customer ends up purchasing said recommendation. Therefore, affiliates either directly work together with the companies they recommend or join a so-called affiliate network, which aggregates offers on the firms' behalf.
One of the most prominent examples in the affiliate industry is Wirecutter, which publishes in-depth reviews on almost every product imaginable. Alternatively, YouTube influencers or bloggers have relied on affiliate income for ages as well.
Leading tech companies have adopted the affiliate model, too. Browser extension Honey receives a commission whenever customers redeem a coupon. Meanwhile, Credit Karma has revolutionized the once-questionable credit report industry by allowing consumers to compare financial products such as credit cards or auto loans.
Both Credit Karma and Honey have been acquired for billions of dollars each, thus proving how lucrative the model can potentially be. The single biggest advantage of the affiliate model is that it can be a very high-margin business once the company or influencer reaches the necessary scale.
However, affiliates will need to build up the necessary trust and engagement with their audience, for example by only recommending reputable products and services or conducting in-depth reviews.
The detailed case study on affiliate business models can be found here.
3. Arbitrage Business Model
An arbitrage business essentially acquires discounted products or services only to sell them for a profit later on. Arbitrage businesses can be found in all types of industries including retail, finance, and even consulting.
For instance, FTX founder Sam Bankman-Fried, before starting the exchange, famously purchased bitcoin on US-based exchanges and resold them for a profit on Japanese exchanges. As seen with this example, the key to operating a successful arbitrage business is taking advantage of information asymmetry, meaning you have access to exclusive data and deals that other parties don't possess.
While profits are often only limited by your ability to sell, the model becomes obsolete when too many parties gain access to your unique insight. Arbitrage businesses tend to not possess many competitive moats, which means they're almost solely competing on price.
4. Aggregator Business Model
In essence, aggregators collect information from a wide variety of sources and make it digestible and consumable to consumers. The clearest example of an aggregator is a search engine like Google, which scrapes the very messy web and arranges information based on a customer's query.
Therefore, any industry that is subject to complexity and vastness of choice is ripe for disruption by aggregators. Airlines work together with aggregators like Skyscanner and restaurants or other venues are normally to be found on Yelp.
Customer demand can then be monetized in a variety of ways. For instance, aggregators generate revenue from clicks (CPC), facilitating sales (CPA), sponsored placements, and by selling access to aggregated data.
And since the marginal cost of distribution over the internet is nearly zero, aggregators can potentially be very profitable. The most powerful ones are even able to amass pricing power as partners become reliant on their traffic.
On the other side, many aggregators are now subject to gatekeepers, more precisely Google. Platforms like Booking, Expedia, and trivago now have to spend billions in advertising to compete against Google's own products.
Our detailed description of the aggregator business model can be found here.
5. Auction-Based Business Model
In an auction, a product or service is sold to the highest bidder. While auctions are a tale as old as time, they have certainly been brought to a worldwide audience with the launch of eBay in the mid-1990s.
Ever since, various companies such as DealDash, BidSpotter, and Sotheby's have all introduced auctions for different types of industries and customers. In most cases, platforms simply collect a commission for every successful auction that they host.
The biggest challenge to establishing a successful auctioning platform is gaining access to valuable goods and services. Consequently, sellers will need to be provided with certainties that their auctions will fetch a satisfying return.
Auctions themselves can be conducted in a variety of ways. The most common method is an open auction where participants bid openly. Descending auctions start with a high asking price, which is lowered until someone is willing to pay the ask. Lastly, sealed auctions allow participants to submit closed bids. Bids are opened at the end and whoever has the highest wins that auction.
6. Bundling Business Model
Bundling is the act of packaging multiple individual products and selling them as one offering. Customers normally have to pay a lower price for the bundle than if they were to purchase each product individually.
While physical businesses can utilize the strategy, it is most commonly seen among tech companies like Apple or Microsoft. The phone manufacturer offers its One subscription, which entails products such as Apple Music, Apple TV+, Apple Arcade, iCloud+, and more.
Bundling digital products makes sense because the cost of distribution is essentially zero. Both Apple (via its devices) and Microsoft (through Windows) possess a direct gateway to consumers, thus allowing them to heavily market their bundles – sometimes at the cost of competitors. They also have the necessary cash cushion to take a loss on the bundle until it becomes ubiquitous.
However, bundling only works if each of the products in the bundle has some sort of perceived value. Companies can then simply add additional products to that bundle and jack up the price as adoption progresses.
7. Buy Now, Pay Later Business Model
Buy Now, Pay Later (BNPL) companies offer financing to either consumers or businesses by allowing them to pay over multiple installments. The business model innovation comes from not imposing excessive fees on consumers (looking at you credit card and payday loan companies) but offering those services mostly for free. They also don't affect a consumer's credit score.
Instead, it is normally the merchants that are footing the bill by paying a small percentage-based fee for every transaction. BNPL companies normally minimize risk by booting off consumers from their service if they fail to make a payment as well as by heavily limiting the amount of money they can borrow.
Klarna, which was the first large-scale BNPL provider, is most certainly the leading company in the industry, followed by the likes of Affirm and Afterpay. Even mobile giant Apple has come out with a BNPL solution.
Apart from merchant fees, BNPL firms also generate income from late payment fees, interest charged to consumers (Affirm), interchange fees from their own credit cards, and advertising via their shopping apps.
It has to be noted, though, that the sector has faced criticism from public officials and consumer advocacy groups alike. They lament that BNPL firms encourage reckless financial behavior and push customers further into debt.
8. Circular (Economy) Business Model
The effects of climate change are undeniable at this point. Companies have since responded by adopting their business models in an effort to cut waste and minimize emissions. Those business models are adopted in the physical world where emissions and waste are created.
For example, Finland-based Swappie has raised close to $170 million to sell refurbished iPhones to consumers. Meanwhile, fashion resale platforms like treet or Vinted encourage people to purchase used fashion items instead of heading to the store.
Established companies themselves have adopted circular services as well. Patagonia, for example, allows you to send in damaged clothing to be repaired. It also launched the Common Threads Initiative back in 2011, which enables customers to purchase already-used items.
While recycling, repair, and reusing have existed for millennia, the internet has certainly enabled consumers to better coordinate with each other. As a result, sharing has become another way through which the strain on the environment is reduced. London-based OLIO, for instance, allows members to share excess food and unused household items with their neighbors.
Although circular companies are not monetizing consumers in any new way, the business model innovation comes from where the value is captured. Businesses have traditionally ignored the second-hand/used market as the cost of recycling/refurbishing was simply too high while consumer demand wasn't there, to begin with. Circular businesses have essentially extended that value capture from the point-of-sale to after the point-of-use.
9. Classifieds Business Model
Newspapers used to make tens of billions of dollars every year from classifieds, which are a specific form of advertising. Businesses and people would pay the newspaper or magazine a fixed fee to appear on their printed pages.
While physical newspapers have since been rendered essentially irrelevant, online classifieds businesses have taken their place. Certainly, the most prominent of the bunch is Craigslist, which has largely remained unchanged in the 25+ years since it was launched. Other prominent players in the space include Adevinta, which acquired eBay's classifieds group, and OLX.
Classifieds businesses normally make money by charging a fee to upload listings in high-value categories like real estate or automotive. Some also receive a commission whenever a sale is facilitated through the platform (= affiliate) or by allowing users to advertise on their platforms.
Unlike physical newspapers, which incur cost on each print and the subsequent distribution, classifieds platforms benefit from near-zero marginal cost since distribution over the internet is essentially free. Network effects, as seen with Craigslist, also make it substantially tougher to disrupt established sites.
10. Cost Leadership Business Model
A company following a cost leadership strategy is able to provide products or services at a comparatively lower price without compromising on quality. Harvard professor Michael Porter first identified cost leadership as one of three competitive strategies that organizations use to set themselves apart from the rest.
Retailers like ALDI and Walmart have successfully used cost leadership to differentiate themselves from the pack. To be a cost leader, companies need to reach scale, which in turn grants them bargaining power to keep the cost of acquisition low.
As a result, cost leaders need to drive massive sales volumes because the margin on each sale is extremely low. Point in case: Walmart, with $560 billion in annual revenue (2021), 'only' generated $25.8 billion in profits.
11. Crowdsourcing Business Model
Crowdsourcing companies are normally intermediaries that enable their members to source funds or other valuable items and knowledge/skills from users. Wired editors Jeff Howe and Mark Robinson first coined the term in a blog post back in 2006.
By far the most popular example of a crowdsourcing business is Wikipedia, which sources information from independent editors. When it comes to getting an idea funded, innovators normally turn to Kickstarter or Indiegogo. And sourcing funds for noble causes can be done via GoFundMe.
While Wikipedia mostly relies on donations, most other crowdsourcing platforms simply take a percentage-based fee from the amount of money that was raised. That fee is normally paid by the person receiving those funds.
There are a variety of benefits to operating a crowdsourcing platform. First of all, they are highly scalable because the cost of onboarding a new user is essentially zero. Additionally, many have viral loops built into them, namely by having their projects or donations shared across the web (see here or here).
12. Data-as-a-Service (DaaS) Business Model
At this point you're probably sick and tired of hearing that data is the new oil, which just means that both the common public and companies themselves have realized how valuable it actually is.
In essence, the DaaS business model is predicated on you collecting valuable data, cleaning it up, and making it digestible for consumption. Companies then either charge a one-time or recurring fee based on the amount and type of data that's being made available.
One of the most striking examples of the model's viability is CB Insights, which collects data on company valuations, financing, earnings, patent filings, and so forth. Customers can then access that data via a proprietary platform or through CB Insights' own reports.
User-driven platforms have also gone on to sell the data their users generate. Running community Strava, for example, sells aggregated user data to urban planners and municipalities to enable cities to create better pathways for runners and bikers.
13. Direct-to-Consumer Business Model
Direct-to-consumer (DTC) businesses sell directly to consumers instead of distributing their items via wholesale middlemen. As a result, DTC brands normally sell over the internet and don't rely on retailers or brick-and-mortar stores for distribution.
The DTC model has been amplified by a few developments. First, business owners can quickly set up online shops via online platforms like Shopify. They also don't need to use expensive distribution channels like TV ads but can instead test and promote products via ads on Facebook, Instagram, TikTok, and other social platforms. Sourcing products from countries like China has also become substantially easier.
Lastly, thanks to Amazon, PayPal, and other platforms, consumers have become much more comfortable paying and ordering items online.
Multi-billion-dollar brands like Allbirds, Gymshark, and Warby Parker have since emerged. Even car manufacturer Tesla has decided to forgo dealerships and mostly sells its cars online. Interestingly, some of them have since become so popular that they began to open retail locations of their own.
Those DTC brands that continue to rely on online distribution normally profit from greater margins (because they do not need to rent store space and hire employees to run them), richness of data (as user engagement can be tracked across acquisition channels), and the ability to serve customers much faster (as items don't need to be sent to the store first).
14. Dropshipping Business Model
Dropshipping businesses do not hold inventory. Instead, they partner with third-party services (like Amazon FBA or AliExpress) that handle shipping and warehousing on their behalf. The goods are purchased from wholesalers or manufacturers.
The dropshipping business essentially acts as a middleman between the consumer and the supplier of the goods. As such, the key to making the model work is the owner's ability to identify winning products, find suitable suppliers, and market the offers accordingly.
Since the dropshipper does not hold any inventory, the risk is fairly minimal while the operation itself can be run from any location. The business can, furthermore, be scaled as demand grows.
However, due to the simplicity of the model, copycats are a dime a dozen. Additionally, some payment providers may not be comfortable accepting funds on behalf of dropshipping companies (since the owner likely never saw or touched the product, thus posing potential dangers to consumers).
15. EdTech Business Model
EdTech businesses are companies that utilize technology to deliver educational content across the web. The business model innovation comes from democratizing access to high-quality education that has traditionally been reserved for students of renowned institutions like Harvard.
One of the most prominent examples in the space is Coursera, which offers thousands of courses from organizations such as Google or Stanford. Peer-to-peer models like MasterClass or Udemy source knowledge from top-class performers in their respective fields. Even language learning has been disrupted by offering free classes via sites like Duolingo. Lastly, platforms like Udacity promise to upskill employees in relevant fields such as data science.
The EdTech model is in stark contrast to what many renowned universities have decided to do, which is to act like luxury brands that artificially restrict access. Many EdTech platforms offer nearly unlimited scalability (if classes are not accommodated by supervisors), on top of delivering content at a fraction of the cost of traditional university programs.
Challenges remain, though. First of all, platforms need to be able to attract and retain world-class instructors. Furthermore, they need to ensure that the experience is challenging enough while still keeping students engaged.
16. FinTech Business Model
Much like the above-mentioned EdTech business model, FinTech represents an important category across a variety of industries such as banking, credit scoring, investing, loans, and so forth.
For example, instead of relying on traditional banks, consumers are increasingly using so-called neobanks like Chime, which solely operate online. Payments can now be sent at no cost via P2P services such as Venmo. Meanwhile, Robinhood has revolutionized the world of trading by allowing consumers to purchase stocks free of charge.
Interestingly, many of those companies still rely on traditional revenue streams such as interest from management fees, cash deposits, interchange fees, and so forth. The true innovation often comes from offering services at a fraction of the cost.
Nevertheless, the FinTech (or more specifically financial) industry comes with a set of limitations. More specifically, the regulatory cost of setting up the business as well as the need for hiring skilled labor often requires founders to raise outside funding to get a service established.
We did a pretty detailed study on the FinTech model and its history, which you can find here.
17. Franchise Business Model
Franchises are contractual arrangements between a large brand, known as the franchisor, and an independent entrepreneur (franchisee). The franchisee pays various fees in exchange for being able to access the franchisor's brand, intellectual and sometimes physical property, supplier relationships, intellectual property, and more.
Franchises are most commonly found in the food and retail industry. The most dominant players in the space are McDonald's, 7-Eleven, Burger King, Subway, KFC, Wendy's, and Dunkin' Donuts. However, other industries also boast dominant franchisors such as Hilton Hotels or Coca-Cola, which invests in local bottling and manufacturing companies that produce drinks on its behalf.
The franchisor dictates the terms of the operating relationship, meaning franchisees have to create a unified customer experience that is similar to other branches. For example, when McDonald's introduces a new burger, then all franchisees have to introduce said product.
Franchisees normally pay an upfront fee to set up the business. Additionally, they have to share a percentage of their profits with the franchisor. In exchange, franchisees benefit from the franchisor's brand recognition, receive operational and financial guidance, get to access proprietary technology and supplier relationships (and sometimes can tap into a network of other franchisees to share best practices), can tap into an existing and loyal customer base, and generally need less time to get the business running.
Franchisors, on the other hand, can grow their business substantially faster because most of the groundwork is being conducted by franchisees. However, some franchisors like Subway have also abused their market power to establish highly unfavorable terms in an effort to squeeze out even more revenue.
18. Freemium Business Model
A company that relies on the freemium model offers its products at no cost. If users want a more sophisticated experience, they can pay for premium features, which is how freemium-based normally businesses make money.
Venture capitalist Fred Wilson first coined the term in a blog post back in 2006. A diverse set of businesses, whether it's in gaming, cloud storage, social, music, and education have since emerged.
The single biggest advantage to the freemium model is that growth, because of the free nature of the product, is much easier to come by. Users then act as a quasi-marketing channel by recommending the product to their friends and family.
Another big perk is the fact that freemium businesses can be monetized in a variety of ways. Companies can charge for access to premium features, display advertising, offer merchandise, and monetize (hopefully anonymized) user data.
However, depending on the vertical, freemium businesses may also be hard to monetize and take a long time to amass the necessary number of users to be profitable. For example, 'only' around a fourth of all Spotify users pay for its premium subscription while the number is likely much lower for music platforms like SoundCloud.
Check out our detailed description of the freemium model here.
19. iBuyer Business Model
An iBuyer (short for Instant Buyer) is a real estate company that uses technology to make almost immediate cash offers for homes. Those homes are then hopefully flipped for a profit if no refurbishment is required.
To maximize profits, iBuyers tend to invest in properties that have a large pool of comparable data points. Common property characteristics are single-family homes located in suburban areas, built after 1960, valued between $125,000 and $500,000, all while not possessing any major damages.
The iBuyer industry was initially popularized by Opendoor. Copycats like Offerpad or Knock have since emerged. There is great financial risk baked into the iBuyer model as well. Real estate technology platform Zillow had to shut down its iBuying division just two years after launching it while incurring billions of dollars in losses.
As a result, companies need to raise hundreds of millions of dollars to make the model work to properly train their home assessment algorithms, build up a sufficient supply in each location, and hire both real estate and technology experts alike.
Check out our detailed guide on iBuyers here.
20. Leasing Business Model
Firms can generate revenue through leasing by renting out goods and services for a limited period of time. Customers, also called lessees, pay a fee for the duration of the leasing period.
Leasing occurs on both the B2C and B2B sides. Car rental companies like Hertz are the most commonly seen examples. Businesses, on the other hand, can rent expensive production equipment, containers, and even chemicals.
Interestingly, startups and tech companies have now entered the leasing space as well. For example, computer manufacturer Dell allows businesses to lease their laptops while California-based startup Fernish allows you to rent furniture for a limited time.
The cost of acquiring and maintaining the products that one leases out makes this an endeavor most suitable for established businesses. They often can acquire those products at scale, which means that the per-unit cost is substantially lower and thus allows them to break even much faster on the investment.
21. Licensing Business Model
Companies (called licensors) can generate revenue from licensing copyrighted or patented material to other individuals and businesses. A licensing fee (or royalty) is paid whenever the licensee utilizes said material. Licensing most commonly takes place in the fields of content as well as technology.
Getty Images, for example, receives a royalty fee whenever you use one of their images. Similarly, sports leagues like the NBA make money whenever apparel vendors or video game creators use the likeness of one of their players or teams.
Technology companies can also derive significant revenue from patent licensing. For decades, IBM has generated over $1 billion in licensing revenue alone. Big tech companies like Apple, Google, Intel, Meta, and others offer employees and researchers thousands of dollars to call those patents their own.
While licensing revenue can certainly be very lucrative, it normally requires a lot of upfront investment to amortize. Companies sometimes spend billions of dollars to acquire IP or build up internal R&D departments – not always with certainty of appropriate returns.
22. Long-Tail Business Model
Businesses focusing on the long tail sell small quantities of many different (niche) products instead of distributing large quantities of a selected few. Therefore, the key to making the strategy work is to feature the greatest variety of goods possible.
For example, focusing on the long tail is what allowed Amazon to generate hundreds of millions in revenue within a few years of launching. Back then, customers had to spend ludicrous amounts of money and wait for weeks to have niche books delivered by local bookstores. Since Amazon wasn't limited by store space, it could store a much greater variety of books and ship significantly faster and cheaper.
Satisfying niche demand normally allows companies to generate greater margins on a per-unit basis because of lower competition and thus significantly fewer marketing dollars being spent. Customers also tend to be more loyal since they know that almost any demand they have can be satisfied.
However, scale and product variety are the names of the game here. Since the business will likely only sell a few units of every item, it needs to make up for the comparatively low demand by creating a rich catalog. Reaching that scale, as seen with Amazon, can be quite a costly endeavor.
23. Loss Leader Business Model
Loss leader pricing is a strategy in which a firm sells a product that it turns a loss on in hopes of upselling the customer into other (more profitable) offerings.
For instance, supermarket chains like Walmart promote heavily discounted offers to lure customers into their stores. Cable and credit card companies may utilize temporary introductory pricing to create a customer lock-in. And in other instances, brands simply hand out free samples to get consumers acquainted with the product.
However, pricing needs to be in alignment with the company's overall strategy. Offering heavily discounted products would be detrimental to more upscale brands like Apple or luxury brands like Gucci.
Establishing a loss-leading pricing strategy can be particularly useful to break into markets dominated by monopolistic incumbents. Businesses need to be aware of so-called cherry pickers, though. These are consumers who only hunt for deals and never go for full-price items.
24. Market Maker Business Model
Market makers are normally found in the financial world where they act as intermediaries between the market participants, namely the buyer and seller. Nearly all modern-day market makers are automated, meaning trades are executed algorithmically and without any human involvement.
Trading platforms like E*Trade work together with external market makers who provide liquidity to participants. Meanwhile, exchanges like Binance, which have accrued sufficient buy- and sell-side demand, can act as market makers themselves.
Consequently, the market maker turns a profit on the bid-ask spread, that is the difference between the price a given security was purchased and then sold for (to a different trader). The bid-ask spread is normally so minuscule that market makers rely on algorithmic trading to execute thousands of trades at any given second.
However, not everyone can become a market maker. In the United States, for example, one needs to get approved by the Securities and Exchange Commission (SEC). The type of regulations they fall under will ultimately depend on the securities that they trade.
25. Marketplace Business Model
Online marketplaces connect buyers and sellers on a proprietary and centralized platform. While vertical marketplaces focus on one category (e.g., clothing and houses), horizontal ones sell products across different domains (eBay, for instance).
In order to create a thriving marketplace, one needs to create enough liquidity, meaning any given customer query can be satisfied at the time it arises. Marketplaces thus need to solve the chicken-and-egg problem, which requires them to either focus on the demand or supply side.
Consequently, the more sellers you can attract, the greater value you can provide to your customers. A higher value leads to more buyers, which in turn increases the value for sellers.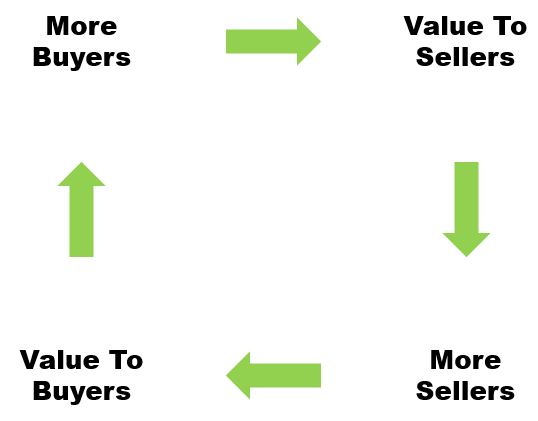 The biggest advantage of the marketplace model is its defensibility. Once the network is built, users will most likely stick to the platform. Marketplaces can then monetize their user base in a variety of ways, for instance through commissions, advertising, subscriptions, selling access to data, and so forth.
Marketplaces ensure a satisfying user experience by including ratings, authenticating products, services and sometimes even users, utilizing artificial intelligence for product assortment and discovery, adding moderation and customer support, training sellers, and more.
Check out our detailed study on online marketplaces here.
26. Multilevel Marketing Business Model
Multilevel marketing (MLM) businesses (also called network marketing) are organized in a hierarchical structure where existing members are incentivized to attract new ones. Members in the network then receive a percentage of the sales that their recruitees generate.
Although MLM companies are perfectly legal, there are various examples where their ethics can be questioned. These setups, dubbed pyramid schemes, rely on the promise of unrealistic returns. While early investors normally generate the bulk of returns, members in the lower levels end up footing the bill, oftentimes losing thousands of dollars in the process.
Luckily, there are plenty of companies that remain ethical. Firms like Amway and Herbalife rely on a hierarchical sales workforce to distribute their products, which bring in billions of dollars in revenue on an annual basis. Nevertheless, even these businesses do attract scrutiny. Amway, in 2010, paid a $56 million fine to settle a class-action lawsuit that alleged it was operating as a pyramid scheme.
Whether we are talking about MLMs or pyramid schemes – the guys on top of the hierarchy are normally the ones that benefit the most. And the company itself benefits from an engaged workforce, which is financially incentivized to sell its products.
27. On-Demand / Rapid Delivery Business Model
Delivering goods on demand isn't particularly novel. During the dot-com era, Webvan tried to establish the world's first internet-powered grocery delivery company but went bankrupt within 3 years after its cost base ballooned to fatal levels.
The proliferation of smartphones has since led to the emergence of various on-demand services. DoorDash and Uber Eats allow you to order from restaurants nearby while Instacart does the same for groceries. Services like Getir and GoPuff have taken this up a notch by using their own warehouses to deliver essentials and other goods to consumers.
Many of those firms continue to burn through cash and are thus reliant on venture funding. It remains to be seen whether reaching scale, for instance through mergers, allows these services to reach profitability.
Apart from the steep capital requirements, potential downsides also include the comparatively low margins and competitive nature of the industry. For example, retail chain Target acquired the delivery service Shipt back in 2017. Meanwhile, Walmart can leverage its existing network of stores to offer grocery delivery, which it does via its premium subscription.
You can find our deep dive into the food delivery business model here.
28. Open-Source Business Model
Open-source businesses are enhanced and maintained by a group of developers, which collectively and simultaneously contribute to a given project. The openness aspect comes from the source code being available for anyone to read and contribute towards.
World-renowned companies such as Android, MongoDB, Mozilla, and Databricks rely on open-source standards. Companies like GitHub, which provide the picks and shovels, have amassed multi-billion-dollar valuations themselves.
While freely accessible in nature, most commercially successful open-source projects are still led by a single entity. Those businesses monetize their open-source projects in a variety of ways.
RedHat offers services around its products, Mozilla (vis-à-vis Firefox) charges licensing fees to search engines, Android takes fees as an intermediary from the app store, MongoDB charges usage-based fees on hosting, and GitHub offers a premium subscription.
29. Peer-to-Peer Business Model
Although peer-to-peer (P2P) models are structurally similar to marketplaces, one key differentiator is that they have individuals and not businesses (or firms and customers) interact with each other. The platform thereby acts as an intermediary that connects the person offering a product or service with customers willing to pay for those offerings.
Ridesharing platforms like Lyft or Uber remain some of the purest examples of P2P services. Meanwhile, platforms like TaskRabbit or Thumbtack connect service professionals with people in need. You can also get rid of your old clothing through sites like Vinted or even temporarily rent out your vehicle to someone else on Turo.
Marketplace dynamics, namely ensuring sufficient liquidity, remain key. And once network effects kick in, P2P platforms often benefit from user-led and sometimes even viral growth loops. Monetization can then occur in a variety of ways, namely by charging a commission, through value-added services like fulfillment or premium features, and by allowing participants to advertise on the platform.
However, the P2P economy in particular continues to navigate murky legal waters. The classification of employment, especially in the case of on-demand platforms like DoorDash or Uber, remains an unanswered question to this day.
30. Platform Business Model
Platforms promote the interaction between large numbers of users, namely consumers and producers. Those interactions can be multifaceted and entail things such as quick payments or even continuous social exchanges. The platform itself is therefore responsible for governing its ecosystem and setting boundaries for how those transactions are to be conducted.
Some of the world's largest companies now operate under a platform business model. Apple, for instance, has created a platform around its hardware products (iPhone, iPad, Watch). It then layered various services, such as the Apple Store, Apple Pay, Arcade, iCloud, and many more, on top of that ecosystem. Each of those services then generate income via transaction fees, subscriptions, and so forth.
Most platforms, often under the auspices of privacy and security, have created enclosed ecosystems. As a result, they can act as gatekeepers and determine what is and what isn't acceptable behavior.
Platforms, once they have amassed network effects, are extremely hard to disrupt. This is also the reason why regulators across the globe have grown increasingly wary of their power while working on laws on how to combat their invasive reach.
31. Play-To-Earn Business Model
Play-to-earn games allow users to earn digital assets, namely cryptocurrencies and NFTs, for playing blockchain-based games. Generally speaking, players can earn tokens by completing tasks, winning tournaments, staking, lending their assets to other players (within so-called guilds), and simply flipping them for a profit.
Released by Dapper Labs back in 2017, Cryptokitties became the first commercially successful play-to-earn game. Games like Axie Infinity have since taken it up a notch by allowing players to form guilds. While Axie resembles Pokémon-like game mechanics, titles like Decentraland or The Sandbox try to build all-encompassing virtual worlds. Lastly, the real world is being replicated by games such as NBA Top Shot (also run by Dapper Labs) and Sorare, which enable players to trade tokenized cards of athletes and utilize them in tournaments to earn additional income.
Challenges remain, though. The value of a token can plummet rapidly if players decide to abandon the game. Questions remain about whether players are truly engaged or just access games for the sake of earning money.
Furthermore, publishers do need to not only create engaging experiences but also monitor the game's internal economy. An oversupply of tokens could lead to a substantial decrease in the price of a currency.
On the other hand, the issuance of tokens does provide developers with greater financial leeway. Players owning those tokens are also more engaged as they bank on an increase in value. Additionally, many games like Axie Infinity are partially moderated by DAOs, thus boosting the sense of ownership players have.
32. Razor and Blades Business Model
The razor and blades model, sometimes also called the bait and hook model, leads companies to turn a profit by selling add-ons to an existing product line. It was popularized by razor blade manufacturer Gillette (hence the name), which made most of its money by selling replacement blades. Its razor handles would essentially be handed out for free.
Modern-day businesses continue to adopt the strategy as well. Sony, for instance, sold most of its PlayStation models at a loss while turning a profit on fees from games sales (this has changed for the PS5, though). Similarly, Nespresso loses money on its coffee machines while making money on the pods.
As seen with these examples, the razor and blades model does require significant upfront investments as well as the willingness to sustain losses for a long time. However, the model does create great lock-in effects as customers are keen on recouping their initial investment.
33. Service-Based Business Model
A service-based business, as the name suggests, collects money in exchange for a service that a company or an individual provides. Service businesses are mostly compensated on a per-hour or fixed fee basis.
Almost any company function, whether it's product design or customer service, can be turned into a service-based business. In fact, companies like Accenture, Deloitte, McKinsey, and Ernst & Young have created multi-billion-dollar businesses around the services they provide.
Some businesses also choose to productize their services, meaning that they create software around certain processes, which they then sell on top of their human manpower. For example, tech giants like Microsoft, Oracle, and Salesforce not only charge companies for access to their products but also require them to pay for the implementation and maintenance of the software.
Obviously, the biggest limitations to the service business model are scalability (as you need trained humans to perform that service) and, depending on the type of service, low barriers to entry, thus making certain markets highly competitive.
34. Sponsorship Business Model
Sponsorships are a sub-category of advertising in which companies and individuals receive a fee for (actively) promoting another brand. A brand normally sponsors someone else in hopes of raising awareness for its own products and services.
Your favorite sports team likely derives a majority of its revenue from sponsorship deals in their stadium or on jerseys. The proliferation of the internet has now allowed individuals, commonly referred to as influencers, to generate substantial revenue from sponsorships.
In fact, there's a whole ecosystem that has been built around sponsoring other people. Platforms like Buy Me A Coffee or Patreon allow fans to sponsor their favorite creators. Even adult content creators can now make a great living via services like OnlyFans.
To derive substantial income from sponsorships, companies and influencers need to have enough dedicated and thus engaged followers. While earning potential is ultimately dependent on the niche, income does tend to increase proportional to the number of eyeballs and clicks an influencer can generate.
35. Subscription Business Model
Subscriptions have now become a commonality among many tech businesses. They are not necessarily a revolutionary business model, though. Customers have paid for more traditional subscriptions like gym memberships or electricity bills for decades.
Today, all kinds of companies, ranging from streaming platforms all the way to software providers are monetizing their products via subscriptions. Subscriptions are normally paid on a monthly or yearly basis, with the latter granting customers access to a discounted rate.
The subscription-based business model offers a variety of benefits, namely predictable revenues (especially if customers pay on an annual basis), greater lock-in effects (particularly true for B2B software companies), higher customer loyalty, and thus lower churn.
However, especially consumer-facing subscriptions, which can often be canceled at any time, require a service to constantly provide value. Netflix, for example, both lost and gained millions of subscribers in 2022 due to the varying quality of its releases.
Our detailed guide on the subscription business model can be found here.
36. Super App Business Model
The concept of super apps first originated in China where companies like Alipay and WeChat have revolutionized the consumer market. Super apps essentially combine multiple products and services into one single application.
In the case of WeChat, which is owned and operated by tech giant Tencent, users can chat with each other (duh!), order groceries, hail cabs, purchase movie tickets, and even invest in stocks. Due to their proximity to China, super apps continue to be popular across Asia. Examples include Grab (Singapore), Gojek (Indonesia), and Paytm (India), among others.
In recent times, Western companies have begun to create super apps of their own as well. Uber is currently testing the concept in the U.K. while Block's Cash App is aiming to create one for the financial sector.
Super apps are not only extremely costly to build but also require strong network effects to be a viable business model (similar to marketplaces, which super apps technically are as well). Yet, once those network effects are established, the business becomes extremely hard to disrupt. Moreover, super apps benefit from substantially lower customer acquisition costs because they can direct their existing user base toward any new offering they launch.
Our case study on super apps can be found here.
37. Sweepstakes Business Model
Sweepstakes allow consumers to enter contests in which they can win prizes such as cash, items, and experiences. The most common ones are bingo, lottery, or raffle games, which, depending on the country of operation, may require licenses to be operated.
Interestingly, startups have begun to utilize sweepstakes as a quasi-marketing channel. Neobank Yotta hosts weekly sweepstakes that encourage users to save money. Omaze hands prizes such as cars or houses in exchange for facilitating donations on behalf of an organization such as the Red Cross.
Many of those companies utilize sweepstakes to grow awareness for their products. Many of them have viral loops built into them, namely members sharing their prizes with the public and news outlets who pick on those stories:
The biggest challenge, apart from legal hurdles, is to create enticing enough offers for customers to participate in. Donation-based sweepstake platforms like CharityBuzz solved this by partnering with celebrities who get to promote noble causes of their own choice.
38. Three-Sided Online Marketplace
A three-sided marketplace, as the name suggests, does not connect to parties (like the one I mentioned in #27).
One powerful example I recently covered is Headway, which connects patients with not just therapists but also health care providers. And it solves a huge pain point for the latter two with the help of software, which actually enables therapists to accept insurance claims (feel free to check out the case study for more detail).
By connecting three separate entities, those marketplaces can thus create even greater moats. After all, you are often building up two supply sides (therapists and health care providers in the case of Headway) that are both incentivized to remain with the marketplace due to the existing demand.
On the other hand, this also means that three-sided marketplaces are more complex to build up. After all, you have to hire employees to manage each separate side of the marketplace, on top of added software requirements.
39. Tokenization Business Model
The advent of blockchains has led to the emergence of tokenization, which is the act of creating digital assets that represent a unit of value and can be owned by the platform's participants. Scarcity is one of the ways in which tokens then retain their value.
The Initial Coin Offering (ICO) boom of 2017 was the first time the wider public came in touch with cryptocurrencies, which are now omnipresent and span across a variety of use cases. Ever since, various concepts such as DAOs, NFTs, Play-to-Earn, and DeFi all have tokenization baked into their concepts.
Now, the crypto industry is too diverse to group all of these use cases into one bucket. However, there are clear advantages to tokenization across all of them, primarily the ability for founders to access capital much faster and the incentivization of users to promote your project (hoping that the token appreciates in value).
Interestingly, non-blockchain-based companies have also taken advantage of tokenization. Sweatcoin, for example, enables its users to earn digital coins in exchange for walking. Those coins can then be redeemed for gift cards and other items.
40. Unbundling Business Model
Unbundling is the opposite of the previously-mentioned bundling strategy. Here, companies sell individual products to customers instead of offering them collectively. The assumption is that customers will only want to purchase one product instead of the whole bundle, oftentimes because there's no usage for the other ones.
Salesforce, for example, has adopted an unbundling strategy. It offers separate CRM solutions to different industries, on top of individual products such as MuleSoft or Tableau (which both work independently of its core CRM software).
The biggest advantage to unbundling your product suite is that you can generate more income on a per-product basis. Additionally, businesses can upsell related solutions. In the case of Salesforce, Tableau natively integrates with all of its different CRM solutions.
41. Usage-Based Business Model
Also dubbed consumption-based or pay-as-you-go, usage-based businesses normally charge customers based on how often a given product or service is being accessed.
Pricing is determined by the amount of data being transferred, how many users are being onboarded, the time a service is being used, and what kinds of features are accessed. Alternatively, some providers also offer credit-based systems in which access to the product is purchased upfront.
Cloud storage providers like AWS or Azure are commonly utilizing consumption-based pricing. In fact, over 25 percent of all software companies are now offering usage-based pricing to their customers, which are predominantly other businesses.
Customers, compared to subscriptions, benefit from pricing flexibility and lower fixed costs. Additionally, many providers offer nearly unlimited scalability.
Simultaneously, companies offering usage-based products often benefit from partial lock-in effects. For instance, Plaid, which allows startups to tap into bank account data, is now the backbone that powers many modern-day FinTech applications.
42. User-Driven Business Model
User-driven business models, as the name suggests, take advantage of their members' collective ability to create engaging content. That content then attracts new users, which in turn prompts more content creators to join, and so forth – leading to a continuous flywheel effect where creators and users onboard each other.
Decreasing hosting and bandwidth cost have led to the widespread emergence of multiple user-driven platforms. The two biggest players in the space are TikTok and YouTube. Social platforms like Instagram or Pinterest also heavily lean into user content. Lastly, Reddit and Quora are two text-based platforms that rely on content from members.
The key to making the model work is to reward creators for their content. YouTubers, for example, can potentially generate millions of dollars from ads, sponsorships, affiliates, and other sources of revenue. And on Reddit users are given awards and upvotes for stellar content.
Content velocity is the name of the game, though. The more world-class content is being created, the better the platform becomes. This poses risk as well, though. Harmful content needs to be moderated, thus requiring platforms to hire armies of content moderators. Significant investments also have to be made in hiring world-class engineers who can create ranking and moderation systems.
43. Wholesale Business Model
Wholesalers are companies that sell products in bulk and at discounted rates to other businesses. Manufacturers producing the product may act as bulk sellers or hire intermediaries to distribute items on their behalf.
Whether it's the intermediary or manufacturer – both parties make money by turning a profit on the items they sell. While traditionally analog, platforms have since digitized the buying process. In China, sites like AliExpress allow small businesses to purchase goods in bulk. Meanwhile, Faire has created a wholesale marketplace that connects manufacturers with retailers.
A wholesaler normally works together with smaller retailers who don't have the negotiation power and supply chain capabilities to purchase directly from manufacturers. As such, wholesalers are often involved in the shipment process as well by dealing with distributors and warehousing providers.