Executive Summary:
GoFundMe is a crowdfunding platform that simply allows anyone to raise money for social causes. Campaigns can be launched in various categories, ranging from emergencies to medical. Individuals as well as teams and charities are eligible to open campaigns on the platform.
GoFundMe makes money from platform and transactions fees as well as donations provided by users.
Founded in 2008 and headquartered in Redwood City, California, GoFundMe has become one of the world's most successful crowdfunding platforms. The platform's campaigns have raised over $15 billion from 200 million donations globally to date.
How GoFundMe Works
GoFundMe is a crowdfunding platform that allows people to raise money for various causes. Examples of GoFundMe campaigns include, but are not limited to:
Medical, for instance, financing a cancer treatment or paying for a surgery
Emergency, such as helping victims affected by natural disasters
Education, for example by helping kids to finance their schoolbooks
Memorial, for instance by honoring the passing of a friend
… and many more. Users can set up campaigns within a matter of minutes. All it takes is to set a fundraiser goal (for instance raising $20,000), add a campaign description, as well as pictures and videos. Fundraising is also available for entire teams, such as sports clubs or families.
Afterwards, users can share their campaign with friends, family, and anyone of relevance. GoFundMe allows to distribute the campaign via email, text messages, or social media. GoFundMe is either available via its website or on Apple's iOS and Google's Play Store.
For larger organizations, GoFundMe offers GoFundMe Charity, a tool that allows them to track their campaign progress, collect recurring donations, create branded campaigns, and sell tickets for events.
The GoFundMe platform can be accessed by either visiting its website or by downloading its mobile apps (available for Android and iOS devices).
A Short History Of GoFundMe
GoFundMe, which initially started out as CreateAFund, was founded in 2008 by Brad Damphousse and Andrew Ballester. The duo met in the mid-2000s when they moved to California to become involved in the local startup scene.
Prior to launching GoFundMe, the pair was working on Paygr, a platform that allowed its members to sell services to the public (similar to online marketplaces like Fiverr or Upwork).
When they launched CreateAFund, which enabled social media users to raise money for any type of cause, the crowdfunding industry just began to take off.
Both Indiegogo and Kickstarter just launched their platforms. But instead of raising money for a noble cause, their platforms were aimed at funding products that would be developed when a certain threshold of money was raised. Famous examples include the Peloton Bike or the card game Exploding Kittens.
Unfortunately, CreateAFund's model did not take off as expected. So the team got back to the drawing board, redesigned the platform, and rebranded the company to GoFundMe. They re-launched as GoFundMe in May 2010.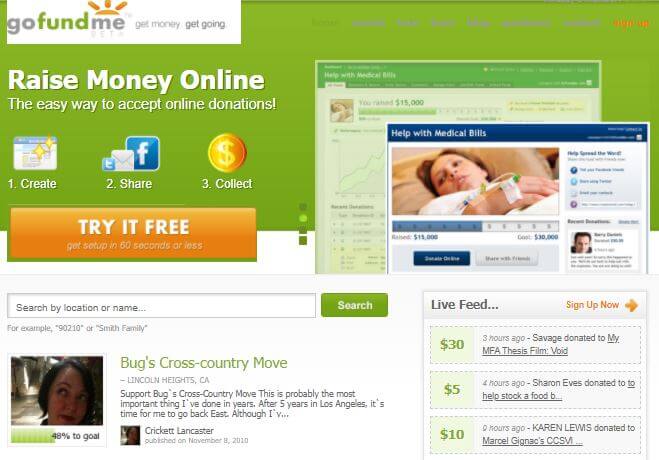 In its early days, the team decided to bootstrap the platform and not take any outside investment. For the first few years of operation, GoFundMe's team was only comprised of four members in total. Nevertheless, the platform grew at a steady rate from day one.
By 2012, GoFundMe was growing its user base by 20 percent every month. Furthermore, the platform pulled in over $3 million in campaigns every month all while operating in over 10 countries across the globe.
In 2015, the startup raised its first-ever round of outside funding. Not only that, but the investors (including Accel, Greylock Partner, TCV, and more) acquired a controlling stake in the company.
Both Damphouse and Ballester received a major cash-out. Alongside the funding round, the founding team relinquished control of day-to-day operations to a new leadership group. Rob Solomon, who previously served as a group president at Groupon, became the company's new CEO. David Hahn, LinkedIn's former Head Of Product, joined him as COO.
Under the new leadership, GoFundMe's business continued to expand by adding more markets, hiring new employees, and even acquiring competitors (such as CrowdRise in 2017). Part of the reason for the company's success was simply its noble mission and the virality that came with it – for both good and bad.
Over the years, GoFundMe helped to organize multiple fundraisers that resulted in millions of dollars donated to a noble cause. For instance, over $12 million were raised to help the victims of the Las Vegas shooting.
Nevertheless, the company had its fair share of issues over its ten-year lifespan. There had been countless reported instances where people tried to take advantage of a tragedy by creating accounts on behalf of victims, but pocketing the money for themselves.
GoFundMe, in response, installed various security measures around their campaigns. For instance, it implemented a verification process to ensure the fundraiser is who they claim to be. Furthermore, campaign earnings are withheld until all necessary verification steps are completed.
And sometimes GoFundMe can be used to just have a good laugh. That's at least what comedian Josh Ostrovsky thought when, in 2018, he started a campaign in support of making Kylie Jenner the youngest-ever self-made billionaire. His goal of raising the remaining $100 million fell short by a little less than… $100 million.
In March 2020, right before the global outbreak of the coronavirus pandemic, GoFundMe announced that Solomon would go back to being an investor and effectively be replaced by Tim Cadogan.
Cadogan would oversee the most critical time in the firm's history. The coronavirus pandemic, which caused many to lose their jobs and sometimes even lives, led to a surge in new campaigns that were created.
GoFundMe issued a variety of initiatives, for example partnering up with Yelp to promote fundraises for local businesses. However, its most successful campaign was yet to come.
In June 2020, after the tragic passing of George Floyd, a campaign was set up in his name. It managed to raise over $14 million and broke the record for individual donations with 500,000 donations.
In 2020 , the platform managed to cross $10 billion in lifetime donations. Throughout 2021, the company remained the center of attention. For example, it caught some heat after not taking off a fundraise for Kyle Rittenhouse.
Others, such as Joe Exotic from the Netflix show Tiger King who created a campaign to cover his legal fees, continued to (ab)use the platform for semi-serious purposes. In other instances, the company had to suspend campaigns, such as the Freedom Convoy movement supporting the Canadian truckers.
The firm's continuous success also allowed GoFundMe to make another acquisition in January 2022. That month, it acquired Classy, a nonprofit fundraising software company, in an all-equity deal.
Over $15 billion have been donated across all GoFundMe campaigns. More than 500 people are now employed by the company.
How Does GoFundMe Make Money?
GoFundMe makes money from platform and transactions fees as well as donations provided by users.

Fees are paid by the person, team, or organization that runs the campaign – not the donor themselves. For instance, if a person donates $100 to a cause, then the donor receives anywhere between $90 to $98, depending on the location.
The platform fee is paid in exchange for the ability to raise money on GoFundMe's platform. It is used to cover their cost, for instance, to pay for servers or employees.
The transaction fee covers the cost of processing the user's payment. For most countries, it's at 2.9 percent plus a small, fixed fee of ($0.30 in the United States).
Both fees vary per country. While, for instance, GoFunMe only charges a 2.9 percent transaction fee in the United States (at no additional platform fee charges), it's platform fees in Belgium are 5 percent alongside a transaction fee of 2.45 percent.
Additionally, GoFundMe Charity applies a different fee structure depending on the type of plan that users are subscribed to. However, in most countries, such as the US, Canada, Australia, UK, and most major European countries, a platform fee is not applied.
Lastly, a small portion of GoFundMe's revenue comes from the donations that it receives directly from its users. Donors have the option to not only donate to a campaign, but also directly to GoFundMe.
The business model of GoFundMe is heavily reliant on maintaining trust among its donor base. A user needs to be certain that the money he/she donates actually lands in the pockets of the person/charity that issued the campaign.
It maintains trust in a variety of ways, for example by consistently monitoring campaigns or by employing a dedicated trust and safety team. In fact, a quarter of GoFundMe's employees are working for that exact team.
GoFundMe Funding, Valuation & Revenue
Interestingly enough, GoFundMe raised venture capital only once in its life. In 2015, world-renowned investors such as Greylock, Accel, TCV, and more invested in the company's one and only round.
The amount raised was not disclosed. Meanwhile, the company was able to amass a valuation of about $650 million. That valuation has most likely increased exponentially ever since.
Consequently, the company has also been extremely secretive in disclosing revenue figures to the public. GoFundMe, in all likeliness, is already profitable considering it had only raised one round of funding over its 12-year lifespan.
Who Owns GoFundMe?
GoFundMe is primarily owned by Accel Partners and Technology Crossover Ventures (TCV).
The investor group acquired a controlling stake in the company in July 2015. Co-founders Brad Damphousse and Andrew Ballester cashed out as a result of the funding round.
However, it can assumed that Ballester and Damphousse kept a significant number of shares to participate in any future upside.