Executive Summary:
Discord is a communication platform that allows gamers (and everybody else) to organize themselves in so-called servers. The platform is available on Android, iPhone, Mac, Xbox, PlayStation, and PC devices.
Discord makes money from premium subscriptions, fees from game sales and memberships, as well as server boosting.
Founded in 2015 and headquartered in San Francisco, Discord has quickly risen to become one of the world's most prominent chat apps. The company now hosts over 150 million active users, which are spread out across millions of servers.
What Is Discord?
Discord is a chat application specifically tailored towards video game players. It supports communication via text, voice chat, and video calls.
The platform can be accessed via a variety of devices including Android, iPhone, Mac, Xbox, PlayStation, and PCs.
Discord allows its users to organize themselves in communities, which are referred to as Discord Servers. Its functionality is similar to Slack groups. These servers are filled with various channels, which are used to discuss and coordinate on different topics.
A single user can join a maximum of 100 servers. Public ones can be accessed via a link while private ones are subject to invites and approval. The maximum number of channels for any given server is 500.
If you are tired of group chats, then Discord also allows its users to directly chat with each other as well.
The app is, furthermore, integrated with other platforms such as YouTube, Spotify, and GIPHY, allowing users to share third-party content on Discord.
Discord is not limited to gamers only, though. Communities, ranging from book clubs to dance classes, use the app to discuss any topic and organize upcoming events.
According to Discord, there are now over 150 million active users on the platform. On top of that, Discord boasts 19 million active servers at any given time.
A (Not So) Short History Of Discord
Discord, headquartered in San Francisco and publicly released in 2015, was founded by Jason Citron (CEO) and Stan Vishnevskiy (CTO).
Prior to starting Discord, both founders already gained some serious experience in the gaming industry. In 2011, at age 26, Citron sold OpenFeint, a mobile platform for social gaming, to Japanese game maker GREE for a combined $104 million. The company had been started just two years prior to that.
While both founders have been avid gamers from an early age, Vishnevskiy's gaming resume has been a little more impressive. As a teen, he woke up every day at 5 am to cram in a few hours of Final Fantasy XI.
He became so good at it that he eventually assembled the game's highest-ranked team. Part of the team's success was grounded in the fact that Vishnevskiy developed a few software tools, which allowed his team to better organize itsself (I think you already know where this is headed).
He then packaged these tools and tried to make a business out of them. Unfortunately, no one seemed interested at first.
Hence, it was time for him to get a real job. He bounced around, working for a few startups in the Valley when mutual friends of his introduced him to Citron.
In 2013, he joined the gaming studio Hammer & Chisel, which had just been launched by Citron. The studio's flagship game, which it introduced during TechCrunch's Disrupt Conference, was named Fates Forever.
The game, an iPad exclusive, was a three-versus-three arena game. Its core functionality was similar to that of League of Legends.
Fates Forever was ultimately released in Apple's iOS Store on July 3rd, 2014. Unfortunately, Fates Forever, while critically acclaimed, never really took off. Consequently, the app and its community webpage were shut down in October 2015.
Luckily for the founders, Vishnevskiy's experience of building communication tools for games came in quite handy. The team already dabbled with building social networking and chat features into Fates Forever – and ultimately decided to pivot their business into this direction.
Fun Fact: communication platform Slack also arose from a failed gaming startup
At the time, applications like TeamSpeak, Ventrilo, and Mumble were dominating the video game communications industry. However, all of these platforms had something in common: they were clumsy and extremely complicated to navigate.
Players would need to rent a server from a third-party vendor (normally from a company that had a shaky reputation, at best) and pay a monthly fee for accessing said server.
Furthermore, they would need to send an email to their friends with the server's IP address, who then would need to go on and download another app. Plus, the design of those apps would often be confusing and outdated.
As history has so often proven, disrupting an industry where incumbents are just collecting money and not innovating can often be a path to quick success. Zoom, the video communications app that has taken the world by storm during the Covid pandemic, has done something similar in the video communications domain.
In January 2015, the team officially began working on Discord. Five months later, the first version of the app was shipped to the public.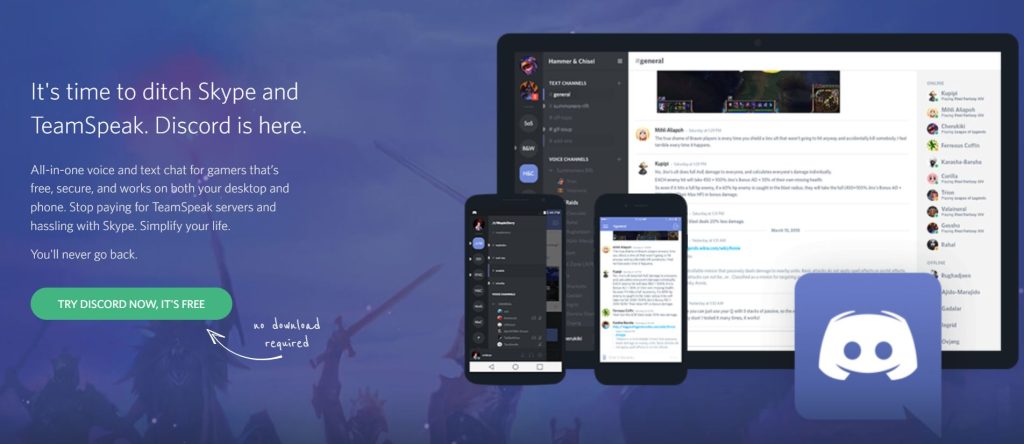 What caught the attention of gamers, apart from the app's ease of use, low friction, and its intuitive design, was the fact that Discord's feature-rich product was absolutely free to use.
Gamers from all over the world were flocking to the platform almost immediately. Discord amassed a user base of over 25 million gamers within a little over a year of being operational.
To sustain operations, the founders continued to raise venture funding over the coming years while ensuring that the core product remained free.
Furthermore, Discord understood the importance of listening to its users as well as capitalizing on influencers in its target industries. In 2018, for instance, Discord launched its so-called Verified Servers in cooperation with various eSports teams.
These verified servers would act as a badge of authentication, similar to verified accounts on platforms like YouTube or Instagram. The teams can not only use these servers to communicate during gameplay but also to engage with fans and organize community events.
Discord also partnered with other companies, such as Spotify, to host third-party content. In 2019, for example, it teamed up with Tencent to host PUBG (PlayerUnknown's Battlegrounds) live tournaments.
Others, such as Mike Rose from RageSquid's Descenders, used Discord to give gamers exclusive access to alpha and beta versions, new content, and other features. That audience, in turn, brings in other users through word-of-mouth, which further accelerated Discord's growth.
Unfortunately, not all was as positive as the founders had expected. Over the years, Discord had to shut down countless servers that were attached to racial discrimination, terrorism, online crime (such as selling usernames and passwords or credit card information), or distribution of sexual content.
In response, they implemented various security measures. The firm itself hired dozens of people that formed a trust and safety team, which now makes up 15 percent of its workforce (for comparison, Facebook has pledged to have 20 percent of its employee base dedicated to content moderation).
Additional measures included a 24/7 customer support team, automated systems that constantly monitor and filter out unwanted activities, as well as clear community guidelines, which if broken, result in immediate bans.
The added safety measures were a direct response to Discord's plan of growing beyond its gaming-centered user base and become a communication tool that is used by the wider public.
To support its growth, the founders raised two rounds of $100 million each in August and December 2020, respectively. Portions of the funding were used to scoop up companies, such as Ubiquity6 or Sentropy Technologies, as well.
Discord even managed to hire actors such as Danni Devito and Awkwafina for a fantasy short film the company created.
Meanwhile, the company was courting itself to other tech juggernauts. In April 2021, talks between Discord and Microsoft broke down after the latter allegedly bid $12 billion to acquire the firm.
Instead, Citron and the rest of the leadership team decided to raise additional funding. In September, Discord announced a $500 million fundraise at a valuation of $15 billion.
Portions of that cash were used to launch highly demanded feature requests. In January 2022, for example, Discord unveiled an integration with Sony's PlayStation 4 and 5 to finally allow users to link their accounts.
Unfortunately, not everything was always going according plan. In late 2021, news broke out that Discord was working on integrating cryptocurrencies into its platform.
Citron even tweeted out a mockup integration with Ethereum wallet MetaMask, which caused some intense public uproar. He later had to backtrack and renounce any future plans.
Many of the most popular crypto-related projects, such as Bored Ape Yacht Club, now rely heavily on Discord to promote their artwork. Non-crypto users said that the speculative and at times scammy nature of the industry was one of the reasons for why they protested the launch.
How Does Discord Make Money?
Discord makes money from premium subscriptions, fees from game sales and memberships, as well as server boosting.
Discord has relied on a freemium model to grow its business. This means that the core platform is free to use.
However, power users can purchase a variety of premium features that significantly enhance the their experience.
Discord, by relying on a freemium model, is able to grow its user base at a much more rapid pace.
As a result, some group owners have managed to build thriving ecosystems around their communities. And even firms like Adidas are now using Discord to communicate with customers.
The key to making the freemium model work is to provide just enough features in the free version to create habits around using the product.
Once users become attached, they can elevate their experience by subscribing to those very same features.
Additionally, the bigger those groups are, the greater the incentive for creators to ensure that everyone has a pleasant experience being in said community (thus making it likelier that they end up subscribing).
So, without further ado, let's take a closer look at all of Discord's revenue streams.
Subscriptions
By far the largest portion of Discord's revenue is derived from the premium subscription it offers.
Dubbed Nitro, the plan either costs $9.99 per month or $99.99 per year. An alternative version, called Nitro Classic, is available for $4.99 per month or $49.99 per year, respectively.
Nitro gives Discord users access to a variety of benefits, including:
the option to create your own custom emojis
personal profiles with animated avatars and custom tags
bigger file upload sizes of up to 100MB
profile badges to highlight how long you've supported Discord
30 percent off server boosting (more on that later)
As you can see, many of the features that are included in Nitro revolve around the above-mentioned sense of community that Discord is trying to harness.
And just like Netflix or any other modern-day subscription, users can cancel their plans at any time.
This often leads to higher sales because users do not fear to be tied into a long-term contract and are thus more willing to give those premium features a try.
Selling subscriptions is a fairly common monetization tactic among gaming-focused companies. Platforms like Buff or VRChat also derive huge portions of their income from subscription-gated premium features.
Game Sales & Membership Fees
In 2018, Discord launched its own game store to compete against the likes of Steam. The game store allowed Nitro subscribers to get access to Discord-exclusive games, such as Dead Cells or Into The Breach.
The store never really went anywhere and was phased out just a year after launch. Discord quickly pivoted into a new model, in which it now partners up with game developers that sell games exclusively on their servers.
To get started, developers first need to get their servers verified. Afterwards, Discord will promote the game and server on its platform to grant developers the necessary exposure.
Discord makes money whenever a game is sold on its servers. The company takes a 10 percent cut from each sale. If, for instance, a game sells for $14.99, Discord will pocket $1.49.
Similarly, Discord has also unveiled a Patreon-like service in which group owners can charge memberships in exchange for access to the server.
Group creators can charge subscribers anywhere from $2.99 to $99.99 per month. While they get to keep 90 percent of those fees, Discord takes the rest.
The product continues to be refined as it was launched in December 2021. For example, Discord has added analytics dashboard and custom server emojis over the past few months.
Server Boosting
Server Boosting allows a community to up the functionality and performance of their Discord Server.
Servers can be boosted to three different levels. They ultimately entail the following perks:
| | | |
| --- | --- | --- |
| Level 1 | Level 2 | Level 3 |
| +50 Emoji Slots (for a total of 100 emojis) | +50 Emoji Slots (for a total of 150 emojis) | +100 Emoji Slots (for a total of 250 emojis) |
| 128 Kbps Audio Quality | 256 Kbps Audio Quality | 384Kbps Audio Quality |
| Go Live streams boosted to 720P 60FPS | Go Live streams boosted to 1080P 60FPS | 100MB Upload Limit for all members (server only) |
| Custom Server | Server Banner | Vanity URL |
| Invite Background | 50MB Upload Limit for all members (server only) | + everything from Level 1 and 2 |
| Animated Server Icon | + everything from Level 1 | |
A server boost costs $4.99 per month. As stated above, Nitro subscribers will receive a 30 percent discount whenever they decide to boost their servers.
Level 1 is unlocked when two users pay the subscription fee. Level 2 requires 15 boosts and Level 3 30.
The premium features apply to everyone that is part of the server, whether they are paying for the boost or not.
Again, much like the Nitro subscription, Discord tries to harness the importance and power of community by building tools for creators and the people who make up those very same groups.
Discord Funding, Valuation & Revenue
Discord, according to Crunchbase, has raised a total of $995.4 million across 16 rounds of venture funding.
Notable investors are Sony, Index Ventures, Greenoaks Capital, Dragoneer Investment Group, and dozens more.
Discord is currently valued at $14.7 billion after raising $500 million in Series H funding back in September 2021.
The firm does currently not disclose revenue figures but is believed to be generating somewhere around $130 million on an annual basis.