Executive Summary:
Shopify is an ecommerce platform that allows anyone to set up a digital storefront. Furthermore, it offers additional products and services such as POS systems or fulfillment.
Shopify makes money via premium subscriptions, transaction and referral fees, hardware sales, commissions from its app, theme, and Exchange marketplace, domain sales, email marketing, investments, and logistics services.
Founded in 2006, Shopify has grown to become Canada's most valuable company. It now powers millions of stores in 175 countries across the globe.
What Is Shopify?
Shopify is a cloud-based SaaS solution that is primarily known for allowing users to set up an online store.
Merchants can, furthermore, implement Shopify's point-of-sale (POS) solution to add in-person payments.
Apart from being able to set up an online storefront, Shopify makes sure to offer a variety of other tools and services that would benefit its merchants, including:
The ability to connect to customers via email marketing.
Shopify Ping, a tool that allows merchants to chat with users.
Being able to run ads on both Facebook and Google.
A fulfillment service to store and ship items.
Start a blog to promote products.
Reporting to keep track of orders.
Merchants on Shopify can sell almost anything, including digital and physical products, services and consultations, memberships, classes and lessons, rentals, or even ticketed experiences.
To get started, merchants can simply subscribe to any of the plans that the company offers. These offer varying levels of features and support, depending on the subscription tier chosen.
Users can choose from a variety of templates to customize and design their websites in any way they can think of.
On top of that, Shopify has developed its own app store where independent developers offer additional tools to Shopify's existing ecosystem. Examples include the ability to accept coupons via Honey or have WhatsApp support enabled.
If users get stuck, they can simply get in touch with Shopify's dedicated customer support team. Additionally, the platform offers a forum where users can help each other out.
Over 1.7 million merchants are currently running their online stores on Shopify. These merchants sold goods worth $120 billion in 2020 alone.
Shopify Company History
Shopify, headquartered in Ottawa, Canada, was founded in 2006 by Tobias Lütke (CEO), Daniel Weinand, and Scott Lake.
Lütke, originally from Koblenz, Germany, always struggled with authorities. He'd be seen arguing with his teachers and use shortcuts to finish his schoolwork as fast as possible.
At the age of 6, his parents gifted him the equivalent of a Commodore 64. By the time he turned 12, Lütke would begin deconstructing its software to create new games.
Spending most of his time stuck behind a computer screen would eventually even worry his parents who took him to see a psychologist to determine potential learning disabilities (which, obviously, were never discovered).
He disliked school work so much that, instead of enrolling at university, he left school after the 10th grade to pursue an apprenticeship program at Siemens.
The program's intention was to find and develop Germany's next generation of software engineers. At Siemens, he wound up working for a highly unconventional manager named Jürgen, who had a tremendous impact on Lütke.
In a post on his personal blog titled The Apprentice Programmer Lütke would later recall:
"It was probably the most important thing that happened to me in my professional life. Jürgen was a master teacher. He created an environment in which it was not only possible but easy to move through 10 years of career development every year. It is a method and an environment which I am fiercely trying to replicate at Shopify."
Apart from programming, Lütke had another passion that would eventually define his life: snowboarding. On a snowboarding trip to Whistler, British Columbia, he met a girl named Fiona McKean.
Before long, he convinced her to move to Koblenz where the pair lived together for a year. After the year passed, it was Lütke's turn. He'd meet Scott Lake, who had previously dabbled in various startups before, at a McKean family event.
Soon after, in 2004, they would go on to launch their first startup together: Snowdevil, an e-commerce store selling snowboard equipment (the website is still live and can be accessed here).
Unfortunately, all the ecommerce software at that time was subpar at best. It didn't leave any room for customization nor was it looking particularly appealing.
To solve this problem, Lütke shorthandedly decided to build the software himself. One of the tools he intended to use was a Japanese programming language called Ruby. The problem: there was no available documentation for both English and German.
Being the programming aficionado that he is, Lütke figured it out anyways. Much to his luck, a new framework called Ruby On Rails was launched soon after, tremendously speeding up his development work due to greater levels of documentation and community.
The Snowdevil website was shipped right in time before the busy season, marking a profitable and successful launch of the business. On the side, Lütke would share his software accomplishments with other developers in the Rails community, who soon began asking how they built the website.
The high number of queries soon made them realize that they had something extremely valuable at hand: a software solution that would allow other entrepreneurs to run their own online store.
In 2005, they renamed the business to Jaded Pixel with the tag line Rockstar E-commerce. To get the party started, they raised around $200,000 from friends and family (including Lütke' uncle, an entrepreneur who also migrated to Canada as well as McKean's father).
To get them some help, Lütke ended up recruiting fellow German programmer and friend called Daniel Weinand, who wound up becoming the company's third co-founder. In April 2006, they finally launched Shopify (Lake was the one who came up with the name) to the public.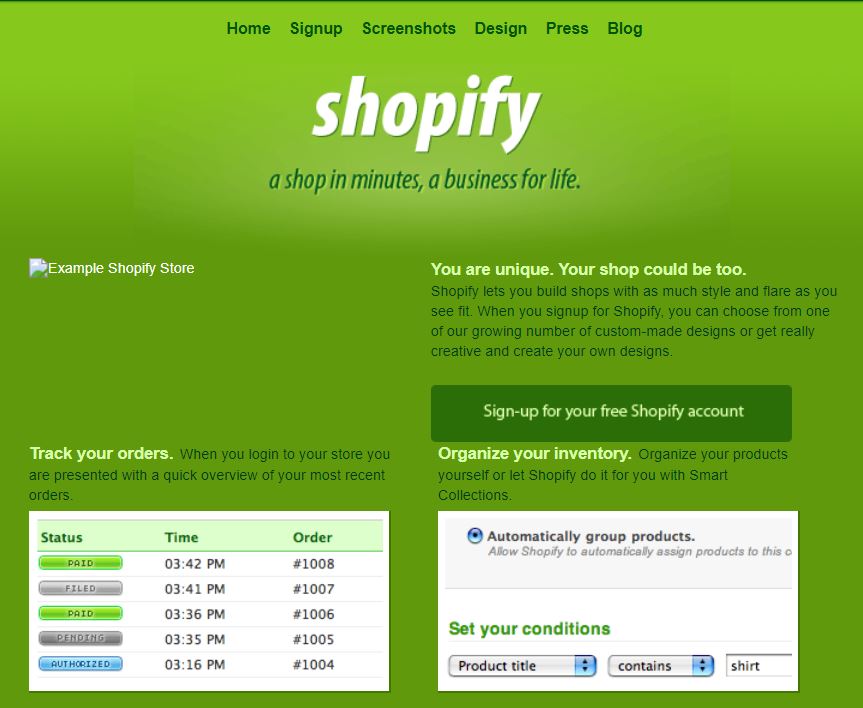 In the early days, Lütke and Lake had their fair share of heated debates about the direction of the company. The problem was that Lütke himself wasn't sure whether he'd want to build a VC-funded business or run Shopify as a lifestyle company paying out dividends. Lake, on the other hand, was pushing for VC money to grow the business.
While Shopify did wound up raising $250,000 (at a valuation of $3 million) in January 2007, it merely wasn't enough – both for Lake and to sustain the company. Lake himself departed from the business somewhere in 2007, forcing the shy programmer Lütke to become Shopify's new CEO.
Despite the fact that Lütke had no prior experience of leading people and managing a business, he ended up figuring these things out (quite literally) on the fly.
He took some meetings with venture capitalists in Silicon Valley, who were babbling about conversion rates and marketing funnels – terms that were completely foreign to Lütke. After those meetings ended, Lütke would end up googling these terms and incorporate them right into Shopify's business model.
Until then, growth at Shopify was rather stagnant. What the meetings made him realize was that Shopify's business model was somehow flawed. Back in the day, Shopify would charge merchants a rather hefty transaction fee, which would discourage particularly big merchants.
Shopify eventually switched to a subscription-based model (more on that later) in which the company would still take a small fee, yet it would decrease with increased order volumes.
By 2008, Shopify was generating more than $60,000 every month – enough to sustain the company and its employees (until then, Lütke continued to take out loans from McKean and others while simultaneously living with his fiancée's family).
The financial crisis in 2008, while devastating for many people, became one of the major accelerators to Shopify's growth. Hundreds of people, who just lost their job, decided to embark on an entrepreneurial journey and launch their own ecommerce store.
Shopify's leadership team, furthermore, realized early on how important it is to develop an ecosystem around its product. As such, it added clear documentation and guidelines early on.
Additionally, in 2009, it opened up its platform to third-party app developers who would go create many custom features desired by shop owners.
But the firm's biggest coup was yet to come. In January 2010, Shopify launched its Build a Business competition, offering a $100,000 price to the startup that would generate the highest amount of revenue over the course of 6 months.
The competition was inspired and ultimately promoted by Tim Ferris (author of the Four Hour Work Week book, amongst many other things) who met Lütke at a conference the year prior. The winner would then receive mentoring from either Ferris or the likes of Seth Godin and Gary Vaynerchuk.
At the time, newly signed up merchants would spend around $24 per month to run their Shopify stores. Lütke figured he'd need around 600 stores (600 stores x $24 x 6 months = $86,400) for the competition to be worth their while.
In the end, more than 1,400 businesses signed up, which generated close to $3.5 million in revenue for Shopify. The eventual winner DODOCase, an iPad cover creator, reached an annual run rate of $4-5 million within 6 months of operation.
Shopify would run a few more of those competitions in the years that followed, each time netting the company hundreds or even thousands of new merchants.
In the meantime, Shopify continued to expand its product portfolio. On the backbone of a $100 million Series C raise, it announced that it would launch a point-of-sale (POS) system, allowing merchants to accept in-person payments.
In May 2015, Shopify finally became a public company under the New York Stock Exchange. Public investors valued Shopify's business at around $1.3 billion when it IPO'd.
Being a public company oftentimes legitimizes a business in the eyes of potential investors and partners alike. As such, Shopify's strategic direction shifted towards enabling and integrating e-commerce transactions on any medium where sales can be made.
The next few months after the IPO, Shopify announced partnerships with the likes of:
Facebook, Instagram, Twitter, and Pinterest to enable checkouts within their social media networks.
The United States Postal Service (USPS) or Postmates to offer additional fulfillment and shipment methods, such as same-day delivery.
Intuit's QuickBooks Online to link the store's income directly to a user's tax filing.
To that extent, Shopify continued to expand the capabilities on its own as well. It, for instance, launched Shopify Capital in 2016, which allowed business owners to borrow money from Shopify directly.
Other meaningful additions include the launch of a stock photo site (called Burst), a marketplace to sell your store (Shopify Exchange), or even its own physical store where interested merchants can talk to trained employees that can help out with queries (similar to the Geniuses at an Apple Store).
Shopify essentially became the upward lubricant for the direct-to-consumer (DTC) movement that slowly started to ascend in the early 2010s. These DTC brands, including household names like Warby Parker, Casper, or Allbirds all used Shopify's platform to build multimillion-dollar businesses.
And Shopify made sure to accommodate their needs by continuously launching new features that would serve the business. By 2019, Shopify passed eBay to become the second-largest ecommerce platform (after Amazon) in the United States.
Yet, 2020 probably became the company's most successful year in its existence. The coronavirus pandemic forced more and more (retail) shops to go online while simultaneously giving customers a greater variety of choices.
As a result, sales on the platform literally skyrocketed and propelled Shopify to become Canada's most valuable company. Shopify capitalized on the increased demand, for instance by launching a shopping app or by teaming up with Walmart to distribute its merchant's products to its online store.
Nevertheless, not everything was going according to plan. In September 2020, 2 customer support employees stole sensitive data from over 100 Shopify merchants, including names, postal addresses, and order details.
Later, in December 2020, a report by ecommerce authentication service Fakespot discovered that roughly a fifth of all stores registered on Shopify's platform engage in some sort of fraudulent activity, for example by selling fake products or pirated media.
A month later, Shopify eventually took a political stance by removing online stores run by the Trump Organization as a result of the capitol riots. This represented somehow of a shift in Shopify's content moderation strategy.
Back in 2017, users had urged CEO Lütke to remove the Breitbart store from its platform. Lütke declined, citing the right to free speech and expression as the reason for doing so. The Breitbart store continues to operate on Shopify's platform – for now.
Despite some of these hiccups, Shopify continues to be an ecommerce powerhouse. In August 2021, for example, it announced partnerships with the likes of Pinterest and TikTok to directly sell via the social platforms. Two months later, it partnered up with Spotify to enable artists to add merch to their profiles on the platform.
Today, Shopify is the largest e-commerce platform of its kind. It employs close to 15,000 people across the globe.
How Does Shopify Make Money?
Shopify makes money via subscriptions, transaction, payment, and referral fees, hardware sales, commissions and advertising from its app marketplace, commissions from selling themes or facilitating other website sales, email marketing, logistics services, and investments.
The business model of Shopify is predicated on catering to its merchants and providing them with the necessary tools to compete against powerhouses such as Amazon.
Shopify offers plans for every type of store, whether it's a small merchant that sells one product or a leading car manufacturer like Tesla.
As a result, it can keep those customers throughout their lifecycle. It, furthermore, offers them additional support such as loans or fulfillment services.
Moreover, it has created a separate ecosystem around those merchants through its app store. The app store offers access to more than 7,000 applications. Not only does Shopify save cost because it doesn't have to develop the apps itself but generates additional revenue through the commission it charges.
Without further ado, let's take a closer look at each of Shopify's revenue streams.
Subscriptions
Shopify offers various premium subscription plans to merchants. Users will gain access to various premium features, depending on the plan chosen.
Examples include:
24/7 support
Varying levels of staff accounts
Advanced reporting
The ability to sell on other marketplaces and through social media platforms
Lowered transaction fees
… and plenty more. The plans are called Basic Shopify, Shopify, and Advanced Shopify. They are normally offered to smaller merchants who don't require tons of customization.
Prices for these subscriptions range anywhere from $29 to $299 per month. Just like any other modern-day subscription, they can be canceled at any time.
For bigger-sized businesses, such as Budweiser, Sephora, Tesla, or The Economist, a more advanced plan like Shopify Plus is offered. Shopify Plus starts at $2,000.
Lastly, Shopify also offers a subscription plan called Lite, which allows website owners to add a Shopify store to their existing web properties. Lite costs $9 per month.
Apart from its online store subscriptions, merchants can also opt into a monthly plan to run POS systems.
These POS systems allow merchants to accept in-store payments via debit and credit cards. The Shopify POS Lite plan is free of charge and is included when being subscribed to any of the above plans.
For more advanced solutions, merchants can subscribe to Shopify POS Pro, which currently costs $89 per month and location. Features include in-store analytics, unlimited registers and store staff, smart inventory management, and more.
Transaction Fees
As previously stated, Shopify charges transaction fees for every order processed through its platform.
The transaction fee is dependent on the subscription plan that the user wounds up choosing. For instance, the Lite plan charges 2.4 percent per transaction while merchants only pay 0.5 percent with Advanced Shopify.
Apart from transaction fees, Shopify has also developed its very own payment gateway called Shopify Payments.
Shopify Payments works similar to a service like PayPal's where merchants can use the payment gateway to provide a secure checkout to their customers.
Shopify applies a mixture of fixed ($0.30) and variable percentage fees, ranging between 2.4 percent to 2.9 percent.
Referral Fees
Shopify works together with a variety of partners to improve the lives of its merchants. In 2020, for instance, it included Affirm as an additional payment option to its checkout product.
Whenever Shopify promotes someone else's business, it does so to further its monetization opportunities.
Most of these partners pay Shopify a so-called referral fee for bringing in additional business through its platform.
These fees are dependent on the type of agreement that was made between the 2 parties. In most cases, Shopify simply receives a small percentage from the overall sales price.
Hardware Sales
A small portion of Shopify's revenue can be attributed to hardware sales, namely its point-of-sale products.
These include hardware products like card readers, iPad stands, receipt and shipping label printers, barcode scanners, and many more. Shopify generates revenue by selling that hardware to its merchants.
App Marketplace
In 2009, Shopee launched its very own version of an app store. This app store is essentially an online marketplace that allows third-party developers to offer applications that improve the life of Shopify merchants.
Examples of apps include payroll and HR services, growing sales with referrals, scroller enhancements, and many more.
Shopify makes money from its app marketplace in 2 ways. First, it charges developers a 20 percent commission for all the sales that flow through its marketplace.
Second, app developers can bid on keywords ('email notifications', for instance) to promote their offerings. They then pay Shopify for every click. The amount charged is dependent on how competitive that keyword is.
Theme Store
Similar to the app marketplace, merchants can furthermore buy premium themes on Shopify's Theme Store.
While Shopify offers free themes, premium themes may provide some enhanced visual appeal and greater customization.
Theme creators will receive 70 percent of the sale price. Consequently, Shopify pockets 30 percent for itself.
Shopify Exchange
In 2017, Shopify launched its Exchange platform, a marketplace that allows existing store owners to list and sell their businesses.
Merchants can list down how much revenue their store generates each month, how much of that is profit, how many orders are coming in, add descriptions, and more.
They then determine the price that they would like to sell the business for. While the final ask is dependent on the merchant, a good rule of thumb is to apply a 10x multiple to the monthly revenue.
For instance, if a shop generates $1,000 in revenue per month, then the asking price should float around the $10,000 mark.
With Exchange, Shopify makes money by charging a listing fee of $10. Apart from that, it also takes a percentage cut from the sales price. The percentage is mostly dependent on the sales price.
Email
Shopify offers its merchants a variety of different marketing channels, including promoting their businesses on social media or via email campaigns.
The email product works on a freemium basis. This means that users can send up to 2,500 emails every month free of charge.
Shopify charges $0.001 for every mail above the 2,500-email threshold. For instance, if you send 1,000 additional emails, then the cost of that is $1.
Domain Sales
Users have the ability to purchase domains directly from Shopify. Domains can be bought for as low as $11.
Shopify then pays a registry a certain fixed fee (normally between $2 to $5) and takes home the rest as profit.
Shopify Capital
Store owners can take out loans and access cash advances through Shopify Capital to grow their business.
The maximum amount of money that a merchant can borrow is $1 million. The loan or cash advance must be repaid within 12 months.
Shopify Capital does not charge a simple interest rate but applies a so-called fixed borrowing cost to the loan. The fixed borrowing cost is the fee that a merchant pays to obtain a loan.
To repay the loan, Shopify simply subtracts the money from the merchant's sales. If sales do not cover the loan, the outstanding sum is debited to the merchant's account.
Logistics
Shopify, in recent years, has invested billions to eventually become a fully integrated ecommerce platform.
One of the strategically most important aspects is to provide merchants with a variety of shipping solutions.
In a world where Prime customers are now receiving their orders within a matter of hours, consumers have come to expect a certain level of convenience.
To that extend, Shopify has partnered with the likes of DHL, UPS, and USPS to provide its merchants with tailored fulfillment and shipping solutions.
Furthermore, Shopify acquired warehouse automation developer 6 River Systems for $450 million in 2019.
The service helps boost efficiencies among Shopify's Fulfillment Network service, which launched in June of the same year.
With 6 River Systems, Shopify makes money through the fulfillment automation services it provides to other logistics companies.
Furthermore, Shopify provides its own set of shipment services to merchants, named Shopify Fulfillment Network and Shopify Shipping, respectively.
The price a merchant pays is dependent on the number of orders shipped, storage time, weight, eventual packaging services, and more.
Investments
Lastly, Shopify also generates a profit from investing into other startups. Throughout 2021, it approximately made seven investments.
For example, in September, it invested $30 million into the Israeli e-commerce software company Yotpo.
Shopify invests into other business for two reasons. First, it can participate in the firm's upside and hopefully sell the shares it acquired for a profit at a later point in time.
Second, as a shareholder, it is likely entitled to be updated on at least a quarterly basis about how well the company performs. It can use those insights to either acquire the company (if Shopify likes what it sees) or expand into the same vertical / product category.
Shopify Funding, Valuation & Revenue
According to Crunchbase, Shopify has raised a total of $122.3 million across 4 rounds of venture capital funding.
Notable investors during the firm's private life included Bessemer Venture Partners, Felicis Ventures, Insight Partners, OMERS Ventures, and many more.
Shopify raised another $131 million when it went public on 21 May 2015. At the time, the firm was valued at around $1.3 billion.
That valuation has skyrocketed ever since. Today, Shopify's market cap floats around the $71 billion mark.
Shopify generated $4.6 billion in revenue for the fiscal year 2021, an 57 percent increase over 2020. Furthermore, the firm posted a profit of $2.5 billion, up 60 percent from the year prior ($1.5 billion in 2020).