Executive Summary:
TikTok makes money from advertising, shop commissions, fees from subscriptions, and music royalties.
The business model of TikTok is centered around becoming a super app on which users can not only consume videos, but shop for items, play games, and so much more.
What Is TikTok?
TikTok is a social entertainment platform that is primarily known for distributing short-form videos over a mobile feed.
At its core is the platform's Discover section which allows users to find content that is either trending or being recorded nearby.
When users find a video they like, they can interact with them by either liking or commenting on it. TikTok, in that regard, works just like a social network, thus allowing you to follow other users and message them as well.
By interacting with said videos, TikTok is able to learn and then recommend more videos that might be to the user's liking.
On the creator side, TikTok provides various video editing tools that allow you to trim, cut, edit, merge, and duplicate videos. Creators can also add music clips and other sounds.
TikTok has since expanded into a variety of other features centered around the videos on its platform. For once, the video length has been extended from one minute to now ten.
Creators can, furthermore, host live streams to interact with their fans in real-time. The platform even boasts a shop section through which users can purchase items or a dedicated games area.
TikTok itself is owned by Chinese technology giant ByteDance, which launched the app in November 2018. ByteDance previously acquired US-based social apps Flipagram (undisclosed) and Musical.ly ($800 million – $1 billion), both of which were integrated into TikTok.
Meanwhile, ByteDance also operates a separate app for the Chinese market called Douyin, which offers nearly the same functionality as TikTok does.
The Business Model of TikTok Explained
When TikTok was first unveiled to the public, its business model was solely based on generating revenue from advertising.
Now, as you'll see in the later parts of this article, advertising remains core to its business to this date. However, TikTok has since involved its business model and revenue generation strategy.
In fact, it is now embarking on the quest of becoming a so-called super app on which users can not only consume videos but also purchase items and even find jobs.
Let's dive deeper into each core aspect that underpins the business model of TikTok.
Creator Support
TikTok's creators remain at the core of its strategy. In fact, TikTok and its creators engage in a somewhat symbiotic relationship that benefits both parties.
Creators profit from the reach that TikTok provides them with, which offers them all kinds of opportunities. For example, Khaby Lame, the platform's most popular creator, allegedly earns around $750,000 per video he makes (the money comes from brand deals, sponsored content, and so forth).
TikTok, on the other hand, becomes the place where engaging content is being created and news is being made. Many of its videos, boosted by the watermark that accompanies them, have gone viral in the past, thereby helping to bring in tropes of new users.
To TikTok's credit, it has avoided the many pitfalls that led to the demise of platforms like Vine. For example, it launched its very own Creator Fund and plans to pay out $1 billion to creators in the United States alone.
And receiving cash directly from TikTok isn't the only way they can make money. By joining its Pulse creator program (100,000 followers required), creators can receive a portion of the ad revenue that TikTok generates.
Additionally, they can directly sell on the platform via its Shop section and recommend products via live streams or videos. TikTok also hosts regular events for creators and businesses on its platform to help them improve their sales performance.
Brands can also easily discover creators they want to collaborate with via TikTok's Creator Marketplace (as well as the associated API). Interestingly, competitor Snapchat has introduced a similar marketplace to boost creator earnings.
The self-service platform enables them to search for creators and invite them to collaborate, on top of managing the advertising campaigns and accessing data on how those perform. Creators themselves can directly apply to campaigns posted by advertisers as well.
Similarly, TikTok launched a portal for publishers called Creator Next, too. There, it has organized all the tools creators can use to make money on its app in one place, thus making it more convenient for them to find monetization opportunities.
Apart from allowing creators to monetize their work, TikTok provides them with a diverse set of editing tools. Creators can alter their videos both within the app as well as in a web browser.
On top of that, TikTok gives them access to a variety of other features such as video templates, dynamic scenes, and even AI-powered and quasi-automatic editing.
By making it easy for both novices and experts alike to create content, TikTok can vastly expand the number of videos that are being uploaded to its platform. This, again, should create more engaging content and consequently attract more users.
Content Recommendation
Being able to make money isn't the only thing that drives usage on the platform, though. The other key driver of growth has been TikTok's almost legendary recommendation engine.
In June 2020, TikTok publicized how its algorithms work. When first opening the video feed, users are presented with a set of fairly random videos. As the user engages with the platform, more relevant content is shown.
Recommendations are based on a number of factors including:
User interactions: videos users like or share, followed accounts, comments, and the content creators publish
Video information: details like captions, sounds, and hashtags
Device and account settings: language preference, country setting, and device type, among others
TikTok immediately (normally after a handful of videos) recommends tailored videos, which keeps users engaged on the platform and thus decreases churn.
This also means that creators can have their videos boosted by the platform without having too many followers. Again, the promise of quick exposure and fame then leads to even more of them joining the platform.
TikTok's algorithms are so powerful that owner ByteDance has even begun to license it to other companies. And TikTok itself has also started to forward notifications to its users, asking them to put their phones down if they consume too many videos.
To that extent, TikTok has expanded its maximum video length from 1 minute to now 10 minutes, thus enabling creators to publish a more diverse set of videos. And those videos then act as another data point that is being fed to its algorithms. For instance, certain users may actually prefer longer-form content and are thus predominantly exposed to those types of videos (again, keeping them more engaged).
In addition, data is also being generated when users search for specific terms, such as the best restaurants around or how to make money, on the platform. Again, this is being used to inform any video that TikTok displays.
As a result, users on the platform allegedly spent an average of 40 minutes a day consuming videos on TikTok. But this also comes with a host of other challenges, which TikTok is currently tackling.
Accessibility & Distribution
TikTok's support of content creators and the addictive nature of its algorithms are certainly the backbones of its platform.
However, raising awareness, even with a user base of over 1 billion people, still remains key. After all, the more people are engaged on the platform, the more data points are being created, which then enables TikTok to serve better ads and more relevant videos.
Owner ByteDance has essentially brute-forced its way into making TikTok a global powerhouse. In 2021 alone, ByteDance spent a whopping $19.2 billion on marketing, most of which can likely be attributed to TikTok.
ByteDance didn't shy away to invest right from the get-go, too. They advertised the platform virtually everywhere, from competing platforms like Snapchat and YouTube to endorsing celebrities like Jimmy Fallon.
The platform also frequently sponsors events around the world such as the UEFA Women's EURO 2022 tournament.
But hefty marketing spend isn't the only way TikTok gets the word out. One of the core functions of its distribution engine is the watermarks attached to the videos that creators publish. Watermarks became one of the keys to why the synchronization app Dubsmash grew this fast when it was first launched.
And since TikTok provides creators with a variety of video editing tools, they would be hard-pressed not to create the videos right within the platform. Those watermarks are so powerful that competitor Instagram has come out in the past and stated that it wouldn't promote videos with a TikTok watermark within Reels.
Watermarks aren't the only distribution lever that TikTok has created, though. Another key component of TikTok's distribution engine is the hardware it is available on.
The overwhelming majority of users will normally access the platform through their mobile phones, which is how the videos on it are set up for. However, TikTok has since expanded its platform to not only include a desktop version but also be available on smart TVs like Android TVs, LG Smart TVs, and Samsung Smart TVs, among others.
Another distribution play is the TikTok Login Kit, which enables apps on mobile, web, and consoles to authenticate users via their TikTok credentials. Platforms like Facebook and Google (via Gmail) have utilized a similar strategy to be able to capture the data that users generate on other platforms, which they then again use to serve more relevant content and ads.
But making your content known to outsiders isn't merely enough. Instead, you have to make it consumable for all kinds of groups as well.
In July 2022, for example, TikTok introduced auto-generated captions for users, meaning a video's spoken audio is automatically transcribed into text. Similarly, its text-to-speech tool enables anyone who can't or won't speak into the microphone to still add sound.
Users can even opt out of videos that contain creative effects that may be harmful to those with photosensitive epilepsy. TikTok also hosts workshops for agencies and content creators to educate them about how to publish videos that can touch a maximum number of users.
All of those measures are aimed at expanding the total addressable market (TAM) of potential users that TikTok can capture.
Safety
Safety, especially considering the firm's Chinese heritage and the scrutiny that comes with it is another key point of focus. The app regularly takes down tens of millions of videos every month, on top of employing one of the world's largest content moderation teams.
It has introduced various safety-related features aimed at underage users to avoid showing inappropriate content as well. For example, parents can link their TikTok accounts to the ones of their children to better monitor what content they consume.
And if it discovers a profile that consistently spreads misinformation or harmful content (which is confirmed by a fact checker), then the video will be flagged as such and its virality potential severely restricted.
Another feature is content levels, a system that restricts certain types of content from being viewed by teen users. Those users can then filter out videos with certain words or hashtags from showing up in their feeds.
Similarly, TikTok has partnered with a variety of agencies and organizations to promote LGBT+ content and thus stop cyberbullying. The platform's algorithms, furthermore, automatically filter out content that is deemed harmful.
The safety aspect is also crucial for advertisers who want to avoid having their ads show up next to harmful content. The above-mentioned Pulse program, for instance, ensures that advertisers are buying ads from creators that are known to only create what is deemed safe content.
Therefore, being considered safe ultimately contributes to TikTok's bottom line and user growth. Parents may even favor the platform over competing ones like YouTube, which has been known to display harmful content to (underaged) users for years.
The importance of content moderation is particularly evident when looking at competitors like Reddit. The platform has long taken a hands-off approach but recently altered its business model and content moderation strategy to take a substantially harder stance.
Expansion of Usage
Another key aspect to TikTok's business model and subsequent super app strategy is expanding the use cases beyond video consumption and creation.
The first indication of the platform's greater ambitions became evident in August 2019 when it introduced shoppable hashtags. As stated before, TikTok has since introduced a dedicated Shop tab where users can directly sell or recommend products.
However, commerce is certainly not the only use case that TikTok has expanded upon. Here's an overview of additional features that the platform has launched in the past:
11/2020: allowing users to raise funds for causes and charities they care about (through an integration with Tiltify)
06/2021: TikTok Jump, which allows third-party apps to build mini-programs to fulfill any "last-mile" needs, from learning a new subject to reserving a restaurant table
07/2021: TikTok Resumes allow candidates to showcase their skills and experience by using the hashtag #TikTokResumes
11/2021: launching an in-app HTML5-based game in cooperation with Zynga called Disco Loco 3D
02/2022: TikTok Radio, a dedicated radio channel revealed in partnership with SiriusXM
08/2022: in-app text-to-image AI generator to create photos based on short prompts
09/2022: a BeReal clone called TikTok Now
All of the above-mentioned features, and the many that are likely to be introduced, drive utility and thus engagement across users.
Consequently, the more engaged those users are, the more data points they generate, which again ties back into TikTok's recommendation and advertising engine. This then enables the company to serve users more relevant ads.
Additionally, these features may also open up the opportunity for further monetization. For example, in-app games could charge users for boosts and digital goods, similar to what Zynga did during its Farmville heydays.
And if anything, they still boost loyalty and engagement while attracting a whole new set of users that previously wouldn't have considered signing up for whatever reason.
So, now that we've extensively covered what business model strategy TikTok is pursuing, it is time to examine how it monetizes its 1+ billion-strong user base.
How Does TikTok Make Money?
TikTok makes money from advertising, shop commissions, fees from subscriptions, and music royalties.
Let's take a closer look at each of those in the section below.
Advertising
The overwhelming majority of the revenue that TikTok generates still comes from the various ads that are shown across the platform.
TikTok offers a variety of different ad formats that appear across different sections of its platform. The first one is in-feed ads, which are displayed inside the native news feed as users scroll through.
With in-feed ads, users can interact with the content by liking it, commenting on it, or sharing it with their followers. The next ad format is top-view ads, which are pop-ups that take over the entire screen.
They normally occupy the first in-feed post after 3 seconds, followed by a full-screen video with auto-play and sound.
Similarly, brand takeover ads also cover the whole screen but appear right when the user opens up the TikTok app. They can show up either in the For You or Discover section.
However, users are not able to like or comment on the video. Instead, they work similarly to YouTube's ads, meaning users can only click through to the advertiser's page if they're interested in what has been displayed.
Videos aren't the only monetizable feature, though. Advertisers can also sponsor branded hashtags by encouraging creators to publish a video about their product and service while using hashtags that are related to that offering.
Similarly, branded effects are custom filters that appear within the user's video. The below example shows branded effects that the platform created in collaboration with Colgate.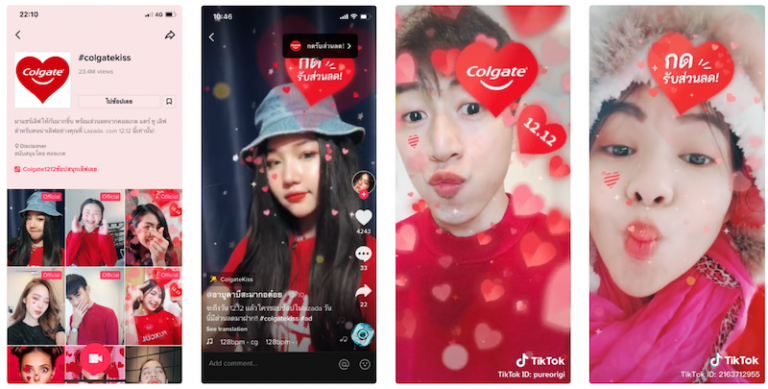 Another option is Spark Ads, which allows advertisers to utilize their own TikTok account's posts as well as organic posts made by other creators and promote them throughout the platform.
Playable ads, as the name suggests, enable users to create mini-games that allow followers to interact with your ad in a full-screen playable experience.
Lastly, carousel ads appear on the News Feed app series BuzzVideo while collection ads lead users to an Instant Gallery Page, where visitors can browse a curated gallery of product cards.
It is, looking at all these different ad formats, is little surprising that TikTok has since expanded its maximum video length from 1 minute to now 10. This enables the platform to show ads in between content, which ultimately leads to higher CPMs (cost-per-mile).
Another key initiative has been the launch of TikTok Pulse back in May 2022. Creators with at least 100,000 followers on TikTok are now eligible to receive a 50/50 split of the ad revenue. Advertisers, on the other hand, can display their ads next to what's deemed the top 4 percent of content on the platform.
Pulse empowers advertisers to display their products in a brand-safe environment similar to YouTube's Partner Program. Furthermore, Pulse is a contextual targeting product, which means that the ad appears directly after content from eligible creators.
Advertising, as you might have guessed looking at all of the above formats, remains TikTok's largest source of revenue. However, other income streams are rapidly catching up as we'll highlight in the coming sections.
Shop Commissions
As I've alluded to in the previous paragraphs, users on TikTok can now shop directly within the platform as well.
The products are shown to users through in-feed videos, live streams, and a product showcase tab prominently featured on the profile page of the seller.
While the dedicated Shop section was only introduced in the past few years, commerce has been an integral part of TikTok ever since it was launched.
For instance, the hashtag #TikTokMadeMeBuyIt has garnered over 4 billion views thus far, allowing creators to show off purchases they've made because of something they saw on the app.
Given the platform's inherent visual nature, it is not surprising products are constantly flaunted and being discovered.
Today, there are two ways for creators to make money through TikTok Shop. Users can either list their own products or sell them as an affiliate by recommending other items.
Almost all types of products can be sold via the platform including clothing or electronics. However, categories such as alcohol, political products, or pornographic ones are strictly forbidden.
TikTok then generates revenue from its Shop section by charging a percentage-based commission for each successful sale. The fee itself varies depending on the country the seller is located in but is normally around the 5-percent range.
As of now, TikTok's Shop feature is only available in a selected number of countries across South East Asia as well as the United States and the United Kingdom.
TikTok also boasts a variety of integrations to allow sellers to optimize their business operations. More precisely, it directly integrates with the likes of Shopify, Square, Ecwid, and PrestaShop, among others.
The single biggest advantage for sellers is that they can directly engage with their audience and extensively highlight the features of the products they sell. This fact, plus having the whole checkout process completely conducted on the platform, likely boosts conversions.
TikTok, on the other hand, not only benefits from another revenue stream (which now allegedly makes up around 10 percent of its revenue) but a more dedicated set of creators. After all, if they can make a living by selling on the platform, then they're likelier to stick around.
Subscriptions
In May 2022, TikTok announced that its creators would be able to monetize their content via subscriptions.
The platform had previously launched a feature that would enable content creators to go live and engage with their audience in real time.
This directly ties into the greater ambitions of TikTok that we outlined above, namely its goal to allow creators to monetize their audience in different ways.
It is particularly important since ads on TikTok are still not monetizing very well (in large part due to its young demographic), so the firm needs to find ways to allow creators to make a living without exiting the platform.
To that extent, TikTok introduced a product called LIVE Subscription. Pricing can range anywhere from $0.99 to $99.99 per month, depending on what the creator wants to charge.
At launch, subscribers got access to a variety of perks, namely exclusive subscriber badges, custom emotes designed by creators, and a subscriber-exclusive chat.
While TikTok does not disclose fee structures, it can be assumed that the platform takes a chunk out of the subscription fees that creators impose on their fans (and if it doesn't now, then it will certainly do this in the future).
Another fee that TikTok collects is for the LIVE Gifts that creators collect during live streams. Called Diamonds, these are virtual goods that creators receive from their fans. Consequently, TikTok retains 50 percent of what the creator earns through LIVE Gifts.
Similarly, while TikTok currently isn't charging fees for its tipping system, it will likely do so in the future. After all, platforms like Patreon have built billion-dollar empires on the notion of allowing creators to monetize their audiences via a tipping system.
Royalties
Many artists are now not only being discovered through TikTok but are explicitly creating songs to fit the platform's demographic.
Now, TikTok is also benefitting from that reach. In March 2022, it announced the launch of SoundOn, a music marketing and distribution platform that enables artists to get their music heard.
The service enables artists to directly upload their music to TikTok, ByteDance's own music service Russo, and a slew of other streaming platforms including Apple Music, Spotify, Pandora, and Deezer.
The distribution of the music as well as other associated services, such as the ability to work with TikTok creators, doesn't cost artists anything.
Moreover, artists will retain 100 percent of their music rights. So, how does TikTok generate revenue from its music distribution service?
The simple answer is royalties. In the first 2 years of working with TikTok, musicians will retain 100 percent of all royalties.
However, after 2 years, that number shrinks to 90 percent, which means that TikTok gets to pocket the remaining 10 percent.
With the platform's ever-growing reach, artists certainly benefit from vast distribution on top of significantly higher earnings (compared to traditional music labels which normally pocket the majority of royalties).
Conversely, TikTok profits from even more music and content being uploaded on its platform, which should bring in more users. Also, it can decrease its cost base since it does not have to pay licensing fees to labels like Sony Music Entertainment.
Interestingly, turning your biggest cost center into a profit-generating machine is a strategy that the likes of Amazon have successfully employed in the past. For example, Amazon had spent hundreds of millions on server capacities but eventually turned that around with the launch of AWS.
So, How Much Revenue Does TikTok Generate?
TikTok is, as we've previously eluded to multiple times, currently owned and operated by Chinese tech giant ByteDance.
ByteDance, which was founded by entrepreneur Zhang Yiming in 2012, remains the largest Chinese consumer tech firm to remain private, meaning its financial data is not publicized.
However, various reports have since been publicized that highlight how much revenue TikTok has generated each year.
The following table gives an overview of TikTok's turnover for the past few years:
Advertising naturally remains the platform's largest money maker. However, e-commerce revenue has since caught up tremendously as well and now allegedly accounts for more than 10 percent of all income.
Its super app strategy will likely see the platform add additional revenue streams in the years to come. Those could include digital gifting or paid add-ons for the games it distributes.