Executive Summary:
Reddit makes money from serving ads to users, premium subscriptions, and the sale of digital items like NFTs.
The business model of Reddit is largely based on advertising, which means the firm remains focused on user growth and engagement. 
What Is Reddit?
Reddit is a social news and entertainment platform that allows users to share content and engage in discussions on various topics.
It is organized into forums, which are called subreddits. Within a subreddit, users can post text, links, images, and videos related to the topic of the channel.
Reddit's users, also known as Redditors, can then engage with that content by up or downvoting it. The more a post is upvoted, the higher its visibility within a topic.
Consequently, users receive digital karma points for upvoted comments or threads. Those can be redeemed to style one's avatar, among others. Users can also purchase digital coins to reward the posts of others.
Furthermore, users can comment on other comments, thus creating a threaded discussion. Redditors can directly message each other as well.
The content that a Redditor sees then appears in his or her Home tab. Content is algorithmically sorted, meaning it appears based on the user's browsing patterns, the popularity of a thread, and so forth.
Reddit also boasts a Popular and News section, respectively. Plus, the platform has recently unveiled a more visual area that surfaces the most popular photos and videos in categories such as sports or movies.
The platform can be accessed either via desktop or by downloading Reddit's mobile app, which is available for Android and iOS devices.
Reddit, which is headquartered in San Francisco, was founded in 2005 by Aaron Swartz, Alexis Ohanian, and Steve Huffman (who still serves as its CEO).
The platform, just a year after its founding, was acquired by publisher Condé Nast, which has owned Reddit ever since. 
The Reddit Business Model Explained
The business model of Reddit is largely reliant on serving users a variety of different ads across the platform.
Being an ad-driven platform means that Reddit is often focused on maximizing two key metrics, namely user growth and engagement.
Reddit, in order to make the most of those KPIs, has engaged in a variety of initiatives that underpin its business model strategy.
What these are and how they contribute to Reddit's growth will be covered in the next few chapters.
Community At The Centre
There's no denying that communities, and more specifically subreddits, are what attract the majority of Reddit's 400+ million users to the platform.
Regardless of how specific or obscure, there's always a community that will match a given user's interest.
At the core of each community stands Reddit's upvoting and downvoting mechanisms. These, alongside some machine learning magic, ensure that the best content is surfaced at the top of each thread.
Consequently, the most downvoted content is also placed at the bottom. And if it reaches a certain threshold of negative votes, then it's automatically hidden.
As a result, members do not have to endlessly scroll to be able to find the best content, which overall makes for a much better user experience – and thus increases the likelihood of them returning.
Each community also has its own content moderators who ensure that spam and other types of malicious posts do not see the light of day (more on content moderation and its importance later, though).
Apart from its voting mechanism, Reddit offers a plethora of other features that keep community members engaged.
In March 2020, it introduced polls as a new post type, thus enabling users to question community members. This not only allows to stir up a discussion (and thus engagement) but also gives moderates the chance to get a feel for where their community is at.
A similar feature, dubbed Predictions, was unveiled 1.5 years later. It enables community managers to guess the answer to popular questions such as this year's Super Bowl winner. Users could then win digital tokens based on how many questions they got right.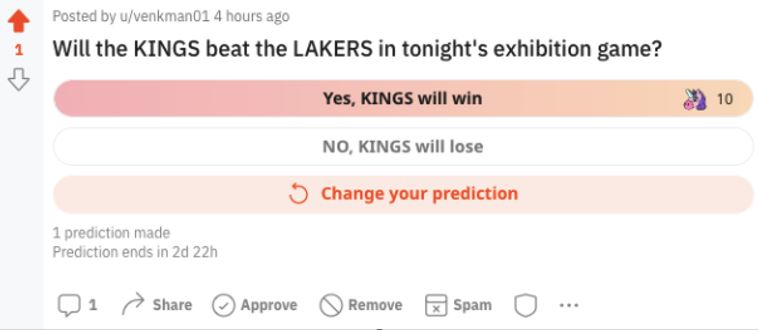 Other community engagement features are chat rooms as well as Reddit Talk, the platform's own Clubhouse-clone (I covered the business model of Clubhouse here, btw!). Reddit has since expanded the functionality of its Talk feature, for instance by adding web compatibility, recordings of past sessions, live commenting during talks, and so forth.
Apart from boosting community engagement, Reddit has also put great emphasis on content discovery.
For instance, the platform suggests other subreddits within the users' Home feed based on their past browsing behavior, location, and so forth.
The above-mentioned News and Popular sections are essentially discovery-based features, too. And in August 2021, Reddit began to quietly roll out a TikTok-like section to surface its most popular photos and videos.
And much like its competitors, Reddit has since unveiled a so-called Community Fund program, which supports subreddits to get projects off the ground. Each project receives support of $1,000 to $50,000 while the fund's total size is currently at $1 million.
However, this pales in comparison to platforms like TikTok whose Creator Fund in the United States alone is equal to $1 billion. This is little surprising, though, given that creators are substantially more mission-critical to TikTok's business model.
All of the above-outlined initiatives have enabled Reddit to grow its daily active user base, a key metric to measure engagement, from around 35 million to over 52 million members.
But being engaged, as seen by the enragement machines that are Facebook or Twitter, isn't always the healthiest way to measure success. One also has to ensure that users are generally having a good time, which is where content moderation comes into play.
Supported by Content Moderation
For a substantial part of its history, Reddit has followed a hands-off approach when it came to content moderation.
The platform's rules were simple. As long as users do not spam, cheat, do something illegal, or interfere with the platform's function, they would always be welcomed on Reddit.
Responsibility to police the platform was subsequently handed to volunteer moderators who managed the subreddits. And while the majority of moderators did take a hard stance on discriminatory and other content, many ran their communities like the wild west.
The Atlantic, all the way back in 2013, highlighted some of the site's most troublesome subreddits. However, Reddit's most publicly scrutinized community was r/the_Donald, a subreddit about the former U.S. president.
The subreddit quickly became known for hosting various unfounded conspiracy theories as well as antisemitic, racist, Islamophobic, and misogynistic content.
CEO Huffman did undertake some measures, such as halting subreddits from showing up on Reddit's homepage in 2016 but was continued to be criticized for his lax stance. After years of controversy, he and Reddit finally took the subreddit down in June 2020.
Reddit has since taken a substantially harder stance on those types of communities. The company has begun to highlight what it does in terms of content moderation in its annual Transparency Report.
Throughout 2021, for example, Reddit banned 2,625 subreddits for violating various policies. Volunteer content moderators and Reddit's voting mechanism remain at the core of its content moderation practices. They can essentially be thought of as the platform's frontline.
Reddit has also developed an internal tool called Automod, which automatically removes content based on certain keywords.
Additionally, Reddit directly employs so-called Admins. These staff members perform periodic checks and are equipped with the necessary tools to help identify problematic users.
Users themselves can also take action. They can, for example, block certain users or incoming messages.
But why has Reddit shifted its stance on content moderation this much? It's simply better for business.
Advertisers like Apple or Coca-Cola don't want to see their ads next to highly-questionable content. And since the world's biggest advertisers are not represented by extremist groups, it won't harm Reddit financially if those types of organizations are not promoting on the platform.
The second reason is simply brand building. Facebook, after the Cambridge Analytica scandal, has gone from everybody's darling to almost universally hated. This, in turn, has severely affected user growth.
Reddit, since taking a harder stance on content moderation, has been able to grow its user base quite substantially.
Many of its communities have even become positive examples of content moderation. Take, for instance, the r/WallStreetBets community, which caused an uproar after driving up the share price of GameStop.
As a result, Reddit was able to up its Series E round, catapulting its valuation from $6 billion (pre-money) to $10 billion (post-money) within months. And despite hedge funds attempting to paint a picture of criminals organizing themselves and promoting discriminatory behavior, no such claims were proven to be true.
With that being said, let's move over to the last pillar of Reddit's business model strategy: partnerships.
Partnerships
Now, although Reddit is valued at tens of billions of dollars, it still can't do everything itself. It, therefore, relies heavily on partnerships to extend the functionality of its platform.
Those partnerships contribute to both user growth and engagement. For example, in March 2020, Reddit inked a deal with Tagboard, which would enable broadcast networks to easily display Reddit's content on television.
Similarly, a deal with NewsWhip allows publisher content teams to better uncover stories as they're happening on Reddit and appropriately report on them (such as the r/WallStreetBets saga).
On the content side, it teamed up with GIPHY, whose growth strategy is based on partnership as well, to enable users to share GIFs directly within Reddit.
And its users, to celebrate the fourth season of Stranger Things, could purchase digital avatars that resembled the show's characters.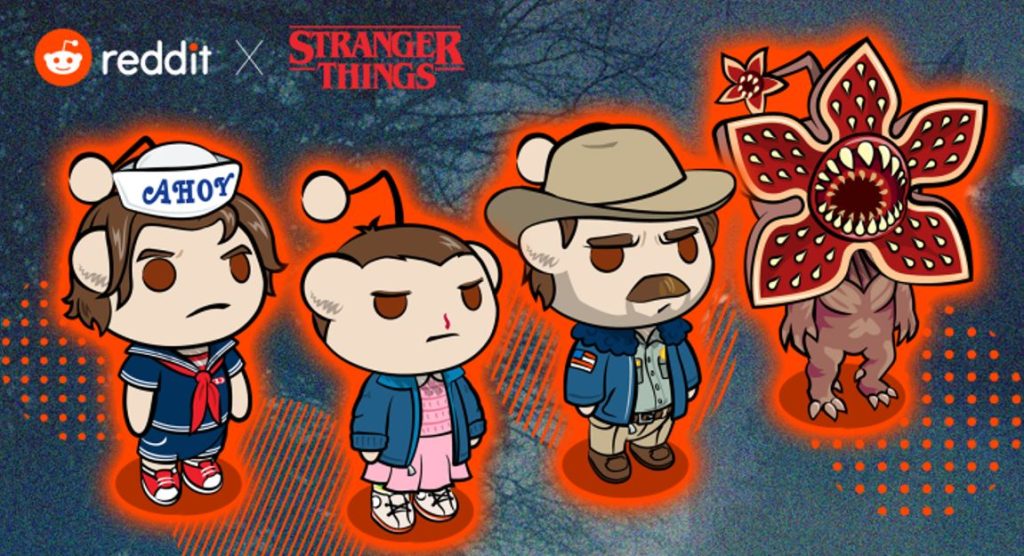 Interestingly, acquisitions aren't the only means for growth. Reddit has also become an acquirer of multiple startups.
Its most notable acquisition was announced back in December 2020 when Reddit purchased the short video platform Dubsmash. Over a year later, Reddit shut Dubsmash down after integrating its video technology into the core platform.
Throughout 2022, Reddit also acquired a variety of machine learning-based startups. Examples are Spell, a platform to run machine learning experiments, and audience contextualization company Spiketrap.
Partnerships are a core pillar of many Reddit competitors, too. Pinterest's business strategy has been based on teaming up with e-commerce platforms like Shopify or WooCommerce to make every content on the platform shoppable.
Now that we've established what Reddit's business model is centered around, let's take a closer look at how the firm actually makes money.
How Does Reddit Make Money?
Reddit makes money from serving ads to users, premium subscriptions, and the sale of digital items like NFTs.
Let's take a closer look at each of those in the section below.
Advertising
Advertising remains Reddit's largest source of revenue. In this regard, it is no different from the likes of Facebook, Instagram, Snapchat, TikTok, and so forth.
Reddit offers two main ad formats, namely promoted posts and premium takeover units. Promoted posts, as the name suggests, are regular posts that users can actually engage with (i.e., comment or vote on).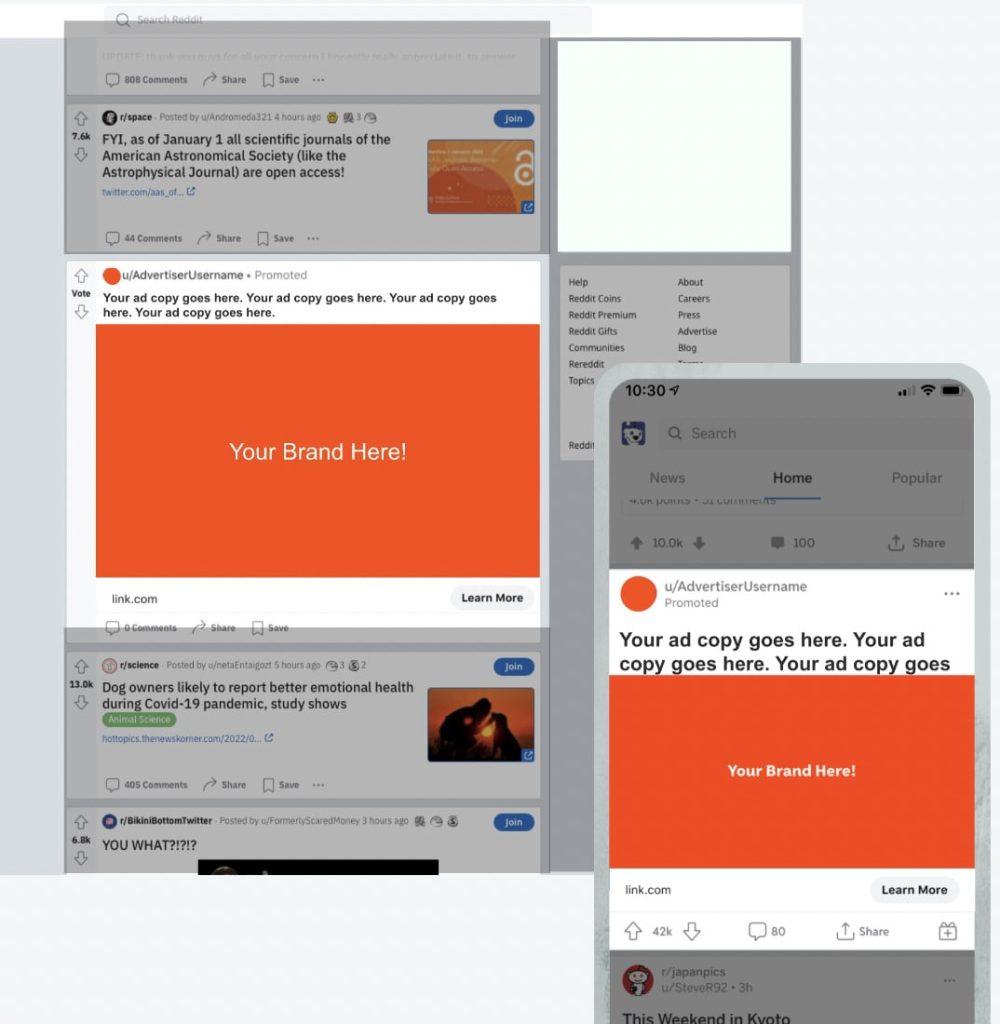 The ads may appear in the user's main feed, a subreddit or community feed, and even within conversations. Lastly, promoted ads can either be shown in text, photo, video, and even carousel format.
Premium takeovers are structurally similar to promoted posts. They differentiate themselves by being reserved for managed advertisers on a CPM model.
Those advertisers need to commit to spending at least $10,000 on a quarterly basis in order to access the ad format. In exchange, they will receive substantially more exposure, for example through Reddit's news section.
Reddit, in recent times, has focused on expanding its sales capabilities by opening dedicated offices in both the U.K. and Australia. There, it employs salespeople who directly work with advertisers and customize campaigns based on what people in the country would want to see.
According to The Information, half of Reddit's audience comes from abroad, yet 99 percent of its advertising revenue is generated in the United States. So, there's certainly room for improvement.
It has to be noted, though, that Reddit's audience has traditionally been very hard to monetize. Unlike platforms like Pinterest, its users are mostly not focused on consumption and commerce.
Also, since members are not using their real names and largely remain anonymous, it becomes tougher to build a detailed profile of who they are and what they like. As a result, advertisers cannot segment and target them based on demographics and other types of data.
The last disadvantage of relying on advertising too much is the dependence on external factors. For example, the heightened interest rate environment, Russia's invasion of Ukraine, and inflation have all led to advertisers slashing their budgets for 2022.
Reddit, therefore, is focused on building up other monetization channels that simultaneously offer higher margins – one of which is subscriptions.
Subscriptions
For a significant portion of its history, Reddit had to fight for its survival. The firm, as I've outlined above, had a traditionally tough time attracting advertisers due to the type of users and content it attracted.
Additionally, it faced stiff competition from the likes of Slashdot and Diggs, with the latter going down spectacularly in the early 2010s after a set of questionable product decisions.
Luckily, what Reddit always had going for itself was a set of very loyal users who almost engaged with the site in a religious manner.
So, when the firm came calling and asked its users to purchase digital tokens to ensure its survival, users jumped at the chance to chime in.
Dubbed Reddit Gold, the tokens enabled users to gift other members. After being launched in 2010, Reddit eventually expanded its Gold membership to include perks like discounts on items.
In 2018, Reddit rebranded the membership plan into what is now known as Premium, costing $3.99 per month for legacy members and $5.99 per month for new ones.
Today, Premium members receive access to a multitude of other perks, including ad-free browsing, issuance of monthly coins, access to an exclusive member's lounge, custom app icons, and more.
Offering a premium subscription to members provides platforms with a variety of benefits. First, subscription revenue offers substantially greater margins than serving ads, especially in non-premium markets like the United States.
Second, since subscriptions do yield greater margins, companies deriving revenue from them can often command greater valuations, which in consequence allows them to raise more money.
Third, Reddit can already book the revenue if users committed to a yearly plan ($59.99) and utilize that cash to enhance the subscription product. That, in turn, makes the product more valuable and should then attract even more monthly/yearly subscribers.
Reddit isn't the only social platform that offers ancillary subscriptions, though. Snapchat, whose business model I covered here, has grown its offering to millions of subscribers within months.
Digital Goods
The last revenue stream of Reddit is the digital goods it sells. Hereby, the firm offers a virtual currency called Reddit Coins and non-fungible tokens (NFTs).
The Coins can be purchased in various packages, which are dependent on the number of tokens and the country from where they're bought from.
Coins can be used to reward other users for the comments and posts they create. Donors can hand out Silver, Gold, and Platinum awards, on top of community-specific ones.
The tokens are directly tied into Reddit's business model of maximizing engagement as well. If you, as a content creator, can be rewarded for great posts, then you are likelier to put more effort into them.
And the greater content is present on Reddit, the greater the chance that users return, which means that Reddit itself can serve more ad impressions or sell premium subscriptions.
The other digital good that Reddit offers are the NFTs it has minted. This, however, hasn't been the firm's first endeavor into the world of crypto.
Back in 2020, it created two Ethereum-based tokens called $MOONS and $BRICKS, which were issued to members of subreddits like /r/Cryptocurrency and /r/FortniteBR. Users could purchase those tokens and send them to each other.
Then, in 2021 and 2022, Reddit took advantage of the hype around NFTs. In April 2022, for instance, it allowed people to use NFTs as their profile pictures.
Those NFTs were sold by Reddit itself under the 'CryptoSnoos' collection. In July, the company launched its own collectible marketplace on the Polygon chain.
The NFTs are sold directly by Reddit and do not include auctioning mechanisms, such as is common on NFT marketplaces like OpenSea.
According to data from Dune Analytics, the marketplace has been fairly successful. Digital goods worth around $12 million have now been sold via Reddit's NFT platform.
And unlike marketplaces like OpenSea, which are intermediaries and 'only' charge around 2.5 percent in fees, Reddit gets to keep the whole sales volume transacted through the platform (minus the gas fees Polygon charges).
Purchasing a digital avatar, apart from propping up Reddit's balance sheet, could also boost the sense of belonging a user has with the platform, which in turn could positively contribute to engagement.
What Is Reddit's Revenue?
Reddit's annual revenue as well as profit and loss figures are not being disclosed since it remains in the hands of Condé Nast.
And since Condé Nast itself is privately owned as well, it has no legal obligation to disclose any of its revenue figures.
However, both Reddit and various news outlets have reported on Reddit's business performance in the past.
Here's a breakdown of Reddit's revenue over the past few years:
As you can see, the pandemic in particular has been very kind to Reddit. CPM rates did substantially increase throughout 2021, boosted by the cheap capital that companies had access to.
Reddit planned to capitalize on that growth story by going public in 2022. The firm filed confidentially back in December 2021 but an IPO has yet to materialize.
The firm has, in all likelihood, been hit hard by the slump in advertising revenue as well. Throughout 2022, competitors like Facebook (now Meta) and Snapchat had to let go of a significant portion of their workforce.
On top of that, Reddit had previously raised $700 million at a valuation of $10 billion. So, it should have enough cash in its reserve to sustain the advertising drought.
Although Reddit has not announced any layoffs, which is somewhat of a positive sign, it likely will wait until valuations return to more favorable levels (or at least to what it was valued at before).