Executive Summary:
GIPHY is a social platform and search engine that allows users to discover, share, and save GIFs, digital stickers, as well as videos.
GIPHY makes money by helping to create as well as promote sponsored GIFs. The content is sometimes created in cooperation with its own design studio.
Launched in 2013, GIPHY has risen to become one of the world's most frequented websites. It raised over $150 million throughout its existence.
What Is GIPHY?
GIPHY is a social platform and search engine that allows users to discover, share, and save GIFs, digital stickers, as well as videos.
Users can find the content they're looking for by searching a term or set of terms in the search bar atop the platform, which can be accessed via giphy.com as well as by downloading its mobile app (available for Android and iOS devices).
GIPHY, furthermore, surfaces trending clips as well as popular artists and channels. Once you discover a GIF or video you enjoy, you can add it to your favorites or share it across social profiles.
Users can also create their very own GIFs and stickers using their phone cameras. The app provides users with various facial filters, which were heavily inspired by the likes of Snapchat who utilize them substantially to create a differentiated platform.
Additionally, GIPHY makes sure to promote the best-performing artists on its platform and even invites other businesses to hire them.
Lastly, software developers can also take advantage of GIPHY's vast content library by plugging into the platform's API or SDK. This allows them to surface GIPHY-based content within their own applications.
How GIPHY Started: Company History
GIPHY, headquartered in New York City, was founded in February 2013 by Alex Chung (CEO) and Jace Cooke.
Chung and Cooke, who both come from a technical background and worked at various startups and big corporations, just met for brunch one day in 2012 to discuss various ideas they had.
One theme they always circled back to was the fact that at least back then, it was incredibly hard to find certain GIFs. Not even search giant Google possessed such a functionality.
Being tinkerers at heart, they spent the coming few months building a tool that scoured the world wide web for GIF files. They started out by scraping GIFs from other websites and manually labeling and then indexing them.
Ironically enough, the tool was initially named Gifgle, which was a shortened version of GIF-Google. However, due to copyright concerns, they decided to rebrand the project as GIPHY.
The initial intention behind GIPHY was to build a tool for Chung and his friends to be able to share those GIFs. On February 1st, 2013, he introduced the tool to a bunch of his buddies who then secretly shared it with various tech publications like Gizmodo and Mashable.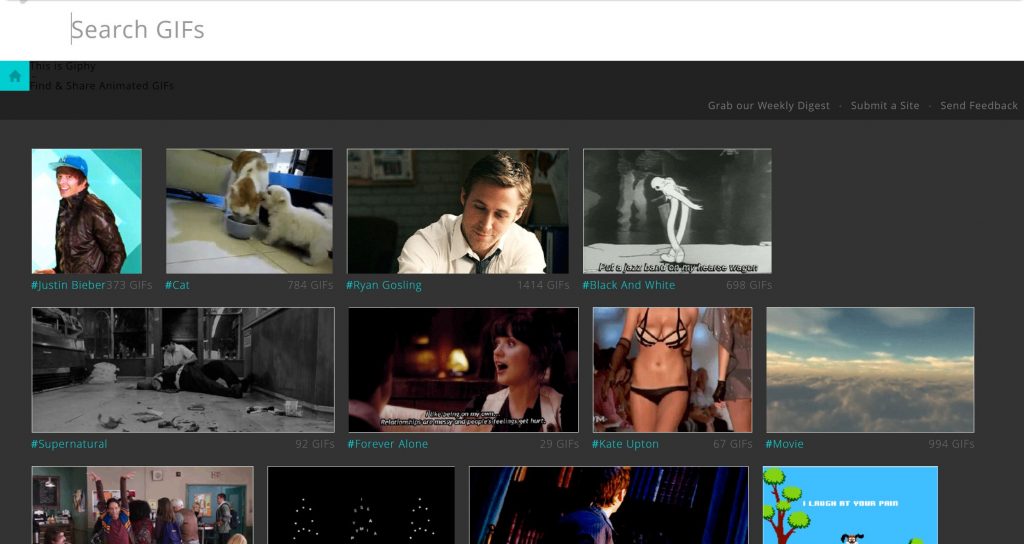 Within a matter of a weekend, GIPHY was able to attract over a million site visitors and eventually leveled out to 300,000 people. That's when Chung and Cooke knew they had something on their hands.
The national exposure allowed the team to join startup incubator Betaworks, one of the original funders of Kickstarter, which provided the young company with office space as well as $1 million in seed funding.
Over the course of 2013, GIPHY mainly focused on expanding its set of features while hiring its first few employees. For instance, the platform introduced artist profiles, screensavers, a quasi-integration with Facebook and Twitter, as well as a link shortener for better shareability of content.
Much of the first year was spent familiarizing people with looking for GIFs on its own website and not Google (or other search engines). Another focus was to increase the number of available GIFs on its platform.
Helping artists to gain exposure was one of the key drivers to achieve that. For instance, when Subway approached the GIPHY team for a potential collaboration, it connected it with one of its artists – all without taking a cut. This, in turn, motivated artists to join the platform, which then led to increased GIF output.
The continuous platform expansion was rewarded with a $2.5 million Series A raise in May 2014. Unfortunately, by that time co-founder Cooke had already left the startup to pursue other projects of his.
Then, in October, GIPHY's engineering team laid the foundation for the hyper-growth it would experience in the coming months and years. The platform launched its very own API, which allowed other application developers to surface GIPHY files. As a result, users could post GIFs on platforms like Slack or Telegram.
To push its API product into more and more partner applications, GIPHY raised another $17 million in January 2015. The round valued the two-year-old startup at $80 million. The funding, furthermore, allowed GIPHY to make its first-ever acquisition. It acquired GIF messaging app Nutmeg for an undisclosed amount in March.
Just days after the takeover, GIPHY launched its very own messenger product called GIPHY+ Messenger, which directly integrated into Facebook's Messenger product and enabled users to send GIF and text-based messages to each other.
Throughout 2015, GIPHY continued to partner with other platforms like LINE or Google's Gmail. Additionally, the company remained experimental with new product launches in an effort to expand its user base. For example, in October it introduced its very own GIF maker software as well as GIPHY Cam, which enabled users to create and share their own GIFs using their phone's camera.
In February 2016, GIPHY announced its third official round of funding. This time, the company raised a $55 million Series C round at a post-money valuation of $300 million.
That same month, GIPHY also announced the launch of GIPHY Studio, an original content shop in Los Angeles, which was led by Nick Weidenfeld (creator of Adult Swim). The purpose of the studio was to create dedicated content in partnership with other brands.
For instance, GIPHY went on to work with NBC to use 19 LED displays in New York's World Trade Center transportation hub and endorse the network's newest sitcom Superstore. Throughout 2016, customers like Converse, FOX, McDonald's, Nike, and Paramount would all work together with GIPHY.
As a result, the platform was able to reach the inaugural mark of 100 million monthly active users. The exponential growth was rewarded by another funding round. In October, GIPHY raised $72 million from investors like Draper Fisher Jurvetson and others, which valued the business at a whopping $600 million.
Much like the previous years, GIPHY continued to expand throughout 2017 and 2018 by means of partnerships with platforms like Viber, Instagram, or Vimeo. Unfortunately, not all of its partners were satisfied with the firm's service.
In March 2018, both Instagram and Snapchat deactivated their GIPHY connection after a racial slur slipped into GIPHY's sticker library (which was introduced back in March 2017). GIPHY reacted swiftly by removing the pictures in question and beefing up its filtration systems as well as content moderation. Within a month, it was back on both platforms.
Apart from this incident, nothing really outstanding occurred. Partnerships remained a large focus for growing the business. For example, GIPHY announced integrations with the likes of TikTok and Amazon's Twitch.
On top of that, GIPHY continued experimenting with new products in hopes of landing a viral hit. In March 2019, for instance, it unveiled an open-sourced machine learning model called the GIPHY Celebrity Detector, which was able to recognize thousands of famous faces in GIFs. Or, in October 2019, it launched GIPHY Arcade, which enabled users to play quick games with GIF characters.
After experiencing a temporary, yet significant uplift in traffic as a result of the coronavirus pandemic, rumors began emerging about GIPHY becoming a potential acquisition target. These rumors came into existence in May 2020 when social media giant Facebook announced that it acquired GIPHY for $400 million.
The two companies, which had worked on various integrations throughout the years, already held acquisition talks back in 2014/2015. However, GIPHY went on to raise its $21.5 million Series B round to remain independent.
Nevertheless, the purchase price itself represented a fairly significant downturn from GIPHY's high. Back in October 2016, investors had valued the company at $600 million. The decrease in valuation was largely a result of the company's inability to build a sustainable business, therefore relying on venture funding to continue operating.
Unfortunately, the low acquisition price wasn't the only bad news. The UK's antitrust watchdog Competition and Markets Authority (CMA) announced that it would investigate the purchase just weeks after it was announced.
Facebook itself did not notify any regulatory body of its intention to acquire GIPHY. In fact, it used a legal loophole to circumvent those very same reporting requirements. It paid a dividend to existing investors, which reduced the size of GIPHY's assets enough so that the two firms were not obligated to report the deal to antitrust officials.
Throughout 2020 and 2021, Facebook and the CMA went back and forth. As of now, the CMA's goal is that Facebook sells off GIPHY to another company as it fears that it would significantly alter competition within the UK. A decision is expected to be announced in October 2021.
How Does GIPHY Make Money?
GIPHY makes money by helping to create as well as promote sponsored GIFs. The content is then either promoted on its own platform or on other analog and digital channels.
The revenue that GIPHY derives from sponsorships is likely being paid on a per-campaign basis. For instance, a brand like the NFL may pay GIPHY something in the ballpark of $1 million (illustrative figure) to first create custom GIFs and then have them promoted across multiple platforms.
The brands themselves benefit from additional exposure. Content on the platform, especially in combination with its various third-party integrations, is often seen by millions of people.
Naturally, GIPHY was also looking into other means of advertising. In the past, given that CEO Chung often cites Google as a major inspiration, it contemplated testing keyword-based advertising. As such, brands would pop up if somebody searches for keywords like food or gym.
However, none of those considerations have been implemented to this date. So far, the company has remained focused on running campaigns with US-based brands.
GIPHY Funding & Valuation
According to Crunchbase, GIPHY has raised a total of $150.9 million across four rounds of venture capital funding.
Notable investors include General Catalyst, Lightspeed Venture Partners, Betaworks, CMC Capital Group, RRE Ventures, and many others.
GIPHY is currently being valued at $400 million – at least according to Facebook, which paid this amount to acquire the company back in May 2020.