Executive Summary:
Twitch is an online video streaming platform that allows creators to share audiovisual content. The platform's primary focus is on live streaming video gameplay. Other categories include music, art, live cooking, or channels for simply chatting.
Twitch makes money by charging users a monthly subscription fee, offering their own digital currency (called Bits), running video ads, as well as selling merchandise. The company operates on a freemium business model.
Founded in 2007 by two former Yale grads, the company has been a huge success so far In 2014, Twitch was acquired by Amazon for $970 million. Today, over 150 million people tune in to Twitch content every month.
How Twitch Works
Twitch is a video streaming platform that allows creators to live stream their content. The service primarily focuses on live streaming video games, but also hosts content on creative topics such as music, art, culinary content (food and drinks), as well as channels to just chat.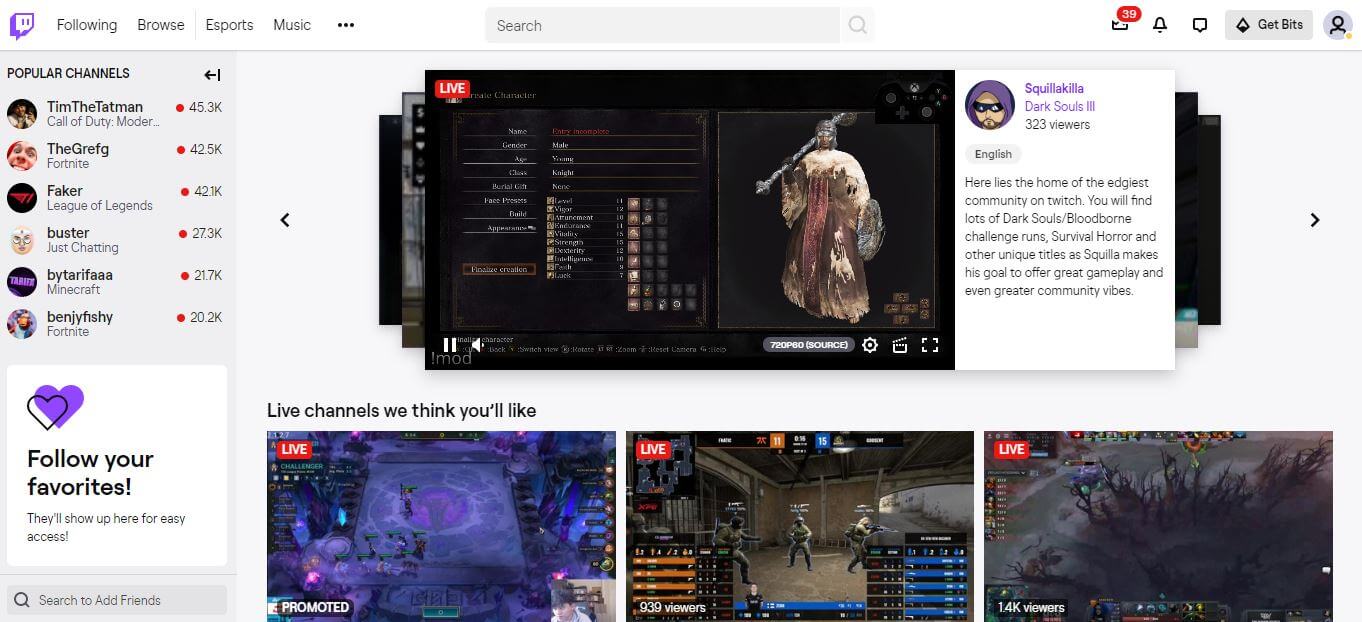 The content on the platform can be viewed either live or via video on demand (similar to YouTube). Twitch is available on almost any device, including their website, mobile apps (Android and iOS), gaming consoles (PlayStation, Xbox, etc.), or via Smart TV's.
One of the platform's major selling points is that content creators (also called twitchers) can directly interact with their audience. Users can subscribe to the creator's channel, chat with him/her during the live stream, or simply donate money to them.
Other means of social validation include features such as:
Emotes (similar to Emojis) to express emotions via chat
Custom Cheermotes: Animated Emotes the viewers can use to support a content creator with bits (Twitch's own digital currency)
Subscriber badges: Channel subscribers can use a customized chat badge to show off their fandom
The beauty of Twitch is that anybody with a functioning camera, microphone, and games console can join the platform and start creating content – in a matter of minutes. It, therefore, comes at no surprise that Twitch boasts a total of over 5.8 million monthly streamers.
A Short History Of Twitch
Twitch originally launched as Justin.tv in 2007 and was founded by Justin Kan and Emmett Shear. The pair are childhood friends who lived three blocks away from each other in Seattle's Capitol Hill neighborhood.
They both went on to study at Yale University, where they started their first business together in 2005. The product, named Kiko, was an online calendar that people could use to organize their time.
Fortune wasn't on their side though. Just one month after launching Kiko, Google went live with Calendar, their ow online calendar tool.
Another learning from those times, as Kan mentioned on multiple occasions, was that the founders weren't power users themselves. Plus, they rarely talked to the relevant customers, leaving them with poor product-market fit.
Nevertheless, after 14 months of operation, the team found an unlikely exit – via online marketplace eBay. They auctioned off the product for $258,000, enough to give them a head start on their next venture.
After failing at selling glow-in-the-dark gene-spliced roses online and starting a social network for families, they would finally arrive at an idea that stuck. The idea: A reality show dedicated to televising Kan's life on the Internet, 24/7.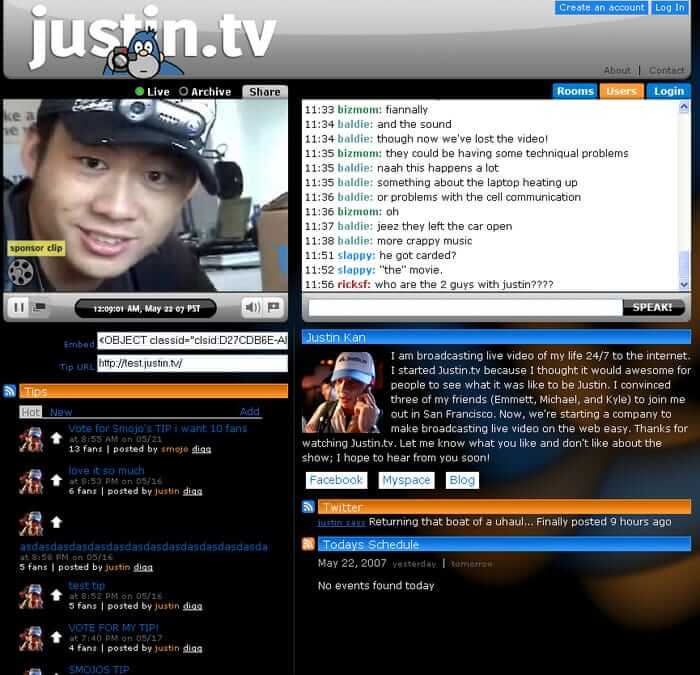 The business, named after Kan, ended up becoming Justin.tv. The idea quickly took off. Kan wound up on NBC's The Today Show and ABC's Nightline and even scored a $50,000 investment from Y Combinator founder Paul Graham.
In time, users began to complain about the lack of drama and action broadcasted on Kan's show. Instead, they kept asking how they create and broadcast their own live videos on the platform.
Months later, in October 2007, Justin.tv opened up to other broadcasters. It became an instant hit with people all around the world. A year into operation, Justin.tv hosted over 30,000 broadcasting channels.
By 2010, the team had raised $7.2 million in venture capital and was getting around 31 million unique visitors per month. Around that time, the company started working on two other side projects to expand on the Justin.tv network.
One venture, a Justin.tv mobile project led by Michael Seibel, would spin off into an Instagram-for-video startup named Socialcam, which Autodesk acquired for $60 million in 2012.
The other project, with a task force led by Shear, was aimed at growing the user base for video content. That project would later become its own platform: a website named TwitchTV.
In the meantime, Kan went on to venture out on his own, while serving Twitch as a board member. In 2012, he founded a service out-sourcing platform called Exec, which he later sold to Handybook. After the sale, he joined Y Combinator as a partner in 2014. Three years later, in 2017, he started a full-service corporate law firm for high-growth companies named Atrium, in which he serves as the CEO to date.
Meanwhile, Twitch was hitting on all cylinders. Within two years of operation, it had eclipsed its predecessor's user count. For 2013, the company counted over 45 million viewers, 600 million created videos, and 12 billion minutes viewed per month.
The continued success culminated in the company's acquisition by Amazon in 2014. The e-commerce giant paid a whopping $970 million in cash to acquire a 100 percent stake in the company.
That same year, Justin.tv closed its doors indefinitely. The team cited much higher user engagement and growth numbers as the reason to focus their efforts on Twitch and abandon Justin.tv altogether. Furthermore, by that time, Kan (who the company was originally named after) was already two years removed from active work in the company.
In the years to come, Twitch continued to add features as well as users to its platform. However, it wasn't the only one to realize how lucrative streaming can be.
In August 2019, Tyler 'Ninja' Blevins, the world's most prominent Twitch streamer, announced that it would leave the platform for Microsoft's Mixer. Other streamers followed his lead and joined competing platforms like YouTube Gaming or Facebook Gaming.
Nevertheless, the company simply remained on course in an effort to become an all-purpose streaming platform. That meant not only promoting gaming-related content but also other categories such as music or cooking.
Unfortunately, that also meant attracting highly questionable content. In October 2019, for instance, a shooting in Germany's Halle that took the lives of two people was livestreamed on the platform. Even the former U.S. president Donald Trump joined the platform to livestream his election campaigns.
Instead of panicking, Twitch simply continued plugging away. In November, it launched Twitch Studio, a software that made it easier for new and existing streamers to create content.
Then, in the beginning of 2020, everything changed. The coronavirus pandemic, which led to a worldwide shutdown of the physical world, introduced millions of new users to the concept of livestreaming. Twitch's user numbers, as a result, literally skyrocketed.
The years of community building finally paid dividends. Furthermore, as Microsoft's Mixer shut down due to a lack of success, many of its streamers, including Ninja and Shroud, also returned to the platform.
However, another problem began to emerge. In June 2020, streamers began receiving DMCA takedown requests because they had used copyrighted material in their videos. Interestingly enough, some of those videos in question were more than a year old.
Simultaneously, Twitch also began banning streamers, such as Dr. Disrespect, who had been accused of sexual misconduct or other types of misbehavior – either for actions they committed on or off the platform. Weeks later, a report by Games Industry also surfaced various instances of sexism, racism, and misconduct, which largely occurred before its acquisition.
Twitch also continued to face pressure from the music industry. In October 2020, the Recording Industry Association of America (RIAA), which was also responsible for the initial takedown of Napster, issued a letter that stated Twitch would ignore copyright laws and failing to secure the proper copyright licenses for its Soundtrack tool (which streamers use to pull music).
Then, a month later, Kevin Lin, another one of twitch's co-founders announced his departure from the company after more than 12 years. CEO Emmett Shear remained on board as the only original founder.
Despite its internal and external turmoil, Twitch remained the king of livestreaming and the undisputed market leader. In 2020 alone, users viewed 17 billion (!) hours of content, up 83 percent from the year prior.
Nevertheless, Twitch continued to grapple with the effects of harassment on its platform. Apart from updating and expanding its harassment policy in April 2021, it also filed a lawsuit against two 'hate raiders' in September.
These users would use bots that would send thousands of hateful messages within a streamer's chat. On September 1st, some of Twitch's streamers even boycotted the platform for a day to express their dissatisfaction with these bots.
Unfortunately, things got even worse in October. An anonymous hacker released 125 GB worth of user data to the public. The file exposed information such as user names, source code for multiple versions, and even how much certain streamers earn.
How Does Twitch Make Money?
Twitch makes money from premium subscriptions, a digital currency (called Bits), video advertising, as well as merchandise sales.
Meanwhile, the core Twitch platform is free-of-charge for both streamers as well as video consumers. More advanced features can be unlocked by paying a premium. As such, Twitch operates on a freemium model.
The freemium model helps them to attract and retain users at a much more rapid pace. Moreover, Twitch user demographic is primarily comprised of teenagers and young adults who tend to have little spending power.
Nevertheless, with projected annual revenues of about $500 million, there are plenty of income streams that Twitch managed to carve out over the past few years. Being within the Amazon ecosystem helps them to create additional opportunities for sales.
The following chapter will take a closer look at each of the ways that Twitch makes money nowadays.
Subscriptions
Users on Twitch can subscribe to a channel to show their support for the content creator. The subscription model is divided into three tiers, which come in at $4.99, $9.99, and $24.99 per month.
Next to the delight of financially supporting the streamer, Twitch subscriptions offer an array of other benefits. These entail things such as:
Ad-free content
Access to streamer-specific emojis that are only available for subscribers of that channel
Subscriber badges, which are special icons which show alongside a subscriber's username within the respective channel's chat room
Exclusive chatrooms only available to subscribers
Access to subscriber-only competitions hosted by the streamer
… and many more. Twitch makes money through a revenue-share agreement with the content creator. More precisely, Twitch takes a 50 percent cut of every subscription it can sell through its platform.
Twitch has been known to decrease the cut it takes for the more popular streamers on the platform. Some of them are able to retain anywhere between 60 to 100 percent of the subscription revenue, which in turn encourages them to stay on the platform.
Competitors of Twitch, which include YouTube Gaming, monetize their users primarily via subscriptions as well.
Bits
Bits (also called Cheer Bits) are the platform's internal currency which viewers can use to cheer on and support the streamer.
When you 'cheer', your message in the chat will be shown as an animated emote — the more Bits you utilize, the more noticeable the emote becomes.
Bits can be bought on the Twitch platform. Different price packages are available, ranging from 100 (equal to $1.40) to 25,000 bits (= $308).
Like the subscription model, the creator will receive a portion of the revenue for every bit that he receives. The creator takes home around 60 to 80 percent of the Bits revenue.
The actual percentage depends on a multitude of factors, including the number of Bits received, the creator's popularity, geography, and many more.
Advertising
According to Statista, the average Twitch user is 21 years of age. This age group has naturally a smaller disposable income compared to their older counterparts. Consequently, many users are not even able to pay for any premium features available on Twitch.
Twitch has enabled video ads on their pre-recorded videos and live streams to combat the lack of monetization it has with its free users.
Streamers are paid based on their CPM (Cost Per Mile) performance, which is the amount an advertiser pays a content creator per one thousand visitors who see his/her advertisements.
Twitch would first negotiate ad deals with the advertisers (e.g. Nike, Nintendo, or any other company willing to advertise). The content creator then receives a portion of that advertising pool depending on his CPM performance. Twitch takes home the rest.
Twitch designs a personalized contract with each content creator specifying their personal rates and incentives. It furthermore contains a confidentiality clause, making it tricky to determine the exact volumes that streamers make from advertising.
Content creators can determine when exactly they want to play the video ads. The most common are pre-roll (before the video/stream starts) and mid-roll (in the middle of the video/stream) ads.
CPM prices are highly seasonal, and the pay-out can vary significantly depending on the time of the year (ranging anywhere from $2 to $10 per 10000 views). Traditionally, June, October, November, and December tend to be the months when advertisers pay the most for the ad spots.
Merchandise
The merchandise section is where the partnership with Amazon really comes into full display. Launched in October 2017, fans of the platform can buy Twitch-branded merchandise via the Amazon store.
The merchandise is an Amazon-exclusive, meaning it can only be bought on Amazon and nowhere else. Because of the (extreme) fandom that many of the platform's users display, merchandise can be sold at higher margins.
Furthermore, payment and shipping execution is handled by Amazon itself. In case the user is subscribed to Amazon Prime, the purchase is often just a few clicks away.
Next to clothes, customers can also buy gift cards or even accessories for their dogs. Twitch merch is essentially available in any country that Amazon operates in and sells to.
Twitch Funding, Valuation & Revenue
According to Crunchbase, Twitch has raised a total of $35 million in three rounds of venture capital funding. Investors into the company included the likes of Thrive Capital, Bessemer Venture Partners, Y Combinator, Draper Associates, and many more.
The last time Twitch's valuation was made public was when the company was acquired by Amazon in 2014 – for a whopping $970 million in an all-cash deal. Wall Street analysts have estimated that the company's valuation rose to about $3.8 billion five years after its acquisition.
Unfortunately, Amazon currently chooses not to disclose how much revenue and profit Twitch generates.