Executive Summary:
Canva is a graphic design SaaS application that allows its users to create and edit visual content. Examples include posters, presentations, infographics, logos, and many more.
Canva makes money from monthly subscriptions, print products, course sales, as well as marketplace fees. The company operates on a freemium business model.
Founded in 2012 and based out of Sidney, Australia, Canva has become a huge success. The company is currently valued at $15 billion.
How Canva Works
Canva is a graphic design application that allows users to create infographics, posters, presentations, logos, and other forms of visual content.


Its main differentiating factor is that the platform started out as a web application. Traditionally, design tools had been desktop applications which required to be downloaded. Canva's design tools are furthermore available via Android and iOS.
Canva acts as an all-in-one design tool, aiming at providing features for the whole graphic design process. Some of the most popular features are:
Pre-built design templates
Altering fonts, colors, size, and many other visual aspects
Drag and drop editor
Adding filters or frames
… and plenty more. Since the application is hosted on the cloud (and not locally as with many traditional desktop applications), all the work done is synched up across all registered devices.
Furthermore, users can create a so-called Brand Kit, which allows them to use the same visual style across all their designs.
Last but not least, all created work can be shared between registered members, which allows other users to work on the same projects simultaneously.
A Short History Of Canva
Canva, headquartered in Sidney, Australia, was founded in 2012 by Melanie Perkins (CEO), Cliff Obrecht, and Cameron Adams.
The company's journey started 6 years earlier in Perth where Perkins and Obrecht attended the local university while dating at the same time (they remained a couple to this date).
Perkins was earning a side income by teaching others how to use design programs like Photoshop or Sketch. Back in those days, students were spending an entire semester figuring out where certain buttons and features were placed. Even the simplest of tasks, like exporting a PDF, would take over 20 clicks to complete.
Furthermore, the software had to be downloaded and used on a person's computer. Working on those files locally made it hard for students and designers to collaborate across their different projects.
The complexity of those applications sparked a thought in Perkins and her boyfriend. What if design tools were simple to use, intuitive, and accessible through a few clicks?
With the idea in mind, the couple started Fusion Books, a website that allowed high schools to design their yearbooks online.
Fusion Books was an early version of what would later become the Canva application. Perkins and Obrecht set up shop in her mother's front room and borrowed money from family and friends to pay for software engineers that helped them build the platform.
The company became an immediate hit with Australian schools. Fusion Books eventually developed into Australia's biggest yearbook publisher and expanded to France and New Zealand. The endeavor was so profitable that Melanie chose to quit university to focus on it full-time.
In 2010, Perkins and Obrecht decided that the concept of Fusion could be expanded beyond yearbooks. At a conference in Perth, Perkins met Silicon Valley investor Bill Tai, who invited her to fly over to pitch the idea of what would later blossom into Canva.
Tai (who later became one of the company's first investors) invited Perkins to one of his legendary retreats at MaiTai, his personal retreat estate for investors and kitesurfing enthusiasts. The catch: he told Perkins to learn how to kitesurf to increase her chances of raising money.
While she picked up the sport fast, the funding process wasn't as smooth of a ride. In the two years that followed, Perkins flew over to the Valley multiple times, meeting hundreds of investors in the process.
But in the end, the kitesurfing-connections paid off big time. Through the surfing group, they met Cameron Adams, a former Google exec who had started a business based in Sydney.
Expecting to meet with them as a board advisor in March 2012, Adams would instead be convinced to join the company as third cofounder the following June. Ex-Googler (Maps, Wave) David Hearnden joined as another key early employee.
With their tech leaders in place, the founders finally broke through and raised their first round of funding, announced in March 2013.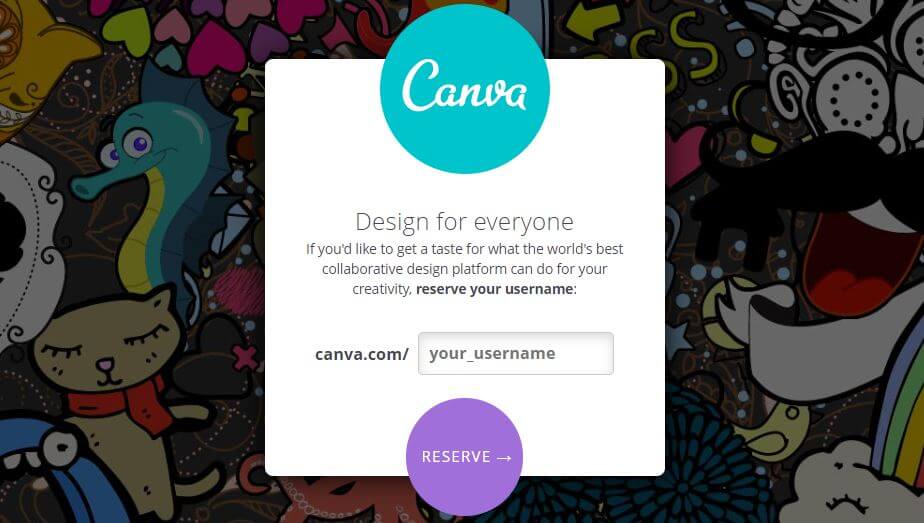 The platform opened its doors a few months later in August 2013. Operating on a freemium model, the company was able to acquire users at a rapid pace. Over 50,000 users signed up in the first month. By 2014, the then 600,000 users already created over 3.5 million designs.
In the years that followed, Canva continued to add features and users to its platform, mainly through word of mouth. Furthermore, features like automatically adjusting the size of a graphic for social media posts made it extremely easy for users to share their designs on many different platforms.
Additionally, Canva fueled parts of its growth by acquiring other startups. In 2018, it snapped up presentation startup Zeetings for an undisclosed amount and integrated the tool into its ecosystem soon after.
Lastly, Canva adapts to local markets when expanding. Upon its debut in China, it made sure that featured local fonts, local templates, and a Chinese support team based out of Beijing.
During a funding round in September 2021, in which Canva was able to raise $200 million on a valuation of $40 billion, Perkins and Obrecht (who married early in 2021) announced that they would give away the majority of their wealth to noble causes.
At the time of the funding, the two owned around 30 percent of the company, equaling around $16.5 billion in net worth.
Canva continues to lay the foundation to become one of the world's most dominant software businesses. Its users have created over 2 billion designs to date. The Canva community creates more than 50 designs per second.
Meanwhile, the platform is now available in over 100 languages. Melanie Perkins has over 6,000 designs attributed to her account (for reference, Canva's most productive user has created over 45,000 design projects!).
Furthermore, over 1,000 people across five offices in Beijing, Sidney, Austin, Manila, and San Francisco are now employed by the company.
How Does Canva Make Money?
Canva makes money from monthly subscriptions, print products, course sales, as well as marketplace fees.
Canva initially started out as a free tool. This strategy was to attract users and build a consistent and loyal following. Through word of mouth and a high-quality product, that user base would grow over time.
Over the past few years, Canva added various income streams, ranging from subscriptions to business solutions.
Nevertheless, the company's core is still centered around its freemium business model. As such, the majority of its tools can be used for free. If users intend to get access to more advanced features, they will have to pay for them.
The following chapter will take a closer look at each and every one of those income sources.
Canva Pro
Canva Pro is a premium subscription plan that unlocks additional features not available in the free version.
Premium features of the Pro plan include:
The ability to create a Brand Kit
Unlimited folders to save your work
Over 1000+ readily available fonts
Access to premium animations
Priority support
… and many more. Canva offers a 30-day free trial to ease users into paying while testing out all premium features.
The Pro plan is aimed at so-called power users. These users are often graphic design professionals who use Canva for their work.
Canva For Enterprise
Canva For Enterprise, as the name indicates, is aimed at businesses that want to use the platform to aid their design (and other) teams.
Example features include a team dashboard to manage teams and assign roles, grant different access rights, built-in comments for collaboration, or team folders to share one's work.
Furthermore, teams will be assigned to a dedicated account manager as well as receive priority support whenever an issue arises.
Like the Pro plan, a monthly subscription fee is charged. The plan costs $30 per user per month. If the team works for a non-profit, access is free-of-charge. Meanwhile, educational institutions receive a discount.
Customers of the Enterprise plan include the likes of Warner Music Group, HubSpot, American Airlines, Duke University, PayPal and many others.
Canva has been an early pioneer in the bottom-up approach of growing a SaaS offering (next to tools like Slack). It makes the vast majority of tools available for free and only charges for premium features.
Some of its users then become advocates for the tool within their own company and start to push their superiors in adopting it for their work. This vastly eases the process of selling to corporate clients.
"We intentionally make our free product extremely generous for a number of reasons," said Perkins in an interview with TechCrunch. "It's critical both for our marketing and towards our mission of empowering people to design. But, as part of our marketing, it means that people are able to love the product, share it with their friends and family, and promote it on social media. And then that virality really rapidly fuels our growth."
Canva Print
With Canva Print, customers can print out their designs on physical material. Designs can be printed on things such as:
T-Shirts
Business Cards
Posters
(Wedding) Invitations
Postcards
Flyers
… and plenty more. Pricing is based on the type of article chosen, order volumes, country of residence, as well as potential requests for customization. Canva Print ships to over 30 countries across the globe.
Design School
Canva's so-called Design School is a collection of online as well as physical courses related to all things design, social media, and branding.
The online courses are free-of-charge and can be completed at the student's own pace. On the other end, physical classes may start for as little as $5.
The course material is aimed at explaining the platform while improving a student's design skills. Both online and physical courses are hosted by Canva employees and design experts.
Marketplace
Users that are not subscribed to the Pro or Enterprise plan can purchase premium designs for one-time usage directly on Canva's platform.
Essentially, Canva operates both a subscription service as well as an online marketplace on top of its freemium model.
The revenue from these design purchases is then shared with the content creators themselves. Canva takes home 35 percent of the sales price while the creator keeps the rest.
For content sold in the Pro subscription, the royalty rate paid to contributors is 50% of net revenue earned by the Pro plan (minus taxes and payment processing fees).
Many of the freely available images on the Canva platform originate from its acquisitions of Pexels and Pixabay (sale amount undisclosed) in May 2019.
Canva Funding, Valuation & Revenue
According to Crunchbase, Canva has raised a total of $572.6 million in 14 rounds of venture capital funding.
During the company's newest funding round, announced in September 2021, Canva was able to amass a valuation of $40 billion. Both Perkins and Olbrecht are now multi-billionaires.
Notable investors into the company include the likes of Softbank, General Catalyst, Sequoia Capital, Felicis Ventures, Blackbird Ventures, and many more.
Canva has generated $700 million in revenue for the fiscal year 2020 according to AFR reporting. For 2021, it projects to reach $1 billion.