Executive Summary:
Coursera is an online education platform that offers so-called MOOCs (Massive Open Online Courses) in cooperation with other businesses and universities. Educational content is offered in fields such as Finance, Data Science, Software Engineering, and many more.
The business model of Coursera is based on charging students for attending and completing its accredited online courses as well as degrees. Furthermore, the company makes money by charging a subscription fee to businesses and other organizations that want to access the site's content.
Founded in 2012 by two former Stanford professors, the company has been a huge success so far. It counts over 3,800 courses as well as 50 million registered students to its platform. Additionally, Coursera has raised over $350 million in venture capital funding.
What Is Coursera?
Coursera is an online education platform that provides online courses, known as MOOCs (Massive Open Online Courses), from leading universities and businesses around the globe.
As of today, there are over 3,800 courses created on the platform. Students can access them in categories such as:
Business
Data Science
Computer Science
Language Learning
Arts and Humanities
… and many more. Educational institutions that created classes on Coursera include universities such as Wharton, Stanford, or Duke. On the company-side, firms like Google, Facebook, or IBM, and many others have joined the fun. Meanwhile, the company's competitors (including the likes of Udemy and MasterClass) focus on instructor-led courses taught by professionals in the field.
In almost all cases, courses are comprised of pre-recorded video lectures that students can watch on a weekly cadence (or at any time within the course running).
Courses normally run on a pre-defined scheduled and are completed when all assignments and quizzes have been handed in successfully.
A big chunk of the courses are part of a so-called Specialization, which is a micro-credential offered by Coursera. Specializations are normally comprised of a handful of courses and may end with a Capstone project to test a student's knowledge.
Other courses are part of MasterTracks and Professional Certificates, which are more in-depth specializations geared towards working professionals.
Lastly, Coursera also offers accredited university degrees for both Bachelors and Masters students. Partner universities include the likes of HEC Paris, the University of Illinois at Urbana-Champaign, or the University of Colorado Boulder in fields such as Business, Computer Science, Public Health, and Data Science.
A Short History Of Coursera
Coursera was founded in 2012 by former Stanford Computer Science professors Andrew Ng and Daphne Koller. In the late 1990s, the pair met during their graduate studies at Berkeley and remained friends ever since.
While both founders never publicly shared how the idea for Coursera came to be, it can be assumed that they took a page out of their colleague's book.
A year earlier, in 2011, Stanford professors Sebastian Thurn and Peter Norvig launched Udacity, an online platform of educational content. Udacity's first class was called 'Introduction to Artificial Intelligence'.
Coursera's initial start to worldwide fame became awfully similar. Ng and Koller made their own Stanford-taught course 'Machine Learning' available to the wider public in 2012 (as of today, the course had over 3.3 million students in total).
The course became an immediate hit with students around the world. Over 104,000 students signed up for it within a matter of days.
With this insane demand and a $16 million investment from Kleiner Perkins and New Enterprise Associates, Koller and Ng had all the confirmation they needed. They quit their Stanford teaching jobs days after the initial launch of the course.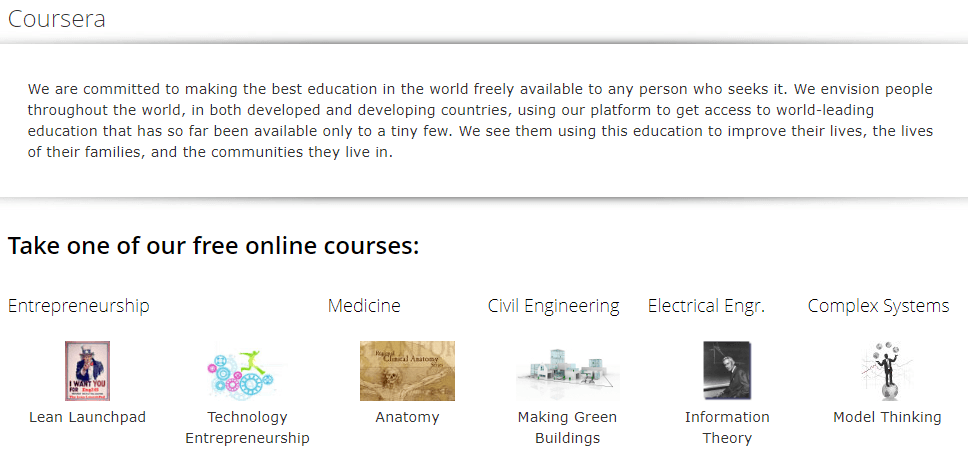 When Coursera officially launched in 2012, all courses on the platform were made available free of charge. The company's mantra was to make the world's best education available to anyone thirsty to learn more.
As such, Coursera focused (and still does to this day) its efforts on only partnering up with the best universities in the world. Its first few educational partners included institutions such as Stanford, Princeton, Michigan, and the University of Pennsylvania.
Meanwhile, Coursera's co-founders exited the company within the first few years of operation. By 2014, both Ng and Koller moved into board supervision roles. Ng moved on to work as the Head of AI Research at Chinese Internet giant Baidu and then starting his own AI investment firm in 2017.
Koller, on the other hand, joined Alphabet (Google's mother company) subsidiary Calico in 2016. In 2018, she started insitro, a data-driven drug discovery and development company that leverages machine learning to help patients. These days, she's working on another EdTech startup called Engageli.
Former Yale president Rick Levin took the reins of the company in 2014, which he passed on in 2017 to Jeff Maggioncalda who has led the company ever since.
Over the coming years, Coursera continued to add on business and university partners as well as students to its platform.
2020, in particular, proved to be extremely positive. Stay-at-home orders due to the novel coronavirus gave people more time at home – which many of them spent upping their skills.
Coursera also made various positive contributions, for instance by offering governments free access to their courses for people that became unemployed.
The firm's registered user base grew by over 65 percent to 77 million in 2020 alone. As a result, Coursera decided to go public to capitalize on those favorable market conditions. In March 2021, the firm IPO'd on the Nasdaq stock exchange.
Today, over 800 people are employed by the company which operates offices across the world in countries like Colombia, India, or the United States.
How Does Coursera Make Money?
While Coursera started out with the noble goal of "making the best education in the world freely available to any person who seeks it", it has ever since branched out into various streams of monetization.
Nowadays, the company makes money through a multitude of offerings, ranging from certifications to subscription services.
Coursera operates on a freemium business model, allowing students to take courses for free. They only need to pay if they seek to acquire an accreditation (such as certificates or degrees).
Let's look into each of the firm's revenue streams in more detail below.
Professional Certificates
Professional certificates are a set of courses tailored towards gaining knowledge in a relevant field to advance a person's career.
Topics include skills such as:
Google Cloud
Data Analytics in SAS
Automating tasks with Python
IT Support
… and many more. Coursera utilizes a subscription-based model for its professional certificates. This means that students will pay a monthly fee to access the course content. The price of a subscription ranges anywhere between $39 to $89 per month.
Alternatively, students can also attend single courses or so-called specializations, which cover some of the same topics that are part of the professional certificate (or even the degrees and MasterTrack's the company offers).
If users have a thirst for even more knowledge, they can opt into Coursera Plus, which grants access to over 3,000 courses, Specializations, and Professional Certificates. The plan comes at a price tag of $399 per year.
University Degrees
Coursera partners with leading universities across the globe to offer its students the opportunity to earn fully accredited Bachelor's and Master's degrees.
Degrees can be earned in the fields of Data Science, Business, Public Health, or Computer Science and Engineering.
The main selling point of those degrees is the fact that they can be obtained at a much lower rate, oftentimes half of what on-campus degrees would cost.
According to Coursera, the average age for a student is 35 years while possessing 14 years of professional work experience.
The degrees are led by the same professors that teach the on-campus programs. Scholarships are available to selected students to ease the financial burden.
The length of a program is anywhere between 12 to 36 months, depending on the type of degree and program chosen.
MasterTrack Certificates
Coursera's MasterTrack certificates are a condensed version of a traditional Masters program that can be earned at universities.
Contrary to traditional university degrees, MasterTrack's are focused on real-world projects that mirror relevancy in the business world.
These programs are broken down into 3 to 6 courses while taking around half a year (in some cases longer) to complete.
If a student is accepted into a full Master's degree (including the ones mentioned above), the MasterTrack coursework counts towards the completion of the degree.
MasterTrack's offerings can range anywhere from $2000 to $4500 per track – how much of that goes to the university itself is not publicly shared.
Coursera For Business
Coursera For Business, as the name indicates, gives companies and its employees access to Coursera's database of over 3,800 classes.
It is aimed at helping companies increase the level of skill their employees possess without paying thousands for traditional certificates.
Pricing is dependent upon the size of the organization. For teams and smaller organizations, Coursera recommends to opt into its Team subscription, which comes in at $400 per year per user.
The Enterprise plan is available for bigger-sized firms. The price is available upon request but expected to be higher than the Teams plan.
Additional features of the Enterprise plan include goodies such as a dedicated customer success manager, API integrations, access to expert-curated course collections, or a skills transformation plan.
Similar solutions are available for governments (under Coursera For Government) as well as educational institutions (via Coursera For Campus).
How Much Does Coursera Pay Instructors & Professors?
Coursera does not pay any money to the instructors or professors that teach its courses. Instead, revenue is shared with the institution (e.g. university) that hosts that course.
Some universities have reportedly agreed to share a portion of the revenue they receive with their professors.
Nevertheless, most do it as part of their curricula as well as to expand their teaching to new student demographics.
Coursera Funding, Valuation & Revenue
According to Crunchbase, Coursera has raised a total of $443.1 million in 13 rounds of venture capital funding.
Notable investors into the company include the likes of Kleiner Perkins, New Enterprise Associates, the SEEK Group, Future Fund, World Bank, and many more.
During the firm's IPO, in which it raised another $520 million, Coursera was valued at $4.3 billion.
Coursera reported $293.5 million in annual revenue for the fiscal year 2020, a 59 percent increase from the year prior.