Executive Summary:
Udemy is an online learning platform created for students and working professionals. Courses are created by instructors in categories such as design, business, or programming. Udemy's courses are available in over 65 languages.
The business model of Udemy is based on charging instructors a fee for every course sale made on its platform. The fee ranges from 3 to 75 percent and depends on how the user was acquired. Additionally, Udemy charges a yearly subscription that gives businesses (and their employees) access to the platform's content.
Founded in 2010 by Eren Bali, Gagan Biyani, and Oktay Caglar, the company has been able to acquire customers at an exponential rate. Today, the company counts over 50 million enrolled students and a total of 150,000 courses on its platform while amassing a valuation of $2 billion in the process.
How Does Udemy Work?
Udemy (which stems from "academy for you") is an online learning platform and marketplace aimed at students and working professionals. Courses are led by so-called instructors, which are (preferably) subject matter experts in the field they teach in.
Udemy offers over 150,000 courses on its platform, including categories such as:
Design
Photography
IT & Software
Business & Entrepreneurship
… and many more. Udemy courses are based on lectures, which can entail videos, slides, text, or other resources deemed necessary by the instructor. Additionally, the instructor can add assignments, practice tests, quizzes, or coding exercises to test their student's knowledge.
As opposed to traditional university courses (or even some of the firm's competitors like Udacity), Udemy courses are entirely on-demand. This means students can enroll and finish courses whenever they please.
Courses can be accessed from multiple devices, including desktop computers, laptops, and through their Android or iOS app.
To get a feel for what a given course offers, students can take a look at trailers or in some instances, finish the first lecture of a course.
Are Udemy Courses Accredited?
Udemy, unlike most universities, is not an accredited institution. While courses are presumably taught by experts in their field, Udemy won't be able to ensure the necessary standard of quality necessary for accreditation.
Nevertheless, students will receive a certification of completion when finishing a course. This statement of accomplishment can be saved either as a .pdf or .jpg and can be shared on platforms such as LinkedIn.
A Short History Of Udemy
Udemy, based out of San Francisco, was founded in 2010 by Eren Bali, Gagan Biyani, and Oktay Caglar. The paths of the founders couldn't be more different: While Bali and Caglar grew up in rural Turkey, Biyani, a son of Indian immigrants, was raised in California.
One summer Bali's sister came back from her university studies and received a laptop to continue her work. Bali used this access to up his math skills – comfortably winning a national competition in applied mathematics.
After finishing his university studies in Turkey, Bali migrated to the US. He joined SpeedDate as a founding engineer and Director of Engineering, helping the company grow from 0 to 10 million users in two years.
Meanwhile, Biyani was working as a strategy consultant at Accenture after finishing up his Economics degree at the University of California, Berkeley. He soon found himself being bored in the 9 to 5 world and feeling the need to venture out on his own.
Biyani met Bali and Caglar in 2009 at the accelerator program of Founder. "Eren and Oktay were clearly the smartest engineers in the whole group, but few knew who they were. They were brainy, less social with thick accents," Biyani recalled in an interview with CNBC TV.
Starting Udemy was rough, to say the least. All three founders attended the program while still being employed. Bali and Caglar were dependent on their employment visas and therefore couldn't quit their jobs.
Furthermore, the team initially struggled with finding investors. Over 30 of them said no when they were pitched the idea of Udemy.
As a consequence, the trio went back to the virtual drawing board and re-designed and -built the platform. Furthermore, the founders continued to expand their network within the valley.
With the help of AngelList.com and investors Keith Rabois (early investor into PayPal, LinkedIn, Yelp, and many others) and Russ Fradin, Udemy raised $1 million in less than a month.
Within the first few months of launching, Udemy was able to attract over 1,000 instructors that developed a total of 2,000 courses.
The founders attracted their first instructors by putting up their own courses, teaching students about topics such as how to start a company or program a website.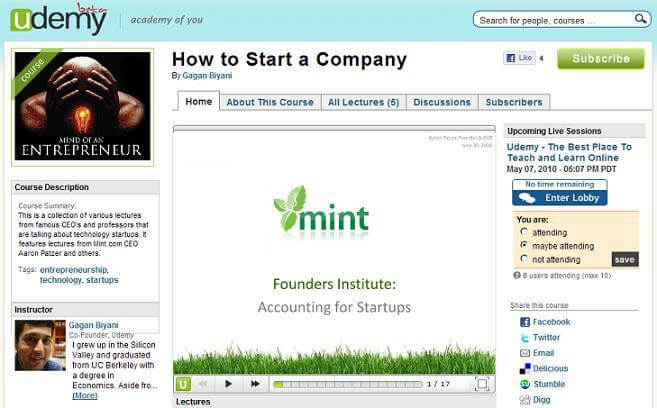 Their first course, Raising Capital For Startups, generated over $30,000 in revenue in the first few weeks. Soon after, other instructors came knocking on their doors.
By 2012, the company was able to attract over 400,000 registered students. Furthermore, 25 percent of Udemy's instructors were at least making $10,000 from selling courses.
Unfortunately, it wasn't all rosy and shiny over at Udemy. In 2012, Bali fired Biyani over personal differences (Biyani went on to serve as a growth advisor at Lyft and launch online restaurant Sprig). Two years later, Bali left the company to focus on new entrepreneurial endeavors. He co-founded (and still serves as the company's CEO) Carbon Health.
While the company has been on its fourth CEO since inception, it hasn't stopped it from growing at an exponential pace.
Today, Udemy counts over 50 million student enrollments and a total of 150,000 courses on its platform. Courses are being developed in over 65 languages. Furthermore, the company employs over 1,000 people working in 16 offices across the globe.
How Does Udemy Make Money?
Instructor Fees
There is no fee to create or host courses on Udemy. The firm makes money whenever a student purchases a course.
Consequently, course revenue is shared with instructors. Depending on how the student was acquired, a different instructor fee applies.
Udemy has three revenue share tiers that it applies to its instructors:
Instructor Promotion: The student discovers the course through a coupon or referral link issued by the instructor. In this case, the instructor receives 97 percent of the course revenue. An additional administration fee of 3 percent is applied by Udemy.
Udemy Organic: Organic sales occur whenever a student browses the Udemy platform and finds a course he/she is interested in. Furthermore, no instructor coupon is used when purchasing the course. In this scenario, Udemy and the course instructor share 50 percent of the course sales. Udemy charges a 30 percent fee for any sale made through the company's Android or iOS app.
Paid Acquisition: In some instances, Udemy buys advertising slots on other platforms like Google, Facebook, or YouTube. Whenever students buy courses through paid marketing channels, Udemy takes a 75 percent cut of each course sale. Instructors can limit the amount of times and types of channels in which their courses are promoted.
In the past, instructors have been unhappy with how Udemy promotes and sells their courses. This is grounded in the lack of control over pricing and how courses are advertised on the various platforms.
On the other hand, there are famous examples of instructors (like John Purcell) making millions every year from selling Udemy courses.
Udemy For Business
Udemy For Business, as the name indicates, is tailored towards companies and their employees. With the program, employees will get unlimited access to over 4,000 top-rated courses.
Udemy offers two subscription plans, depending on the size of the team. The Team plan is aimed at learning groups of 5 to 20 users. The company will have to pay $360 per year and user.
Consequently, the Enterprise plan is suitable for all teams above 21 or more users. Hereby, pricing is available upon request by contacting Udemy's sales team.
Furthermore, the Enterprise plan offers a few additional features. These include custom categories and learning paths, no language limitation (the Team plan is limited to English only), custom user groups, tracking user activity, Slack integration, and many more.
Why Is Udemy So Cheap?
When browsing through Udemy's website, one often can find heavily discounted courses. Some of the courses are even off by 90 percent.
The first reason for courses being low-priced is that they are created by individuals and not companies or educational institutions. This makes the cost of producing a course much cheaper.
Second of all, courses are almost always graded automatically, for instance through quizzes. This removes the need for manual grading.
Thirdly, courses are priced higher to create a false perception of value. And when these very same courses are put on discount, it creates a so-called scarcity effect. This urges students to buy a course to take advantage of the limited promotion.
Udemy Funding, Valuation & Revenue
According to Crunchbase, Udemy has raised a total of $273 million in nine rounds of venture capital funding. Udemy was able to garner a valuation of $3.32 billion in its latest Series F round (announced in November 2020).
Investors into the company include the likes of Tencent, Insight Partners, Japan-based educational publisher Benesse Holdings, Stripes, Norwest Venture Partners, and many others.
Udemy, like any startup in growth mode, does not share any revenue metrics with the public. Due to ongoing expansions into new markets as well as spending on product development and new hires, it can be assumed that the company remains unprofitable for now.