Executive Summary:
ZipRecruiter is an online job board for both job seekers and employers. Apart from offering jobs on their website, ZipRecruiter will send a company's job offer to more than 100 different job boards for additional exposure.
The business model of ZipRecruiter is based on charging businesses a subscription fee for the usage of its platform. Furthermore, additional tools such as ZipAlerts or JobBoard.io can be purchased.
Founded in 2010 and based out of Santa Monica, California, the company has seen immediate success with its customers. Today, over 25 million people visit ZipRecruiter's website every month while 9 million jobs are being posted on the company's website.
How ZipRecruiter Works
ZipRecruiter is an online marketplace that matches employers with job-seeking workers. Users can access ZipRecruiter through the company's website or mobile apps (available on Android and iOS).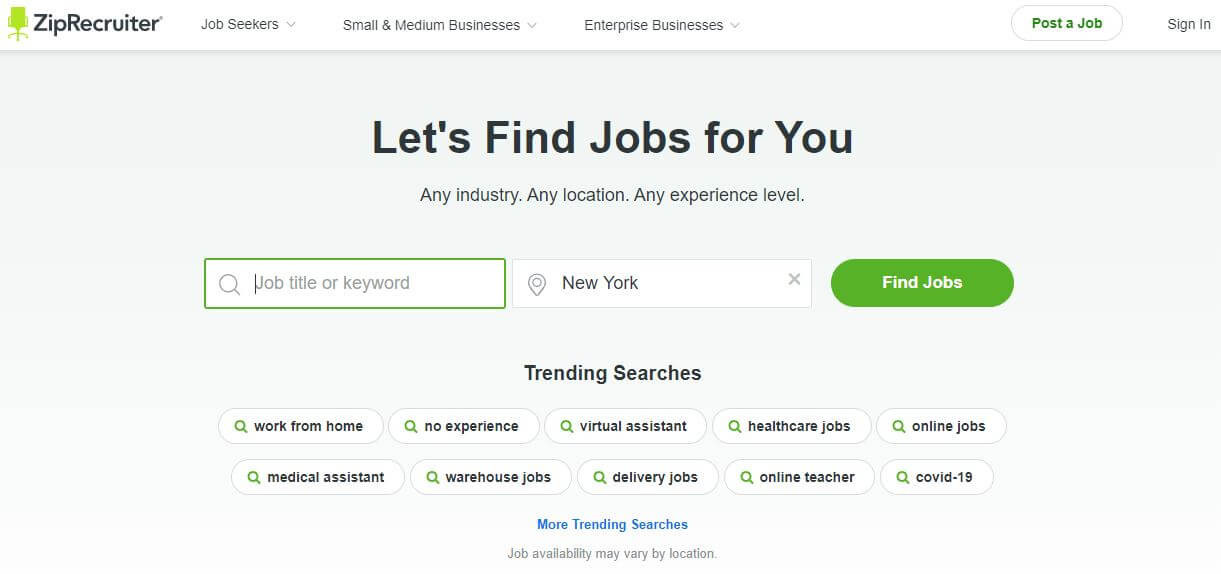 While ZipRecruiter can be used as a normal job board site, the platform goes beyond being a place for companies to post their job openings.
When employers post a new job on ZipRecruiter, the site shares your posting across 100+ job boards across the web.
Furthermore, ZipRecruiter developed technology that scans their extensive database of resumes and sends out notifications to any suitable candidate, inviting them to apply to the job.
Other features on the marketplace include:
Using ZipRecruiter's database to access salary data from over 7.5 million jobs and 35,000 different job titles
Job seeker testimonials about different companies and their culture
ZipSearch API, which allows other job boards to advertise the 8 million jobs posted on the platform
ZipPost, the company's own referral program, where agencies and other platforms can resell ZipRecruiter job postings to existing contacts
JobBoard.io. a white-label SaaS product that allows you to create your own custom job board
… and many more. The company claims that "80% of employers who post a job on ZipRecruiter get a quality candidate within the first day".
ZipRecruiter is active in the United States as well as the United Kingdom while the company is headquartered in Santa Monica, California.
A Short History Of ZipRecruiter
ZipRecruiter was founded in 2010 by Ian Siegel (CEO), Joe Edmonds, Ward Poulos, and Will Redd. Siegel started his career as a producer at Warner Brothers and went on to hold various leadership positions in the startup world at companies such as Stamps.com or Ticketmaster.
It was at the above companies where he became acquainted with Poulos, Edmonds, and Redd, who ended becoming his co-founder.
During his executive tenures, Siegel grew increasingly frustrated with the process of recruiting new employees. Back then, hiring companies had to individually upload their job postings into each job board.
This not only became a very time-intense, but also costly process. Employers would have to pay a fixed fee for every job they post, which often resulted in allocating budgets for multiple job boards.
On top of that, employers back in the day used to print out resumes, which resulted in huge piles of paperwork. It thus became difficult to track where the candidates were coming from.
The four co-founders started ZipRecruiter as a side project. At first, the company was only focusing on small- and medium-sized enterprises, which were oftentimes neglected by larger job searching platforms.
They put together a basic version of the ZipRecruiter product and the first day they launched, the team put $50 into Google Adwords, and got 12 customers for that – plus the confirmation they needed that this could become a viable business.
As a result, Siegel and team quit their high-paying tech jobs and went all-in on ZipRecruiter. And because of the early success of those test results, the team decided to bootstrap the business and not rely on any outside funding.
That decision, to be fair, wasn't a tough one to make. One year into the business, ZipRecruiter was generating over $100,000 in monthly revenues. By 2014, this number rose to $50 million in annual revenues.
To cope with the exponentially increasing demand (in 2014, 30,000 businesses were signing up to ZipRecruiter every month), the company opened itself to outside investments.
In 2015, the company opened a dedicated research center in Israel that focused on machine and deep learning research. Today, over 200 engineers alone work on making the ZipRecruiter platform smarter and more intuitive to use.
Despite the extreme growth, it hasn't all been shiny. The company's Chief Marketing Officer Eyal Gutentag left ZipRecruiter in 2019 after reports of alleged sexual misconduct surfaced.
Nevertheless, ZipRecruiter has become one of the world's biggest job platforms. The company employs over 700 people in the U.S., Canada, the U.K., and Israel.
Over 25 million job seekers come to ZipRecruiter's website every month while the company features over 9 million job postings per day.
How Does ZipRecruiter Make Money?
Traditional job boards like Craigslist or Monster rely on fixed fees that are paid for every listing posted. On the contrary, ZipRecruiter has always tried to differentiate by offering more flexible and lucrative pricing packages.
Ever since its inception, the company has evolved into much more than a simple job board. Today, ZipRecruiter offers a plethora of products and services that they monetize in various ways.
This section will take a closer look at how ZipRecruiter monetizes its user base.
Subscription Plans
The bulk of ZipRecruiter's revenue comes from the monthly subscription plans that it charges businesses to use their platform.
Plans start as low as $249 per month. ZipRecruiter normally creates a customized plan based on the needs and size of the company seeking to hire.
Meanwhile, the monthly subscription fee varies depending on factors such as:
How many job ads are posted per month
The customer's industry and location
The number of resume downloads needed
The number of employees using ZipRecruiter's tools
To ease the customer's mind, all plans start on a free-trial basis. ZipRecruiter's plans are divided into three tiers named Standard, Premium, and Enterprise.
The more advanced plans (i.e. Premium and Enterprise) include additional features such as premium placements in job alert emails, access to database of over 25 million resumes, dedicated ZipRecruiter team that manages customer's spend, and many others.
Lastly, the higher up the pricing ladder a company goes, the more jobs it can post on a monthly basis. Prices are made available upon request and not made available to the public.
ZipAlerts
ZipAlerts is an email-based Pay-Per-Click (PPC) program that allows businesses to target qualified candidates in their inbox.
When a job seeker visits the ZipRecruiter website, or one of their partner job boards, they perform a search and have the option to receive email alerts about similar jobs. These alerts then get sent to the user's inbox whenever there is a job that fits their search criteria.
When that candidate clicks on the job ad in the email, the businesses will have to pay a fee to ZipRecruiter (hence the name Pay-Per-Click).
The price per click is dependent upon the advertised location, types of jobs advertised, or simply the demand in a given industry.
Businesses can assign a monthly budget to be spend on email promotion to avoid any excessive spending.
White-label Software
JobBoard.io is a white-label software solution that other sites can use to start their own job board and instantly display over 8 million jobs from the ZipRecruiter database.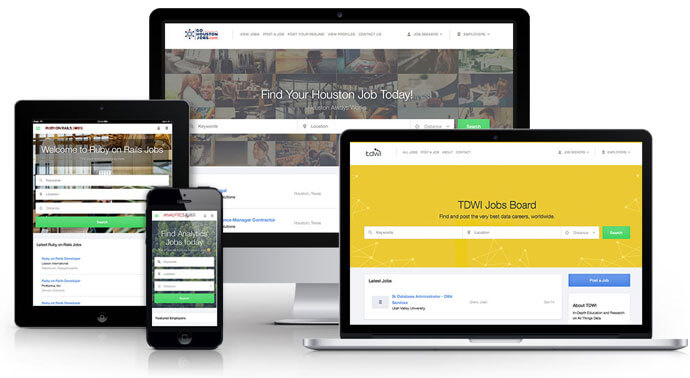 ZipRecruiter acquired JobBoard in December 2017 to use the company's software. Firms signed up to JobBoard have the ability to customize the amount and type of jobs displayed.
Furthermore, they can take advantage of additional features such as a dedicated blog, Google Jobs integration, or 24/7 customer support.
There are two plans available called Professional and Enterprise. While the Professional plan comes in at $549 a month, Enterprise pricing is available upon request.
The plans come with a different set of features and differ by the number of jobs that can be posted or how many team members can use the tool.
ZipRecruiter Funding, Valuation & Revenue
According to Crunchbase, ZipRecruiter has raised a total of $219 million in two rounds of venture capital funding.
The company was valued at $1.5 billion during its last (Series B) round, which was announced in October 2018. This officially put ZipRecruiter in the unicorn club.
Investors into the company include Institutional Venture Partners (IVP), Wellington Management Company, Industry Ventures, and many others.
ZipRecruiter is privately funded while continuing on the path of expansion (any avid podcast listener probably heard at least one ZipRecruiter ad in their life), and as such, won't publicly disclose any revenue or profit/loss metrics.