Executive Summary:
Glassdoor is an online employment platform on which individuals can rate their former and current employers. Furthermore, companies can advertise to job seekers and post jobs on the site.
The business model of Glassdoor is based on selling premium packages to employers. The company makes money through job postings, employers branding, and the advertisement of job listings.
Founded in 2007 by three former Expedia executives, the company has been an immediate success. In 2018, Glassdoor was acquired in an all-cash deal for $1.2 billion by Japanese HR giant Recruit Holdings.
How Glassdoor Works
Glassdoor is an online employment marketplace that allows individuals to review current or past employers. Furthermore, employers can post jobs on the platform.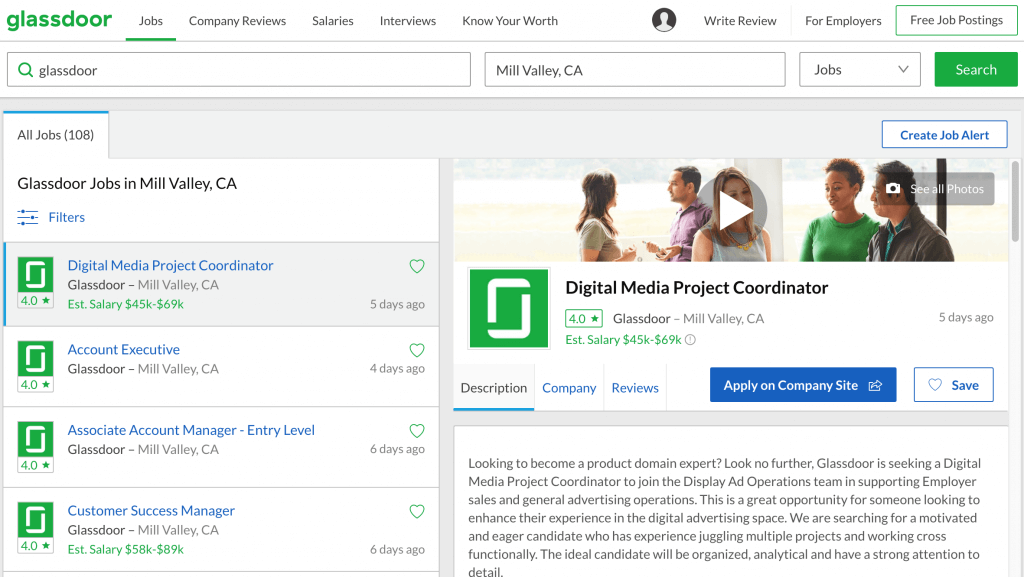 Nowadays, the site functions as a directory for everything that relates to any given company. Apart from the reviews, users can post information about:
The salary a given company pays for their available positions
The interview questions being asked
Benefits when working at a given company, i.e. bonus or overtime pay, vacation times, company trips and so fort
Users can also compare two companies based on criteria such as work-life balance, career opportunities, culture, or senior management approval. On top of that, Glassdoor makes suggestions on which companies to follow based on a person's interests and job history.
On the employer's side, there is a multitude of features and products aimed at increasing the chances of finding new employees. These include things such as employer branding profiles, job advertising, benchmarking your firm against competitors, or simply removing a competitor's ads from the company's profile.
A Short History Of Glassdoor
Glassdoor was started in 2007 by Robert Hohman, Tim Besse, and Expedia and Zillow founder Rich Barton.
After concluding his Computer Science studies at Stanford, Hohman went on to work as an engineer at Microsoft. Later on, he became one of the first employees to work on Microsoft Expedia Travel Services, which eventually would become Expedia.com.
Expedia went public in 1999 and continued to acquire smaller travel-related companies in the coming years. One of its acquisitions, Hotwire, became a later landing spot for Hohman, who led the company until 2006.
From there, Hohman made a somewhat unconventional career choice. He quit his job at Hotwire to play World of Warcraft for a full year.
In an interview he gave to Forbes, Hohman said "There's a maximum level you can achieve in World of Warcraft. I achieved it on a Tuesday and I started Glassdoor on a Wednesday. I remember it was level 70."
He got to know Barton and Besse from his times at Expedia. In fact, Barton became somewhat of a mentor to Hohman and the pair continued to stay in close contact even after he departed from Expedia.
And it was Barton who came up with the initial idea for Glassdoor. In 2007, when he still led Zillow, Barton had accidentally sent a document with salary and stock information to a printer that was placed in the middle of the office. His assistant quickly rushed to salvage the documents before anybody could take a look at them.
This little mistake got him thinking. Why would anyone who's doing their job be afraid to have their salary and bonus revealed? After all, it would only expose the ones that are overpaid or don't do their jobs properly.
With that thought in mind, the trio went on to approach friends and former colleagues to leave reviews on the newly created prototype site. They even offered Silicon Valley engineers the chance to win an iPod in exchange for handing out reviews and salary information.
And these growth hacks certainly paid off. When the company officially launched into public beta in June of 2008, it had 250 companies on its site totaling over 3,300 reviews.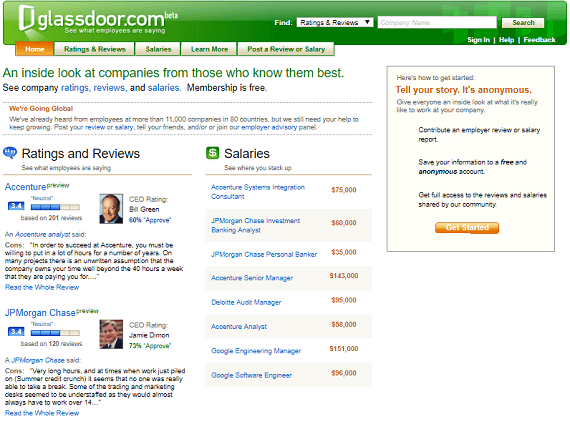 The results of the launch day: more than 1.2 million page views, over 10,000 newly added salary reports, 3,000 new companies added to the platform, and servers that crashed down due to the excess in traffic.
A year later, in 2009, the number of reviews rose to 225,000 with over 23,000 companies added to the platform.
In the coming years, the company continued to add new features to its platform. Examples include the ability to add interview questions or enhanced employer profiles. Furthermore, additional funding rounds continued to fuel the company's growth.
After rumors of an IPO swirled around for years, the company finally found its exit in the private markets. In 2018, Japan-based Recruit Holdings bought the company for a total of $1.2 billion in cash.
Despite the company's massive growth, its road to worldwide prominence hasn't been without roadblocks. A 2019 article by The Wall Street Journal detailed how companies gamed the Glassdoor rating system by pressuring their employees to provide positive ratings.
Furthermore, in 2019, Hohman stepped down from his position as the company's CEO and handing the reigns to Christian Sutherland-Wong, an executive who's been with the company for some time. No future gaming career choices of his have been confirmed yet.
Today, Glassdoor welcomes over 50 million people every month on its platform. Over 10 million job listings and 60 million reviews, salaries, and (interview) insights have been shared to date. The company operates counts over 600 employees working in 11 offices across the globe.
And in case you wondered: Glassdoor's (former) employees gave the company a combined rating of 3.9 (on a scale of 5) while it's new CEO Sutherland-Wong has an approval rate of 63 percent.
How Does Glassdoor Make Money?
Glassdoor has evolved from its early days when the company was simply a platform for employees to rate their past or current employers.
Today, the company offers a multitude of solutions aimed at helping employers find suitable candidates. Consequently, monetization occurs on the company-side while employees and job seekers can continue enjoying a free-to-use platform.
Let's dive into the different monetization streams of Glassdoor in the section below.
Job Posting
Similar to other job-related platforms like Indeed or ZipRecruiter, companies can upload their open vacancies to Glassdoor's site.
Glassdoor utilizes a freemium-based model for its job posting product. That means the first three jobs are free to post. For any posting above the free threshold, a premium of $249 is charged per uploaded listing.
The above model is offered to smaller sized businesses. For medium, large, and enterprise businesses, more complex packages are offered to meet the demands of such organizations.
Job Advertising
The next monetized feature are job ads. These help employers drive additional exposure to their listings by promoting them on top of the job feed.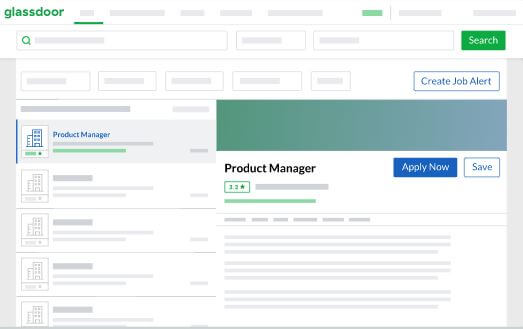 Job ads are part of the premium package that medium and large-scale enterprises can subscribe to. The total price is dependent on the number of jobs posted and promoted.
Employer Branding
Employer branding optimizes how a company is presented on the Glassdoor platform. Some of the features include:
The ability to highlight a great review and push it to the top of a company's feed
Showcasing a company through branded messaging, photos, and videos
Removing competitor ads from a company profile
Targeting job seekers not only on the Glassdoor platform, but across the web through brand advertising campaigns
Prices are made available upon request. In all likeliness, they will be part of a wider package sold to the client.
Glassdoor Funding, Valuation & Revenue
According to Crunchbase, Glassdoor has raised a total of $204.5 million in ten rounds of venture capital funding.
The last time the company's valuation was made public was during its acquisition in 2018. Japan-based Recruit (the same company that paid $1 billion for Indeed in 2012) bought Glassdoor for a total of $1.2 billion in cash.
Previous investors into the company include the likes of Battery Ventures, CapitalG, Tiger Global Management, Sutter Hill Ventures, and many others.
Recruit Holdings does not publicly disclose any revenue numbers for Glassdoor. Nevertheless, the company reported revenues of about $22 billion for the fiscal year 2018. 14.1 percent of that (or roughly $3 billion) can be attributed to the HR Technology group, which both Indeed and Gla