Executive Summary:
Indeed is a work-related search engine that allows job seekers to find positions in the industry and location of their liking. The company aggregates listings from company websites, job boards, recruiting agencies or newspapers. Additionally, companies can upload jobs directly on the platform.
The business model of Indeed is based on charging employers for additional features that grant them increased visibility. Indeed makes money from pay-per-click advertising, subscription fees, banner ads, as well as hiring events.
Founded in 2004 by two experienced American entrepreneurs, the business model of Indeed has proven to be a huge success. By 2008, the company has become America's most visited job site. In 2012, Indeed was acquired by $1 billion by Japanese conglomerate Recruit Holdings.
How Does Indeed Work?
Indeed is a work-related search engine that allows users to browse jobs of any kind and location. Users can browse jobs in categories such as:
(Software) Engineering
Marketing
Accounting
Customer Service
… and many, many more. The search engine is populated by employers who post jobs on the platform. Additionally, the company aggregates job listings from company websites, recruiting agencies, other job boards, and newspaper magazines via a method called aggregation.
Indeed is available in over 60 countries and currently being the most visited job site in the United States. Globally, the company accounts for over 16% of all job listing website visits. Over 330 million people visit Indeed every month.

Similar to Google's search engine product, the appeal for Indeed stems from the simplicity of the platform. This makes it very easy for users to navigate and use the tool. In an interview with Mashable, Rony Kahan (Indeed co-founder) said the idea was to build the "Google search model" for job listings.
A Short History Of Indeed
Indeed was founded in 2004 by Paul Forster and Rony Kahan. The company started its operations Austin, Texas and Stamford, Connecticut.
Foster did his undergrad at Cambridge, master in Oxford and possesses an MBA from Insead. After graduation, he held numerous managerial positions in the finance industry.
Foster's first business originated from a problem he observed working at the International Finance Corporation in Washington. His employer often had a hard time finding suitable candidates.
He quickly realized that there wasn't any job site that specifically targeted at finance professionals. He discussed the idea to build such a site with his friend Rony Kahan, and soon after they launched Jobsinthemoney.com.
It became one of the world's largest jobsites targeting finance professionals and in 2003 sold to British job site eFinancialCareers.
Naturally, the pair started to assess new business ideas. They were noticing that the pay-per-click model, which helped Google go public in 2004, offered many advantages for advertisers while furthermore being very profitable.
With that concept in mind, they decided to launch the world's largest search engine for job listings in the world. Just like Google, Indeed scrapes the content from millions of websites and lists the best result for any customer query.
This model became an instant success with consumers. Five years after the launch of the company, Indeed was the most visited job board in the US. By that time, the company generated over 170 million page views per month.
Indeed was able to operate a profit almost instantly after it's launch. The only funding required was a $5 million round in 2005 led by Union Square Ventures.
All this success resulted in the company's acquisition in 2012. Japanese conglomerate Recruit Co. paid a supposed $1 billion to acquire 100 percent of the company. With the acquisition, Rony Kahan, who served as CEO at the time, stepped down from his role. Hisayuki Idekoba (Deko) took over as his successor (Deko himself stepped down in 2019 and Chris Hyams now serves as the company's CEO).
Today, the company counts over 10,000 employees across 20 offices around the globe. Over 330 million visit the company's website every month, making it one of the world's largest (job listing) websites.
How Does Indeed Make Money?
Indeed makes money from pay-per-click advertising, subscription fees, banner ads, as well as hiring events.
Searching and posting jobs on Indeed is free for both job seekers and employers respectively. While the platform remains free of charge for job seekers, Indeed makes money buy offering a set of premium features to employing companies.
With millions of job offers on its platform, a job posting can easily get lost. Hence, premium features allow employers to increase their visibility and likelihood to find suitable candidates.
Let's dive into each of those in more detail below.
Sponsored Posts
While employers can post jobs on Indeed free of charge, the likeliness of them being found is rather slim. That's because, for any given search query, there might be thousands of other jobs that match the same search intent.
In order to be listed ahead of the competition, employers can opt in to buy sponsored job postings. These sponsored posts will appear either on the side or top of the listing.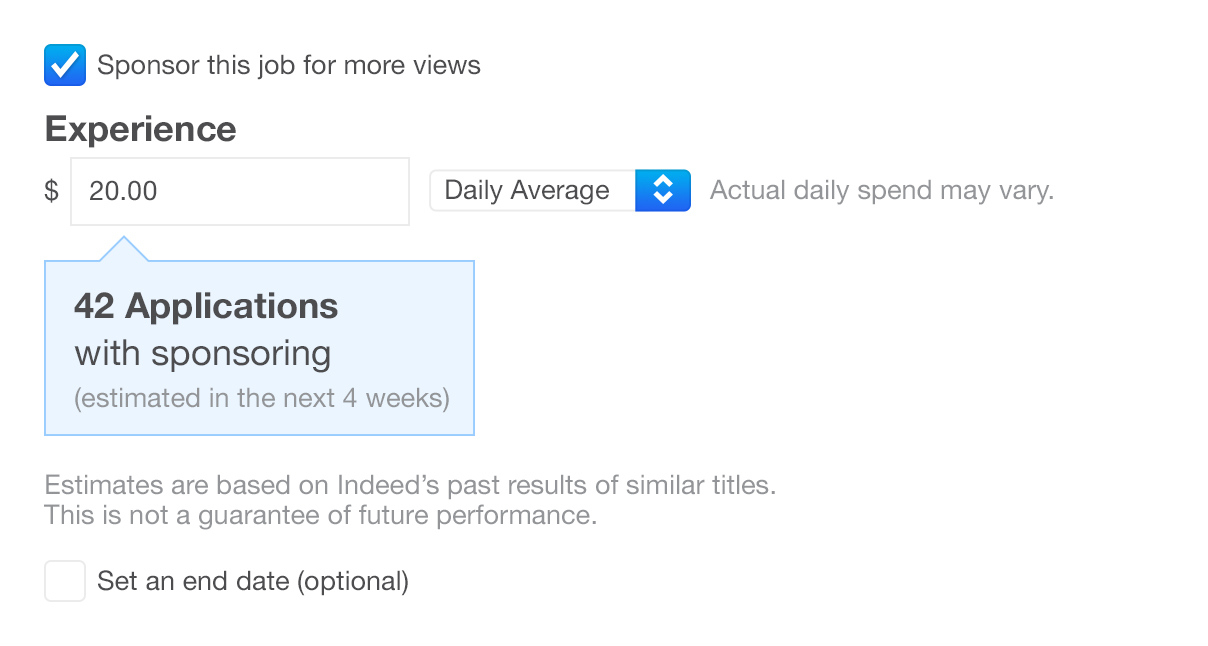 The model works similar to Google Ads (sponsored listings that sometimes appear on top of a search result). Employers can buy a Pay Per Click (PPC) budget, which they can use to bid on certain keywords / search queries.
The price for a bid depends on the popularity of the search term. For instance, someone looking for a job in New York is potentially more valuable then a similar job in Wyoming (no offense!).
Every time a job seeker clicks on a sponsored post, parts of that budget will be used (depending on the price of that click).
Indeed claims that sponsored posts are 3.5 times for likely to result in a hire. Sponsored posts start for as little as $5 a day, but can be scaled up without limits.
Indeed Resume
Users on Indeed have the ability to upload their resume to the platform. This increases their visibility towards potential employers, and hence the likelihood to get hired.
Conversely, employers and/or headhunters can search the database of all these potential resumes to find the most suitable candidate. To be able to access these resumes, a monthly subscription fee is charged.
The plan chosen determines how often a recruiter can get in contact with potential hires. Furthermore, the premium plan (called Professional Subscription) grants access to Indeed Hiring Insights or unlock additional features such as bulk messaging.
Indeed claims that the resume platform has a total over 150 million resumes uploaded (with 6 million being added each month). Furthermore, recruiters can expect a 55 percent response rate on their inquiries.
Indeed Targeted Ads
Targeted ads are advertising snippets that show up on various spots of Indeed's platform. More specifically, ads are placed on the mobile homepage, recommended jobs page, view jobs page or post apply.
Employers and recruiters can decide on specific parameters that affect how, when, and where their ads show up. Candidates can be narrowed down through their search history, where they're based or their job searches for a specific location.
Indeed does not publicly disclose prices on placing ads. Presumably, prices are affected by the spot the ad is placed on, the targeted location and duration of the ad.
Seen by Indeed
Seen by Indeed is a matching platform that helps companies find in-demand talent in the field of tech. Seen takes a more holistic approach and allows job seekers to highlight not just their resumes, but skills, interests and career aspirations.
Furthermore, they can specify topics such as salary, location and the culture they want to see in their new role. This allows Seen's matching technology to find suitable employers faster and in a more reliable manner.
Indeed claims that of all candidate screens, 50% are provided automatically by Seen since job seekers already shared their availability.
Again, employers will have to pay a monthly subscription fee to access the platform. The plan chosen determines how many candidates a recruiter can contact within a month. Additionally, recruiters are granted access to premium features such as Indeed Resume or Seen's FastMatch technology.
Indeed Hiring Events
Employers on Indeed can promote so-called Hiring Events that allow them to virtually interview multiple candidates.
Employers can post their events to the platform, and after an initial screening process, are able to interview with candidates before the event. The most suitable ones are then invited to the event.
Again, Indeed does not publicly disclose prices for its hiring events. Most likely, employers will be a one-time fee for the ability to host them with the price being dependent on the location, amount of users targeted, and the demand for the jobs employers target.
Over 30,000 hiring events in 3,500 cities have been held today. These resulted in over 4 million RSVPs. Companies include the likes of IKEA, UPS, or Nordstrom.
Indeed Funding, Valuation & Revenue
According to Crunchbase, Indeed has only raised one round of venture capital funding. The $5 million Series A round, raised in 2005, was led by Union Square Ventures, the New York Times as well as Allen & Company LLC.
In 2012, the company sold to Japanese staffing conglomerate Recruit Co. for a supposed valuation of $1 billion.
Indeed's revenue is shared as part of the revenue announcements from Recruit Co., the company's shareholder . For the fiscal year 2018, Indeed posted annual revenues of US$ 2.75 billion. Recruit Holdings classifies Indeed as part of its HR Technology business segment which clocked total revenues of US$2.97 billion in 2018.