Executive Summary:
MasterClass is an online learning platform that comes in the form of video lectures and presentations from top performers in various fields. Classes are taught on topics such as acting, sports, filmmaking, or cooking by experts such as Serena Williams, Gordon Ramsey, Martin Scorsese, and many others.
The business model of MasterClass is based on charging customers a yearly subscription in exchange for accessing the more than 80 courses available on its platform. Alternatively, consumers can pay $90 to access a single course.
Founded in 2014 by two American entrepreneurs, the company has seen tremendous success with students across the globe. It has raised over $230 million in six years of operation while amassing a valuation of $800 million.
How MasterClass Works
MasterClass is an online education platform that offers pre-recorded classes from (celebrity) experts in various fields. On top of the video content, enrolled students will receive a class workbook, interactive assignments, and community activities.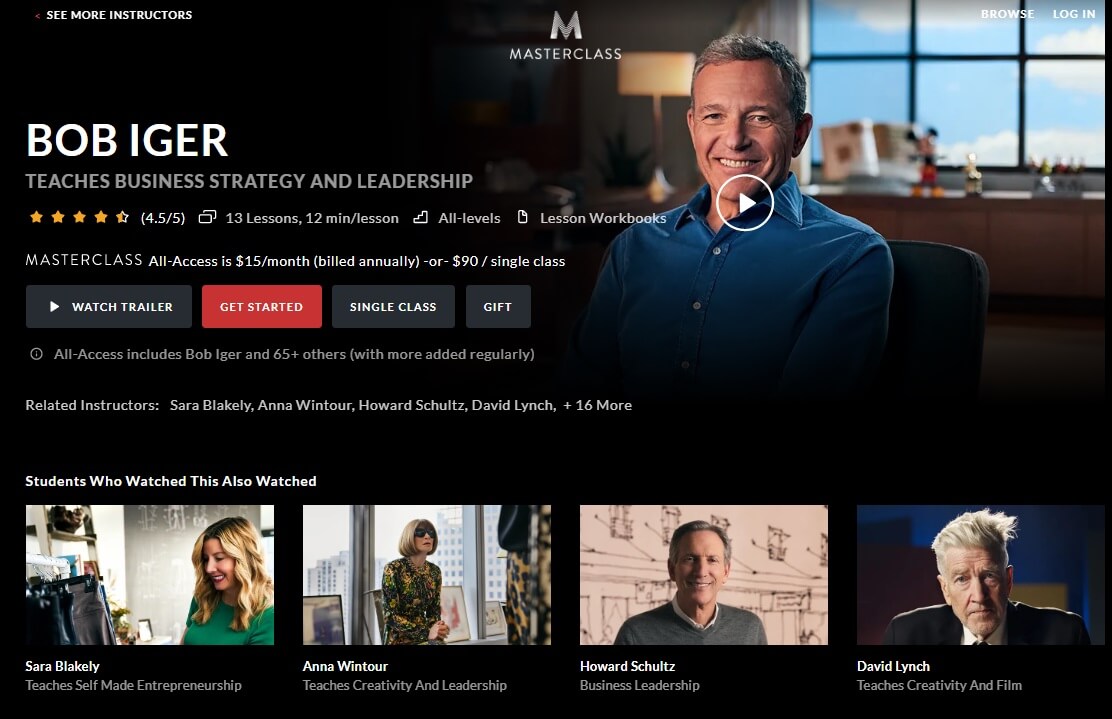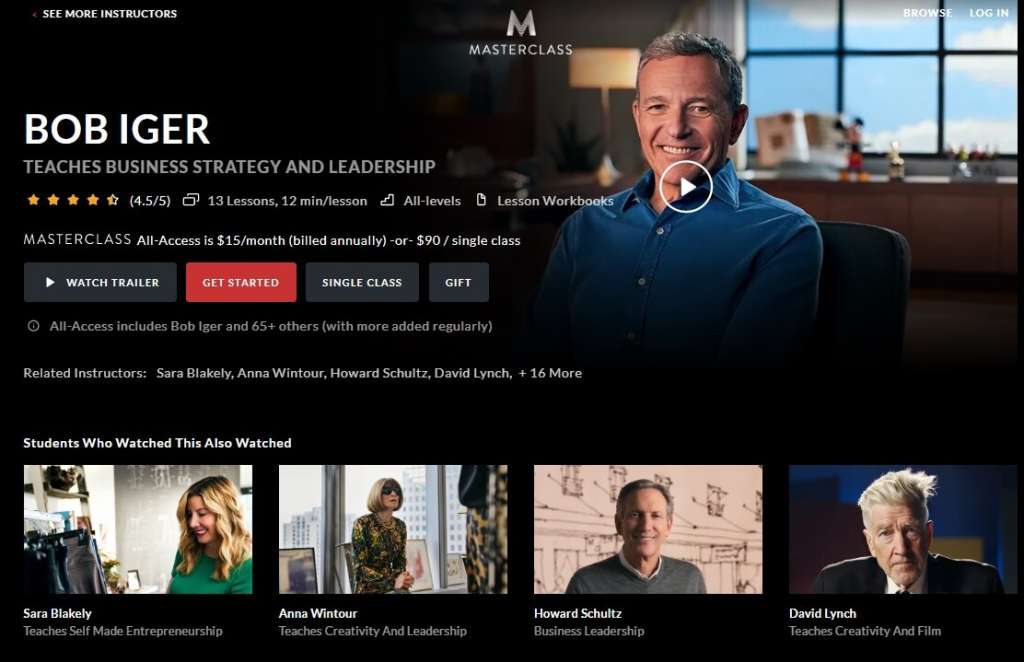 What differentiates MasterClass from other EdTech platforms like Udacity or Udemy is the focus on celebrities as course instructors. The platform offers educational content such as:
A course on basketball by Steph Curry
Courses on how to act, including instructors such as Samuel L. Jackson or Natalie Portman
Cooking classes hosted by Gordon Ramsey
… and many, many more. Today, over 80 instructors have published courses on the MasterClass platform. Most classes contain 20 to 25 videos, which amounts to a total of 2 to 5 hours of video content.
Course participants get the majority or all of their feedback from fellow students in a private student group due to the time limitations most of the instructors have.
In some instances, students will have the opportunity to submit their course work for the instructor to review. For instance, Serena Williams supposedly met with one of her students for a private tutoring session in 2015.
MasterClass is available on any modern web browser, its Android and iOS mobile applications, as well as on the Amazon Fire TV and Roku.
A Short History Of MasterClass
MasterClass was founded in 2014 (as Yanka Industries) by David Rogier (CEO) and Aaron Rasmussen (CTO).
CEO Rogier had a knack for entrepreneurship from an early age. At age 13, he developed and sold a search engine for an undisclosed amount. After graduating from Washington University in 2005, he went on to hold various executive roles while wrapping up his Stanford MBA in 2011.
He got acquainted with Rasmussen in 2009 when mutual friends suggested the pair should meet up for coffee. They hit it off immediately and over the coming years were dabbling in various business ideas.
After finishing his MBA, Rogier went on to work for his former professor Michael Dearing, who's the co-founder of seed investment firm Harrison Metal and became the first investor of MasterClass. \
After months of intensive research and user interviews, the idea for MasterClass was born. Rogier credits his Jewish grandmother, who had escaped Nazi Germany and managed to become a pediatrician (while being declined by over 30 med schools), as the inspiration for MasterClass. As a child, she repeatedly told him that the only thing people cannot take away from you is your education.
After almost two years of sales pitches, filming, and website development, MasterClass went live in 2015. The company's first-ever class was hosted by Dustin Hoffman (the course was removed in 2018 due to allegations of sexual misconduct against the actor) and covered the ins and outs of acting.
The platform became a hit right from the start. Within the first four months of launching, MasterClass was able to sell over 30,000 courses to students from all around the world.
The company continued to add course content as well as a plethora of users to its platform. For instance, the youngest and oldest students ever recorded are 8 and 104 years old, respectively. Today, the company counts over 80 courses on its platform while serving users across the world.
Meanwhile, pitching new potential instructors has become a lot easier for the EdTech startup due to the increase in popularity. Nowadays, MasterClass rejects 9 out of 10 applications coming from the agents of possible instructors, simply because they are not hands-on enough.
While the company's outlook appears as promising as its ever been, it has enjoyed its growth without CTO Rasmussen. He left MasterClass in 2018 to start Outlier.org, a Brooklyn-based EdTech startup offering college classes that grant students real college credits.
How Does MasterClass Make Money?
MasterClass makes money by charging students a subscription fee for the ability to gain unlimited access to their courses.
The package is called All Access Pass and comes in at $180 a year (or $15 per month). Separately, customers can also pay a one-time fee of $90 to access one single class.
This steep price point stems from the focus on production quality as well as the deals made with instructors. According to a report by Hollywood Reporter, instructors receive an upfront payment of $100,000 plus royalty fees of 30 percent.
The company's thesis stands in stark contrast to its competitors. While platforms like Udemy count thousands upon thousands of instructors, MasterClass focuses on selecting only the best in their field.
This drives word-of-mouth for MasterClass ("This dish was inspired by the class I took from Gordon Ramsey"), which is accelerated by the large social media followings of instructors as well as the news publications covering their courses.
Furthermore, MasterClass does not make any promises of career acceleration. Rather, it is aimed at the more casual learner, who may want to get to know an instructor's mindset as opposed to hands-on advice. After all, a 2-hour course by Serena Williams won't make anyone substantially better at playing tennis.
MasterClass Funding, Valuation & Revenue
According to Crunchbase, MasterClass has raised a total of $236.4 million in six rounds of venture capital funding.
During its latest Series E, which the company announced in May 2020, MasterClass was able to amass a valuation of over $800 million.
Investors into the company include the likes of Institutional Venture Partners, Atomico, New Enterprise Associates, Fidelity Management, and many more.
As a privately funded startup in extreme growth mode (you possibly have seen one of the many YouTube ads the company has running), MasterClass does not publicly disclose any revenue or profit figures. In all likeliness, the company is still losing money and using the available funds to drive more users to its platform.