Executive Summary:
Yelp is an online review platform that allows users to discover and learn about local businesses, including cafes, spas, home repair services, and more.
Yelp makes money by selling targeted ads to businesses on its platform, commissions from partnerships, and subscription revenue from service tools. The company operates on an aggregator business model.
Founded in 2004 and headquartered in San Francisco, California, Yelp has grown to become one of the world's leading online review sites. Over 178 million people visit its platform every month.
What Is Yelp & How Does It Work?
Yelp is an online directory marketplace that allows users to discover and learn about local businesses, such as bars, cafes, spas, nail salons, and many more.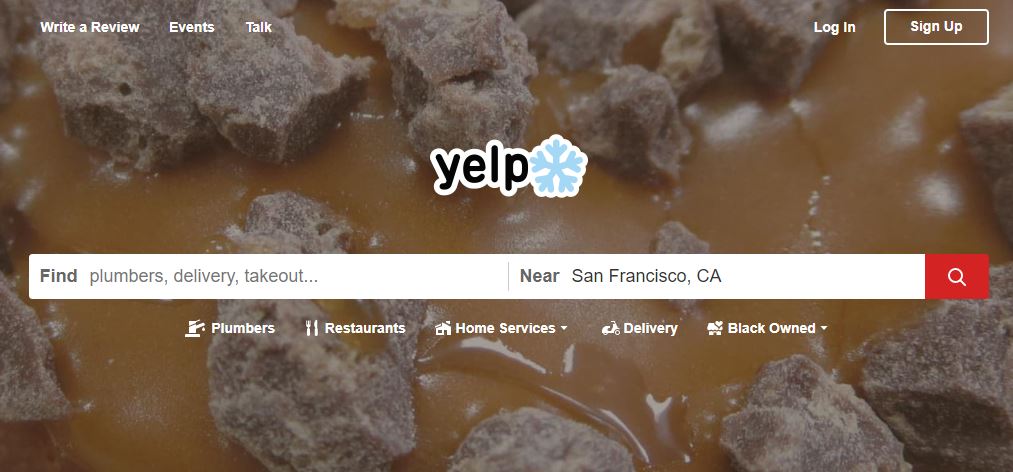 On Yelp, users can inform themselves about the businesses' location, opening hours, available offerings, as well as how others rate their service.
Content on Yelp is user-generated, meaning that users are the ones who post pictures as well as rate the service. This creates social proof, which in turn can help businesses to get more leads.
Furthermore, users can filter down their search based on their preferences, including business type, price range, and other features such as outdoor seating or being able to make reservations.
Yelp can be accessed via the firm's website as well as its Android and iOS applications, available on mobile and tablet devices.
Yelp's website is accessed by over 178 million unique visitors every month, making it one of the most frequented platforms in the United States.
Yelp Company History
Yelp, headquartered in San Francisco, California, was founded in 2004 by Jeremy Stoppelman (CEO) and Russel Simmons.
Both founders conducted their college studies at the University of Illinois where they graduated with a degree in Computer Science.
After graduating from college, both of them ended up working as software engineers at PayPal – alongside the likes of Elon Musk, Peter Thiel, Reid Hoffman, or David Sacks.
At PayPal, both Stoppelman and Simmons rose to leadership positions, leading large engineering teams in their mid-twenties.
In the summer of 2003, a year after PayPal was acquired by eBay for $1.5 billion, both of them decided it was time to move on. Simmons dabbled in a new startup idea while Stoppelman pursued an MBA at Harvard.
A year into their new endeavors, they both decided to partner up again. They got in touch with Max Levchin, one of PayPal's co-founders who had launched a startup incubator, to work on a new idea.
Levchin, knowing how talented the guys are, granted them $1 million in funding to develop any idea they would feel lucrative enough.
At the time, Craigslist was starting to radically transform the newspaper industry by snatching away their classifieds business.
When they scanned other older media verticals, they saw that the Yellow Pages was not yet impacted by the advent of the internet.
The final spark came when, one day, Stoppelman fell sick and needed to see a doctor. Unfortunately, all the search results either produced intrusive offers or were totally unrelated to his problem.
That got him thinking: what if there was a way to capture what others would think about a given service (preferably in their proximity) and bring that online?
The founders immediately got to work, putting in 90-hour weeks to code the first version of what would end up becoming Yelp. In October 2004, Yelp was finally launched.
But while they received some initial press and user interest, their visitors were just not realizing what the platform was about.
It resulted in a lack of posted reviews, which in turn failed to incentivize new users to join the platform. On top of that, employees grew increasingly dissatisfied and were starting to leave the firm.
The lack of success meant that the founders had to go back to the figurative drawing board. Yelp initially launched as a Quora-like service that allowed users to ask each other questions.
What they eventually realized was that users who discovered the site's "Write A Review" feature were spending countless hours writing, at times publishing 15 reviews a day.
They completely revamped the site with reviews at the center and subsequently launched it in February 2005. This time, users immediately understood the concept and started to flock to the website in millions.
By 2006, more than 1.5 million people were visiting Yelp's website every month. The growth allowed its founding team to raise their first-ever venture rounds, raising a $5 million Series A and $10 million Series B, respectively.
In some cities, "The Yelper" even became a cultural phenomenon. People were visiting certain amenities just to be able to write Yelp reviews about them. One odd stamp of approval came when the firm was featured on one of South Park's episodes (called 'You're Not Yelping').
Yelp even supported this trend by launching Yelp Elite, a handpicked group of selected users that were known to write high-quality reviews. These users then received special badges on their profile, indicating they belonged to that group.
The continued rise even put other acquirers on the map. In 2009, Google supposedly made a $550 million offer (plus earnouts) to purchase Yelp, but it was ultimately turned down. Instead, the team decided to remain independent. Google then launched a competing service called Google Places, which today is known as its Maps product.
In 2010, co-founder and CTO Russel Simmons stepped down from his position, ultimately transitioning into an advisory role. He simply wanted to take some time off for traveling and focus on new endeavors.
Despite his departure, Yelp continued to grow its user base. By 2011, the platform had amassed over 22 million reviews and covered 529,000 locations. The firm had already expanded its reach internationally, launching subsidiaries in other countries like the U.K. or France.
The continued growth ultimately allowed Yelp to go public in 2011. The IPO furthermore highlighted how fast Yelp was growing, with increasing revenue numbers from $12.1 million in 2008 to $47.7 million in 2010.
Having money in the bank allowed Yelp to also go on a nice shopping spree. In 2012, it acquired its biggest rival in Europe, Qype, for a combined $50 million. In 2015, Yelp even got into food delivery, buying out Eat24 for $134 million (2 years later the business was sold to Grubhub for $287.5 million).
Despite Yelp's overwhelming success, people (especially business owners) have very critical of the company's sales practices. In 2010, a Long Beach veterinary hospital called Cats and Dogs Animal Hospital filed a class-action lawsuit against Yelp, accusing the company of extortion.
The plaintiff claimed that Yelp's sales reps allegedly called the hospital and promised them to delete negative reviews if they were to buy a one-year advertising package. They furthermore promised to take down negative reviews, which would then also disappear from Google and other platforms.
After refusing to purchase the package, multiple negative reviews popped up on the hospital's profile page. Over the years, many more of these lawsuits have been filed against the company, yet none of them have been successful. Instead, in 2015, the FTC closed its investigations against Yelp.
While Yelp remained successful in the eyes of the law, its business performance slowly began to crumble. There was one reason according to CEO Stoppelman: Google.
What had started as a partnership in the mid-2000's (Google even used Yelp's API to source its review data) ended up in a full-fledged war between the 2 platforms.
Stoppelman (as well as other companies such as TripAdvisor) frequently accused Google of stealing their website's content and serving it to their users (within the search results). As part of a 2012 settlement, Google even agreed to not scrape content from Yelp's website and use it on their platform. Stoppelman frequently accused the company to have broken these agreements.
To that extent, Stoppelman's responsibilities have been shifting more and more to becoming a key presence in Washington where he consistently engages with regulators. So far, no lawsuits have been filed against Google.
Furthermore, Yelp has also faced some internal struggles. In 2016, Talia Jane, one of the company's employees, issued an open letter that highlighted the low wages many of her colleagues were suffering from. Just 2 hours after publishing the essay on Twitter, she was fired.
In recent times, even more employees were forced to leave Yelp due to the adverse effects of the coronavirus pandemic. In April 2020, Yelp announced it would need to let go 1,000 employees, which was equal to 17 percent of its staff.
These days, the company tries to obtain a leading role in the safe reopening of society. For instance, in August 2021, it launched a filter that shows whether or not a restaurant requires its guest to be vaccinated.
Over 220 million reviews have been published on Yelp to this date. Furthermore, Yelp is active in over 500,000 cities across the globe, making it one of the world's largest review platforms.
How Does Yelp Make Money?
Yelp makes money via advertising products, transaction deals, and ancillary services it sells.
Yelp has adopted an aggregator business model. As such, the company collects data on millions of venues and services and presents that information to users in an easily digestible manner.
With tens of millions of monthly visitors, being on Yelp's platform can be an attractive advertising channel for businesses. Therefore, it is other businesses (often SMEs like restaurants) that can be considered Yelp's paying customers.
Let's take a look at each of Yelp's revenue streams in more detail below.
Advertising
The majority of Yelp's revenue (> 90 percent, in fact) stems from the advertising products that businesses purchase on its platform.
Yelp charges businesses on a cost-per-click (CPC) basis. That means any time a user clicks on an advert, a fee is derived from the budget that the business has on the platform.
CPC rates vary dramatically, depending on the niche as well as location. For instance, restaurants pay a significantly lower fee compared to costlier services such as law firms.
Within its platform, there are multiple spots where an advert could appear. These may be included in the search results or competing business pages.
The second advertising offer provided by Yelp are upgraded profiles. Yelp offers 2 premium packages:
Branded Profiles, including premium features such as photo slideshows, enhanced call-to-action buttons, a dedicated About section, and the ability to add videos
Enhanced Profiles, which offer everything that branded profiles do plus the ability to remove competitor ads
On top of that, businesses can receive a verified license that provides them with a stamp of authentication. The verification is indicated by a blue shield with a checkmark inside.
Yelp charges a monthly subscription fee in exchange for access to these upgraded profiles. The subscription fee is dependent on the amount of money that a business spends on ads. The more they spend on advertising, the lower the fee.
Lastly, Yelp offers third-party advertisers to promote their partners through Yelp's Advertising Partner Program.
These third-party advertisers then have the chance to promote the businesses they serve on Yelp's platform. As a result, Yelp will receive a portion of that ad spend via a revenue-sharing agreement.
Transactions
Yelp generates commission revenue on transactions that it facilitates on behalf of other partners. The company boasts 4 main revenue sources, namely Yelp Deals, gift certificates, the Eat24 partnership with Grubhub, as well as its own platform.
Yelp Deals are prepaid vouchers that offer attractive discounts to consumers and give them a greater incentive to shop at a particular business. Any time a voucher is redeemed, Yelp will receive a commission.
Gift certificates work in a similar fashion. Instead of using them for oneself, they are often purchased as part of a present to someone else.
As previously stated, Yelp bought the rights to Eat24 in 2015 and subsequently sold them to Grubhub 2 years later. Nevertheless, the parties remained deeply integrated with each other.
Today, users can order food directly on Yelp's platform – with the order being facilitated by Grubhub and Eat24. Yelp then receives a commission whenever an order is placed on its platform.
Lastly, Yelp also generates income by facilitating transactions on the Yelp Platform itself. By being directly integrated with partners, users can conduct transactions directly on Yelp's app or website. This includes paying for a product or service directly on their platform.
Other Services
Yelp offers multiple service as well as software solutions to the businesses it works together with. Other services is comprised of subscriptions, licensing payments for access to Yelp data, and revenue from different partnerships.
The majority of its services revenue is coming from its Yelp Reservations and Yelp Reservations products, respectively. These tools allow restaurant owners to enable online reservations, send SMS reminders, enable waitlists, and more. Businesses pay a monthly subscription fee to access these products.
Second, Yelp Knowledge gives businesses data driven insights on various locations, the type of reviews given, or rating data across categories. Businesses pay a fee to be able to access that data.
Yelp Funding, Valuation & Revenue
According to Crunchbase, Yelp has raised a total of $56 million across 6 rounds of venture capital funding. Notable investors in the company include Benchmark, Bessemer Venture Partners, DAG Ventures, or Affirm and PayPal founder Max Levchin.
Yelp was able to raise another $107.3 million during its IPO in March 2012. At the time, public investors valued Yelp's business at $898 million. Today, Yelp has a market cap of $2.2 billion.
For the fiscal year 2020, Yelp reported earnings of $872 million, down 14 percent from the year prior ($1.01 billion). The company lost $19 million compared to the $41 million profit it posted in 2019.