Executive Summary:
Grubhub is an online and mobile food delivery platform that allows customers to order from restaurants in their proximity. Grubhub partners with over 300,000 restaurants across 4,000 U.S. cities.
Grubhub makes money by charging restaurants various commission fees based on the overall order value. Another source of income includes its premium subscription serve Grubhub+.
Founded in 2002 and headquartered in Chicago, Grubhub grew to become one of America's most-used delivery platforms. The company went public in 2014. In 2020, Grubhub was acquired by Just Eat Takeaway.com for $7.3 billion.
What Is Grubhub?
Grubhub is an online food-ordering and delivery marketplace. Customers can order from a network of 300,000 restaurants across 4,000 U.S. cities.
The company partners up with a variety of restaurants, ranging from small, local shops to national chains such as McDonalds or Taco Bell.
While food preparation is handled by the restaurant, Grubhub will take responsibility for the rest of the process. The company works together with independent contractors that work to deliver food on an on-demand basis. In some instances, Grubhub's restaurant partner will conduct the delivery if it employs its own fleet of drivers.
Furthermore, Grubhub takes care of anything related to payments as well as the sorting of restaurants on its platform. The company's customer service, which is available 24/7, would take care of any issues that arise.
For its most loyal users, Grubhub will offer a membership program (called Grubhub+) that allows them to save money on the menu price as well as delivery.
Other features include real-time order tracking, the ability to pre- or re-order meals, being able to order for takeout and pick up yourself, and many more.
Customers can place orders via the company's website or using their Android and iOS mobile app respectively.
A (Not So) Short History of Grubhub
Grubhub, headquartered in Chicago, was started in 2002 by Matthew Maloney (CEO), Mike Evans, and Roman Gaskill.
Prior to starting Grubhub, both Maloney and Evans were working as lead developers in the creation of Apartments.com. The pair became immensely frustrated by the food ordering experience, which suffered from lack of choice and often required calling in at the restaurant and reading out credit card information.
At Apartments.com, they were working on a geographic search feature (similar to Google Maps) for rental real estate. They quickly figured out that such a feature would come in handy for the extremely analog food delivery industry.
After two years of development work, they launched the Grubhub website in the summer of 2004. To get restaurants and menus on the platform, the team went around Chicago to collect hundreds of menus.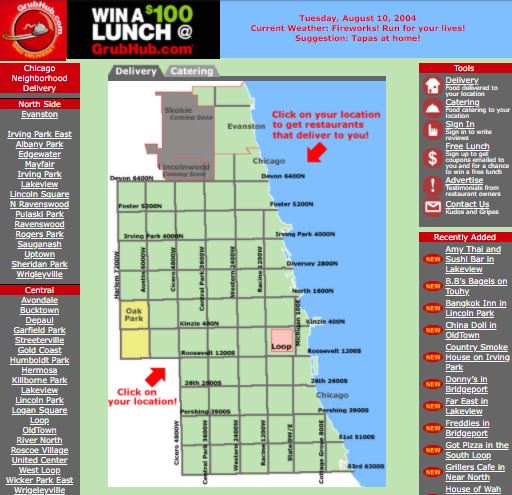 In the beginning, Grubhub employed a display advertising model, which was inspired by the real estate space. Startups like Zillow and Trulia were selling ad space on their website. Similarly, Grubhub was charging restaurants $140 in exchange for six months of ad placement on their webpage.
The problem was that all these restaurant owners already paid thousands of dollars to have low-quality websites set up on their behalf. They were thus highly skeptical of another website service they had to pay for.
The team quickly pivoted their model and only charged restaurants a percentage commission whenever they made a sale on Grubhub (more on that later). The restaurants welcomed that idea, which allowed Grubhub to onboard thousands of restaurants in the months that followed.
In October 2007, Grubhub was growing at such a fast pace that it was able to open up a second location in San Francisco. The expansion put them on the map of local Silicon Valley investors, which soon after invested in Grubhub's first-ever round of venture capital funding (worth $1.1 million).
Another driver of growth, apart from adapting its business model, was the launch of its iPhone and Android app. Grubhub became one of the first online food delivery platforms to offer an app. Having that exclusivity in the ever-increasing app stores often allowed Grubhub to become the first food-related application that users installed on their phones.
In the years that followed, Grubhub continued to add more funding and customers to its business. By 2010, the company had sent $85 in orders to the restaurants on their platforms. Furthermore, over 100 employees and 15,000 restaurants were part of their platform.
Apart from the app, Grubhub became somewhat of the leader of innovation in the online food delivery industry. For instance, the startup was one of the first companies to develop an app for restaurants (while handing out iPads to them), which allowed them to accept and decline orders.
The point-of-sale (POS) system reduced the time to process an order, which was still conducted via telephone and fax, by over 50 percent. Other prominent features included driver tracking as well as the ability to pre-order and pick up food.
Another major source of growth was the acquisition of competitors. Grubhub often bought other food delivery startups to gain access to the markets that they were serving. The company has acquired 13 companies over its lifespan, including heavy hitters such as Dashed, LABite, LevelUp, and Eat24.
Its biggest addition came in the form of its merger with Seamless, which was announced in May 2013. The combined business, which jointly generated over $100 million in revenue in 2012, was launched as Grubhub Seamless. Matt Maloney became the company's CEO.
Seamless, which was founded by two lawyers in 1999, was traditionally very strong in the New York City area. Meanwhile, Grubhub had a strong foothold in the Midwestern United States (mainly because it was based out of Chicago). The merger became a match made in heaven.
The combined business continued to grow at a rapid pace, which culminated in the company's IPO in April 2014. It allowed them to raise another $192.5 million while the business was valued at $2.7 billion. By that time, the company had rebranded itself to Grubhub only to avoid any confusion and create a distinct brand.
Soon after the company's IPO, Grubhub would start experiencing more and more competition in what became known as the food delivery wars. Amazon became the first major player to challenge Grubhub's leading status with the launch of Amazon Restaurants.
Soon after, another class of competitors emerged, which was quickly grabbing up market share. Heavily funded startups like DoorDash and Postmates. Uber, with the launch of UberEATS, followed soon after.
These types of competitors would utilize their own fleet of drivers, using independent contractors, to fulfill the orders. This model became especially popular with smaller-sized restaurants, which couldn't afford to hire drivers for delivery.
At the time of IPO, Grubhub was not employing any delivery drivers themselves. Instead, the company would rely on the restaurant itself to execute the delivery and therefore be responsible for promoting restaurants.
This is, in all honesty, a much better business model because it takes away the operational complexity of hiring and managing a fleet of drivers. But because consumers value choice, convenience, and speed (and because investors were willing to pour billions into delivery startups that were burning hundreds of millions each year), that model soon became the go-to standard.
Unfortunately, the driver-based model came with a completely new set of legal scrutiny. One of the company's former drivers, Raef Lawson, sued the company for allegedly misclassifying him as an independent contractor instead of a W-2 employee. He was seeking reimbursement for underpaid wages, expenses, and other damages.
Luckily for Grubhub (and many other startups relying on gig workers), the company ultimately won the case – but continued to face criticism for the way it handles its driver's compensation. But drivers weren't the only ones that felt mistreated by the company.
In 2019, its restaurant partners alleged the company to charge them hidden fees – even when customers don't end up ordering. The company was charging some restaurants over $2,000 a year by quietly billing them for customer calls the company took, including those for dinner reservations or complaints about not including enough plastic cutlery.
Restaurant owners were technically able to reject those charges, but that required for them to browse through all their records and handle in the claim within a span of 60 days. Owners often did not have the luxury of time to do that.
Grubhub responded by extending the period that owners could file a claim in 120 days. The company would double the number of account advisers available to help restaurants reach more customers and fix technical problems. While these attempts seemed noble, it was hard to believe that Grubhub was acting in the best interest of restaurant owners.
That same year, the firm was caught buying over 23,000 domain names that resembled those of restaurants that were already on the marketplace or were trying to. They would even go as far as creating websites, which would then redirect customers to Grubhub, where they'd complete the purchase.
All those troubles and the ever-increasing competition Grubhub faced let to its dethroning in 2020. According to research firm Second Measure, DoorDash overtook Grubhub in U.S. monthly sales during May 2019. As a result, the firm's market share decreased from 45 percent in 2018 to around 30 percent in 2020.
The continued growth struggles created a lot of rumors in an industry ripe for consolidation. Uber, which became the second most-used delivery app after DoorDash, was rumored to buy Grubhub. That deal fell flat amidst concerns of regulators potentially breaking up the combined business.
Instead, Uber announced in July 2020 that it would acquire rival Postmates for approximately $2.65 billion in an all-stock transaction. Grubhub, in the meantime, had other plans.
In June 2020, the company came to an agreement with European food delivery giant Just Eat Takeaway.com, which acquired Grubhub for $7.3 billion. The deal essentially created the world's biggest food ordering service outside of China.
But Grubhub wouldn't be Grubhub if that deal didn't spark some additional controversy. Yum Brands, which owns brands such as Taco Bell and KFC, alleged Grubhub that the Just Eat merger violated a deal that Grubhub and Yum reached in 2018.
As part of the deal, Yum Brands invested $200 million into Grubhub. Grubhub, on the other hand, gave Yum favorable pricing and service levels for thousands of KFC and Taco Bell restaurants. The allegations stated that the $50 million termination fee Grubhub paid was not sufficient.
Today, over 300,000 restaurants across 4,000 U.S. cities are part of the Grubhub platform. More than 27 million customers order from the platform every year, which employs over 5,000 people across seven offices in the United States.
How Does Grubhub Make Money?
Grubhub makes money by charging restaurants various commission fees as well as through their subscription service Grubhub+.
Grubhub furthermore owns a plethora of other brands that it acquired throughout the years, including Seamless, Eat24, or LABite. Some of these companies continue to operate as stand-alone businesses and thus contribute to Grubhub's overall revenue.
For simplicity reasons, we will only focus on the income that is generated by Grubhub's core offering. Let's take a closer look down below.
Commission Fees
Grubhub's primary source of income stems from the fees it charges restaurants for orders facilitated through its platform.
Grubhub charges a percentage fee based on the overall order amount. The company splits its fee structure into six categories, namely:
Prepaid Order Fee: Applies when a customer places the order via Grubhub's website or app (and not on the restaurant's website or telephone). The fee is charged on the food and beverage total. Should the restaurant offer their own delivery, the fee is applied to the food, beverage, and delivery total.
Delivery Fee: Delivery fees are paid when Grubhub is delivering the order on the restaurant's behalf. The delivery fee is equal to around 10 percent of the overall order volume. If the restaurant uses Grubhub's delivery service, it is not able to charge customers any other delivery fees.
Marketing Fee: Grubhub, as the sole operator of the marketplace, is responsible for the sorting and exposure it gives to its restaurant partners. With a platform of more than 27 million customers, this can be equivalent to thousands of eyeballs a restaurant can get on any given day.
Grubhub charges a marketing fee in exchange for that exposure. The commission structure is tiered, meaning the more commission a restaurant pays, the higher its exposure on Grubhub's platform. The average marketing fee is in the ballpark of 20 percent.
Phone Ordering Fee: Phone ordering fees apply whenever a customer orders food through Grubhub's telephone service. For orders placed via the website or app, the prepaid order fee pertains. Grubhub does not publicly reveal the fee structure for its phone order system, but it should be in the same ballpark as the prepaid order system.
Order Processing Fee: Order processing fees cover the cost of facilitating the payment. If a customer, for instance, uses Venmo to pay for their food, Grubhub will have to pay the payment processing company a percentage fee. It charges that money to its restaurants in turn.
Order processing fees are at around 3.05 percent. Another 30 cents per order are added on top as a fixed fee.
Pay Me Now Fee: Restaurants have to pay a $1 fixed fee whenever they want their payments transferred the same day they come in. In all other instances, payments will arrive within a matter of a few days and are free-of-charge.
It has to be noted that all the above fees are subject to the expected order volume a restaurant is projected to generate. For larger chains, such as McDonalds or Pizza Hut, a much lower fee structure will be negotiated.
Grubhub+
Grubhub+ is a premium subscription service offered to its most loyal customers. Customers pay $9.99 a month in exchange for unlimited free delivery and 10 percent cashback.
Other premium features include priority access to Elite Care for support, donation matching to the No Kid Hungry foundation, and other perks.
Just like any other subscription service these days, Grubhub+ can be tested out for 14 days without charging and be canceled at any time. College students, meanwhile, can access the service for free.
The subscription service was announced in February 2020 in response to other competitors launching similar services in the past. Prominent food delivery platforms offering premium subscriptions include UberEats, DoorDoash, and Deliveroo.
Offering such services motivates customers to order more frequently. Grubhub states that users will save money if their overall monthly order volume surpasses $100.
Grubhub Funding, Valuation & Revenue
According to Crunchbase, Grubhub has raised a total of $284.1 million across 8 rounds of funding. Notable investors into the company include DAG Ventures, Benchmark, Lightspeed Venture Partners, T. Rowe Price, and many more.
When Grubhub went public in April 2014, where it raised another $192.5 million, its business was valued at $2.7 billion. Today, the company has a market cap of $6.73 billion, which represents an almost threefold increase over the past 6.5 years.
For the fiscal year 2019, Grubhub reported revenues of $1.3 billion, up 30 percent from the year prior. The company lost a combined $18.6 million during that period of time.