Executive Summary:
Deliveroo is an online food delivery service that partners up with other restaurants to deliver food to customers. Deliveries are executed by contractual drivers that operate on an on-demand basis. One of the major differentiators to other food delivery companies is the focus on high-quality food offerings.
Deliveroo makes money via delivery, sign-up, and service fees, as well as by offering premium subscriptions and selling food through its own cloud kitchens.
Founded in 2013 by two Americans and headquartered in London, the company quickly grew into one of the world's biggest food delivery platforms. Today, Deliveroo operates in 11 countries while counting over 140,000 restaurants to its network.
How Does Deliveroo Work?
Deliveroo is an online food delivery service that allows customer to order food from restaurants in close proximity to them. Deliveroo's users can order food through their website or mobile apps that are available on both Android and iOS.
Operating under the platform to consumer model, Deliveroo does not cook any of the food themselves. Instead, they partner up with established restaurants in the cities they operate in.
Deliveroo will then handle the payment as well as the execution of the delivery. This is made possible by the army of contract drivers that execute food deliveries on their behalf (in 2021, the company counts over 110,000 riders).
Deliveroo separates itself from existing food delivery services by only focusing on high quality restaurants. This allows them to charge higher prices on both the food as well as the delivery (more on that later on).
If the user lives in close proximity to the restaurant, he or she can furthermore opt in to pick up the food by themselves.
A Short History Of Deliveroo
Deliveroo was founded in 2013 by American entrepreneurs William Shu and Greg Orlowski. Headquartered in London, UK, the company started by solving the problem of lagging delivery options.
At that time, many platforms like JustEat or DeliveryHero were acting as so-called Delivery Service Aggregators, meaning they only listed the offerings while the restaurant itself had to conduct the delivery.
Unfortunately, many restaurants simply did not (and still don't) have the manpower to deliver food to their customers. To the rescue came Deliveroo, which took care of the delivery process by hiring contract workers that executed the shipments on their behalf.
Fun fact on the side: Deliveroo nearly started out as 'Boozefood', a service that was supposed to deliver food to drunk people at night.
By 2015, the company had onboarded over 1,500 restaurants in eight cities served by a workforce of 500 drivers. This came on the backbone of their Series A to D funding rounds in which the company raised close to $200 million.
In the food delivery space, expansion is the name of the game. Deliveroo used its funding to quickly open offices and onboard restaurants in over eleven countries across the globe.
As with any on-demand business that relies on a flexible workforce, the company had its fair share of legal troubles. In 2016, its drivers took the company to court, claiming lackluster working conditions, bad pay, and illegally being hired as contractors instead f employees.
That same year, co-founder Orlowski left the business to put his time towards a new startup called Peanut. Shu stayed on to lead the firm as CEO.
Unfortunately for its drivers, many of the court cases have been ruled in favor of Deliveroo. In 2019, a Spanish court ruled that the company falsely hired 97 of its drivers as contractors instead of employees, marking the only ruling in favor of drivers.
Despite legal setbacks and some business woes (Deliveroo closed down its Germany business in 2019), the company has been on a hyper-growth trajectory since its inception. In 2018, Uber was supposedly interested in acquiring for a supposed £1.5 billion.
A year later, Amazon became the lead investor in the company's Series G after pulling out of food delivery in Britain. Unexpectedly, that investment caused more troubles than Deliveroo initially expected.
Britain's Competition and Markets Authority (CMA) halted the deal amidst concerns of a potential Amazon takeover as well as stifling market domination by Amazon and Deliveroo, respectively.
These concerns were eliminated when Deliveroo struggled in the beginning of the coronavirus pandemic. In May 2020, it had to lay off 15 percent of its staff (367 people) to remain in business (and actually needed the Amazon investment to continue its operations).
Both the Amazon deal as the firm's overall performance got back in track a few months later. The CMA approved the investment in August 2020.
Furthermore, once more information about the spread of the virus was made available to the public, people started getting comfortable with ordering food online.
As a result, Deliveroo was able to significantly expand its business, for instance by announcing partnerships with the likes of ALDI. It, furthermore, added over 15,000 riders across its markets to cope with the demand.
By the end of 2020, Deliveroo had finally reached profitability. The firm announced that it would go public by March 2021.
As of today, Deliveroo is active in 11 countries across the globe, counting over 140,000 restaurants and 110,000 riders to its network. Another 3,000 people are now employed by the company full-time.
How Does Deliveroo Make Money?
Deliveroo makes money via delivery fees, service fees, onboarding fees, subscriptions, as well as sales from its own cloud kitchens.
Traditionally, the food delivery space has been plagued by low margins and high operational complexity, making it extremely difficult to operate on a profit.
As such, Deliveroo's business model evolved over time and the company went on to add multiple revenue streams after it hit the necessary scale. Let's delve into them one by one.
Order Commission
As with any online marketplace (which food delivery companies are a part of), the operator of said platform takes a percentage of every sale facilitated through the platform.
In the case of Deliveroo, the company takes anywhere between 25 to 45 percent commission on every sale. The percentage depends on the agreement that was made with the restaurant as well as the location.
For instance, restaurants in Australia get charged 30 to 35 percent while their counterparts in the UK have to pay anywhere between 25 to 30 percent.
On top of the commission, customers will have to pay a fixed fee for delivery. The delivery fee is then used to pay the driver (on top of potential tips as well as variable bonus paid by Deliveroo).
Lastly, restaurants may need to pay an onboarding fee when joining the platform. This normally ranges around the $300 mark.
Deliveroo Plus
Deliveroo Plus is a subscription plan that allows customers to receive various benefits. These include
Free delivery for any order above £10
Special discounts that are not available to regular customers
24/7 customer service
7-day free trial to test
For UK customers, the plan comes in at £11.49 per month.
In January 2020, Deliveroo's customers went to the streets to complain about the pricing after a 50 percent price increase (from £7.99 a month).
Deliveroo For Business
Deliveroo for Business allows other companies to order food in bulk for their employees. Furthermore, the tool allows businesses to set food budgets for teams while having all orders (and bills) synchronized in the app.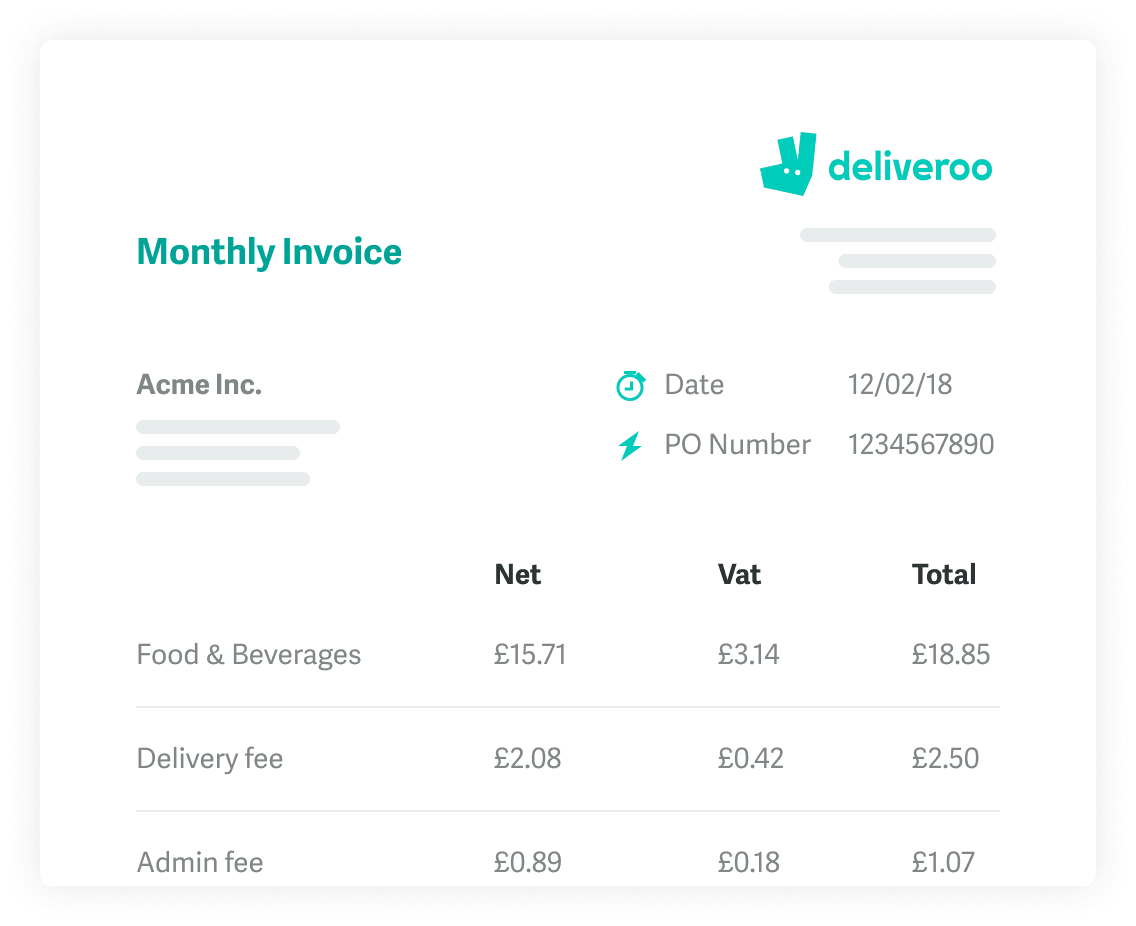 Again, employees will be able to order from the existing restaurant partners. Deliveroo will then get a commission on those sales and share the rest with the restaurant itself.
No plans have been disclosed whether the company plans to charge business customers for access in the future. In more likeliness, business customers are charged a slightly higher price due to higher propensity to spend.
Deliveroo Editions
Partnering with thousands of restaurants around the world gives you a hell of an amazing insight into what works and what doesn't. Deliveroo took that as inspiration to start Editions, their own digital kitchens.
The restaurants allow users to order from a set up different cuisines, including Pizza, Burgers, Sushi, Indian and so forth. Deliveroo either runs these restaurants themselves or partners up with other restaurants that cook the food in their kitchens (the concept is called ghost restaurants).
In the case of partnerships, revenues are split equally between Deliveroo and the restaurant.
---
By the way, if you ever feel like having food up in the air – well, then Deliveroo got you covered as well. In 2019, they launched their Helicopter Dining experience in London, allowing customer to enjoy their food 1,000 feet above air.
The Helicopter Dining experience operates in London and was launched in partnership with Charter-A helicopters.
Deliveroo Funding, Valuation & Revenue
According to Crunchbase, Deliveroo has raised over $1.7 billion in eight rounds of venture capital funding. During its latest financing round (Series H), announced in January 2020, the company was able to raise $180 million.
Deliveroo was valued at $7 billion during its Series H round. The firm's valuation is expected to double when it goes public in March 2021.
Notable investors include Fidelity Management, Amazon, DST Global, Accel, Index Ventures, General Catalyst, and many others.
For the fiscal year 2019, Deliveroo recorded annual revenues of $1.01 billion, up 62 percent from the previous year. It lost close to $400 million over the same time span.