Executive Summary:
Grammarly is a technology company offering various applications aimed at improving people's writing style and grammatical correctness. The tool is available through browser extensions, apps, their online editor as well as though a Microsoft Word plugin.
Grammarly makes money by offering premium subscription plans to both consumers and businesses. Furthermore, the company offers special plans to educational institutions as well as a human proofreading service.
Founded in 2009 by three Ukrainians, the company has become a huge success. It has raised over $200 million in venture capital while amassing a user base of over 20 million. Nowadays, the company employs over 400 people across four offices in San Francisco, New York, Kyiv, and Vancouver.
How Does Grammarly Work?
Grammarly is a SaaS application that helps people improve their writing. The tool offers features such as grammar inspection, spell checking as well as detecting plagiarized content.
Furthermore, Grammarly has features that improve the writer's conciseness, tone, writing clarity, delivery style, and vocabulary.
Users can use the application via the online Grammarly Editor, their free browser extension (available on Chrome, Safari, Firefox, and Edge), desktop app (available on macOS and Windows), iOS and Android app as well as an add-on for Microsoft Word.
Grammarly's products are powered by various AI and cloud solutions that enable real-time grammar corrections as well as the continuous improvement of the application. More precisely, various deep learning and rule-based natural language processing (NLP) algorithms are making up the backbone of the company's system. Unfortunately, since Grammarly is not an open-source software, no precise information regarding its technical architecture is available to the public.
A Short History Of Grammarly
Grammarly was founded in 2009 by Ukrainian developers Alex Shevchenko, Max Lytvyn, and Dmytro Lider.
Prior to starting Grammarly, Shevchenko and Lytvyn co-founded a plagiarism detection application called MyDropbox. The idea originated when in 2004 Shevchenko went to study abroad in Toronto and found himself troubled finding out if his scientific work was not plagiarizing existing content.
By 2007, the service was being used by over 800 universities and 2 million students across the globe. During that same year, the founders decided to sell off their venture to Blackboard Inc., a US-based provider of educational technology, for an undisclosed amount.
The guys went on to spend the next two years at Blackboard to help merge and onboard MyDropbox into Blackboard's ecosystem of tech products. Soon after their contractual obligations with Blackboard ended, both founders decided to move back from Washington (Blackboard's headquarters) to Toronto – and started Grammarly soon after.
Initially, Grammarly was aimed at helping university students improve their English speaking capabilities. The universities were supposed to buy the software and hand it out to students in need.
Unfortunately, sales were stalling as universities were unable to decide whether they wanted to commit to buying the software for years to come. Upon the suggestions of friends, the pair decided to pivot and focus on the private consumer market.
Born was Grammarly as we know it today. Shevchenko and Lytvyn convinced Dmytro Lider, their long-time friend, to join them as co-founder and moved the company to San Francisco to tap into the local pool of talent.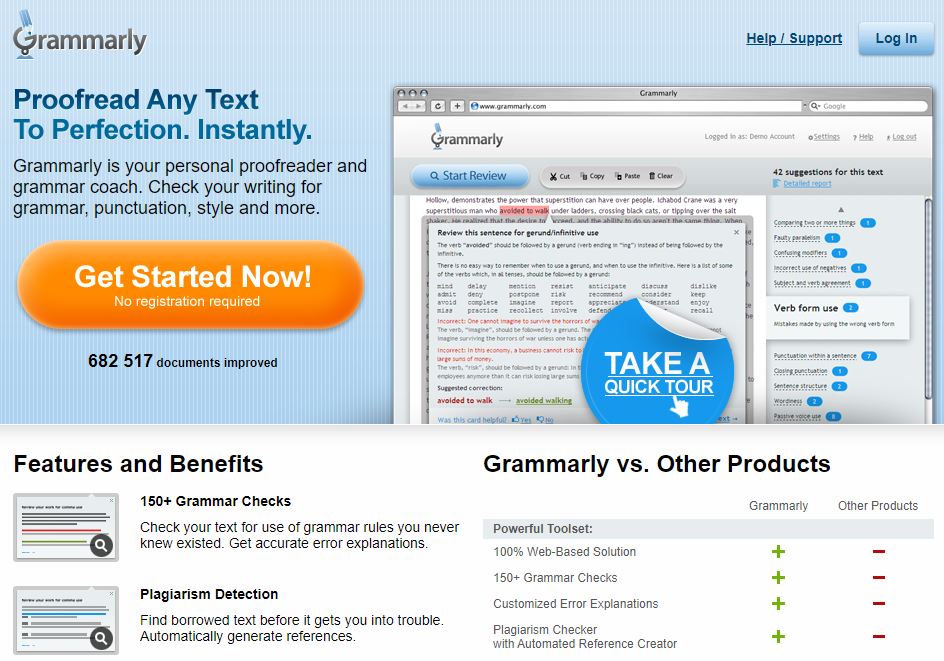 Grammarly became a hit with its new user base right after its launch. By 2010, a year after launch, Grammarly amassed a user base of over 100,000 students. This also put investors on the map, which frequently came knocking on the company's doors.
To cope with the increase in demand, both from a management as well as a PR perspective, Shevchenko and Lytvyn stepped down from their roles as Co-CEO. The pair was replaced by Brad Hoover, a seasoned venture capital investor at General Catalyst.
Meanwhile, the founders were able to focus on what they loved doing most – building technology that improves the lives of millions of users around the world.
Over the coming years, the company went on to grow substantially, adding millions of users and various features and third-party integrations to the mix. Furthermore, the company now employs over 400 employees across offices in San Francisco, New York, Kyiv, and Vancouver.
How Does Grammarly Make Money?
Similar to companies like Dropbox or Trello, Grammarly operates on a freemium based business model. This means that the core product is free of charge while users will have to pay for more advanced features.
Let's delve into how the company leverages those premium features in more detail below.
Subscription Plans
The free plan can be used in any of Grammarly's applications, ranging from their browser extension to the Microsoft Word integration. Features of the free plan are limited to basic writing suggestions such as grammar or spelling errors.
To access the premium features, Grammarly offers different subscription plans to both consumers and businesses.
With the Premium plan, users will gain access to advanced features such as tone detection, politeness, sentence variety, ensuring conciseness and readability, plagiarism detection, and many more.
The Business plan includes the same set of features, but is targeted at companies with teams ranging from 3 to 149 users.
The Premium plan charges customers $11.66 per month (when billed annually) while the Business plan comes in at a monthly fee of $12.50.
Next to the Premium and Business plans, the software is also available to universities and other educational institutions under its [email protected] brand.
Prices are not publicly disclosed but will be provided upon quotation. Today, over 1,000 educational institutions partner up with Grammarly.
The company claims that over 99 percent of surveyed students reported increases in their writing grades while over 70 percent state that their overall writing confidence increased after using the tool.
Human Proofreading Service
While Grammarly's product is seen as one of the best in its industry, it won't replace years of human expertise any time soon.
Therefore, the company offers proofreading services to both businesses and private consumers alike. The company will charge a one-time fee for the service with the price depending on the length of the text and deadline set.
Grammarly Funding, Valuation & Revenue
According to Crunchbase, Grammarly has raised a total of $200 million in only two rounds of funding. During its Series B round, in which the company raised $90 million, valuation skyrocketed to over $1 billion – officially putting the company in the unicorn club.
Both funding rounds were led by venture capital investor General Catalyst. Other investors into the company include IVP, Spark Capital, and various unnamed backers that asked not to be named during the funding rounds.
As common with any venture-backed startup, Grammarly does not publicly disclose any revenue or profit metrics. Since Grammarly is operating in growth mode, it most likely still loses money every year.
---
PS: In case you're wondering, this article was corrected by Grammarly as well. A couple of too many times to be honest…