Executive Summary:
Grammarly is a technology company offering various applications aimed at improving people's writing style and grammatical correctness.
Grammarly makes money from premium subscriptions as well as writing services provided by real humans.
Founded in 2009 by three Ukrainians, the company has become a huge success. Grammarly is currently valued at $13 billion.
How Grammarly Works
Grammarly is a SaaS application that checks on your writing and helps improving it in a variety of ways.
The primary use case of Grammarly is to help users fix grammatical errors and check whether they accidentally plagiarized content.
Furthermore, Grammarly has features that improve the writer's conciseness, tone, writing clarity, delivery style, and vocabulary.
Grammarly's products are powered by AI and cloud solutions that enable real-time grammar corrections and lead to the continuous improvement of the system.
More precisely, various deep learning and rule-based natural language processing (NLP) algorithms are making up the backbone of the company's system.
Users can access Grammarly in a variety of ways. The application works within your browser, when using document or project software (e.g., Microsoft Word), and on mobile devices that run Android or iOS.
For now, Grammarly only works in English. However, the software is able to find and correct basic mistakes in a few other languages.
A Short History Of Grammarly
Grammarly, headquartered in San Francisco, California, was founded in 2009 by Ukrainian developers Alex Shevchenko, Max Lytvyn, and Dmytro Lider.
Prior to starting Grammarly, Shevchenko and Lytvyn co-founded a plagiarism detection application called MyDropbox.
The idea originated when, in 2004, Shevchenko went to study abroad in Toronto and had trouble finding out if his scientific work was not plagiarizing existing content.
By 2007, the service was being used by over 800 universities and 2 million students across the globe.
During that same year, the founders decided to sell off their venture to Blackboard Inc., a US-based provider of educational technology, for an undisclosed sum.
The guys spent the next two years at Blackboard to help merge and onboard MyDropbox into Blackboard's ecosystem of tech products.
Soon after their contractual obligations with Blackboard ended, both founders decided to move back from Washington (Blackboard's headquarters) to Toronto – and started Grammarly not long after.
Initially, Grammarly was aimed at helping university students improve their English speaking capabilities. The universities were supposed to buy the software and hand it out to students in need.
Interestingly, it took the founders some time to land on the Grammarly moniker. The software was initially launched as Sentenceworks and then rebranded into EssayRater.
Unfortunately, sales were stalling as universities were unable to decide whether they wanted to commit to buying the software for years to come. Upon the suggestions of friends, the pair decided to pivot and focus on the private consumer market.
Born was Grammarly as we know it today. Shevchenko and Lytvyn convinced Dmytro Lider, a long-time friend, to join them as co-founder.
They simultaneously moved the company, which they rebranded into Grammarly in 2010, to San Francisco to tap into the local pool of talent.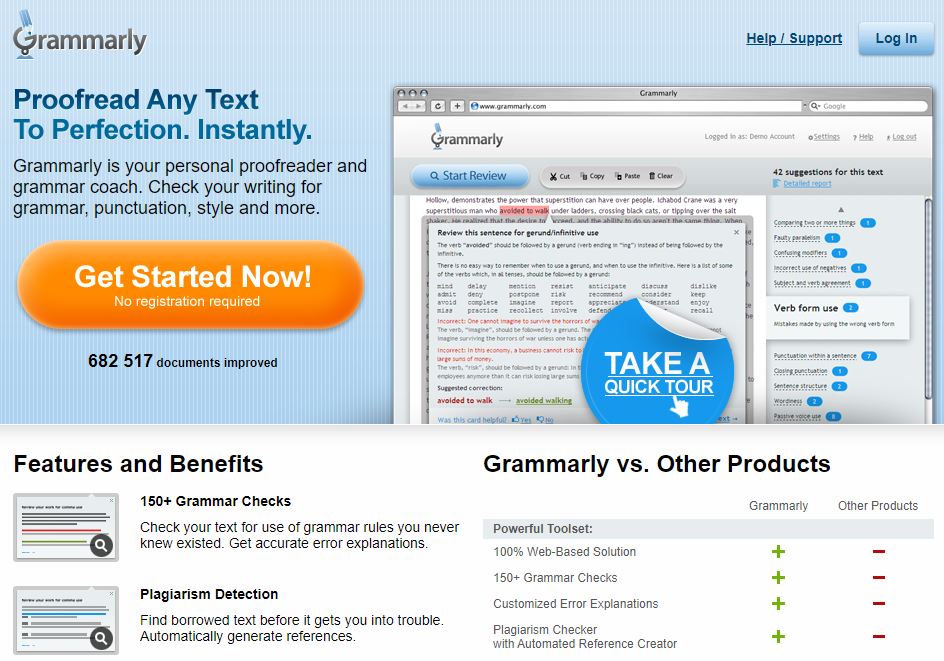 Grammarly became a hit with its new user base right after its launch. By 2010, a year after its introduction, Grammarly amassed a user base of over 100,000 students.
To cope with the increase in demand, both from a management as well as a PR perspective, Shevchenko and Lytvyn stepped down from their roles as co-CEO.
The pair was replaced by Brad Hoover, a seasoned venture capital investor at General Catalyst, in January 2011. He had previously advised the founders but was so passionate about the product that he convinced to join the firm full-time.
Meanwhile, the founders were able to focus on what they loved doing most – building technology that improves the lives of millions of users around the world.
Over the coming years, the core team grew Grammarly into an application that attracts millions of users. Interestingly, the core team decided to bootstrap the product, which was particularly surprising when you consider Hoover's VC background.
However, investor money (and the resulting dilution) wasn't needed since Grammarly was almost profitable from the start. As a result, investors would soon come knocking on their door. It took until May 2017 when the founders raised a first round of funding.
Led by Hoover's former employer General Catalyst, investors in the round poured $110 million into Grammarly. Close to 7 million people were using the software at that time.
Portions of that influx in cash were used to expand Grammarly's product line. Over the coming months, the team unveiled integrations with Android, Google Docs, and more.
The app, furthermore, expanded from simple grammatical error corrections to helping users improve the tonality of their writing.
And in October 2019, 10 years after its founding, the company finally reached unicorn status when it raised $90 million at a $1 billion valuation. Over 20 million people were using the software at the time.
The Covid-19 pandemic, which forced people across the world to lockdown at home, only accelerated its growth.
Interestingly, Grammarly would begin flagging the words 'Chin virus' and 'Wuhan virus' as offensive.
Other than that, the pandemic wasn't too much of a challenge given the firm's already distributed workforce. The team continued to simply double down on its product-led growth by introducing new features and integrations.
By the end of 2021, the application managed to amass over 30 million users. Investors, once again, came knocking on its doors.
In November of the same year, Grammarly announced a $200 million fundraise at a eye-popping $13 billion valuation.
Unfortunately, not everything was always going according to plan. The firm, as a result of the conflict in Ukraine, was forced to relocate its staff, most of whom were moved to Berlin.
Simultaneously, Grammarly donated all the made it made in Russia since 2014 to Ukrainians in need. It also launched a feature that would prompt users to donate whenever they wrote about Ukraine.
How Does Grammarly Make Money?
Grammarly makes money from premium subscriptions as well as writing services provided by real humans.
Similar to companies like Dropbox or Trello, Grammarly operates on a freemium model. This means that the core product is free of charge while users will have to pay for more advanced features.
Said premium subscription is then offered to individuals, businesses, and educational institutions.
This is commonly referred to as bottom-up sales the Software-as-a-Service industry. In essence, the buying decision is often made without ever talking to a sales rep.
Instead, the users themselves become advocates for the product simply by using the free tier or paying for the premium subscription out of their own pocket.
As a result, Grammarly saves considerable sums of money that would otherwise go towards employing a large sales organization and paying generous bonuses.
That saved cash can then be spend on improving the core product experience as well as on advertising. In the case of Grammarly, it has become one of the biggest spenders on YouTube.
And even if you need to pitch the product to a potential customer, it is oftentimes easier because the people you're pitching to are already familiar with the product.
Another key to Grammarly's success, apart from the product experience being very enjoyable, is the number of integrations.
Grammarly is now available on any browser and operating system imaginable. This, in turn, vastly accelerates user growth, which then feeds into the firm's user-led growth model.
So, without further ado, let's take a closer look at each of Grammarly's revenue streams in the section below.
Subscriptions
Grammarly derives the overwhelming majority of revenue from the various subscriptions it charges.
In essence, Grammarly offers 4 distinct plans, namely a free and premium tier as well as plans aimed at businesses and universities.
The free plan can be used in any of Grammarly's applications, ranging from their browser extension to the Microsoft Word integration. Features of the free plan are limited to basic writing suggestions such as grammar or spelling errors.
With the Premium plan, users will gain access to advanced features such as tone detection, politeness, sentence variety, ensuring conciseness and readability, plagiarism detection, and many more.
Premium costs a flat $25 per month and, just like any other modern-day subscription, can be cancelled at any time.
The Business plan includes the same set of features, but is targeted at companies with teams ranging from 3 to 149 users. Over 50,000 teams are now using Grammarly's business product.
Next to the Premium and Business plans, the software is also available to universities and other educational institutions under its Grammarly@EDU brand.
Prices are not publicly disclosed but will be provided upon quotation. Today, over 1,000 educational institutions partner up with Grammarly.
The company claims that over 99 percent of surveyed students reported increases in their writing grades while over 70 percent state that their overall writing confidence increased after using the tool.
Human Proofreading Service
While Grammarly's product is seen as one of the best in its industry, it won't replace years of human expertise any time soon.
Therefore, the company offers proofreading services to both businesses and private consumers alike.
Grammarly will charge a one-time fee for the service, with the price being dependent on the length of the text and deadline set.
The actual work is likely outsourced to regions where labor is cheap to hire, which should boost the firm's profit margins significantly.
Grammarly Funding & Valuation
Grammarly, according to Crunchbase, has raised a total of $400 million across 3 rounds of funding.
Notable company investors include General Catalyst, Baillie Gifford, BlackRock, Spark Capital, and many other powerhouses.
Grammarly is currently valued at $13 billion after raising $200 million in funding back in November 2021.
Who Owns Grammarly?
Grammarly is majority-owned by its founders Max Lytvyn, Alex Shevchenko, and Dmytro Lider.
Additionally, CEO Brad Hoover, who has been leading the firm for over 10 years, likely holds a significant ownership stake as well.
Detailed ownership figures are currently not provided by Grammarly. However, we can decipher how much equity the founders plus Hoover have likely given up.
Grammarly has raised 3 rounds in total thus far, namely:
05/2017: $110 million at undisclosed valuation
10/2019: $90 million at > $1 billion valuation
11/2021: $200 million at $13 billion valuation
In the second round (10/2019), the founders have up less than 9 percent of equity ($90 million / > $1 billion) while investors in the third round acquired roughly 1.52 percent ($200 million / $ 13 billion) of the company.
Grammarly's founders, in all likeliness, gave up another +- 20 percent in equity during the firm's first round of funding (05/2017).
As a result, Grammarly's core leadership team likely owns around 70 percent of the company.
This calculation is also in line with reporting by Forbes, which stated that Lytvyn and Shevchenko own 35 percent each.
Meanwhile, third co-founder Lider, who was brought on later, 'only' owns 1 percent of Grammarly. Hoover's stake is currently not publicized.
---
PS: In case you're wondering, this article was corrected by Grammarly as well. A couple too many times to be honest…