Executive Summary:
Upwork is an online marketplace that matches freelancers with businesses that seek on-demand work. The company facilitates jobs in the field of accounting, data science, web development, customer support, and many more.
The business model of Upwork is based on charging a fee for every successful job the company promotes on its platform. Freelancers pay a fee ranging between 5 to 20 percent, depending on the transaction volume. On top of that, the company offers membership plans to its business customers, charging a monthly fee of $49.99 and $849 (plus processing fees) respectively.
Upwork is the result of a merger between Elance and oDesk that took place in December 2013. The company officially rebranded into Upwork two years later. In 2018, Upwork went public on the Nasdaq stock exchange, raising $187 million in the process.
How Upwork Works
Upwork (formerly Elance-oDesk) is an online marketplace where freelancers can offer various services to private consumers and businesses around the world. Customers can seek help in almost any work-related category, including industries such as:
Design
Web Development & Software Engineering
Marketing
Accounting
Data Analytics
… and many more. As a freelancer, you upload a profile that includes information such as employment history, skills, education, certifications, a description of yourself as well as the hourly rate charged. Upwork furthermore populates additional data points such as hours worked on the platform as well as the freelancer's rating from previous jobs.
On the client side, businesses can post a job and name the specific roles and skills they seek. Candidates can then either apply directly or are handpicked by Upwork's matching algorithms. Upwork will then forward a list of potentially suitable freelancers to the job poster.
Selected candidates will then be invited to make a bid for the job in question. Furthermore, companies can schedule a chat with potential hires to ask specific questions and determine who's the best fit.
Once a project is started, both businesses and freelancers will gain access to a workplace environment provided by Upwork. Over there, both parties can send and receive files, share feedback in real-time, or use Upwork's mobile app to manage projects.
As with any online marketplace, Upwork will take care of the whole payment process. That not only means the facilitation of payments, but also features that include invoicing and reporting.
A Short History Of Upwork
The creation of Upwork is a result of the merger between Elance (founded in 1999) and oDesk (founded in 2003) that was announced on December 18, 2013.
At the time of the merger, oDesk had over a million businesses and five million freelancers registered on its platform. They helped to contribute more than $1 billion in transaction volume for the year of 2013.
Elance, on the other end, counted over 800,000 registered businesses and three million freelancers. Furthermore, the company was active in 170+ countries across the globe. Over 1.3 million jobs in categories such as software engineering, design, data science, marketing, were published every year on the Elance platform.
The goal of the merger was to become the indefinite market leader and thereby decrease market shares of freelance.com, their biggest competitor at the time. At first, the two companies continued to operate independently under their separate brands.
Then, on May 5, 2015, the two companies announced what has been heavily speculated soon after its merger: that the two companies will become one and operate under a new brand named Upwork.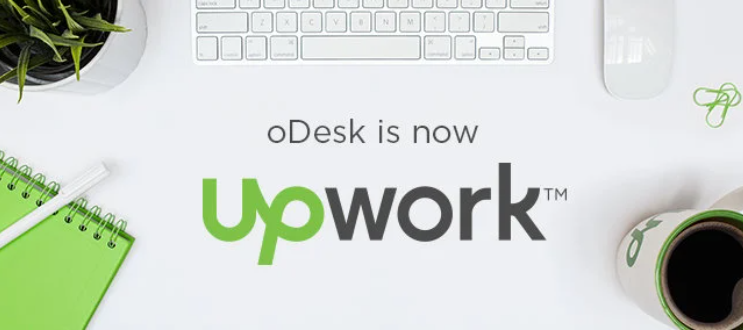 To really push the new brand right from the get-go, Upwork made sure to also release a new mobile application, quicker processing of the website, new search algorithms, and a real-time chat service.
The change was announced by Stephane Kasriel, who became the company's new CEO (and remained so until December 2019 when he was replaced by Hayden Brown).
The newly founded company continued to grow under the reigns of their new CEO. This culminated in the firm's IPO in October 2018.
Today, the company counts millions of active businesses and freelancers on its platform while operating offices in Chicago, San Francisco, and Santa Clara. On the platform, some freelancers were even able to build businesses that generate millions in revenue, showing the power marketplaces can have when achieving a sufficient scale.
How Does Upwork Make Money?
Upwork makes money through two income streams, namely service fees and premium subscriptions. Let's look at both of them in more detail.
Service Fees
As the operator of the marketplace, Upwork charges a percentage fee for every successful transaction it facilitates. More precisely, contractors are being charged a 20, 10, or 5 percent fee depending on the amount they have billed with a client.
To keep supply (i.e. clients and amounts of jobs posted) high, joining the platform and posting a job is free of charge. This ensures that marketplace liquidity, which is the efficiency with which a platform matches buyers and sellers, remains high.
Furthermore, since Upwork is also responsible for handling payments, a payment processing and administration fee of 2.75 percent is applied for every transaction.
As per their last earnings report, over 90 percent of the company's revenue can be attributed to the fees it generates on the marketplace. These revenue numbers are in line with some of the company's competitors, including the likes of Fiverr or Freelancer.com.
Client Membership
Client memberships are subscription plans tailored at the businesses that post jobs on the platform. Upwork claims that these plans allow businesses to hire better candidates at a faster rate.
Next to the Basic plan, which is free of charge and offers features such as verified freelancer work histories or built-in collaboration tools, clients can opt into two premium subscriptions: Upwork Plus and Upwork Business.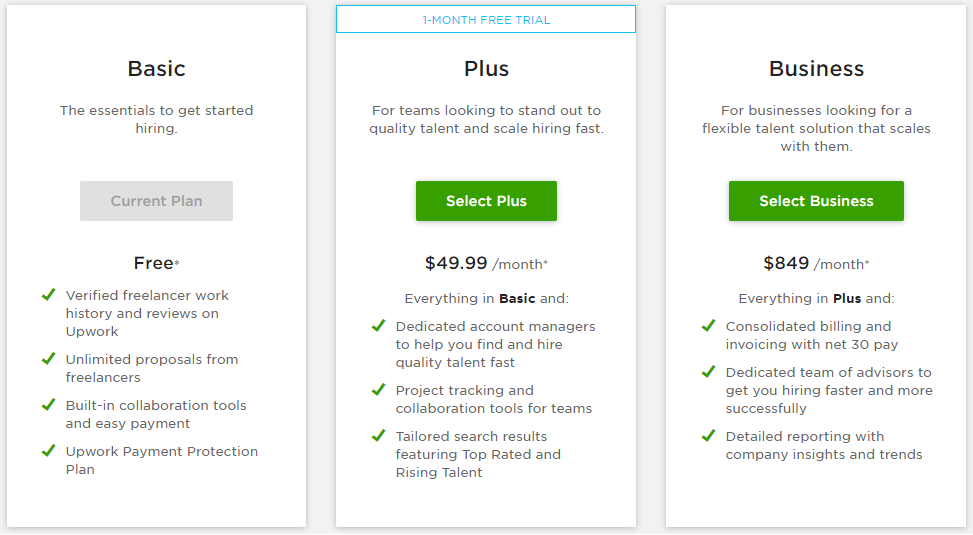 The Plus plan comes in at $49.99 per month while the Business subscription costs a total of $849 every month.
Premium features include things such as:
Dedicated account managers that help with the hiring process
Project tracking and collaboration tools
Consolidated billing
Advanced reporting features
.. and many others. On top of the subscription charge, Upwork furthermore includes a 3 percent payment processing fee and a 10 percent service fee for Business plan members.
Consequently, the membership plans make up 10 percent of the company's revenue. The company counts over 124,000 paying clients on its platform, but unfortunately does not disclose the distribution between the two plans.
Upwork Funding, Valuation & Revenue
According to Crunchbase, Upwork has raised a total of $168 million in 12 rounds of venture capital funding. Most of the money has been injected prior to the merger in 2013.
In 2018, Upwork was able to go public at a valuation of $1.5 billion, raising another $187 million in the process. As of April 2020, the company has a market cap of $900 million, which represents a 40 percent decrease in value over the past two years.
For the fiscal year 2019, the company brought in a total of $300.6 million while posting losses of $16.7 million (the company lost a total of $19.9 million in 2018). The losses are a result of Upwork's continued expansion and investments into its technology.