Executive Summary:
DoorDash is an online food delivery service, which partners up with local restaurants to deliver meals to customers in close proximity. Deliveries are executed by contractual drivers (so-called Dashers) that operate on an on-demand basis.
The business model of DoorDash is based on charging restaurants a percentage fee (around 20 percent) for every order made on its platform. Other sources of income include a service and delivery fee as well DashPass, a monthly subscription service for consumers.
Founded in 2013 by four Stanford graduates, DoorDash became an instant success with customers due to its flexible workforce of drivers. The company has raised over $2.1 billion in venture capital and is set to go public sometime in 2020.
How Does DoorDash Work?
DoorDash is an on-demand food delivery platform that allows customers to order food and beverages from restaurants nearby. People can order through the company's website or their Android and iOS apps respectively.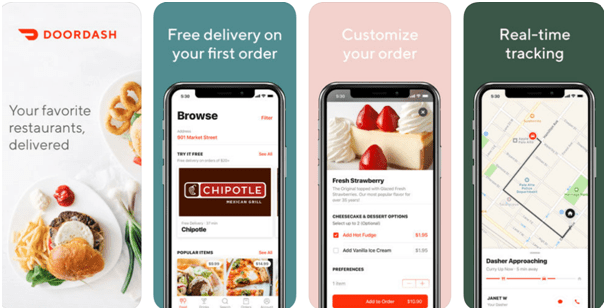 DoorDash does not prepare the food themselves. Instead, the company partners up with local restaurants and big food chains across the US to serve people in metropolitan areas.
In some instances, DoorDash will provide kitchen space for the restaurant to focus solely on preparing delivery food (a concept referred to as cloud or ghost kitchens).
The process of food delivery is then executed by so-called Dashers, the company's riders that it hires on a contractual basis. As contract workers, Dashers are not employees of the company. Instead, they only get paid whenever actively delivering.
Compensation is based on a multitude of factors, including:
base pay, which is determined by time worked, distance traveled, and desirability of the order
promotions, being higher compensation in peak times and rewards for challenges hosted by DoorDash (for instance delivering a certain amount of orders in a given time frame)
tips, which Dashers can fully keep
As the operator of the marketplace, DoorDash also takes care of the payment process. When placing an order, customers pay DoorDash directly. Afterward, the restaurants can claim the money they earned on the platform minus fees (more on that later).
A Short History Of DoorDash
DoorDash was founded in 2013 by Stanford alumni Tony Xu, Stanley Tang, Evan Moore, and Andy Fang. During that time, food delivery platforms were only listing the restaurants, which in turn had to conduct deliveries by themselves.
This often resulted in the inability of restaurants to deliver the food fast enough. In some cases, orders had to be canceled because the demand was simply too high.
Into the picture comes DoorDash. Initially, the company started out as PaloAltoDelivery.com to test the model within a condensed region (Stanford, as well as many big tech companies like Apple, are situated in that area).
A couple of hundred orders later, the founders had all the confirmation they needed. They rebranded into DoorDash and joined esteemed startup accelerator Y Combinator.
Due to the increased level of convenience, the company was able to expand into new markets with lightspeed. By 2015, two years after the company's foundation, DoorDash was serving over 18 cities across the United States while skyrocketing to a valuation of over $600 million.
One of the company's success formulas is based on the fact that every full-time employee (not to be mistaken with the contract workers) has to work as a Dasher at least once every month. This creates a constant feedback loop and allows the company to tweak the product experience wherever necessary.
Nonetheless, the growth of DoorDash has not been without troubles. Similar to other on-demand services like Uber and Deliveroo, the company has faced repeated lawsuits for allegedly misclassifying drivers as contract workers.
The mounting public pressure for the way these on-demand giants were dealing with their contractual workers led to a financial down round of DoorDash in 2016. Luckily, a prominent investor came to the rescue to decrease the mounting financial pressure.
In 2018, Softbank (lead investor in "success stories" such as WeWork or dog-walking startup Wag) led a $535 million round, giving DoorDash the necessary war chest to take on its rivals in the heated food delivery market.
This allowed DoorDash to capture 34% of the US market in 2019, effectively taking the top spot amongst its rivals. In February 2020, the company confidentially filed to go public.
On its road to dominance, the company made sure to collect some heatwaves for its growth-at-all-cost ethos. In 2019, its drivers sued DoorDash for using the customer tips to subsidize their pay. The company reacted to the public backlash by changing its tipping policies, effectively allowing drivers to receive all of the tipped amount.
How Does DoorDash Make Money?
Operating a food delivery marketplace has traditionally been plagued by low margins and high operational complexity. It thus requires companies to hit scale fast by building up both sides of the marketplace – that is supply (i.e. restaurants and drivers) and demand (customers).
Let's look into how DoorDash manages to monetize its user base and how the company became America's go-to app for all things food delivery.
Restaurant Commission
DoorDash charges restaurants a variable percentage fee for every order that is made through its platform. This variable amount is subtracted automatically whenever an order is made.
Although DoorDash does not publicly disclose its fee structure, numerous news outlets have pointed out that the company charges, on average, 20 percent on each delivery.
Order fees are subject to the agreement between DoorDash and each restaurant. A global fast-food chain like McDonald's may be charged less due to the low sales price of its meals as well as the attractiveness of the brand.
Delivery & Service Fees
On top of the restaurant commission, DoorDash earns money by charging customers for delivery as well as various service efforts (including marketing, app maintenance, and so forth).
Delivery fees often range between $6-8, depending on the distance and current demand. Delivery fees are used to compensate drivers, but the company does not publicly disclose how much of that money lands in the driver's pockets.
Service fees are calculated as a percentage of the order subtotal. The service fees allow them to cover a variety of costs, including technology development, marketing, and payment processing.
DashPass
DashPass by DoorDash is a subscription service that gives customers the ability to save money on delivery and service fees.
By paying a flat $9.99 every month, customers will not have to pay delivery fees for orders above $12. Furthermore, service fees are charged at a reduced rate.
Notably, not every restaurant is part of the DashPass offer. Similar to other subscription services like Netflix, customers have the ability to cancel at any time.
DoorDash claims that customers will be able to save an average of $4-5 per order when being subscribed to DashPass.
The subscription service is tailored to customers who repeatedly use the DoorDash app for their meal deliveries.
DoorDash Funding, Valuation & Revenue
According to Crunchbase, DoorDash has raised a total of $2.1 billion in 11 rounds of funding. During its latest Series G round, which was announced in November 2019 and represents an extension of a prior round in May, the company raised $100 million at a valuation of nearly $13 billion.
Investors into the company include the likes of the SoftBank Vision Fund, Sequoia Capital, Kleiner Perkins, Temasek Holdings, Darsana Capital Partners, and many others.
DoorDash does not publicly disclose revenue since the company is heavily funded by venture capital investors while remaining in hyper-growth mode. In all likeliness, DoorDash is still burning through a lot of cash to capture more market share.
For reference: DoorDash competitor Grubhub posted revenues of $1.3 billion for the fiscal year 2019. Usage estimates meanwhile show that DoorDash has a market share of 34 percent amongst app users while Grubhub clocks in at only 24 percent.
While these numbers should a) be taken with a pinch of salt and b) cannot be extrapolated as an indication of exact revenue metrics, it can roughly indicate how much the company is making.
To further support the assumptions, a 2018 article by Bloomberg stated revenues of $107 million for the month of November '18, serving furthermore as an indication that Doordash is way past the billion mark in terms of annual revenue.