Executive Summary
Coinbase is a marketplace for buying and selling cryptocurrencies. Apart from trading, the company offers solutions that allow customers to store assets, use a Coinbase credit card, learn about cryptos, or allow your online store to accept crypto payments.
The business model of Coinbase is centered around the fees it charges for trading cryptocurrencies. Other nodes of income include credit card transaction fees, referral fees for promoting courses, a custody service, as well as profits from venture investments.
Founded in 2012 and based out of San Francisco, the company has become the first widely adopted cryptocurrency startup. Coinbase is expected to go public in 2021.
How Does Coinbase Work?
Coinbase is an online marketplace that allows consumers to trade various digital currencies. More specifically, users can buy and sell over 20 different cryptocurrencies, including:
Bitcoin
Ether
Litecoin
XRP
… and many others. If that is not enough, the Coinbase Pro and Prime platforms allow individuals and institutional clients to trade in a more sophisticated manner. Traders can plug into the Coinbase API to retrieve real-time market data and develop programmatic trading bots.
Next to the Coinbase trading platform (also called exchange wallet), customers can also opt-in for the Coinbase Wallet (also referred to as crypto wallet). The Coinbase Wallet is available as a standalone app via Android or iOS.
The two main differentiators between the exchange and crypto wallet is that the latter is a) more secure (by storing information on a user's device instead of Coinbase servers) and b) allows to move cryptocurrencies from one wallet to another.
Moreover, the wallet facilitates the exchange of goods and services. For instance, people can post jobs and pay via their available cryptocurrencies.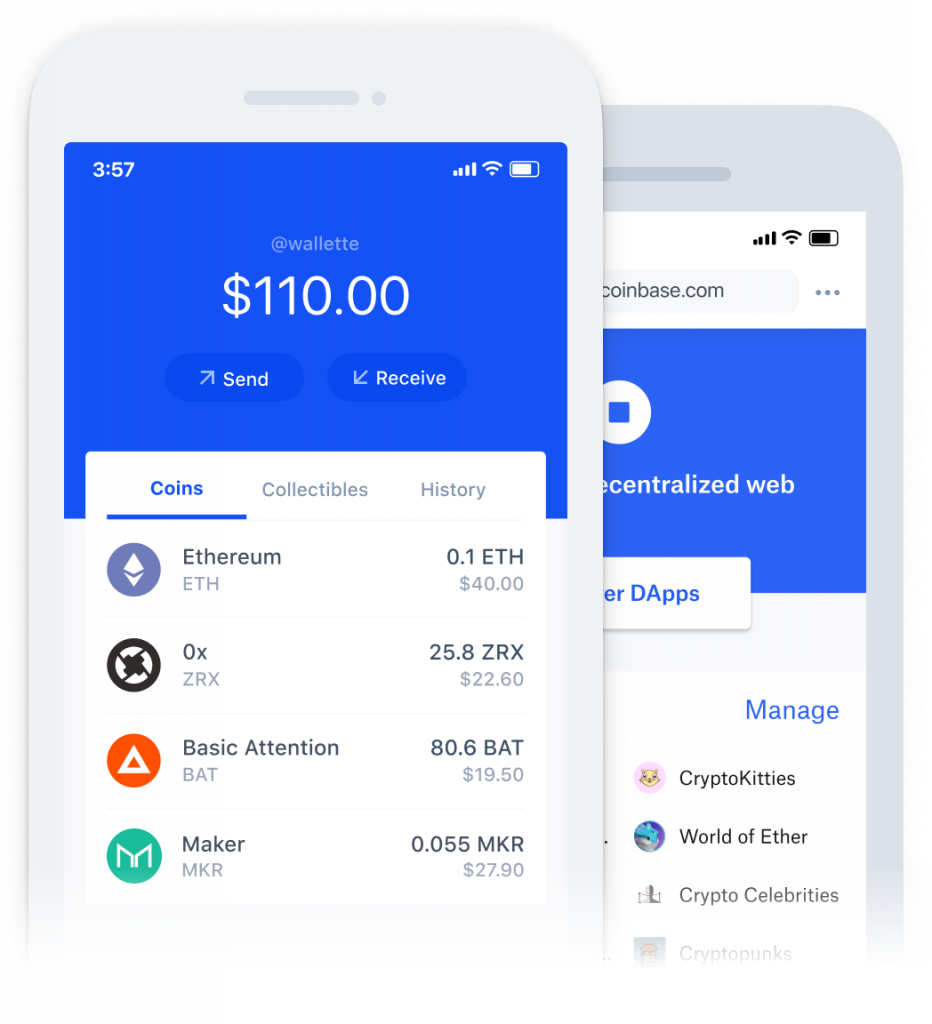 Apart from the trading platform, Coinbase offers a whole suite of other products to both consumers and businesses alike.
USD Coin (USDC) is the company's own cryptocurrencies. Its value is tied to the US dollar, so 1 USDC can always be redeemed for $1.00. The coin is built on the Ethereum standard and aimed at facilitating global transactions through the Coinbase platform. Users can buy and sell the USD Coin within the Coinbase and on over 10 other trading platforms.
Furthermore, Coinbase offers a variety of courses about new cryptocurrencies, such as Dai or EOS. Upon completion of a course, users will receive these currencies as a reward.
Additionally, users can order a physical VISA debit card called the Coinbase Card. The card is accompanied by an app that allows to tracks spending. Essentially, customers can use the card to spend their amassed cryptocurrencies in the physical world.
Under Coinbase Commerce, the company also offers tools for other companies to accept digital currency payments.
Similar to other payment providers like Stripe or PayPal, Coinbase has built plugins for any major eCommerce platform, including the likes of Shopify, WooCommerce, or Magento. A user has to simply install the plugin and can get started right away.
The company claims that it has processed over $200 million in cryptocurrency transactions since the launch of Coinbase Commerce.
A Short History Of Coinbase
Coinbase was founded in 2012 by Brain Armstrong (CEO) and Fred Ehrsam. Prior to starting Coinbase, Armstrong was working as a software engineer at Airbnb.
At the time, the company was moving a reported $500 million in payments annually in 192 countries through a mix of financial networks, with each one charging a transaction fee. Bitcoin (and the underlying blockchain concept) was just starting to get traction and counted a small niche community of financial enthusiasts.
On a discussion forum about cryptocurrencies, Armstrong met Ben Reeves, a British developer who operated a bitcoin transaction-tracking website called Blockchain.info. The pair exchanged multiple ideas until arriving at a conclusion: a PayPal for bitcoin.
Soon after, they got accepted to pitch their idea at Y Combinator, the world's most prestigious startup accelerator program. Unfortunately, just before Reeves was ready to board his flight to San Francisco, the pair had a disagreement which resulted in a split up between the two parties.
Instead, Armstrong paired up with former Goldman Sachs banker Ehrsam and launched the company out of Y Combinator. A year later, the company was already selling $1 million worth of Bitcoins per month.
Over the coming years, the company grew to the world's highest-valued bitcoin startup, breaking multiple records for the highest funding rounds at that time.
During the crypto craze in late 2017, when the price of Bitcoin rose to almost $20,000, the Coinbase app became the number one iPhone app in the American iOS store. In 2019, the company surpassed the 30 million user mark.
Traditionally, the crypto space has been riddled with many scandals, such as instances of fraud or hacking attacks against user wallets. Coinbase, on the other end, has been able to stay out of trouble for most of its existence.
Experts argue that this is grounded in the fact that Coinbase, right from its inception, made sure to cooperate and support government entities in the adoption of crypto.
For instance, the company sent transaction data of over 13,000 of its users to the IRS after they supposedly withheld their gains to avoid paying taxes. Around the same time, co-founder Ehrsam left the company to focus on other projects.
And in 2019, some of the company's users went to the Twitter streets (with their own hashtag #DeleteCoinbase) to protest the company's acquisition of Neutrino, an Italian startup that leveraged openly accessible blockchain data to track cryptocurrency transactions.
The bad news continued into 2020. In September 2020, Coinbase CEO Armstrong stated that no employee was allowed to discuss politics at work (and push their political agenda).
He even offered lucrative severance packages for anyone not comfortable with the change in culture. A few weeks later, the company announced that over 5 percent of its workforce (around 60 employees) decided to leave the company.
To make matters worse, an article published by The New York Times surfaced that minorities working at Coinbase experienced dozens of instances of public discrimination and humiliation.
Despite the turmoil, Coinbase continued to grow substantially in 2020. The company had its most successful year since inception, largely fueled by the Bitcoin ascend in late 2020.
As a result, Coinbase filed to go public in the beginning of 2021. The firm is expected to hit the public markets via a direct listing in March 2021.
Today, Coinbase is known as the world's biggest and most successful cryptocurrency-related platform. The company employs over 600 people and boasts a user count of 35 million.
How Does Coinbase Make Money?
The business model of Coinbase has come a very long way from its early days. In the beginning, the company only made money through trade fees, but has since included a variety of products it monetizes.
Today, Coinbase makes money via fees it charges on trades, maker and taker fees, interchange fees, interest on cash, sales of software tools, interest from personal loans, and more.
Let's look into each of these revenue layers in more detail.
Fees On Trades
The bulk of the revenue Coinbase generates still comes from the fees it charges for buying and selling cryptocurrencies.
Coinbase applies a tiered commission structure, meaning the amount of fees charged varies by location and total transaction volume. The company breaks it down as follows:
If the total transaction amount is less than or equal to $10, the fee is $0.99 | €0,99 | £0,99
If the total transaction amount is more than $10 but less than or equal to $25, the fee is $1.49 | €1,49 | £1,49
If the total transaction amount is more than $25 but less than or equal to $50, the fee is $1.99 | €1,99 | £1,99
If the total transaction amount is more than $50 but less than or equal to $200, the fee is $2.99 | €2,99 | £2,99
For instance, if you are located in the United States and want to purchase $100 worth of bitcoin and pay with a US bank account or a USD Wallet, the flat fee would be calculated as $2.99.
If a user wishes to exchange currencies (e.g. exchange $100 worth of Bitcoin into Litecoin), then a so-called spread margin is applied. The spread margin comes in around 2 percent, but depends on market fluctuations in the price of the cryptocurrency.
Lastly, users will be charged a payment processing fee, depending on location and the payment method chosen. For instance, a credit card purchase from an American cardholder adds another 3.99 percent fee to the transaction volume.
Fees represent the absolute majority of the firm's earnings. In its S-1, Coinbase stated that fees make up over 90 percent of its revenue.
Coinbase Pro & Prime
Coinbase Pro and Prime are aimed specifically at professional traders who deal with crypto's for a living. As such, the products offer a vast amount of additional features, including:
Advanced filtering options as well as detailed trade history
API to access real-time market data and create trading algorithms
Insurance protection of digital assets (up to $250,000) in case of any hacking attack occurs
For Prime members, a dedicated Coinbase team will help customer to onboard the software
While the tools are free of charge, customers will have to pay a fee when buying and selling currencies. Coinbase uses a so-called maker-taker fee model for determining its trading fees.
When you put an order similar to current the market price that gets filled immediately, you are deemed a taker and will pay a rate between 0.04% and 0.50%.
When you place an order that is not instantly matched by a current order, that order is then placed on an order book. If another customer places an order that matches the initial one, you are considered the maker and will pay a fee between 0.00% and 0.50%.
The maker and taker fees for Coinbase Pro can be found in the table below:
Coinbase Prime applies slightly lower rates because customers are institutions that transact millions of dollars in a given day.
Interchange Fees
For customers, the credit card is free to acquire and use. Coinbase makes money whenever a customer uses that card, more precisely through the payment fee that is charged.
Similar to any other credit card you hold, fees are applied whenever someone uses the card for payments (so-called interchange fees). The money will be subtracted from the overall transaction volume and paid by the merchant.
While Coinbase nor VISA publicly disclose fees, it can be assumed that there is a revenue-sharing agreement in place between the two parties. Many other FinTech start-ups, including the likes of Brex or Revolut, operate on a similar agreement and model.
Apart from interchange fees, Coinbase also charges ATM fees (when retrieving cash) as well as a 2.49 percent crypto liquidation fee (for customers that don't use USDC).
Cashback
In October 2020, Coinbase announced the launch of its Visa debit card. Prior to that, the card was only available in the United Kingdom as well as Europe.
In the United States, debit card holders are eligible to earn cashback rewards. The firms says that you can earn up to 4 percent back in Stellar Lumens or 1 percent back in Bitcoin.
Now, companies offering cashback often do not pay for the reward itself. Instead, they work together with advertising partners that cover the cost of the reward. On top of that, they pay out affiliate commissions to the advertising partner (in this case Coinbase) for promoting their products and services.
It can be assumed, at least in the case of Stellar Lumens, that Coinbase is compensated for referring the particular currency.
Interest On Cash
Coinbase, just like any normal bank, uses the cash residing in their user accounts to lend it out to other institutions, such as said banks.
They then collect interest from these institutions (also called Net Interest Margin). For 2019, according to Statista, the net interest margin for all U.S. banks was equal to 3.35 percent.
Coinbase Earn
As mentioned earlier, Coinbase offers the ability for customers to dive deeper into new cryptocurrencies by attending courses about them.
After completing a course, the user will be able to earn a pay-out of the currency the course was taught about. In order to complete a course, users will have to watch multiple videos and complete a quiz after the end of each video.

Coinbase Earn is the result of the $120 million acquisition of Earn.com that Coinbase made in 2018. Earn.com launched as a service where you can make contact with busy people for a small payment. Those busy people would get rewarded in cryptocurrencies to accept those requests.
No specific agreements have been publicized to date, but it can be assumed that Coinbase is not advertising these unknown cryptocurrencies on a voluntary basis. Rather, the company or blockchain network behind that currency will pay some sort of fixed or referral fee for being displayed on the Coinbase website.
Coinbase Custody
Custody is a service that holds securities on behalf of other clients. In the case of Coinbase Custody, the company will hold and store various crypto-related assets on behalf of other parties.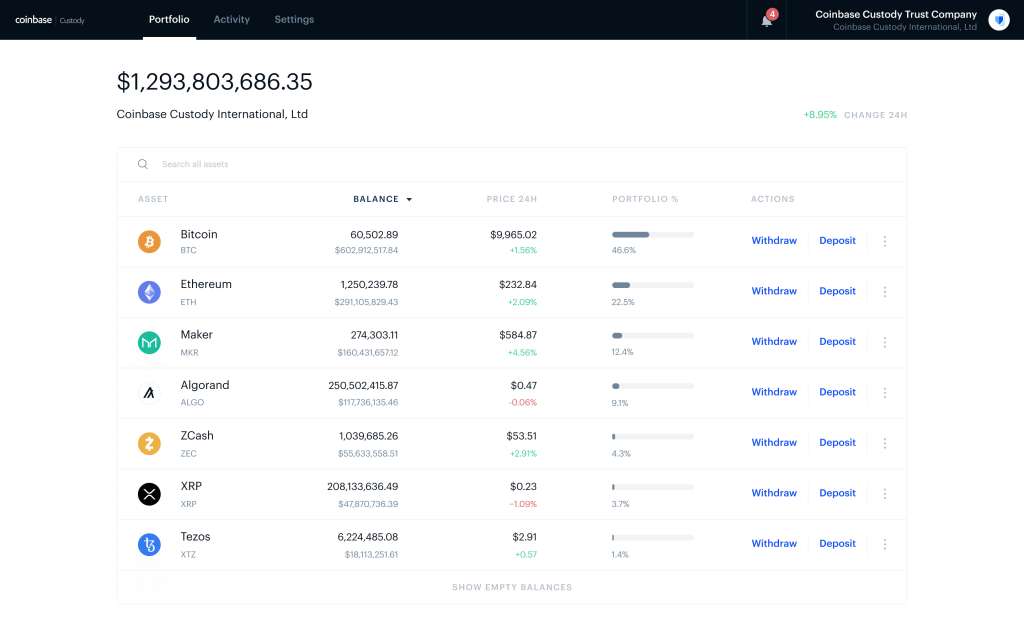 The tool can be directly integrated with Coinbase Pro and Prime while offering a variety of features, such as financial reporting tools, audited statements, capital insurance, or four-hour withdrawal SLAs.
Coinbase Custody operates as an independent and standalone business to Coinbase Inc. Coinbase Custody is a fiduciary under the New York State Banking Law and regulated by the New York Department of Financial Services (NYDFS).
To be able to join the custody service, the user has to deposit a minimum of $1 million. Coinbase makes money by charging an implementation fee of up to $10,000.
Furthermore, the company charges a custody fee of 50 basis points (annualized). So if a customer holds $10 million in his account, they are charged 10,000,000 x 0.0050 = $50,000 (paid for the whole year).
CEO Armstrong claimed in 2019 that the company received $200-400 million per week in new cryptocurrency deposits from institutional customers.
Coinbase Analytics
In April and May of 2020, documents were revealed, stating that both the U.S. Drug Enforcement Administration (DEA) and the Internal Revenue Service (IRS) intended to opt into a Coinbase tool called Analytics.
Coinbase started to work on Analytics after its acquiring intelligence agency Neutrino in 2019. The acquisition created some turmoil due to Neutrino founders' involvement in the Italian spyware firm Hacking Team. Coinbase eventually parted ways with members linked to the Hacking Team.
The Analytics software itself sources data from publicly available sources (and is not based on Coinbase user data) and allows its users to analyze cryptocurrencies on a macro and micro level.
The software, as of now, is sold on a contractual basis. The Secret Service, for instance, signed a contract worth $183,750, which ends in May 2024.
Personal Loans
In August 2020, Coinbase launched a lending product that allowed users to apply for personal loans. Their crypto holdings are used as collateral.
The service is currently available to U.S. based customers in selected states. Users can borrow up to 30 percent of their Bitcoin balance, and up to $100,000 (minimum volume is $2,000).
Coinbase makes money on the interest that it charges for these loans. The firm charges an 8 percent APR rate on its loans. Users have up to one year to repay it.
Coinbase Ventures
In 2018, Coinbase launched a dedicated investment team under the name Coinbase Ventures. It is aimed at financing promising early-stage companies in the blockchain and cryptocurrency space.
While the primary goal is not to make money, the Venture unit functions might end up selling shares into the companies they invest in at a profit (in case they don't proceed with acquiring them).
Coinbase Funding, Valuation & Revenue
According to Crunchbase, Coinbase has raised a total of $547.3 million in nine rounds of funding. During its last Series E round, in which the company raised $300 million, Coinbase was valued at $8 billion.
The firm is expected to hit the public markets via a direct listing. Experts predict that Coinbase's valuation to skyrocket to over $100 billion within the first day of trading.
Investors into the company include Andreessen Horowitz, Y Combinator, Wellington Management, Tiger Global Management, Ribbit Capital, and many others.
For the fiscal year 2020, Coinbase reported annual revenues of $1.28 billion, up more than 100 percent from the year prior ($533 million in 2019).
Meanwhile, the firm became profitable on an annual basis for the first time. In 2020, Coinbase pocketed over $322 million after expenses (in 2019, the company lost $30 million.