Executive Summary:
BuzzFeed is an American media company that focuses on publishing highly shareable content to increase virality. The company covers topics such as politics, cooking, fashion, business, and many more. BuzzFeed content is published in audio, video, and written format.
The business model of BuzzFeed is based on various layers of income. The company makes money through display ads, affiliate marketing, native and podcast advertising, as well as the distribution of their own digital and physical products.
Founded in 2006 by two American media executives, the company has been a huge success from the get-go. Today, over 160 million people a month visit the company's website and consume content from over 1,100 employees across 14 offices.
How BuzzFeed Works
BuzzFeed is an international media company that publishes content on topics such as animals, politics, sports, fashion, business, and many others.
Content is delivered through a variety of channels and forms. BuzzFeed utilizes the full spectrum of modern-day media, including:
Written content
Videos
Audio
… and even their infamous quizzes. Media channels include their own website, social media platforms such as Facebook, Instagram, or Snapchat, YouTube videos, and podcasting on platforms such as Apple or Spotify.
Part of the company's appeal lies in its focus on creating viral content and allowing others to share it across their networks of friends and family. One of the most prominent examples of this tactic are BuzzFeed quizzes.
BuzzFeed publishes content in over 12 countries across the globe. Apart from the US, content is published for consumers in Australia, Brazil,
A Short History Of BuzzFeed
BuzzFeed was founded in 2006 by Jonah Peretti (CEO). Prior to starting BuzzFeed, Peretti was the acting director of research and development at Eyebeam, while simultaneously wrapping up his masters at MIT in Boston.
In 2001, near the end of his studies at MIT, Peretti was seeing himself procrastinating.
In a live-taping event for the "How I Built This" podcast with Guy Raz, Peretti said that someone told him "that Nike had launched a service where you could customize your shoes, which was a new novel thing."
After playing around the service, Peretti finally found a print he liked: sweatshop. Unfortunately, this didn't sit too well with Nike, which rejected the order after a series of back-and-forth emails.
Peretti fixed the correspondence together and forwarded it to a couple of friends. What he didn't know is that his creation was then forwarded to many others, which ended up reaching millions of people.
He even ended up on NBC's Today Show, together with Nike's head of global PR and show host Katie Couric to talk about sweatshop labor. He began to ask himself:
"How can a student with no context in the media reach millions of people about an issue he knows very little about?"
This instance became his first experience with creating viral content – and put him in contact with Ken Lerer and Arianna Huffington, with whom he founded HuffPost in 2005.
Shortly after the start of HuffPost (which was sold to AOL for $315 million in 2011), Peretti started a little side project called BuzzFeed.
Until 2008, the company remained part of the Huffington Post network. But its quick growth led Peretti to work on the company full-time.
By 2008, the company had amassed millions of monthly visitors through its focus on viral content and obsessive measurement. BuzzFeed utilized data science early on to predict which stories might spread while the design and product teams consistently iterated the website experience.
Furthermore, the company was able to capitalize early on major shifts of technology. For instance, BuzzFeed was one of the first media companies publishing content on Facebook and Snapchat, giving them time to experiment and build an audience of loyal followers.
Today, the company employs over 1,100 people across 14 offices in New York, Los Angeles, Chicago, Paris, Sidney, São Paolo, and many others. Furthermore, over 160 million users visit the BuzzFeed website every month.
Nevertheless, the company's immense growth hasn't been without its hiccups. In 2019, the company had to lay off 15 percent of its global workforce amidst increasing pressure from existing investors to finally become profitable.
How Does BuzzFeed Make Money?
Like a true modern-day media company, BuzzFeed nowadays makes money from a plethora of different revenue streams.
In many cases, BuzzFeed's monetization tactics are not too obvious to the untrained eye. This is because the company heavily relies on natively advertised content, which is embedded into the platform.
Let's look at all of these revenue streams in more detail below.
Display Advertising
Display advertising is the reason why you probably run an ad blocking software on your computer. In essence, display ads are banners that are placed on various portions of a website.
Display ads may pop up on the side bars, on top, in the bottom, or throughout the content. BuzzFeed makes money from display ads in three different ways:
Whenever a user clicks on an ad, a fee is paid out. This model is referred to as Cost-Per-Click (CPC).
Whenever a user clicks on an ad and buys the product, a fee is paid out. This model is referred to as Cost-Per-Sale (CPS) and normally pays out more because it is tied to actual product sales.
A fixed price for promotion. BuzzFeed has millions of visitors every day, therefore its advertising space is highly valuable. Some companies might simply pay a fixed fee for the ability to show up on their website.
In media, deals are often made on an on-going basis. Hence, BuzzFeed might utilize one or a combination of any of the above revenue models.
Video Advertising
With over 20 million subscribers on YouTube and 12 million followers on Facebook (this is excluding other brands such as Tasty or BuzzFeed News), BuzzFeed has amassed a huge following across a diverse set of (social) media outlets.
Consequently, the company also produces video content to appeal to its massive follower base. Videos are monetized through ads that appear either at the beginning or middle of the video. This is referred to as pre-roll and mid-roll respectively.
BuzzFeed (and its subsidiary brands) is active on a variety of video-enabled platforms, including the likes of YouTube, Instagram, Facebook, or Snapchat.
While all of these platforms have different ad rates they pay out, the core essence is that the more people watch videos, the higher the pay out BuzzFeed will receive.
Furthermore, BuzzFeed also creates content for video streaming giant Netflix. In 2018, the company announced a partnership for the production of a new documentary series called "Follow This". Netflix, as with any other partner, will pay a fee for the show to be produced. On top of that and depending on how the contracts were settled, royalty payments may have been part of the deal as well.
Affiliate Marketing
In affiliate marketing, advertisers earn a commission by promoting products on behalf of other people or companies. Advertisers receive a commission whenever a user buys a product that was recommended by him/her.
Most of the affiliate products BuzzFeed promotes can be found under the company's Shopping section. Affiliate partners include the likes of Amazon, Shopify, Walmart, Hilton Hotels, and many others.
The promoted products are subject to some quality requirements, including a rating of 4 stars or above (on a scale of 5), having multiple (verified) product reviews, or having a competitive price (since BuzzFeed's audience is largely in their teens or early twenties).
Subscription Revenue
BuzzFeed News, the company's section focusing on daily news updates, can be supported by paying $5 per month or $100 upfront for a yearly membership.
To date, over 250 reporters work for BuzzFeed news around the globe. The company reports on topics such as politics, business, sports, or celebrities.
Subscribers get exclusive access to member-only emails about the company's biggest stories, as well as the possibility to give exclusive product feedback.
Native Advertising
Native advertising is a form of marketing which acts as a natural extension of the existing content. As such, native ads cannot be distinguished from the regular content present on the website.
For social media companies like Facebook or Instagram, native ads appear when scrolling through the feed. These products are marked as ads.
In the case of BuzzFeed, native ads are content pieces where the author talks about a product or brand in depth and sheds light onto positive aspects.
BuzzFeed partners up with companies such as Volkswagen, American Express, KFC, and many others to promote their products and brand.
In exchange for the promotion, the company is paid a fixed fee for every piece of content published. In 2017, native ads were making up close to 70 percent of the company's revenue.
Over the last three years, BuzzFeed worked on decreasing the reliance of that income source by incorporating display ads and affiliate links into its products. Today, native ads make up only 20 percent of the company's revenue.
Digital & Physical Products
Apart from promoting the products of other companies, BuzzFeed furthermore sells their own items. These include both digital as well as physical products.
Most of the company's sales come through its TASTY brand where the company sells things such as cookbooks, food products (e.g. cake mixes), various seasonings, kitchen appliances, or cooking sets for children.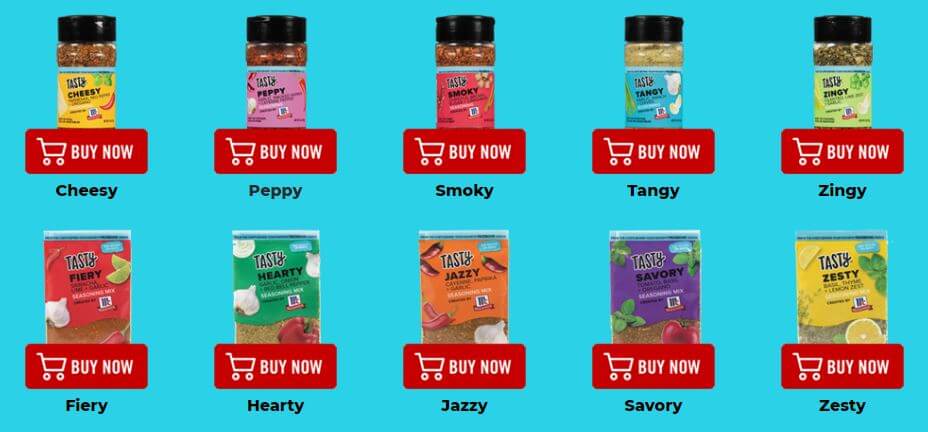 In order to manufacture and distribute the physical products, BuzzFeed will partner up with another company in the industry. Partners include the likes of Walmart, Wilton, or McCormick.
The products are part of a broader strategic collaboration between BuzzFeed and its partners, which will see them work together across creative development of a wide range of consumer products.
No details of these deals have been publicly disclosed, but it can be assumed that BuzzFeed receives a portion of each successful sale. The Walmart deal has been rumored to be worth over $20 million alone.
Podcast Advertising
BuzzFeed hosts a variety of podcasts, for instance including the newly launched News O'Clock in collaboration with iHeartMedia.
The podcasts are a fairly new revenue source for the company. Monetization occurs through ads that are placed on the podcast.
In podcasting, companies normally pay a fixed fee per ad. The bigger the listenership of that podcast, the higher the amount paid.
BuzzFeed Funding, Valuation & Revenue
According to Crunchbase, BuzzFeed has raised a total of $496.3 million across eight rounds of venture capital funding. During its latest Series G round, which the company raised in November 2016, BuzzFeed was valued at $1.5 billion.
Investors into the company include the likes of NBCUniversal, General Atlantic, Andreessen Horowitz, Hearst Ventures, RRE Ventures, and many others.
For the fiscal year 2019, BuzzFeed posted annual revenues of $320 million (up about 7 percent from 2018). Nevertheless, according to Peretti, the company remains unprofitable but expects to turn a profit for 2020.