Executive Summary:
Trello is a visual software application (based on the Kanban methodology) that allows users to manage projects and organize tasks. Work is managed in so-called boards, which include different project states (e.g. "In Progress" or "Done") and are filled with cards representing tasks.
Trello makes money by charging offering premium subscription plans that unlock additional features. These plans are either targeted at individuals (called "Trello Gold") or businesses (named "Trello Business Class" and "Trello Enterprise").
Founded and spun out of Fog Creek Software (creator of tools such as FogBugz and StackExchange) in 2010, the tool became an immediate hit with users around the world. This culminated in the company's acquisition by Atlassian in 2017, who paid $425 million for a 100 percent stake in Trello.
How Does Trello Work?
Trello is a SaaS collaboration tool that helps organize tasks and projects into so-called boards. The application is available on the web as well as via Android and iOS. Users utilize cards that are placed in different sections of the board and represent the current state of progress.


The cards hold more detail of said tasks, allowing users to add comments, create checklists, upload file attachments, or append due dates and labels.
Since Trello is supposed to facilitate collaboration among project participants, it allows users to invite other people to join them. Tasks can then be assigned to anyone participating. By dragging and dropping cards, users can signal the status of a task (or card).
While Trello is based on the Kanban method, it can be applied to many other project settings – for instance by product owners in Scrum or simply your everyday person in need for some organization.
A (Very) Short History Of Trello
Trello (originally codenamed Trellis) was founded in 2010 by Joel Spolsky. It was spun out of Spolsky's company Fog Creek Software (now Glitch), which is also responsible for the development of other tools such as FogBugz and StackExchange.
Trello was introduced to the public during TechCrunch Disrupt. This public launch became quite successful, leading to over 30,000 sign-ups.
The tool started out completely for free in order to build up user base. The management's plan was to monetize those users later on after Trello became an essential part of their daily lives.
And that strategy certainly panned out. In 2014, Trello was able to amass over 4.6 million users while raising $10.3 million from investors such as Index Ventures and Spark Capital. By then, the company was already profitable on the backbone of it's previously introduced business plans.
With the announcement of the funding round, Michael Pryor (who co-founded Fog Creek together with Spolsky in 2000) became the company's new CEO.
Three years and 19 million registered users later, Trello was acquired by software giant Atlassian (creator of JIRA and Confluence, amongst others) for a whopping $425 million (with $360 million in cash and remainder paid in stock).
Ever since the acquisition was announced, information regarding Trello's financial performance and growth has been mostly kept behind closed doors. In late 2019, Pryor announced that the company has crossed the 50 million user mark – and remains to add new features to extend Trello's capabilities.
How Does Trello Make Money?
Trello makes money by charging private or enterprise consumers a monthly subscription fee. At its core, Trello is a freemium tool and as such vast amounts of the application are free to use. The core selling point of Trello lies within its simplicity and extensive availability of features in the free version.
In fact, the reason why Trello's free version is so feature-rich is to get users acquainted with the tool and eventually outgrow the free plan.
Furthermore, the freemium users may become product advocates and support the implementation of Trello within their own organization.
Apart from its free plans, the company offers three monthly subscription options. These are called Trello Gold, Trello Business Class and Trello Enterprise.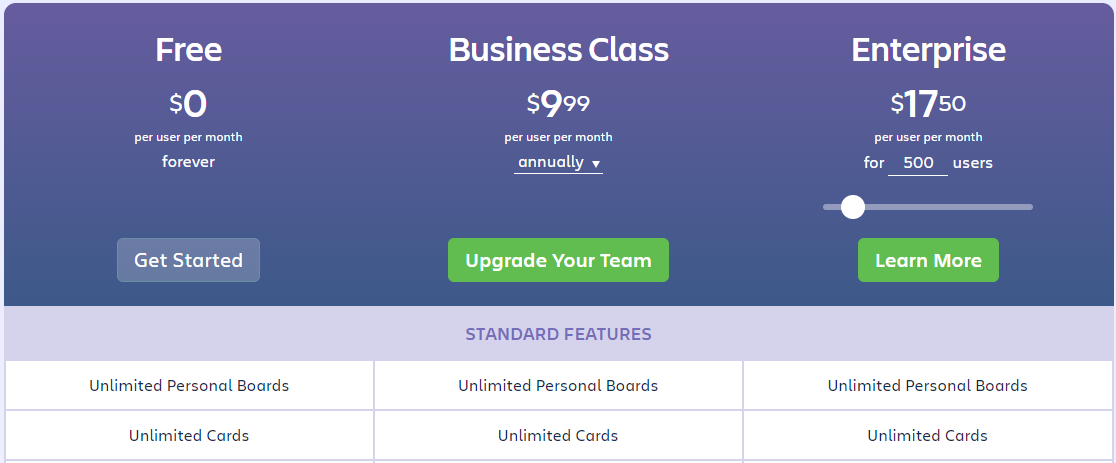 Trello Gold is aimed at individual users and extends some of the capabilities of the free version. For instance, users can upload bigger attachment to their cards (up to 250MB), enable custom board backgrounds, or add custom emojis to their board. The plan comes in at $5 per month (or $45/year).
The Business Class and Enterprise plans are, as the name indicates, aimed at business customers. Business Class customers pay $9.99 per month per user while Enterprise pricing is dependent upon the amount of registered users.
The business plans include features such as admin control rights, priority support, increased privacy settings, integrating third-party custom features, or creating multiple groups.
Trello Funding, Valuation, Investors & Revenue
According to Crunchbase, Trello has raised one round of funding in 2014 (Series A). The company was able to raise $10.3 million from investors including Index Ventures, Spark Capital or the LAUNCH Accelerator (led by Jason Calacanis).
The Series A valued Trello at $50 million. During its acquisition in 2017, the company's valuation rose to $425 million, representing a 8.5 times increase over a three year span.
As of now, Atlassian decided to not share revenue metrics on any of its apps and services. Therefore, revenue numbers for Trello are not made public. The last announcement came short after the acquisition when Atlassian disclosed it expects Trello to bring in $4 million for the fiscal year 2017.