Executive Summary:
ClassPass is a fitness platform that partners up with local gyms and studios to offer classes to fitness enthusiasts. Classes include activities such as boxing, cycling, or yoga. The service is available via the ClassPass website as well as through the company's Android and iOS apps.
The business model of ClassPass is based on a monthly subscription that customers pay. Users then receive so-called credits they can use to attend classes. The amount of credits is dependent upon the plan chosen.
Founded in 2012, the company has seen stellar growth within its core business unit. Today, ClassPass is live in over 2,500 cities across the globe while accounting for almost a 100 million reservations. In October 2021, ClassPass was acquired by Mindbody.
How ClassPass Works
ClassPass is a subscription service that offers customers access to a variety of studios, gyms, and wellness spots. The service is available via the company's website or its Android and iOS apps respectively.
When signing up to a class, users are booking a one-time session in the activity and location of their choosing. Categories include:
Cycling
Boxing
CrossFit
Yoga
Rowing
… and many others. To book a class, users are using the credits they receive from their subscriptions. The company has partners in over 2,500 cities across the globe.
A Short History Of ClassPass
ClassPass (formerly Classtivity) was founded in 2012 by Payal Kadakia and Sanjiv Sanghavi.
The idea for ClassPass originated when Kadakia, who's an MIT graduate and occupied roles at companies such as Bain or Warner Music, tried to book a dancing class for herself.
In her youth, Kadakia was a dancer through and through. She started dancing at the age of 3. By 5, she saw herself performing classical and folk Indian dance. And despite her time-consuming jobs, dancing was always an integral part of her life.
This led to the foundation of Sa Dance Company, an Indian dance collective comprised of women from various social backgrounds – even landing her a piece in the New York Times.
So when she tried to hone those dancing skills, it took her hours upon hours to find a suitable dancing class. On top of that, none of the web sources he visited indicated anything about the level of skills and quality of the classes.
With that frustration in mind, she started ClassPass together with Sanghavi to ease this process. Months later, the pair got accepted into prestigious startup accelerator TechStars in New York City.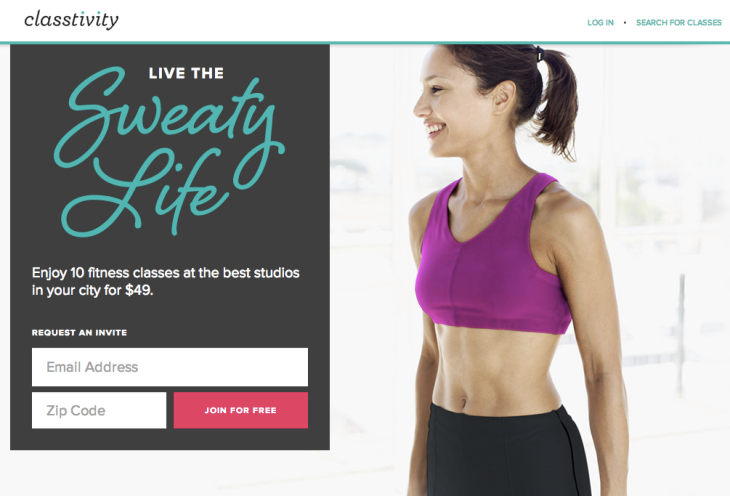 Conversely, ClassPass started its foundation in New York, the city it originated from. Within the first couple of months, over 8,000 NYC gyms were part of the company's platform. Months later, the service expanded to other cities such as San Francisco and Los Angeles.
By 2014, the company had amassed over 100,000 reservations on its platform while scoring its first seed round worth $2 million. Growth continued throughout the years as the company expanded across the globe, acquired competitors such as fitmob or Guavapass, and grew to a valuation of over $1 billion.
Nevertheless, this exponential growth journey has not been without its problems. For instance, Kadakia stepped down in her role as CEO in 2017. Fritz Lanman, one of the company's first investors, took over those duties.
And as of recent, the company faced tremendous backlash from the gyms and studios that make its business. A piece by Vice Magazine detailed how the company is "squeezing studios to the point of death". This often left studio owners with barely making a profit on any ClassPass customers that joined their sessions.
Meanwhile, ClassPass insists that its model is working for both the company and its partners, pointing out its 90 percent retention rate among studio partners.
In 2020, ClassPass had to face the greatest challenge of its existence to this date. The coronavirus pandemic led to the closure of over 90 percent of gyms, which severely affected its bottom line.
The platform immediately switched to livestream workouts in order to retain some of its users. Moreover, it opened a Partner Relief Fund to allow users to donate to their favorite studios (while ClassPass matched all donations up to $1 million).
Nevertheless, the pandemic did also have its effects on the company. In April, it had to lay off 53 percent of its workforce. Then, in August, ClassPass sued hotel chain Hilton over its decision to renege on an agreement to purchase a stake in the platform (a deal that had been made back in 2019).
As its revenue is directly tied to the reopening of studios, ClassPass also added an interactive Covid-19 vaccine map in February 2021.
The firm's swift pivot towards becoming a full-stack fitness platform serving different customer needs not only allowed it survive but eventually led to its acquisition in October 2021.
 Mindbody, a sort of OpenTable for the fitness world that allows studios to organize their bookings, announced that it would acquire ClassPass for an undisclosed amount (done in stock). Alongside the announcement, Mindbody also disclosed that it had secured a $500 million investment for the merged entity.
How Does ClassPass Make Money?
ClassPass makes money through a credit-based subscription model that charges users a monthly fee.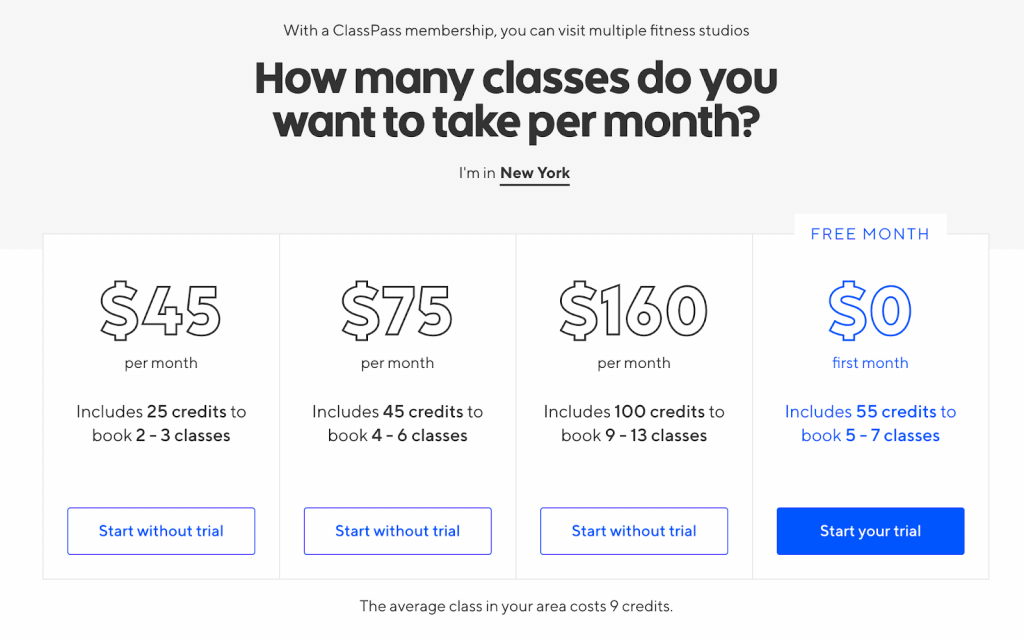 As opposed to traditional gyms, where customers are charged monthly for unlimited access, ClassPass uses so-called credits that can be redeemed at the gyms and studios it partners with.
Every ClassPass workout has a dynamic credit price that is based on multiple factors, including:
Location
Time and date booked
Equipment used
Popularity of booked activity
The chosen plan determines the amount of credits a user can dispose in a given month. Users will then dispose these credits to attend the various classes while ClassPass will take home a 5 percent commission from the price of that class.
Apart from consumer plans, ClassPass furthermore provides bundled access to its classes for enterprise customers. By partnering with ClassPass, businesses can give their employees access to all the classes the platform offers.
As a result of the coronavirus pandemic, ClassPass also introduced personal training sessions which follow the same UX flow (i.e., charging credits per session). Similarly, it has added beauty and wellness sessions to the mix.
Customers include the likes of Google, Facebook, Under Armour or Morgan Stanley. Pricing is not publicly displayed and most likely determined on a case-by-case basis (again, depending on location, amount of employees, popularity of classes and so forth).
The competitors of ClassPass, which include Gympass or Peerfit (among many others), also monetize their services via a subscription-based system.
How Much Does ClassPass Pay Studios?
ClassPass does not publicly disclose how much it pays each studio. The take-home rate, however, depends on a variety of factors.
Because of its credit-based system, there is a lack of transparency for how much studio owners actually take home from each booking.
How much it pays a studio is ultimately dependent on the price that a studio charges for its classes.
A good rule of thumb is that for every $1, ClassPass takes about 20 to 30 percent. That means if a class costs $30, then ClassPass gets to keep between $6 to $9.
ClassPass Valuation, Funding & Revenue
According to Crunchbase, ClassPass has raised $549 million in 9 rounds of venture capital funding. In its latest Series E round, the startup raised $285 million at a valuation of $1 billion. This officially put them in the unicorn club.
Investors into the company include Singaporean conglomerate Temasek Holdings, General Catalyst, Thrive Capital, GV, Apax Digital, and many others. Temasek is believed to be the company's lead investor, having contributed in the majority of the company's funding rounds.
As typical with any venture capital funded company that is in full growth (and spending) mode, ClassPass does not publicly disclose its revenue numbers.