Executive Summary:
OpenTable is a restaurant reservation platform that allows you to book tables and subsequently pay for your food.
OpenTable makes money via a monthly subscription, booking and service fees, referral fees, as well as its own restaurant.
Founded in 1998, the company has risen to become the de-facto market leader for restaurant reservations in the United States. It went public in 2009 and was later acquired by Booking Holdings for $2.6 billion.
What Is OpenTable?
OpenTable is a platform that allows you to reserve and book a restaurant table online. OpenTable has revolutionized the way that restaurants manage their reservation systems.
By connecting with OpenTable, your restaurant will always have detailed information about guests waiting to be seated and can ensure a seamless experience for all of its customers by accommodating them in real-time on our website or mobile app.
Reservations can be booked, modified, and canceled at any time. Users can check out the restaurant's menu, receive directions, and even invite their friends to join them.
By setting up a profile, users will receive personalized recommendations. OpenTable is furthermore able to take dietary restrictions, such as allergies, into account.
The firm's most frequent customers can also earn VIP status if they book more than 12 times in a given year. The VIP status gives users access to Booking.com's Genius membership, which grants users a 10 percent discount on selected hotels and other locations.
Additionally, OpenTable also offers a loyalty program, allowing users to cash in earned points (which are given for restaurant visits) for different discounts and rewards.
People can make reservations at over 60,000 restaurants by visiting the company's website or downloading any of its mobile apps (available on Android and iOS devices).
OpenTable Company History
OpenTable, headquartered in San Francisco, California, was founded in 1998 by Chuck Templeton, Eric Moe, and Rishi Deshpande.
The idea for OpenTable arose when Templeton, who acted as the firm's CEO in the early days, observed his wife spending over three hours to get a restaurant reservation.
Templeton himself had spent his childhood days working in various restaurants. Despite the rise of the dot-com era, restaurants remained unwilling to change.
Most of them were still relying on humans to take calls and write down reservations via notebooks. Realizing that technology could eliminate those inefficiencies, Templeton decided to quit his job in July 1998 – two months after his wedding.
Coming from a business background, he then decided to team up with Moe and Deshpande to build out OpenTable's tech stack.
He was furthermore able to raise $750,000 in seed funding from friends and family. His father-in-law, one of the firm's initial backers, was the co-founder of Lettuce Entertain You Enterprises, a holding of about 70 restaurants in Chicago.
As a result, the firm was initially launched in Chicago as well as San Francisco where Templeton resided. In the beginning, OpenTable started out as a software as a service (SaaS) business, offering its reservation software to restaurants of all kinds.
Since most restaurants did not possess a working internet connection (or even access to electricity at their host stands), OpenTable began offering installation services to those businesses in need. These installations were a loss-making business for the young company, oftentimes costing around $5,000 while only bringing in $500 in installation fees.
As a result, the company was burning through $1.5 million each month. Nevertheless, building up a network of restaurants was crucial to build out the necessary supply side of its consumer-facing reservation business.
The company needed to sign up about 10 percent of the restaurants in any given neighborhood to establish a working network. Seeing that their fiercest competitors were starting to use OpenTable, other restaurant owners began signing up for the service as well.
By May 2000, OpenTable had onboarded over 750 restaurants in 15 cities across the United States, including Boston, New York, and more. The startup also kept adding more funding to its balance sheet to sustain the ongoing expansion efforts.
In 2000 alone, it raised a $10 million Series B (January 2000) and $36 million Series C (in October 2000), respectively. Nevertheless, OpenTable kept burning through cash like there was no tomorrow.
As a result, OpenTable let go of 110 of its 176 employees after the Series C was announced. The layoffs gave the company the necessary runway to operate – and finally, make the business profitable.
Once OpenTable hit a critical mass of supply on its restaurant side, it launched its consumer-facing business, allowing others to book a table through its website (which went live in the latter half of 1999).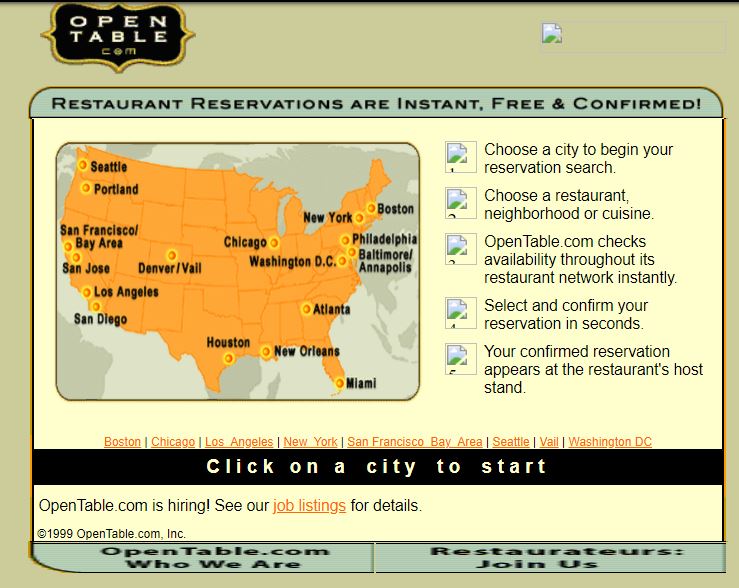 Over the coming years, the company continued to focus on adding both restaurants and food enthusiasts to its network. By mid-2003, the company managed to provide over two million bookings through its platform.
A year later, in June 2004, co-founder Templeton decided to leave the company to pursue other entrepreneurial endeavors. One of the major growth factors for OpenTable became the launch of its iPhone app in November 2008 (the Android app was launched in September 2009).
Allowing users to book tables on the go and from the comfort of their phones proved to be extremely viable for the company. Smartphones became the perfect use case for anything on-demand, whether it was booking a cab through Uber or a place to stay via Airbnb.
As a result of the firm's continuous growth, it subsequently filed to go public in January 2009. The IPO not only brought in much-needed cash but also enabled OpenTable to gain more legitimacy – and thus speed up new partnerships with tech companies of all kinds.
In June 2010, for instance, Yelp enabled its users to book tables on its platform. These offerings were then powered by OpenTable in the backend. The announcement was particularly surprising because OpenTable had launched its own reviewing system just two years before (and thus directly competed with Yelp).
The cash infusion from the IPO furthermore allowed OpenTable to acquire other businesses. The company acquired its biggest rival Toptable, which mainly focused on the European market, for $55 million in September 2010.
Yet, not everyone was excited about OpenTable becoming bigger and bigger. Its critics argued that the company's fees squeezed out every bit of margin that a restaurant had left. Some restaurant owners even had to stop paying themselves a salary in order to make ends meet.
Nevertheless, the company simply profited from being the dominant player in the market. It, furthermore, continued to support its restaurant partners to the best of its abilities. For instance, in 2012, OpenTable offered to create free mobile websites for all of its restaurant partners.
The company also got into the payments business, a logical next step for many consumer tech companies. Enabling payments allowed OpenTable users to reserve tables and pay for meals within the app.
Rumors began swirling around concerning a potential acquisition. Reporters had speculated that Yahoo might acquire the company to boost its own offerings. While Yahoo did not end up buying the company, another giant player in the travel space did.
In June 2014, Priceline (which today is known as Booking Holdings) paid $2.6 billion in cash to acquire 100 percent of OpenTable. The company was immediately delisted from the Nasdaq stock exchange.
OpenTable profited from the acquisition through the richness of Booking's ecosystem. For instance, it began offering loyalty programs, rewarding users with hotel booking credits. Similarly, OpenTable users could also get discounts on other Booking-owned platforms such as KAYAK.
Nevertheless, OpenTable did not develop the way Booking had hoped it would. In particular, the company failed to expand its technology and booking platforms to other countries. Furthermore, a variety of US-based startups began developing their own booking platforms at much cheaper rates.
Various executive shakeups prohibited the company from hitting its ceiling. KAYAK CEO Steve Hafner, for instance, was spearheading OpenTable as its chief executive while simultaneously holding the same role at KAYAK.
It also didn't help that the company was embroiled in a scandal. In March 2018, Eater Chicago revealed that an OpenTable employee (without the company's consent or knowledge) had booked close to 1,300 diners at 45 restaurants that were partnering with competing services.
Then, in March 2019, OpenTable updated its client agreement and forbid restaurants to share their data with other platforms. If they did, a penalty fee would be applied. That same year, OpenTable got into the food delivery business by partnering with the likes of Caviar, Grubhub, and Uber Eats.
While it remained the undisputed market leader in the United States, the firm would soon face its biggest challenge. The coronavirus and subsequent lockdown measures resulted in an almost 100 percent loss in bookings.
As a result, the company had to let go of hundreds of employees. Surprisingly enough, its management team (which, since August 2020, is led by Booking veteran Debby Soo) also decided to forgo its monthly fees in an effort to help restaurants.
The company also introduced a variety of new features, such as the ability to take out or to highlight special dining activities (such as outdoor movie nights).
Over the course of 2021, OpenTable has focused on helping restaurants bringing back guests in a safe manner, for instance by launching a heat map that shows state-by-state restrictions and their reopening status.
Today, close to 2,000 people are employed by OpenTable which operates offices across the globe in cities like Boston, Los Angeles, London, or Mumbai.
How Does OpenTable Make Money?
OpenTable makes money via a monthly subscription, booking and service fees, referral fees, as well as its own restaurant.
OpenTable has adopted an aggregator business model. As such, the platform (much like competitor Yelp) collects dozens of data points about a restaurant's quality and makes it available to customers around the world (in more than 20 languages).
Restaurants and other food-related businesses are OpenTable's paying customers. They essentially compensate the company in exchange for getting access to millions of customers. OpenTable then acts as a trustable and easy-to-navigate layer on top.
Let's, therefore, take a closer look at each of OpenTable's revenue streams in the section below.
Subscription
The bulk of the revenue that OpenTable generates comes from the monthly subscription fees that restaurants pay.
The company offers three plans called Basic, Core, and Pro. These plans cost $29, $249, and $449 per month, respectively.
Each plan comes with a variety of features, including post-dining surveys, online waitlists, availability controls, real-time inventory insights, and plenty more.
In 2020, OpenTable announced that it would halt subscription payments in response to coronavirus. These were reinstated at the beginning of 2021.
Booking & Service Fee
Restaurants do not only pay a monthly subscription premium but are also charged for every booking made via OpenTable.
The fees are dependent on what plan the restaurant owner chooses. The higher the plan, the lower the fees that restaurant operators pay.
It charges a so-called per network cover. The Basic plan charges $1.5 per booking while the others cost $1 per booking.
Furthermore, the company charges a service fee of two percent, applicable across all plans. Lastly, the Basic plan incurs a $0.25 fee per reservation
Referral Fees
In 2019, OpenTable announced that it would offer food delivery services to its existing users. To make that happen, the company had partnered with other platforms like GrubHub and Uber Eats.
These companies, in all likeliness, pay OpenTable a commission for referring its customers to those services.
In-Dining
In April 2021, OpenTable launched its first very own restaurant called Layla. The restaurant, which is located in Miami, uses technology to get more insight into consumer preferences.
The official purpose of the restaurant is to act as an innovation lab where the company can test various ideas.
Consequently, these would then be rolled out across the 60,000 restaurants that OpenTable partners with.
The company may decide to expand its in-dining experience to other locations should the concept prove itself. Nevertheless, such an expansion is (as of today) extremely unlikely since OpenTable considers itself to be a software and not a food chain company.
OpenTable Funding, Revenue & Valuation
According to Crunchbase, OpenTable has raised a total of $48 million across three rounds of venture capital funding.
Notable investors include Benchmark, Comdisco Ventures, Impact Venture Partners, Upstart Capital, and many more.
OpenTable raised another $60 million when it went public in May 2009. Back then, its business was valued at $626 million. That valuation rose to $2.6 billion when OpenTable was acquired by Booking Holdings (formerly Priceline) in June 2014.
In November 2016, Booking decided to write down the valuation of OpenTable and reduce it by $941 million.
Booking does not disclose OpenTable's revenue. Instead, its performance numbers are buried within the company's income statements.