Executive Summary:
DocuSign is a software platform that provides a variety of products. The company's flagship product allows people to sign contracts online.
DocuSign makes money via subscriptions. The company has adopted a freemium business model which allows users to test the product free of charge.
Founded in 2003, DocuSign has grown to become the de-facto industry leader in the e-signatures space. The firm went public in 2018.
How Does DocuSign Work?
DocuSign is a software-as-a-service (SaaS) company that offers contract management products to businesses around the world.
It is most notably known for its e-signature product, which allows users to sign documents (such as contracts) over the internet in a secured and encrypted manner.
Here's how it works. First, users upload a document in PDF, Word, or any other common format. Then, you indicate who needs to sign a document.
By adding the person's email address, DocuSign can then send out the documents to anyone in question.
Those people then simply sign the document, which then automatically gets send back to the respective entities.
DocuSign's products are provided through its so-called Agreement Cloud, which ensures that documents and other files are stored in a safe manner.
Those products are predominantly aimed at business customers, ranging from small companies to large enterprises. Nonetheless, individuals can use DocuSign as well for their contractual needs.
Its platform can be integrated with over 350 other software products, including Salesforce, Slack, Oracle, SAP, Workday, and more.
The company counts over 500,000 customers as well as hundreds of millions of users from more than 180 countries across the globe.
What Is DocuSign Used For?
DocuSign is predominantly used for signing documents online. Nevertheless, it offers a host of other products, including contract lifecycle management, contract analytics, or guided forms.
For instance, users can adjust their contract management workflows, perform analysis of all inbound contracts, or create guided forms.
Its products are used in a variety of industries. Examples include insurance, financial services, government, real estate, healthcare, and plenty more.
DocuSign Company History
DocuSign, headquartered in San Francisco, California, was founded in 2003 by Tom Gonser. He later brought on Eric Ranft and Court Lorenzini to the founding team.
After earning an economics degree from the University of Washington in 1985, Gonser went on to hold various executive positions at companies like Apple or AT&T.
In 1998, he launched his first company called NetUpdate, an online real estate management system that processed millions of mortgage transactions every year.
NetUpdate was eventually acquired in 2009 by Mortgagebot but Gonser had already moved on for a long time.
During Gonser's tenure at NetUpdate, the company had acquired various other startups. One, in particular, caught his attention.
They bought a little startup called DocuTouch, which was led by Mir Hajmiragha. DocuTouch, although commercially not successful, had developed five patents that Gonser now had access to.
Its business was enabled by a change in legislation. In June 2000, then-president Bill Clinton signed the Electronic Signatures in Global National Commerce (ESIGN) Act which allowed for contracts to be signed digitally.
This led to a wave of new startups trying to take advantage of the change in legislation. Seeing those trends unfold before his eyes, Gonser decided to capitalize on it by launching his own product – DocuSign.
He convinced Raft and Lorenzini to join him as CTO and CEO, respectively. Gonser, in the meantime, focused his time on product development and strategy. DocuSign's website eventually went live in late 2003 but it took the company another two years to make its first sale (after all, signatures are a highly sensitive topic that not many were willing to experiment on).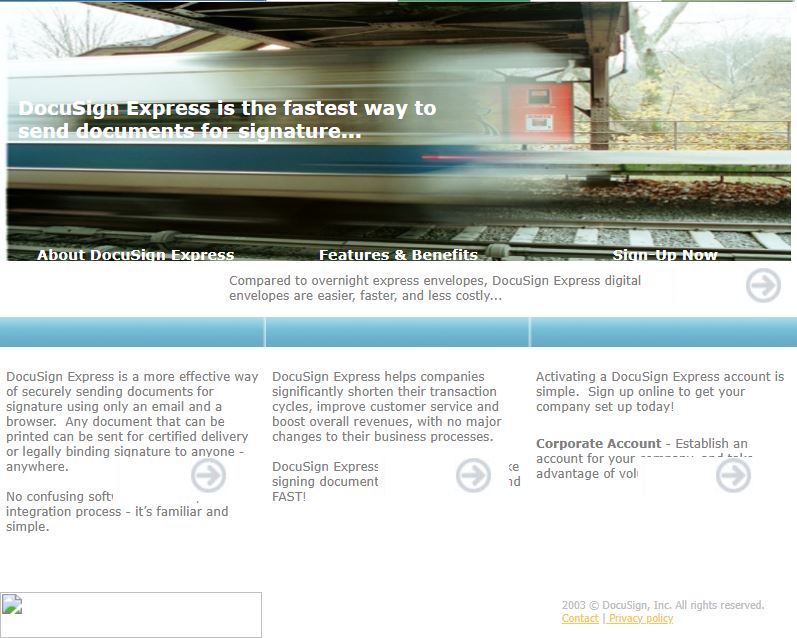 Luckily enough, the team was able to raise its first-ever round of funding in June 2004. The $4.6 million Series A gave it the necessary runway to keep operating and prove its business model to more investors.
Over the following years, DocuSign continued to add funding to its balance sheet while attracting more and more customers. The real estate and law industry, in particular, became one of its main sources for growth since the majority of its business was handled by paper.
By 2010, the company had more than 20,000 paying customers, including American Airlines or Comcast. DocuSign effectively owned 73 percent of the eSignature market. Around the same time, it began developing integrations with other platforms like PayPal, Facebook, or Microsoft, substantially widening its customer base.
In fact, these relationships often became mutually beneficial. For instance, companies like Google or Salesforce not only adopted DocuSign within their respective organizations but also invested money into the company. That way, they would both save money as well as generate cash on the appreciation of their investment.
The same model was applied whenever the company decided to expand into new markets. In 2014, for instance, Japanese firms NTT Finance, Mitsui & Co., and Recruit Holdings all made strategic investments into DocuSign as part of its $115 million Series E round.
Even with the rise of other competitors, in particular, Adobe offering its Document Cloud, DocuSign's growth trajectory remained uninterrupted. In September 2015, the company finally expanded into Europe by acquiring OpenTrust's Trusted Documents and Transactions Division.
Yet, not everything was always going according to plan. Throughout the years, DocuSign was led by a variety of different CEOs. In 2011, Keith Krach, who previously co-founded software company Ariba (which sold to SAP for $4.3 billion in 2012), took over as DocuSign's CEO.
Under his leadership, the company most notably managed to raise hundreds of millions of dollars, paving the way for its global expansion. In October 2015, Krach announced that he would step down from his role as CEO.
This announcement turned into one of the longest CEO searches in startup history. DocuSign initially landed on a candidate named Rick Osterloh but he backed out last minute and took up an offer to work for Google.
Then, in January 2017, DocuSign finally announced that it had a CEO. Daniel Springer, who previously led marketing automation platform Responsys from startup to IPO, became the firm's newest leader.
Springer himself cited DocuSign's board size as the primary reason for the long-lasting executive search. For instance, DocuSign's board at the time had 12 directors, more than most public companies and double what the average private company has.
Therefore, one of Springer's main goals was to cut down the size of his board to speed up decision-making. First, though, it was time for the company to finally hit the public markets. In April 2018, DocuSign was listed on the Nasdaq stock exchange. At the time, its business was valued at $4.5 billion.
Just three months after the stock market debut, DocuSign announced that five of its directors (including both Gonser and Krach) were leaving the board. Nevertheless, three more were added, totaling 10 board members.
In June 2019, DocuSign managed to reach its 500,000th paying customer. Its growth strategy began revolving around not only providing e-signatures but various other tools to ease that aid in the contract management process.
It, therefore, developed its so-called Agreement Cloud which plugs into a variety of other systems. For instance, a real estate company can send a lease via its Salesforce CRM, have it signed in DocuSign, and then payments directly initiated via Stripe or PayPal.
2020, in particular, became an extremely fruitful year for the company. As lockdown restrictions across the world forced people to work from home, many turned to DocuSign to manage their contractual needs. That year alone, its business grew by over 50 percent.
Today, over 6,000 people are employed by DocuSign which operates offices across the world in cities like Dublin, Frankfurt, London, Sydney, and more. On top that, the company counts over 600,000 paying customers.
How Does DocuSign Make Money?
DocuSign makes money via monthly and annual subscription plans. Users can subscribe to a variety of plans, depending on the type of product they want to use as well as the size of their organization.
For instance, for its eSignature product, DocuSign offers four different plans, namely Personal, Standard, Business Pro, and Advanced Solutions.
These plans range from $10 (Personal) to $40 (Business Pro) per month per user for the annual plan. Conversely, paying monthly costs slightly more.
Depending on the chosen plan, a variety of features is made available. These include multiple language options, integrations with Dropbox and other apps, bulk sends, the ability to collect payments, and plenty more.
The company offers two more products on a subscription basis. One is aimed at the real estate industry (named DocuSign for Realtors) and Developer plans via DocuSign's own API.
DocuSign has essentially adopted a freemium business model to lure in customers. That means that its products can be used free of charge until a certain threshold is reached.
DocuSign Funding, Revenue & Valuation
According to Crunchbase, DocuSign has raised a total of $536.2 million across 19 rounds of venture capital funding.
Notable investors include Manhattan Venture Partners, Ignition Partners, Frazier Technology Ventures, Salesforce Ventures, Accel, Kleiner Perkins, Comcast Ventures, and many more.
During DocuSign's IPO, in which it raised another $69 million, the company was valued at $4.5 billion. That valuation has now increased to over $43 billion.
For the fiscal year 20020, DocuSign generated over $973 million in annual revenue, up from the $700 million it generated the year prior.