Executive Summary:
KAYAK is a travel-focused search engine that allows customers to compare rates between flights, hotels, car rentals, and more. Users can access KAYAK via its website and mobile apps.
KAYAK makes money whenever a user clicks on a booking (CPC), goes on to buy that offer (CPA), and sponsored placements that appear within the search results. The company operates on an aggregator business model.
Founded in 2004, KAYAK has quickly become one of the world's leading travel-related search engines. The company went public in 2012, but soon after sold to Booking Holdings for $2.1 billion.
What Is KAYAK?
KAYAK is an aggregator platform that displays information on travel-related content. That information is then aggregated and made accessible by KAYAK.

Users can browse information and compare rates across categories such as flights, rental cars, trains, and stays (i.e. hotels or other types of accommodation).
KAYAK allows users to specify on what dates and to which destinations they'd like to travel. The company then ensures that the results shown match the user's search query.
The platform offers other filtration options, such as specifying providers (e.g. what airline a user would like to fly with), detailed times, expected quality, and many more.
Other features on KAYAK include the ability to browse various deals, get inspired with new travel destinations (via Explore), and track any given flight's status.
The information KAYAK displays is retrieved via different sources, for instance from so-called Global Distribution Systems (GDS), directly from airlines and hotels, as well as by scraping other web content (such as websites).
As such, KAYAK is dependent on its partner to update the information on a regular basis. That's why, in some instances, users will find a different price when clicking to the partner's page.
KAYAK is available via its complementary website as well as its Android and iOS app, respectively.
A Short History Of KAYAK
KAYAK, headquartered in Cambridge, Massachusetts, was founded in 2004 by Steve Hafner (CEO), Paul English (CTO), Terrell Jones, and Greg Slyngstad.
Prior to launching KAYAK, Hafner co-founded online travel agency Orbitz.com in 1999. Under his leadership, Orbitz grew to become one of the major players in the online travel industry. In 2015, the company was sold to Expedia for a whopping $1.6 billion in cash.
But Hafner had already moved on. Mutual friends had introduced him to a genius engineer named Paul English. And his resume was nothing to scoff at, either.
Before the two met, English, who grew up in a family of 9, was busy creating software products for a living. In the 1990s, he launched Boston Light Software, a company that built websites for other businesses such as the Globe, was sold for $33.5 within seven months of being founded.
A few months later, he started another company focused on removing spamming software. That business was sold for another $25 million. The two deals netted English close to $20 million. It actually could've been much more, but English gave half of his stock back to his employees. Not the last time in life (but more on that later).
After he sold off the business, English took some time off to take care of his ailing father. After his death, English felt the need to go out and create again. He met Hafner over lunch and the pair hit it off immediately.
During lunch, Hafner pointed out that travel was making up 8 percent of America's economy. Nevertheless, there wasn't any website that allowed users to search and book flights or hotels.
To test his business acumen, Hafner offered English 4 percent of KAYAK. English immediately declined and emphasized that he would only join as an equal partner, owning half the company. Hafner accepted on the spot.
In order to get the ball rolling, English brought with him to KAYAK his parts of former employees that he launched his previous businesses with. Many of his former employees have cited how working with English was one of the most inspirational experiences they had in their professional careers. KAYAK's website was launched to the public in January 2004.
Unfortunately, parts of English's contagious personality is grounded in the fact he suffers from Bipolar disease. He often woke up in the middle of the night, noting down ideas for KAYAK, and sending feature requests to his engineers.
But while some of his ideas may not have been feasible or even relevant, the ones that stuck helped KAYAK to become a force in the online travel industry. That technical prowess, paired with years of experience in the travel industry, allowed KAYAK to sign up new airlines and hotels to its platform at a rapid space.
By rapidly increasing the supply side of its marketplace, KAYAK was able to offer users the greatest variety of booking options in the online travel space. Within three years of operations, KAYAK's website was attracting more than 35 million visitors each month. And its business was profitable.
The continuous growth allowed KAYAK to go public in July 2012 with a valuation of $1.27 billion (all while raising another $91 million in the process). Life as a public company did not last for too long, though.
In May 2013, Priceline.com (now Booking Holdings) announced it would acquire KAYAK for $1.8 billion, mostly in stock. When the deal was finalized a few months later, the acquisition volume increased to over $2.1 billion (due to increases in Booking's stock price).
Under the travel giant's guidance, KAYAK continued to become one of the world's most-frequented travel platforms. While Hafner remains KAYAK's CEO to this date, English had already moved on soon after the acquisition.
He felt that KAYAK's platform had already been perfected from a technological standpoint and wasn't feeling any excitement just maintaining the product. After some failed attempts, including a nightclub for entrepreneurs, he went back to the travel industry. In July 2015, he launched Lola.com, a platform that eases the process of corporate travel.
Meanwhile, KAYAK also experienced some headwinds on the road to success. In recent years, Google began asserting its dominance over the travel industry by launching a booking platform of its own.
Being at the top of the funnel (i.e. where users begin their journey) allowed them to cannibalize many of the searches that instead would've landed on KAYAK's platform. Many other travel platforms, such as TripAdvisor or Trivago, have suffered the same consequences.
Furthermore, airlines oftentimes complained about the need of keeping up with all the low prices advertised on KAYAK's (and other's) platform. Some airlines even terminated their contracts with KAYAK, but oftentimes came back after a short absence, realizing that they need KAYAK to bring in the necessary booking volume.
Nevertheless, 2020 was a tough year for both its airline partners as well as KAYAK. The coronavirus pandemic forced KAYAK to furlough 10 percent of its workforce (around 40 employees).
Luckily, due to domestic travel accelerating soon after, both KAYAK and sister company OpenTable were able to bring back the furloughed employees in June 2020.
Moreover, the travel industry is now moving away more and more from metasearch towards direct booking capabilities. Skyscanner, one of KAYAK's fiercest competitors, for instance owns direct booking options with various airlines such as British Airways.
KAYAK, in recent times, has also adopted to this trend. It is now working on a tool for hotel owners, allowing their guests to check in and manage their bookings all within a separate KAYAK app.
Today, KAYAK's platform (a combination of the website and its apps) attracts more than 50 million users every month. Over 1,000 people are working for the company across 13 global offices.
How Does KAYAK Make Money?
KAYAK makes money whenever a user clicks on an offer (CPC), buys one of those offers (CPA), and via advertising placements on its search results.
Let's take a look at each of those in more detail below.
Cost Per Click (CPC) & Cost Per Acquisition (CPA)
The CPC model is one of the most prominent ones in the digital advertising space. Many other industry giants, such as Google or Facebook, utilize a similar monetization method.
With CPC, KAYAK's advertisers pay whenever a user clicks on the offer. Rates are dependent upon the agreement that KAYAK sets with its advertiser.
Conversely, when a customer clicks on that offer and goes on to buy it, a CPA fee is being paid by that advertiser. Industry average CPA's range anywhere from 10 to 20 percent of the overall purchasing price.
Many other competitors of KAYAK are monetizing their hundreds of millions of eyeballs in a similar fashion.
Sponsored Placements
Lastly, KAYAK generates revenue from advertising placements (in the form of banners) that show within a user's search query.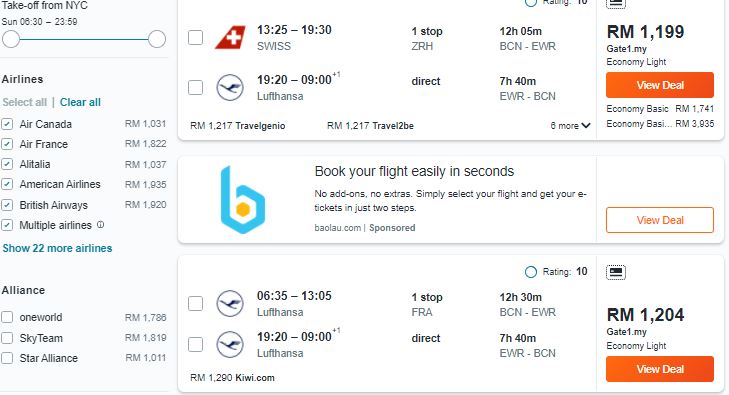 Advertisers pay KAYAK for every click or impression. This means every time a user sees the ad pop up on their screen or clicks on it, a small fee is deducted from the advertiser's budget.
KAYAK Funding, Valuation & Revenue
According to Crunchbase, KAYAK has raised a total of $229 million across seven rounds of venture capital funding. Notable investors into the company include Sequoia Capital, Accel, IVP, Silicon Valley Bank, and many more.
KAYAK's business was valued at $1.27 billion when the company went public in July 2012. In May 2013, when Booking Holdings (then Priceline.com) completed the acquisition of KAYAK, its business was valued at $2.1 billion. No public valuations have been disclosed ever since.
Similarly, Booking has refrained from making KAYAK's revenue figures available to the public. Instead, its revenue numbers are part of what Booking reports as "Advertising and other revenues", which totaled $258 million in 2019.