Executive Summary:
Skyscanner is a travel aggregator that pulls data from a variety of sources to allow customers to compare car, flight, and hotel prices.
Skyscanner makes money whenever a user clicks on an offer (CPC), buys one of those offers (CPA), via sponsored placements, fees from its Travel API, as well as referral fees from insurances.
Founded in 2001, Skyscanner has grown to become one of the world's largest travel aggregator platforms. In 2016, the company was acquired by Trip.com for around $1.74 billion.
What Is Skyscanner?
Skyscanner is a metasearch engine that scans the internet and pulls prices from various travel agencies and airlines. You can search for flights, hotels, and rental cars all in one place.
That means that Skyscanner does not sell flights directly but instead aggregates the best available deals for any particular search query.
The company is able to do that by plugging into a variety of data sources. For instance, Skyscanner may have been granted access to an airline's booking API, which allows them to pull pricing data in real-time.
Since 2018, Skyscanner has also joined IATA's NDC (New Distribution Capability) exchange platform, which provides pricing and other data from dozens of participating airlines.
In other cases, such as with Ryanair, Skyscanner may simply scrape the partner's website to source the relevant information.
From the customer's perspective, Skyscanner works like this: first, you either visit the company's website or download any of its mobile apps (available on Android and iOS devices).
Then, you enter your search data (such as original location, destination, dates, and more) to scout for flight, car rental, or hotel deals.
The customer will then be presented with a list of available options that match the search query. After selecting a preferred offer, the customer will (in the majority of cases) be redirected to the partner's website. From there, the booking can be completed.
You can search for bookings in over 30 languages on Skyscanner including Chinese, German, Portuguese, Polish, Spanish, or Japanese.
Customers can, furthermore, book travel insurances directly on Skyscanner. This is made possible due to Skyscanner's partnership with XCover.
Apart from booking various travel-related options, customers also have the ability to browse the platform's informational content, such as its COVID-19 travel map.
How Skyscanner Started: Company History
Skyscanner, headquartered in Edinburgh, Scotland, was founded in 2001 by Gareth Williams, Barry Smith, and Bonamy Grimes.
The three founders became friends during their university days when they all pursued a degree in Computer Science at The University of Manchester.
After completing their studies in the late 1980s, they all held various IT-related jobs in London and the wider United Kingdom.
At the time, Gareth Williams worked as a web development contractor for a British bank for which he was working on a two weeks on, two weeks off cadence.
To make the most of his two-week vacation, Williams decided to visit his brother who was living in the French alps during that time.
Williams quickly became frustrated with having to call multiple travel agencies as well as browsing the airlines' notoriously slow and complex websites. He even created an Excel spreadsheet with which he would log all those prices and routes.
This frustration would act as the spark that would lead him to eventually launch Skyscanner. He then recruited his old university pals Smith and Grimes to join him for the project.
Unfortunately, when they began their work on Skyscanner back in 2001, the dot-com bubble had just popped, therefore evaporating many of the funding options that had previously existed.
To get by, the team agreed that Williams would work on the business full-time while the other two would keep their jobs and share their salaries between the three of them. Skyscanner's website eventually launched in late 2002.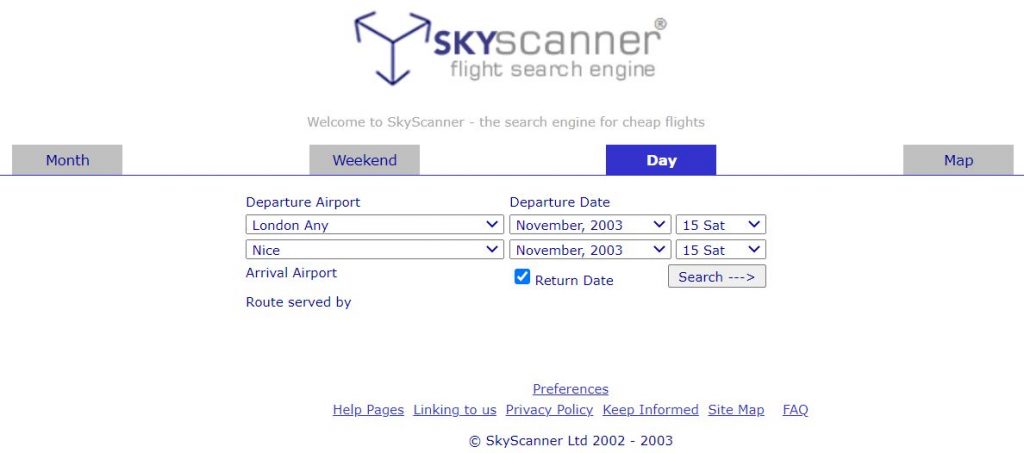 Those early days, especially compared to the fast-paced startup world today, were brutally long and unrewarding. It took the team close to two years to reach £100 a day in revenue after they had struck deals with British Midland Airways (which closed in 2012) and British Airways.
While the business was initially launched in London, where all three of them were based, it was later moved to Edinburgh. In late 2003, Williams and his wife first moved to Scotland and he would later convince his co-founders to do the same. They set up their first-ever office a few months later.
Sure, living in Edinburgh ended up being considerably cheaper but what it meant was that raising external capital became even tougher. At the time, the city did not possess any sort of entrepreneurial scene let alone be on the radar of venture capitalists.
Therefore, the founders continued to bootstrap the business. By 2005, the business was raking in £1,000 a day which allowed Smith and Grimes to finally go full-time as well. Yet, it took them another two years to finally get their breakthrough.
In November 2007, local venture firm Scottish Equity Partners (SEP) invested £2.5 million into the firm's first-ever funding round. The raise granted them a sweet 40 percent stake in the business.
At that time, Skyscanner already had 15 employees and generated around £1 million in annual income. By 2009, Skyscanner finally became profitable – and hasn't looked back ever since. That same year, Skyscanner also expanded into car rentals, providing them with a completely new revenue stream.
Its continuous growth, furthermore, allowed the company to make its first-ever acquisition. In January 2011, it purchased UK startup Zoombu for an undisclosed amount. The acquisition provided them with access to trains, buses, and airline timetables.
Another major growth accelerant, and one that would prove to be extremely crucial in the future, was the introduction of the firm's iOS and Android apps back in February and July 2011, respectively. By the end of the year, its app had already been downloaded more than 5 million times (while 10 million people were accessing the platform, either via app or its website, every month).
Meanwhile, competitors were taking notice. Skyscanner's biggest threat was KAYAK, which had launched in 2004 with a sweet $8.5 million in funding. KAYAK raised over $200 million before it was acquired by Booking Holdings for $1.8 billion in May 2013.
Fortunately, Skyscanner continued to grow despite the lack of funding. More specifically, Asia became a crucial growth accelerant. As a result, in 2012, Skyscanner opened a dedicated office in Singapore and partnered with China's number one search engine, Baidu, to power their international flight search.
By the end of 2012, over 30 million people were accessing its platform every month. Asian users accounted for a third of that traffic. Expansion, as expected, continued well into 2013.
In September 2013, Skyscanner its second business Fogg, a Barcelona-based hotel comparison platform. The acquisition allowed them to also display hotel booking options next to airlines and car rentals.
A month later, Sequoia Capital, one of the world's biggest venture capital funds, invested an undisclosed amount of money at an $800 million valuation. The funding itself became absolutely necessary given that a new powerful entrant had just emerged.
In 2014, after acquiring ITA Software for $700 million back in July 2010, Google had begun to put more focus on flight comparisons. Given that the search giant was the entrance point for the overwhelming majority of internet users, it could simply prioritize its own comparison tool over that of competing platforms. Others, including TripAdvisor or Yelp, became very vocal in their dissatisfaction about Google's (allegedly) anticompetitive practices.
Despite the heightened competition, Skyscanner continued to plug away. The firm entered multiple partnerships, such as with Yahoo! JAPAN in July 2015. Furthermore, it made additional strategic acquisitions to bolster its local market presence (Youbibi in June 2014) or add additional tech skills (Distinction Ltd. In October 2014).
To fuel its greater ambitions, Skyscanner raised another round of funding in January 2016. The various strategic investors poured another $192 million into the business, valuing it at $1.6 billion. The investment made Skyscanner only the second Scottish tech unicorn after FanDuel.
Rumors began to swirl around, stating that Skyscanner was considering to go public as soon as 2017. It, therefore, came somewhat as a surprise when in November 2016 China-based Ctrip (now Trip.com) announced that it would acquire Skyscanner for around $1.74 billion. The deal went down as the largest purchase of a VC-backed tech firm in Europe in at least the previous seven years.
Despite being acquired, Skyscanner continued to run as an independent business. In 2017, it introduced a crucial feature that allowed (and still allows) customers to make bookings directly through the platform.
In May 2018, co-founder and long-time CEO Gareth Williams finally stepped down from his position after leading the firm for 17 years. Bryan Dove, who initially joined Skyscanner from Amazon to become its CTO, became Williams' replacement.
Luckily, the leadership change did not affect the firm's growth. In September 2019, Skyscanner hit the inaugural mark of 100million monthly visitors. However, 2020 was less kind to the company.
First, in January, Ryanair sued Skyscanner for allegedly selling the airline's flights through its own domain and through links to online travel agents. Then, the coronavirus pandemic led to the shutdown of global travel. Naturally, the airline industry was hit one of the hardest.
As a result, Skyscanner closed its Sofia and Budapest offices while reducing its presence in Singapore and Miami. Furthermore, the company had to lay off about 20 percent of its workforce in an effort to save costs.
Nevertheless, the company also got creative. In November 2020, Skyscanner, in partnership with XCover, launched one of the world's first Covid-19 travel insurances. The insurance essentially protects travelers against sudden cancellations (due to virus outbreaks) and sickness.
In January 2021, Skyscanner also announced a new CEO. Bryan Dove had left the company back in June 2020, citing family reasons. Moshe Rafiah became his temporary replacement (since he also was CEO of Travelfusion, another company that Trip.com had previously acquired).
Skyscanner's new CEO became John Mangelaars. Mangelaars himself led Travix International's (another Trip.com company) U.K. business for the previous seven years. Prior to joining Travix, he spent 23 years at Microsoft.
Today, more than 1,000 people are employed by Skyscanner which runs offices in eight locations across the globe.
How Does Skyscanner Make Money?
Skyscanner makes money whenever a user clicks on an offer (CPC), buys one of those offers (CPA), via sponsored placements, fees from its Travel API, as well as referral fees from insurances.
Let's dive into each of the firm's revenue streams in more detail below.
Cost-Per-Click & Cost-Per Acquisition
The majority of the revenue that Skyscanner generates is based on cost-per-click (CPC) and cost-per-acquisition (CPA) agreements it has with airlines, car hire operators, or hotels.
These partners, depending on the type of partnership, compensate Skyscanner every time a customer either clicks on a search result (CPC) or whenever someone purchases something (e.g., airplane ticket) through Skyscanner.
For instance, to maximize its ticket sales, the company has entered various agreements with airlines like British Airways or Singapore Airlines, to enable customers to purchase tickets directly on its platform. As a result, customers are likelier to convert, thus maximizing Skyscanner's CPA earnings.
Sponsored Placements
Another revenue stream of Skyscanner is sponsored placements, namely in the form of sponsored offerings (red arrow) as well as banner ads (blue arrow).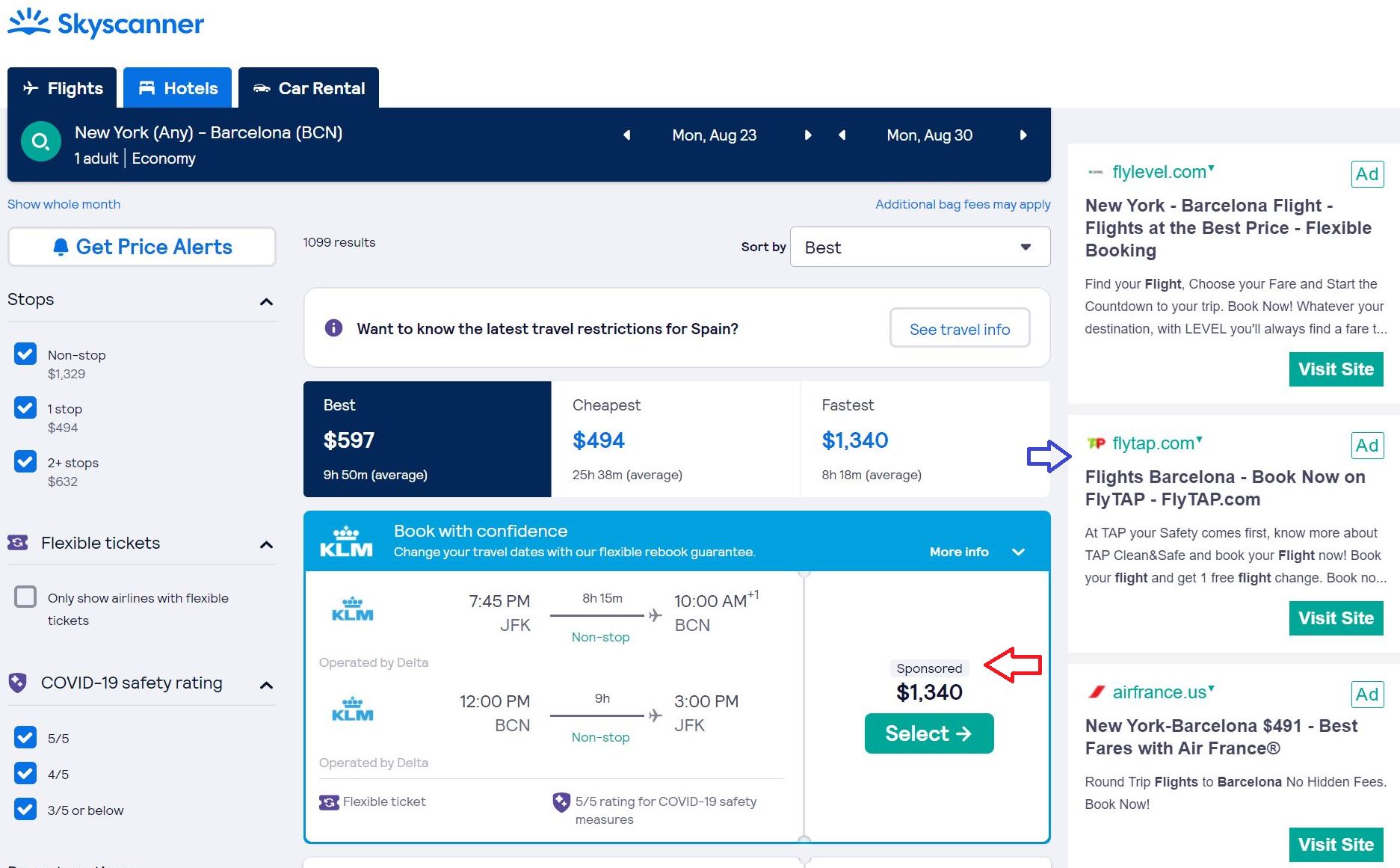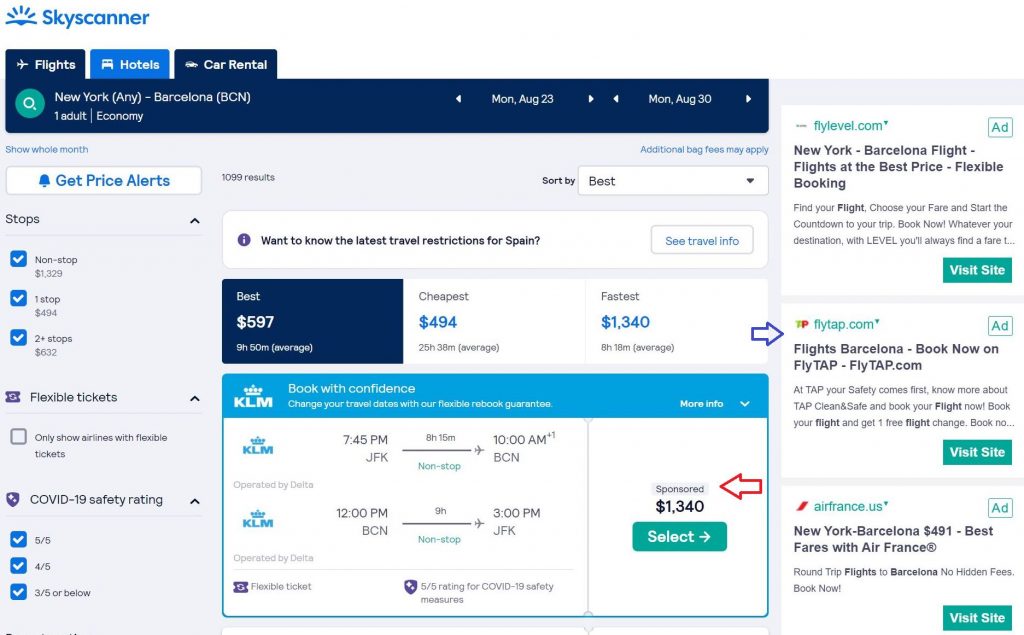 With sponsored offers, Skyscanner likely generates income from every click on that particular offer (i.e., CPC).
Banner ads, on the other hand, are requiring advertisers to pay for every impression. That means whenever a customer sees the advert (= impression), Skyscanner gets compensated.
Advertisers may only pay a few cents for each of these impressions but since Skyscanner attracts over 100 million visitors every month, that quickly accumulates.
Travel API
Other apps and websites can plug into Skyscanner's Travel API, which allows them to display Skyscanner's car, flight, and hotel data within their own platforms. Bookings can also be facilitated via the API.
Skyscanner has over 1,200 travel partners. As such, it would be very expensive and lengthy to build all of these connections yourself. As such, it makes sense for other platforms to simply source Skyscanner's readily available data.
Interestingly enough, Skyscanner does not charge these partners for using the API. In fact, they can even earn a commission once they hit enough bookings.
Therefore, it can be assumed that Skyscanner actually just collects the CPC and CPA fees themselves. It then shares them with the partners that bring in enough additional business.
Insurance
As previously stated, Skyscanner launched an insurance in partnership with XCover back in November 2020.
Interested customers enter their travel dates, destination, their country of residence, as well as how many people they want to insure.
Customers then receive an immediate quote. The insurance protects customers against Covid-19 sickness, canceled flights, and provides medical coverage.
Skyscanner, in all likeliness, generates revenue from the insurance through a referral percentage fee. XCover, in this case, compensates the company for every new paying customer it attracts.
Skyscanner Funding, Revenue & Valuation
According to Crunchbase, Skyscanner has raised a total of $197.2 million across four rounds of venture capital funding.
Notable investors include Baillie Gifford, Yahoo Japan, Sequoia Capital, Vitruvian Partners, Future Fifty, and more.
The last time Skyscanner's valuation was disclosed was during its acquisition by Ctrip, which paid £1.4 billion (then equal to around $1.74 billion) for the comparison platform.
The last time Skyscanner disclosed its revenue figures was in 2019 during which the company generated £261 million (around $360 million). Profits grew to £36 million from around £19 million the previous year.