Executive Summary:
TripAdvisor is an online platform that helps users to collect travel-related information, create reviews, and book flights, hotel rooms, restaurant seats, and much more.
TripAdvisor makes money from click-based advertising, subscription services, commissions, sponsored placements, listing fees, and reservation fees.
Founded in 2000, TripAdvisor has become one of the world's most frequented websites. The firm was acquired for $210 million by Expedia in 2004. In 2011, TripAdvisor spun out from Expedia and became an independent company listed on the NASDAQ.
What Is TripAdvisor?
TripAdvisor is an online platform that helps users to collect travel information, post reviews, and book things like hotel rooms or car rentals.
Content can be browsed in a range of categories, including:
Hotels
Vacation rentals
Restaurants
Activities (called "Things to Do")
Flights
Cruises
… and many more. TripAdvisor is most notably known for its forum section where travelers document anything they encounter on a trip.
Furthermore, the forum allows users to post questions on any destination they aim to travel to and get first-hand feedback from others.
Additionally, TripAdvisor boasts reviews on all the activities and destinations that users can write about. This acts as a further proof of trust for anyone hesitant to engage in a certain activity or eat in a given restaurant, among others.
TripAdvisor also hands out an award, called the Travelers' Choice Award, to destinations, hotels, or restaurants. These awards, determined by user votes, act as a sign of approval and can uplift the reputation of any given establishment.
The TripAdvisor platform can be accessed via the company's website as well as on mobile and tablet devices (available on Android and iOS). It is, furthermore, operating in 43 markets and 22 languages.
TripAdvisor Company History
TripAdvisor, headquartered in Needham, Massachusetts, was founded in 2000 by Stephen Kaufer and Langley Steinert.
Kaufer spent the first 15 years of his career in various engineering and leadership roles after graduating from his Computer Science studies at Harvard in the mid 1980s.
One day in 1998, he was ready to book a well-deserved vacation together with his wife, something he hadn't taken in months. The location of their choice: the Caribbean.
Unfortunately, browsing the internet for suitable hotels to stay at yielded unsatisfactory results at best. "I popped online to check out three resorts the travel agency had recommended, and darned if I didn't find plenty of sites that talked about these resorts," Kaufer recalled in a 2010 interview with Xconomy.
"But unfortunately they all said the same thing—the same boilerplate descriptions with the exact same photos. It wasn't until I found a posting on an AOL member's personal home page, with some candid photos and a very candid description of one of the resorts, that I realized this place was not what the brochure said it was going to be. We went elsewhere and had a great time, but my wife said, 'Golly, there's got to be a better way to do travel research on the Internet.'"
That little comment sparked the idea for what ultimately would end up becoming TripAdvisor. They incorporated the business in February 2000.
In the early days, TripAdvisor started out as a search engine of searchable travel information for websites such as Expedia and AOL. These platforms could then license that information from TripAdvisor in exchange for a subscription fee.
Unfortunately, the idea never really took off. After 1.5 years, the business didn't have any clients and began running out of money. To make things worse, the travel industry was essentially halted to zero after the 9/11 attacks.
Luckily, on the side, the team had created TripAdvisor.com as a demo to show interested B2B customers how a travel search engine would look like. After some time, the website began taking a life of its own, attracting more and more visitors every week.
That led Kaufer and the team to pivot to a consumer-facing platform that would be monetized via display ads. Unfortunately, users were not clicking on these ads, which diminished revenue.
After a few weeks, the team decided to pivot again. They moved to a cost per click (CPC) model that would compensate TripAdvisor whenever a user clicks on a hotel listing. All of the sudden, everything began to 'click' (no pun intended).
Just 3 months after the launch of its CPC model, TripAdvisor was already generating $70,000 per month and breaking even.
Over the course of the next months and years, the team focused on increasing the platform's exposure. In the early days, they hired editors that would scan the web for articles that could be added to the hotel listings.
What they began to realize is that most of the platform's traffic was going to the review portion of the listing as opposed to the articles that were linked within the page. Therefore, the team decided to focus on reviews, which proved to be the decision that catapulted the firm to new heights.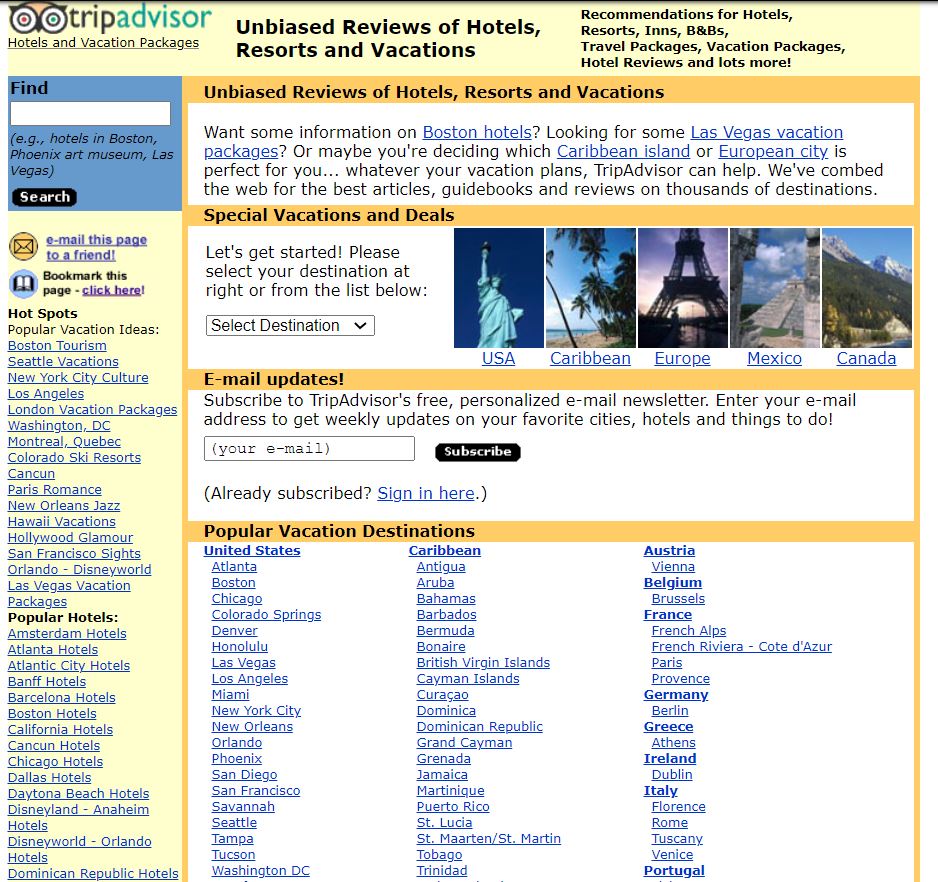 In March 2004, TripAdvisor announced that it would be acquired by Expedia (under its parent company IAC/InterActiveCorp). The deal netted Kaufer and the team $210 million in cash. The acquisition was even more impressive considering TripAdvisor had only raised $4 million in outside capital until that point.
With a potent backer in the background, TripAdvisor began to expand its reach across the globe. The firm employed a strategy used by many other tech startups. First, over the course of many years, TripAdvisor launched in various markets across the globe with a localized website.
By the end of 2006, over 20 million people were visiting TripAdvisor's website every month. Next, the firm started a spree of acquisitions that would extend its product offering (and thus customer reach). To this date, TripAdvisor has acquired 30 other companies.
In 2008, for instance, it acquired vacation rental listing and review website FlipKey. Just 9 months after the acquisition, FlipKey's listings were live on TripAdvisor's website.
Another strategic lever the firm pulled was to expand into new verticals within the travel industry. The ability to compare flight prices was added in 2009, putting them in direct competition with the likes of Skyscanner or KAYAK.
The continued growth of TripAdvisor led Expedia to spin-off the firm in 2011. Expedia felt that its stock price wasn't at a level it should be, in large parts because investors frequently undervalued the TripAdvisor asset, which was buried in the firm's financials.
In December 2011, TripAdvisor debuted on the NASDAQ stock exchange under the trading symbol 'TRIP'. At the time of the IPO, TripAdvisor's stock price ($29) was even higher than Expedia's ($27.72).
Life as a public company allowed them to enter agreements with larger companies and other startups at a much more rapid pace. For instance, it launched a travel personalization feature within Facebook that allowed users of both platforms to customize their travels.
In the coming years, TripAdvisor closed partnerships with the likes of Hilton and Marriott Hotels or Deliveroo and Grubhub to offer food delivery directly on its platform. Unfortunately, not everything was always going according to plan.
In the early days, countless complaints emerged of guests threatening hotel and restaurant owners with leaving a bad review if they don't offer discounts to them. These reviews could become so powerful that they would end up threatening the hotel's or restaurant's existence due to customers starting to avoid the venue.
As a result, TripAdvisor implemented various features that would improve the livelihood of its hotel and restaurant partners. Unfortunately, not all of these initiatives turned out to be positive.
A 2017 investigation by the Milwaukee Journal Sentinel revealed that TripAdvisor, in 2010, deleted a women's review that claimed she had been raped at a Mexican resort. More than a dozen travelers came forward after the piece was published and stated similar experiences.
TripAdvisor removed the post because it violated its commenting policies at the time due to extensive usage of G-rated language. As a result, the company issued a public statement, apologizing for deleting the posts.
Furthermore, they launched a badge that would flag hotels that have been prone to health, discrimination, and safety issues. A human committee would review any hotel that was about to receive such a badge to ensure no venues were inappropriately classified.
Fortunately, these incidents did not harm TripAdvisor's growth. A 2018 study by Oxford Economics revealed that TripAdvisor was responsible for influencing 10.3 percent of all global spending on travel (equal to $546 billion). The number was up from the 7 percent ($268 billion) reported just a decade ago.
While TripAdvisor's grip on the travel industry continued to increase, it began to face a new competitor. Back in 2011, Google launched its Flights product, which allowed users to compare airline prices within the search engine.
Other products, such as Google Trips in 2016, would follow. This prompted review behemoths TripAdvisor and Yelp, normally competing for some of the same users, to unify themselves against Google.
Their claims were simple: Google uses its monopolistic position as a search engine to promote its own products (such as Google Maps or Flights) and burry down competing ones (in this case TripAdvisor or Yelp).
While the United States Department of Justice (DOJ), in December 2020, had announced it would prepare an antitrust lawsuit against Google, the search giant's have pre-dominantly gone unpunished as of today.
As a result, TripAdvisor's growth has been rather stagnant in the past few years. To add to the company's troubles, the coronavirus pandemic essentially decimated the firm's customer base. It forced TripAdvisor to lay off 25 percent (equal to 900 people) of its workforce.
Things got even worse when the Cyberspace Administration of China (CAC), in December 2020, announced the banning of 105 mobile apps including TripAdvisor.
In order to cope with the declining revenues, TripAdvisor decided to raise $300 million in equity-based funding.
However, with vaccines rolling out across the globe, travel began to rebound as well. TripAdvisor, as a result, launched a new subscription service in June 2021 (called TripAdvisor Plus), which granted various benefits such as hotel discounts to paying members.
Unfortunately, the offering wasn't met with much love from the hotel side, which forced the company to change to a cashback model in the United States. Hotels were simply not happy with the discounts that TripAdvisor promised. As a result of the lackluster reception, TripAdvisor laid off Lindsay Nelson, the firm's chief experience and brand officer who was leading the initiative.
Things got even worse when, in November, co-founder and long-time CEO Kaufer announced that he would retire. In May 2022, TripAdvisor appointed Matt Goldberg, a longtime media executive as Kaufer's replacement.
Not everything was going poorly for the company, though. Months earlier, in January, TripAdvisor crossed the inaugural mark of one billion reviews on the platform.
How Does TripAdvisor Make Money?
TripAdvisor makes money from click-based advertising, subscription services, commissions, sponsored placements, listing fees, and reservation fees.
The firm classifies its income into 3 distinct categories, namely Hotels, Media & Platform, Experiences & Dining, and Other.
The business model of TripAdvisor is largely based on advertising. This is a common monetization tactic for metasearch platforms, which are often able to attracts tens or hundreds of millions of users per month.
Advertisers are incentivized to purchase ads simply due to the number of eyeballs they can fetch.
However, in recent times, TripAdvisor has expanded into subscriptions, which tend to offer much greater profit margins.
Critics have pointed out that TripAdvisor might be punching above its weight. The firm operates in a variety of different industries (such as events, cruises, or hotels), which requires TripAdvisor to employ dozens of sales people who all work in different departments.
This creates a bloated organization that doesn't necessarily offer many synergies across departments, thus increasing cost.
On top of that, TripAdvisor has repeatedly adjusted its user experience in the past. For example, it has been a site known for reviews when it began but later unveiled redesigns aimed at travel inspiration or direct booking.
Contrast that with a site like Airbnb, which has largely offered the same type of user experience since it launched and even abandoned new initiatives like flight booking to stay true to its core product.
Lastly, TripAdvisor continues to struggle with Google's ever-increasing expansion in the travel industry, which has negatively affected the firm's traffic.
So, without further ado, let's take a closer look at each of TripAdvisor's revenue streams in the section below.
Hotels, Media & Platform
The majority of TripAdvisor's revenue is generated from click-based advertising. Whenever a user clicks on a booking link, the media partner (in this case online travel agencies, or OTAs, as well as direct suppliers in the hotel category) pays a fee for that particular click.
The amount paid (i.e. CPC rate) is determined by a variety of factors, such as the search volume, location, price of the booking, and more.
The second major source of income originates from subscription services offered to hotels, B&Bs, and other lodging services. Named Rate Spotlight, Market Spotlight, and Reputation Pro, these subscriptions offer hotel owners the ability to:
Compare nightly rates with their competition across room types and length of stay
Adjust rates based on real-time data
Determine future demand, e.g. by looking at flight occupation rates or the number of reviews
Receive real-time review notifications
Another subscription-based income stream is its Plus membership, which grants payers a variety of discounts on hotels and and experiences, access to travel advice, and more.
Third, TripAdvisor generates revenue from its instant booking feature for hotels. Launched in 2014, instant booking allows users to book hotels directly on TripAdvisor's platform.
The firm then receives a portion of the booking price in exchange for referring customers. Partners include the likes of Hilton, Marriott, Booking.com, and many more.
This is how most of the competitors of TripAdvisor, including sites like Booking or Expedia, generate kost of their income as well.
Lastly, TripAdvisor offers partners the ability to promote their business and products via sponsored placements in the form of display ads. These ads are contextually relevant, meaning they appear when, for instance, a user looks for a hotel to stay at or a car to rent.
Display-based advertising is sold predominantly on a cost per thousand impressions, or CPM, basis. The CPM rate is, again, dependent on the attractiveness of the search term, vertical, the average price paid, and more.
Experiences & Dining
Experiences and dining revenue, as the name indicates, is generated from TripAdvisor's cooperation with restaurants, touring guides, and the like.
Experiences provides information and services to customers seeking to book activities or attractions. These can be booked on TripAdvisor's platform as well as Viator, which TripAdvisor acquired for $200 million in 2014.
TripAdvisor works together with local tour or travel activities/experiences operators (in this case the supplier) to allow users to book activities. TripAdvisor receives a commission whenever an activity is booked through its online reservation system.
A second income stream comes from commissions generated from affiliate or third-party merchant partners. These partners take the supplier inventory TripAdvisor has made available and advertise them on their own website.
Whenever a customer books an experience via the affiliate's platform, the partner then shares that affiliate revenue with TripAdvisor.
On the Dining side, information is provided to customers that allow them to research and book restaurants. The dining offers are made available through TripAdvisor's platform as well as TheFork (which owns web properties such as thefork.com, lafourchette.com, eltenedor.com, restorando.com, and more).
The primary source of revenue in the Dining section comes from transaction fees (or per seated diner fees) that are paid by restaurants. In exchange, these restaurants can access TheFork's online reservation system, allowing them to streamline and speed up their reservation service.
To a lesser extent, TripAdvisor generates revenue from subscription-based advertising where restaurants pay in exchange for access to online reservation tools, marketing analytic reports, and menu syndication services.
Lastly, restaurants can also advertise on a CPC basis, paying for every click that is driven to their websites. CPC rates are determined based on predetermined contractual rates.
Other
Other revenue is a combination of TripAdvisor's Rentals, Flights/Cruises/Car, and SmarterTravel section. TripAdvisor's Rentals offering provides travelers with the necessary information and services to allow them to research and book their vacation.
Rentals generates revenue by offering individual property owners and managers the ability to upload their listings on TripAdvisor's groups of websites, including flipkey.com, holidaylettings.co.uk, housetrip.com, and plenty more. The firm then charges property owners for every listing uploaded.
With Flights, Cruises, and Car, TripAdvisor gets compensated by airlines, car rental firms, and cruise operators based on a CPC basis. Whenever a user clicks through on an offer, a small fee has to be paid.
TripAdvisor Funding, Valuation & Revenue
According to Crunchbase, TripAdvisor has only raised $3.3 million from two rounds of funding during its life as a private company. Its main investors include TCV and OneLiberty Ventures.
When TripAdvisor went public in 2011, the company was valued at $3.3 billion. As of today, TripAdvisor's business has a combined market cap of $3 billion.
At its peak, the stock was worth $110 and has shrunk to about $20 as a result of the coronavirus pandemic and Google's increasing grip on the travel industry.
For the fiscal year 2021, TripAdvisor reported annual revenues of $902 million, up 49 percent from the year prior.
Who Owns TripAdvisor?
TripAdvisor lists its ownership structure on its investor relations page, which can be accessed here. As per the time of writing, TripAdvisor's parent company Liberty TripAdvisor Holdings, Inc. remains the firm's largest shareholder with a combined stake of around 15 percent.
Next in line are PAR Capital Management with 6.91 percent, The Vanguard Group with 6.74 percent, and Eagle Capital Management with a 6.35 percent ownership stake.
CEO and co-founder Stephen Kaufer remains TripAdvisor's largest private shareholder with a 0.49 percent stake.