Executive Summary:
Google Maps is a mapping and navigation platform that is available for desktop as well as mobile devices.
Google Maps makes money from advertising, by charging for its commercial API, as well as from referral fees.
What Is Google Maps?
Google Maps is a mapping and navigation platform that is available for desktop as well as mobile devices.
It can be downloaded and used for any mobile device that carries Android or iOS software. Moreover, it is also made available through the internal navigation system of different car models.
At its most basic, Google Maps allows you to search for all kinds of locations and be presented with different methods, namely by foot, bike, car, or public transportation options, to reach them.
Google Maps utilizes the device's GPS capabilities, if available, to determine the user's location. Additionally, it incorporates traffic data from Waze, which it acquired back in 2013, to inform its navigation recommendations.
The mobile version of Google Maps then provides users with turn-by-turn directions as well as 2D and 3D satellite views to help them reach their destination.
Apart from helping users to navigate the locations they're in, Google Maps also tries to inspire them to explore venues and other attractions around them.
It does so with the help of its Explore section which features the best and most in-demand attractions in proximity. Furthermore, users can also save locations and create dedicated lists.
These recommendations are primarily informed by user reviews, which range from one to five stars. Users can also add a written statement and photos to provide context to their review.
Businesses themselves can set up profiles on Google Maps and add necessary information such as their address, contact data (e.g., telephone number), website URL, social handles, or pictures of the place, amongst others.
Google Maps, depending on the business, also offers booking capabilities within the app. For example, barbershops can have clients book appointments. Additionally, Google Maps allows businesses to connect their WhatsApp accounts to answer potential customer queries.
Today, over one billion people access Google Maps every month. This effectively makes it the world's most popular navigation platform. Moreover, it features over 200 million businesses and places.
How Does Google Maps Make Money?
Google Maps makes money from advertising, by charging for its commercial API, as well as from referral fees.
The business model of Google Maps (and its parent company Alphabet) is predicated on building a sophisticated profile of a user's web activities and preferences.
It is able to do that because Google's empire has expanded into owning the onramp into multiple starting points when browsing the web. Whether it's searching something (Google), accessing your browser to surf the internet (Chrome), or simply using your phone (Android) – data is always collected at any of these points.
As a result, Alphabet is able to amass what marketers often refer to as first-party data, namely data points created within its own ecosystem and not sourced from third parties (such as Facebook, for example).
Additionally, Alphabet also owns a variety of other platforms, for example, YouTube or Waze, which provide it with even more first-party data.
Another advantage of being top of the funnel/mind for many of its users is that it can diminish the impact competitors have. For instance, executives at companies such as TripAdvisor or Yelp have long lamented (sometimes even in front of congress) how Google favors its own products over theirs.
Bringing this back to Google Maps, Alphabet was able to use its dominance across various platforms to promote its Maps product over that of its competitors. While, at least in the early days, platforms like Yelp and MapQuest were certainly on par with Google Maps, the latter has since surpassed competing platforms when it comes to product quality as well as platform richness (as exemplified by the number of features and reviews).
Google Maps is, furthermore, able to use the large amounts of first-party data that Alphabet amasses to improve its own performance, for example by displaying more relevant ads to users.
So, without further ado, let's take a closer look at each of the revenue streams that Google Maps has.
Advertising
The majority of the revenue that Google Maps generates comes from different types of advertising displayed within its application.
The first type of ad that Google Maps displays are sponsored search results. These types of ads, as the name suggests, are shown whenever a user looks for something within its desktop or mobile app.
Paying for an ad allows businesses to rank on top of any given query. Being one of the first search results often enables businesses to receive comparatively greater amounts of traffic since customers often settle for the first few search results.
Google Maps then generates income whenever a user clicks on an advert. This is referred to as cost-per-click.
If there are multiple businesses trying to rank for the same query (e.g., "barbershop near me"), then Google utilizes a bidding system. Therefore, the business that places the higher bid (i.e., is willing to pay the most for a click) will rank on top.
Another way with which Google Maps monetizes its platform are so-called promoted pins, which help to visually highlight a certain location.
Promoted pins are particularly useful in very dense and crowded environments, for example in large cities like New York.
Just like with its local search results, businesses pay whenever a user clicks on a pin. However, Google Maps does not utilize your location or search history to serve your personal ads. Instead, promoted pins are shown to anyone searching or being present in that area.
The Maps team, over the years, has emphasized that it wants to keep the experience as clean as possible and thus not overload a customer's screen with ads.
Regardless, there are still potential ad formats that Google Maps could explore in the future. For example, it could show ads within the search bar (when the user is presented with preliminary results) or when providing drivers with voice directions (for example telling him or her to drive to a partner store instead of one it doesn't monetize).
Commercial API
Another source of revenue for Google Maps comes from the fees that it charges other companies for utilizing its Maps Application Programming Interface (API).
Customers, such as 20th Century Fox, Bloomberg, or eBay, pay Google Maps to embed and display its mapping data within their own applications.
Google Maps has a flexible pricing model that charges customers based on the number of requests as well as the type of data (i.e., Maps, Routes, or Places) they source.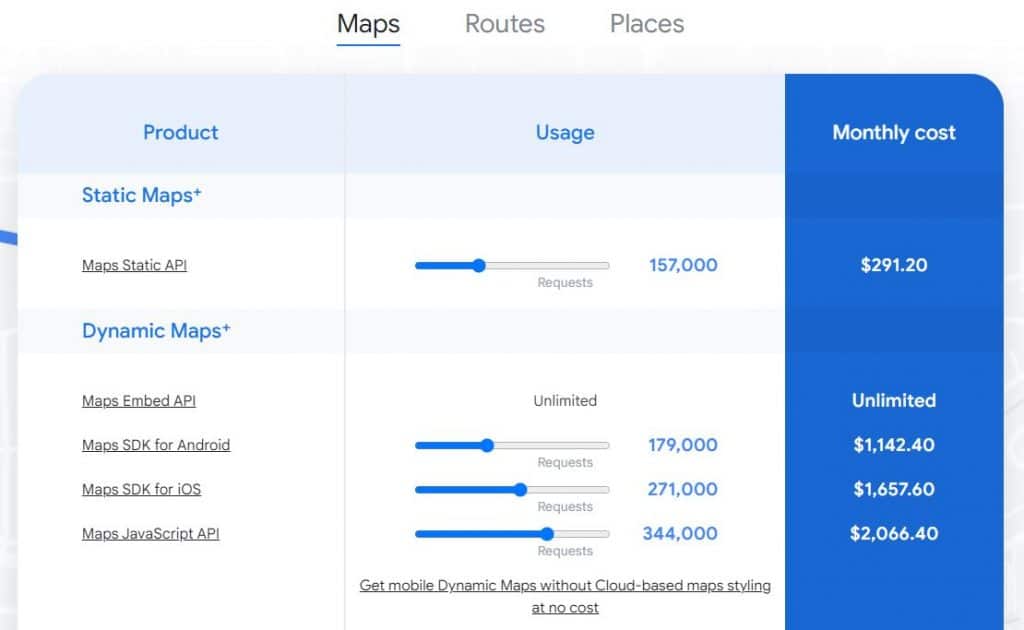 The first $200 of usage every month is free of charge. For large-scale enterprise customers, Google Maps also offers high-volume discounts (on top of industry-specific solutions or 24/7 expert support, amongst others).
So why would a customer pay for access to that data? For once, it's simply the most accurate available in the industry. Even powerhouses such as Apple only now have begun to map out streets with cars containing cameras, an initiative that Google already began in the late 2000s.
Furthermore, Google Maps is able to algorithmically extend and update its map data. Over 50 million updates occur on its platform – on any given day! This is achieved by not only having users add data points, such as reviews but also by analyzing movement patterns and alike.
It, furthermore, prompts users within the Google Maps app as well as ancillary apps to add data, such as photos, to any given location. In November 2020, for example, it launched Task Mate, which allows users to get paid for simple tasks such as taking photos or adding written text. Transcribing at least 10 sentences, for instance, yields you $0.50 per completed task.
Additionally, Google Maps also incentivizes users to leave reviews and add photos through badges. The more authoritative a given reviewer is (as exemplified by the number of badges), the higher his or her reviews will rank.
The developer platform is also being continuously expanded. In January 2020, Google acquired AppSheet, which it used to create Quick Builder, a low-code tool that allows businesses to generate personalized, production-ready code and deploy to a production environment at a much quicker pace.
Having up-to-date and detailed mapping data is crucial for certain industries. Indonesian ride-hailing platform Gojek, for example, needs location or traffic data (which Google Maps gets sources through Waze) to accurately predict fares and make sure customers get picked up at the right location.
For Google Maps, it's certainly a lucrative business as well. Uber, in its IPO prospectus, revealed that it paid a whopping $58 million between January 2016 and December 2018 to use Google Maps (equal to $53,000 a day). While the two parties have since re-negotiated their deal, it still goes to show how much money is to be made in selling mapping data.
Referral Fees
Lastly, Google Maps also makes money from referral fees that partners pay whenever a customer books a service through its platform.
As previously stated, Google allows you to book appointments (e.g., for barbershops) right within the app. However, there is a variety of other use cases it enables on top of that.
These include:
Being able to reserve a table at a restaurant (made possible through an integration with OpenTable)
Booking a cab on various ride-sharing platforms like Uber, Bolt, Cabify, Gojek, and more
… and a few more. These partners then pay a small referral fee to Google Maps for bringing in that customer.
As Alphabet continues to expand the functionality of Google Maps, it will be able to add more of those use cases.
For an increasing number of users, Google Maps is at the top of the funnel, meaning whenever they have a local search query, they open Google Maps (and not necessarily any of the partner apps mentioned above).
Over time, as Google Maps keeps getting better, more and more people will solely be relying on Google Maps. In a sense, it has the potential to become a so-called super app, which is a platform that can handle almost all types of customer queries. Chinese tech companies, such as Meituan and WeChat, have pioneered that concept.
Eventually, for both small businesses and platforms like OpenTable to remain competitive, it will become a quasi-requirement to join Maps, which has the opportunity to be the ubiquitous ecosystem for local search.
How Much Revenue Does Google Maps Generate?
Alphabet, the parent company of Google (and thus Google Maps) does currently not disclose how much revenue its Maps product generates.
Alphabet currently splits up its revenue into three segments, namely Google Services, Google Cloud, and Other Bets. Google Services contains revenue derived from a multitude of products, including:
Google Search
Google Play Store
Hardware sales such as Fitbit, Google Nest, or Pixel phones, amongst others
YouTube
… and consequently Maps. The revenue that Alphabet currently generates from its Maps division, however, is not material enough to be reported on its own.
In February 2020, for example, Alphabet revealed the revenue it generates with YouTube ($15.1 billion in 2019) for the first time after more than 13 years of operating it.
In the past, financial experts have pegged the revenue Alphabet could generate from Google Maps at $5 billion. Some estimates go as high as $10 billion that it would yield in a given year.