Executive Summary:
FanDuel is a platform that offers daily fantasy sports competitions, sports betting, and online casino products. These products are available in states where betting and gambling are legalized.
FanDuel makes money by taking a cut from competitions, inactivity fees, as well as sports betting and gambling.
Launched in 2009, FanDuel has grown to become one of the leading fantasy sports and sports betting platforms. The company was acquired by Flutter Entertainment (formerly known as Paddy Power Betfair Plc) in 2018.
How FanDuel Works
FanDuel is a daily fantasy sports and sports betting platform. In a traditional fantasy sports league, users pick a team of players who earn points over the course of a season.
For example, in a football league, scores would be assigned for touchdowns, yards, blocks, tackles, and a variety of other performance metrics.
At the end of the season, the player whose team scored the greatest number of points would win that league.
FanDuel, with their daily fantasy sports product, takes this up a notch. Users can choose teams based on one game day.
The platform then hosts various competitions in which thousands of people compete for cash prizes. Prices can run into the millions of dollars. Competitions can be entered for free or by paying an entry fee (which can be as high as $10,000 per competition).
Users can enter daily fantasy leagues in a variety of sports, including basketball (NBA), football (NBA), ice hockey (NHL), baseball (MLB), and many more.
Apart from its daily fantasy sports product, users can also bet on the outcome of games (using the FanDuel Sportsbook app) or play casino games like blackjack online (via FanDuel Casino).
FanDuel's platform can be accessed by visiting its website as well as downloading its mobile and tablet applications (available on Android and iOS devices).
FanDuel Company History
FanDuel, headquartered in New York City, was launched in 2009 by husband-and-wife duo Nigel and Lesley Eccles as well as Rob Jones and Tom Griffiths.
FanDuel's story started a few years earlier though. In 2007, the founding team launched a site called HubDub in Edinburgh, Scotland.
With HubDub, users could try their luck at predicting outcomes of almost any event, ranging from results of the presidential election up to when a given celebrity would break up with their partner.
Unfortunately, that project didn't pan out as hoped. While the site did manage to attract users, it ultimately wasn't able to turn these users into paying customers of any kind.
Once they decided that a pivot was necessary, they took a hard look at their user data to determine what to do next with HubDub. What they discovered was that over 50 percent of all HubDub predictions were made on sports-related topics.
To validate their hypothesis, they created a Google spreadsheet and recruited test players on Craigslist. Much to their surprise, people immediately began depositing money and engaging in various competitions.
Over the next few months, they developed the FanDuel website which the team eventually launched in July 2009. HubDub was discontinued a year later (in April 2010).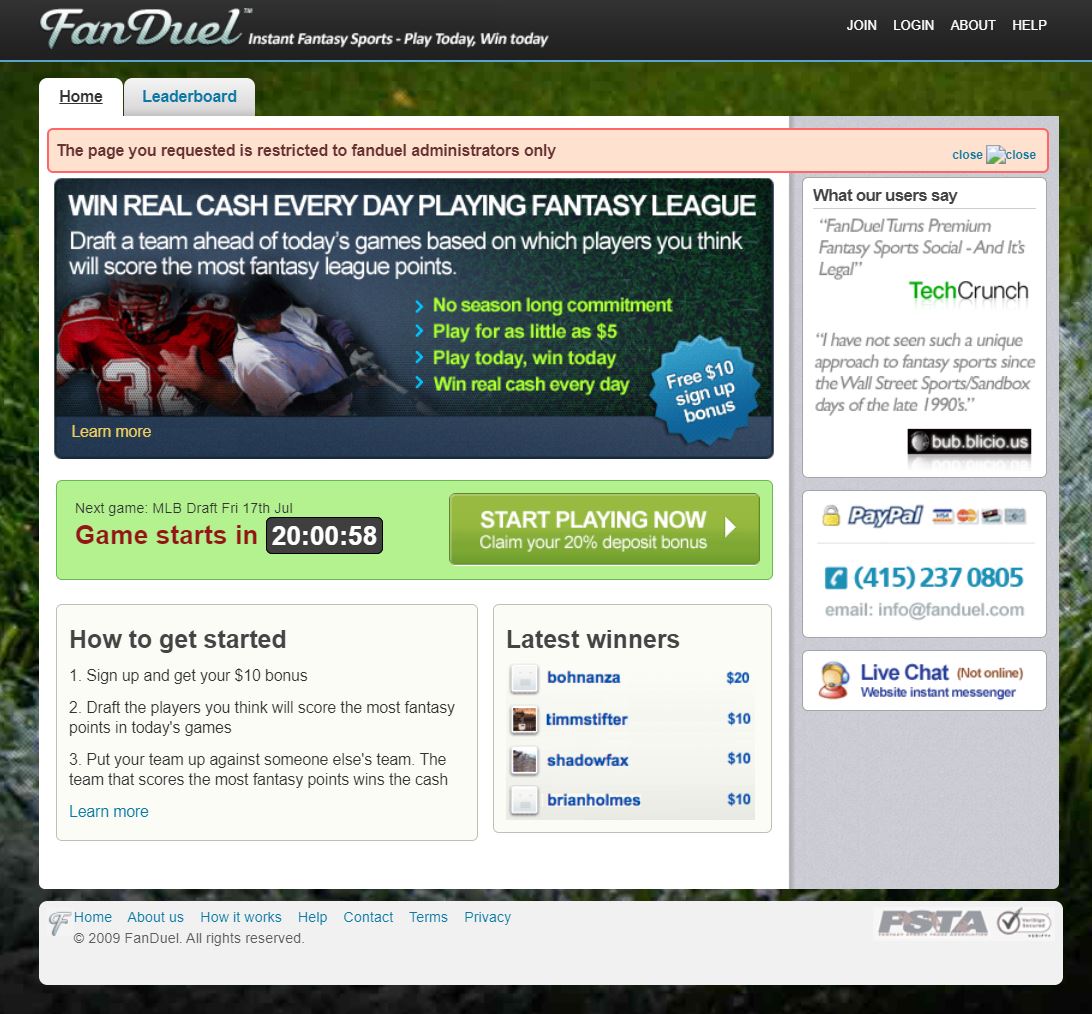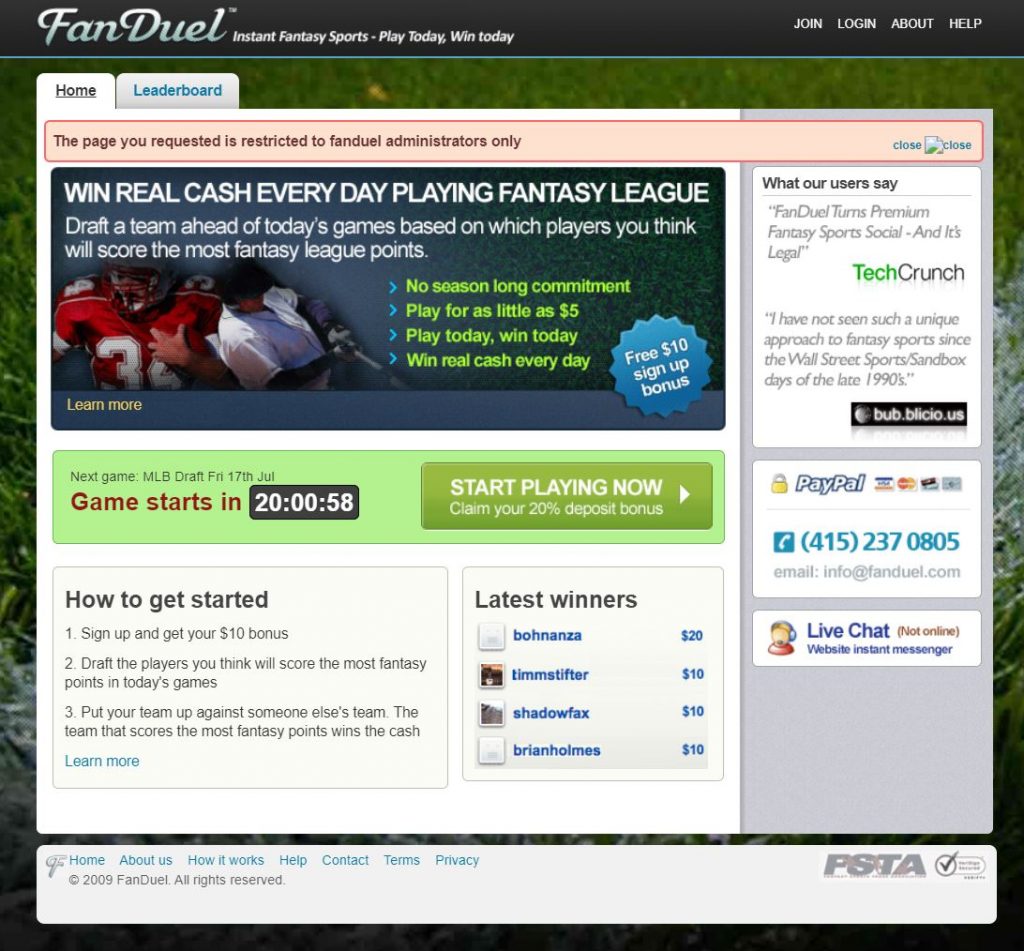 The team, furthermore, secured an initial round of funding in January 2009, netting them $1.2 million. Nevertheless, the funding process was anything but easy.
Many investors turned them down over concerns that the married couple could eventually run into private issues, which ultimately would affect the business. Additionally, the whole team was based in Edinburgh while serving US-based customers.
Nevertheless, the company prevailed, in large parts because they were one of the first platforms to offer daily fantasy sports competitions. FanDuel's business was made possible due to the Unlawful Internet Gaming Act, passed in 2006, which allowed companies to host online fantasy sports competitions.
In 2011, FanDuel finally opened up its New York office, which eventually became the firm's headquarters. The stronger geographical focus was certainly reflected in its growth. FanDuel payouts increased from $1.5 million in 2010 to over $10 million in 2011. That number rose to $50 million in 2012.
The daily fantasy sports category as a whole experienced tremendous growth over those years. Competitors like Snapdraft, Draftday, and DraftKings were raising and spending millions of dollars on TV ads and partnerships trying to become the de-facto category leader. FanDuel and DraftKings spent a combined $750 million prior to the start of the NFL season to advertise their platforms.
With regards to FanDuel, the startup was able to ink deals with the likes of NBC Universal, sports teams like the Orlando Magic, or leagues like the NFL and NBA. FanDuel (and other daily fantasy sports) adverts were, at some point, unavoidable and plastered across any imaginable medium.
By 2015, FanDuel and DraftKings became synonymous with that category, essentially owning close to 90 percent of the fantasy sports market. Even the entrance of internet giants like Yahoo did not affect their growth trajectory.
Industry experts and startup enthusiasts alike were saying that going public was just a matter of time for those companies. In July 2015, FanDuel finally reached unicorn status, raising a $275 million Series E round on a valuation of over $1 billion.
Unfortunately, the image of overwhelming success and can't-do-no-wrong came crashing down soon after. In October 2015, the New York Times reported that a DraftKings employee entered a $25 competition on FanDuel and ended up winning $350,000.
So, what exactly was the problem? Well, part of the reason why daily fantasy sports was exempt from the Unlawful Internet Gaming Act is the fact that it is considered to be a skill- and not a chance-based game.
The employee in question had access to thousands of data points about which players were popular among DraftKings players. As such, they could identify which players most users were picking and outmaneuver them by choosing others. Many saw this as a form of insider trading, which put players without access to that data at a clear disadvantage.
To be successful in fantasy football, it's important to know who the experts are all picking and avoid those players. Knowing which player nobody else is thinking of can lead you to huge gains if they do well.
FanDuel, as a result, banned its employees from participating in its own as well as other daily fantasy sports competitions. Users of the platform filed a class-action suit against the company. On top of that, former NFL player Pierre Garcon filed a lawsuit as well, stating that FanDuel used his name and appearance to advertise its product without his consent.
These problems seemed minimal in comparison to what transpired in the next few months. In November 2015, the New York Attorney General's office (led by Eric Schneiderman) demanded FanDuel (and DraftKings) to cease operations in New York.
They claimed that daily fantasy sports constitutes illegal gambling and that the platforms involved deceived customers about their chances of winning. Other states like Illinois followed suit.
After multiple rounds of litigation, FanDuel eventually had to shut down in New York from March 2016. To add to those troubles, various payment processors like Citigroup and Bank of America stopped facilitating payments until the legal issues were resolved.
On the other side, states like Indiana and Virginia provided some cause for optimism by legalizing daily fantasy sports. Nevertheless, the various legal battles cost FanDuel millions of dollars in legal fees while putting a dent in its bottom line. As a result, the firm had to postpone its UK launch as well as a variety of other product initiatives.
Soon enough, both FanDuel and DraftKings faced some serious financial struggles. Rumors began swirling around that the two companies considered a merger, which would allow them to significantly lower marketing spend and become the industry's overwhelming leader with a 90 percent market share.
In August 2016, Governor Andrew Cuomo signed a bill legalizing daily fantasy sports websites. FanDuel and DraftKings ended up paying $6 million each to resolve their legal troubles with Schneiderman's office, admitting to false advertising.
A few months later, in November 2016, FanDuel and DraftKings announced that they would merge into one company (with DraftKings CEO Jason Robins becoming the newly established firm's chief executive).
Unfortunately, the Federal Trade Commission (FTC) had other plans. In June 2017, it authorized legal action to block the merger of the two companies. The combined firms would be considered a monopoly, rendering any form of competition impossible.
In November 2017, CEO and co-founder Nigel Eccles announced that he would leave the company and step down from his board position. Matt King, who served as the firm's CFO for the three years prior, became his replacement.
A few months later, in May 2018, both the co-founders as well as FanDuel's investors finally found a suitable exit opportunity. Ireland-based Paddy Power Betfair (now known as Flutter Entertainment) acquired a 61 percent stake in FanDuel – with options to increase its ownership to 80 percent after three years and 100 percent after five.
Flutter's investment came at a strategically lucrative time. Around the same time, the US Supreme Court struck down a 1992 federal law that prohibited the majority of states to legalize sports betting. It was assumed that over $150 billion was spent each year on illegal sports gambling in the US alone. The change in regulation opened the floodgates to billions in tax revenue, which many states immediately jumped on.
As a result, FanDuel opened both physical Sportsbook branches as well as launched apps in the states where sports betting became legal. Over the coming months and years, FanDuel continued to expand into new states as well as by announcing new partnerships (or renewing existing ones).
Even a complete halt of sporting activities due to the coronavirus pandemic wasn't stopping the company. Both FanDuel and DraftKings even began investing heavily in TV and other forms of advertising again.
Flutter Entertainment, in December 2020, subsequently upped its stake in FanDuel to 95 percent. In recent times, speculations have surfaced that Flutter considers spinning out FanDuel to allow the company to go public (DraftKings, for reference, IPO'd in April 2020 via a SPAC).
Across 2021, FanDuel continued to grow at a rapid pace, in large parts due to relived lockdown measures as well as because more states began to legalize online gambling.
However, not everything was always going according to plan. In July, CEO Matthew King stepped down from his role, which caused Flutter's shares to tumble. He was ultimately replaced by Amy Howe, a former partner at McKinsey and COO of Ticketmaster.
Today, over 2,000 people are employed by FanDuel which operates offices across the United States as well as Scotland.
How Does FanDuel Make Money?
FanDuel makes money by taking a cut from competitions, inactivity fees, as well as sports betting and gambling.
Let's look at each of these in more detail below.
Fantasy Sports Fee
FanDuel takes a 10 percent cut from all the money that is entering its competitions. If players put in a combined $100,000 to enter a competition, then FanDuel gets to keep $10,000.
The money is used to maintain and improve its daily fantasy sports products as well as operations as a whole.
Daily fantasy competitions are offered for all kinds of sports and leagues, such as the NBA, NFL, NHL, Nascar, or CBB amongst others.
FanDuel, furthermore, offers a variety of competitions. Some can be played without an entry fee while others are aimed at intermediate or highly-skilled players.
Inactivity Fee
In May 2019, FanDuel introduced a so-called inactivity fee. If you haven't used your account for two years, an inactivity fee of $3 per month is applied.
However, those funds are not being subtracted from the user's bank account but from the deposited cash in the FanDuel account. As such, FanDuel will stop those charges once the account runs out of money.
Sportsbook
FanDuel offers sports betting via its Sportsbook app as well as physical branches. Sports gambling is currently legalized in a variety of states.
19 states in total allow land-based betting while 14 enable companies to offer gambling via an app experience.
FanDuel, just like any traditional bookmaker, makes money from people losing their bets. Another technique that the company uses is vigorish (also known as vig, juice, margin, or overround).
Vigorish is essentially a commission that is charged for placing the bet. Normally, it's exemplified through the odds that a bookmaker offers. By offering less favorable odds, FanDuel can (in all likeliness) pocket more for itself.
To minimize risk, FanDuel reserves the right to limit the number of executable bets as well as the money that a user can bet.
The Sportsbook market is where most of FanDuel's competitors, which include DraftKings or Caesars, are now spending their marketing dollars.
For reference, Americans have spent over $125 billion since the nationwide legalization of sports betting in 2018 – a number that will only grow as more and more states legalize gambling.
Online Casino
Apart from sports betting, users can also download FanDuel's Casino app which allows them to play games like slot games or blackjack online.
The Casino app is currently available for download in three states, namely Michigan, Pennsylvania, and New Jersey.
Similar to its Sportsbook offering, the company generates revenue whenever a gambler bets against the house (FanDuel in this case) and loses that bet.
The likeliness of winning is slightly tilted towards FanDuel, which ensures that the company generates more than it pays out.
Nevertheless, as a licensed gambling operator, FanDuel is consistently audited to ensure that the odds it provides stay within acceptable bounds.
FanDuel Funding, Revenue & Valuation
According to Crunchbase, FanDuel has raised a total of $416.2 million across seven rounds of venture capital funding.
Notable investors include Piton Capital, Pentech Ventures, Bullpen Capital, Shamrock Capital Advisors, Comcast Ventures, KKR, Google Capital, and many more.
The last time FanDuel's valuation was publicly disclosed was in December 2020 Flutter Entertainment upped its stake in FanDuel. The company paid $4.2 billion to acquire 37 additional percent of FanDuel. This put FanDuel's valuation at around $11.4 billion.
In 2021, FanDuel generated close to $2 billion in revenue, which represents an increase of more than 113 percent.
Who Owns FanDuel?
Flutter Entertainment (formerly known as Paddy Power Betfair Plc) currently owns 95 percent of FanDuel.
Back in May 2018, Flutter invested $158 million in cash as well as some of its US-based assets to acquire 61 percent of the company.
It doubled down on that investment two and a half years later (in December 2020) when it upped its stake to 95 percent.
The other 5 percent remain in the hands of previous company investors as well as stakeholders and FanDuel's co-founders.
FanDuel is rumored to be spun off from Flutter Entertainment and go public as a separate entity. If that would be the case, then its ownership structure would certainly change due to the public availability and tradability of its shares.