Executive Summary:
DraftKings is a platform that offers daily fantasy sports, sports betting, and gambling products. Users can access the products via the firm's website as well as by downloading its mobile app.
DraftKings makes money by taking a percentage cut from playing tournaments, sports betting and gambling products, advertising on its platform, as well as fees from its B2B offering.
Founded in 2012, the company has grown to become one of the largest online betting and gambling platforms in the United States. DraftKings went public in April 2020.
What Is DraftKings & How Does It Work?
DraftKings is a daily fantasy sports and betting platform. Users can play and bet games in a variety of sports and leagues, including the NBA, NFL, MLB, NHL, or soccer leagues like the Premier League.
In a traditional fantasy sports setting, participants create a team of players who then earn points based on their performance.
For instance, a basketball fantasy league would assign points for things like scored points, assists, rebounds, blocks, and more.
At the end of the season, the participant with the highest number of collective points wins the league.
DraftKings takes this concept to the extreme by compressing the timeframe. More precisely, users can create teams around one gameday.
At the end of that day, a winner is declared. Players can then re-organize their teams and compete for prizes on the next game day.
Additionally, users can engage in tournaments as well as head-to-head contests (where they play against a single player).
Participants can then earn various cash prices, which are dependent on the number of players that are competing and the entry fee that is paid to access the tournament.
Apart from its fantasy league product, users in selected states, by downloading DraftKings Sportsbook, can also bet on the outcome of games. Availability is dependent on the state of residence.
Similarly, DraftKings offers another standalone app called iGaming, which provides an online casino allowing users to play games like blackjack or roulette.
Users can access the platform via DraftKings' website as well as by downloading its mobile phone app (available on Android and iOS devices). Over one million people are now accessing the company's various offerings every month.
DraftKings Company History
DraftKings, headquartered in Boston, Massachusetts, was founded in 2012 by Jason Robins (CEO), Matt Kalish, and Paul Liberman.
Robins grew up in Miami during the mid-1990s where he attended Miami Killian Senior High School. At the time, there was some buzz about a guy who attended Miami Palmetto High School, which was just around the corner and sold books over the internet.
That guy was no other than Jeff Bezos himself who spent part of his teenage years in Florida. Robins was very much drawn to what the internet allowed people to do and for a short time even thought about dropping out of high school.
His father quickly intervened and convinced him to at least get a college degree before venturing out. Robins did his college studies at Duke University where he specialized in Computer Science.
After wrapping up his degree, he joined Capital One, focusing on marketing and analytics. He spent a good five years at the company until he moved on to Vistaprint where he eventually met his cofounders Kalish and Liberman.
All three of them shared a passion for sports and, in particular, fantasy leagues. In an interview with Boston Magazine, Robins revealed that he was participating in as many as 200 leagues at the same time.
In late 2011, Kalish pitched the idea of condensing a whole fantasy league season into shorter time frames, such as a week or even a game day. Robins immediately fell in love with the idea and, after recruiting Liberman, the team got to work.
In the beginning, the founders were working on DraftKings in their spare time (while keeping their day job). Apart from working 100 hours per week, the team faced two more problems.
First, they needed money to hire programmers and offer cash prices. Second, and most importantly, investors were not willing to hand them that money because they wanted to see the team committing full-time to the project.
To validate the concept, they put up a few small Major League Baseball competitions with price rewards of $100. A few dozen people participated in those contests, which gave them (and potential) investors the necessary validation that this could work.
Eventually, the DraftKings team was able to convince investors and raised $1.4 million from Cambridge-based venture capital firm Atlas Ventures. When the check hit their bank account, all three founders were (ironically enough) still employed but quit their jobs soon after.
In July 2012, DraftKings launched a revamped website. This time, participants could win up to one million dollars participating in the event.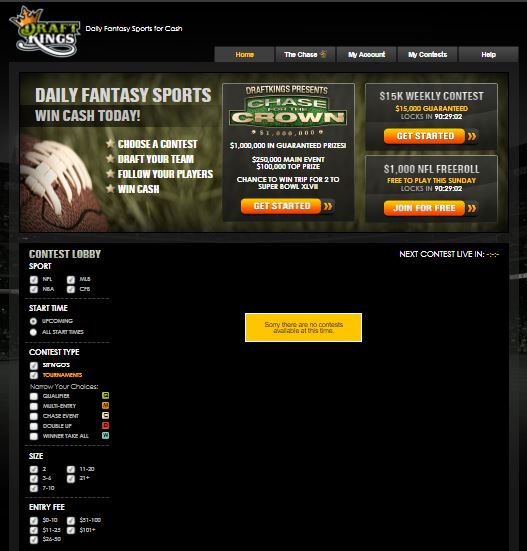 The fast-paced fantasy league concept took off like wildfire. Within less than a year of being operational, DraftKings signed up over 100,000 members who played over 500,000 matches combined.
In 2013 alone, the team raised another two rounds of funding to capture this once-in-a-lifetime growth opportunity, adding another $7 million and $24 million to its balance sheet, respectively.
A year later, in 2014, it was already able to scoop up two of its biggest competitors. Within a matter of a few months, DraftKings acquired both DraftStreet and StarStreet. The two services were immediately shut down, allowing DraftKings to snatch up their user base.
During 2014, players on DraftKings' platform paid nearly $1 billion in entry fees. Consequently, DraftKings was already generating $30 million in annual revenue two years after being founded.
Gaining momentum and exponentially revenue became crucial for the company due to the intense competition, in particular from rivaling service FanDuel, it faced.
Many of the partnerships DraftKings signed, such as the one with Major League Baseball in 2013, were of exclusive nature. That meant that only DraftKings would be able to offer fantasy leagues for that particular league, thereby cutting one source of revenue for its competitor (it has to be noted that not all of its partnerships are exclusive though).
One of these major deals was announced in June 2015. DraftKings and broadcasting network ESPN signed an exclusive partnership, enabling DraftKings to become ESPN's exclusive daily fantasy sports platform.
A month later, Yahoo (which runs the highly frequented Yahoo Sports platform) announced that it would get into daily fantasy sports but it was already too late. By that time, DraftKings and FanDuel already accounted for over 90 percent of the American fantasy sports market.
Despite DraftKings' insane growth (it raised another $300 million from Fox Sports after a $250 million Disney investment fell through), it would soon face its first major headwind.
A report by The New York Times revealed that DraftKings employees had access to aggregate data, enabling them to dissect which players were the most frequently used on their platform. As such, they could identify which players most users were picking and outmaneuver them by choosing others.
While the employees were not able to participate in DraftKings' own tournaments, nobody prohibited them to enter FanDuel competitions (and vice versa). The insider data allowed Ethan Haskell, who worked as a Content Manager at the time, to win $350,000 during an NFL game day competition.
Successive news revealed that DraftKings employees made over $6 million playing on FanDuel's platform. DraftKings announced that it would launch internal investigations, but neither Haskell nor any other employee faced any punishment.
While news of insider trading was certainly not pretty, the worst was yet to come. Just a month after the employee scandal, the New York Attorney General's office (led by Eric Schneiderman) came out and said that fantasy games constitute illegal gambling and are therefore a chargeable offense.
What followed was a months-long legal battle over DraftKings' ability to keep operating its service. Other states, like Illinois, also introduced bans themselves.
DraftKings, in the meantime, argued that its fantasy league games were skill- and not luck-based. In 2006, Congress passed the Unlawful Internet Gambling Enforcement Act, which outlawed games of chance like blackjack or roulette but exempted fantasy leagues, which were seen as needing skill to win.
DraftKings' arguments were, for instance, supported by research from Sports Business Daily, which found out that 1.3 percent of all DraftKings' players took home about 90 percent of all pay-outs.
After halting operations for a few months, New York Governor Andrew Cuomo passed a bill in August 2016, which legalized daily fantasy sports. In the end, both DraftKings and FanDuel agreed to a settlement with Schneiderman's office. Both companies acknowledged false advertising and paid $6 million in fines each.
Interestingly enough, another captivating storyline arose out of the firm's legal battles. In June 2016, reports emerged that both companies were running out of cash (due to legal fees and missing revenues) and considered a merger.
Furthermore, they both spent hundreds of millions in pursuit of exclusive advertising deals. Joining forces would therefore allow them to cut down on marketing spend while simultaneously improving their negotiation power as the undisputed market leader. In November 2016, DraftKings and FanDuel officially announced that they would merge – with Robins becoming the firm's new CEO.
Unfortunately, the Federal Trade Commission (FTC) filed a complaint to block the merger. The complaint underlined that the combined companies would control over 90 percent of the U.S. daily fantasy sports market, essentially making them a monopoly.
Yet again, it was time for deal-making and expansion. For instance, DraftKings went on to launch in Australia (its UK business was launched in March 2016 after delaying the launch due to the employee scandals) in April 2018.
The tide finally turned when, in May 2018, the Supreme Court announced that it would allow states to legalize sports betting (that is to bet on the outcome of a game). Within a year, six states (such as New Jersey or Pennsylvania) legalized sports gambling, thereby creating new income streams for the company.
After months of exponential growth, DraftKings announced in late December 2019 that it would go public via a SPAC with Diamond Eagle Acquisition Corporation. DraftKings, despite coronavirus lockdown measures, proceeded to IPO in April 2020.
And the company truly got creative. It allowed users to bet on events such as Belarus soccer, esports events like NASCAR's iRacing, or even the outcomes of Tiger King episodes. DraftKings' growth came right back once-popular sports leagues as the NBA or NFL resumed.
The stock's performance was further propelled by a variety of (exclusive) partnership deals, including a contract renewal with ESPN or deals with the New York Giants, UFC, and Turner Sports (which, for instance, owns Bleacher Report).
Today, over 2,500 people are employed by the company, which operates offices eight offices across the globe, including Boston, Dublin, Las Vegas, or Tel Aviv.
How Does DraftKings Make Money?
DraftKings makes money by taking a percentage cut from playing tournaments, sports betting and gambling products, advertising on its platform, as well as fees from its B2B offering.
Let's dive deeper into each of these revenue streams in the section below.
Daily Fantasy Sports
The majority of DraftKings' revenue comes from the daily fantasy sports competitions it organizes and hosts.
Players must pay a certain amount as buy-in to be able to enter the tournament. Depending on the tournament's rules, they win a cash price by placing at a certain position.
DraftKings makes money by taking roughly a 10 percent cut from the money that users pay to enter a tournament.
For instance, if players pay in a total of $1 million to enter a tournament, then DraftKings gets to keep around $100,000.
Consequently, the total prize pool that participants could win would hover around $900,000 ($1 million minus 10 percent cut).
Sportsbook
In May 2018, the United States Supreme Court struck down the Professional and Amateur Sports Protection Act of 1992 ("PASPA"), which allowed licensed operators to offer sports betting in selected states.
DraftKings offers sports betting via its Sportsbook app, which is currently available in a variety of states, including Colorado or Virginia.
DraftKings, just like any traditional bookmaker, generates revenue from people losing their bets. Another technique that DraftKings employs is the inclusion of vigorish (also known as vig, juice, margin, or overround).
Vigorish is essentially a commission that is charged for placing the bet. Normally, it's exemplified through the odds that a bookmaker offers. By offering less favorable odds, DraftKings can (in all likeliness) pocket more for themselves.
To minimize risk, DraftKings furthermore reserves the right to limit the number of executable bets as well as the money that a user can bet.
iGaming
DraftKings has developed another separate app that allows users to play casino games such as blackjack or roulette online. The app offers more than 400 playable games.
Similar to its Sportsbook offering, the company generates revenue whenever a gambler bets against the house (DraftKings in this case) and loses that bet.
In each of the offered games, DraftKings has a slight statistical advantage over the player. Over time, as those statistics play out, DraftKings will eventually win more bets than it loses.
Essentially, DraftKings profits by paying you winnings that are lower than the odds that would make a game break even.
For instance, in a coin toss, you would have a 50 percent chance of winning. DraftKings would then alter the game in a way that your winning odds are slightly lower.
Nevertheless, as a licensed gambling operator, DraftKings is consistently audited to ensure that the odds it provides stay within acceptable bounds.
Advertising
In 2016, DraftKings began to offer advertising opportunities to other brands that want to use its platform for promotional activities.
Ever since, the company has closed advertising deals with Hooters, Sprint, Jägermeister, or Buffalo Wild Wings.
As a result of most of those agreements, these advertising partners would then run branded tournaments together with DraftKings.
For instance, Jägermeister ran a soccer tournament called The Real Shot, which allowed players to pick a team during the 2018 World Cup.
While DraftKings does not publicize the deal structure, it can be assumed that the company gets compensated both on a fixed fee and incentive basis.
In the Jägermeister example, the company could pay DraftKings $1 million to organize the tournament. Additional incentives, such as hitting 50,000 participants, would then yield additional payments.
There are a few advantages from the brand's perspective. First, they get to engage with a highly targeted audience. Fantasy league players, on average, are probably male, in their 20's or 30's, and most of them share some sort of affection towards the above-mentioned brands (looking at you Hooters).
Second, engagement can be easily tracked. DraftKings can provide its advertising partners with a variety of data, such as how often an ad was seen (= impression) or how long participants played in total.
B2B Offering
When DraftKings went public in April 2020, it did so via a merger with Diamond Eagle and SBTech. SBTech is the engine that runs most of the combined firm's betting and gambling products.
DraftKings projects that the merger would save the company over $100 million annually. More importantly, it essentially turned one of its biggest cost centers into a profit maker (a model that has been perfected by Amazon vis-à-vis AWS or Fulfillment).
With its B2B offering, DraftKings makes money via a so-called managed service fee. This means that DraftKings gets to keep a percentage of the revenue that the platform it works together with generates.
The actual percentage share is dependent on the contractual agreement between the two parties. Realistically, it's somewhere between 10 to 20 percent.
The global online gambling market is projected to hit $127.3 billion by 2027. If DraftKings could get its B2B offering to around 10 percent of the market, it could earn between $1.27 billion ($127.3 billion x 10 percent market share x 10 percent managed service fee) to $2.55 billion ($127.3 billion x 10 percent market share x 20 percent managed service fee) from that business alone.
DraftKings Funding, Revenue & Valuation
According to Crunchbase, DraftKings has raised a total of $719.4 million across 11 rounds of venture capital funding.
Notable investors include Redpoint Ventures, FirstMark Capital, Atlas Ventures, GGV Capital, Manhattan Venture Partners, Michael Jordan, and plenty more.
DraftKings was valued at $6.5 billion when it went public in April 2020. Today, that valuation has increased to over $24 billion.
DraftKings generated $643 million in revenue for 2020, up 49 percent from the $431 million it recorded in 2019. Adjusted for EBITA, the company still managed to lose $396 million in 2020.