Executive Summary:
Venmo is a digital wallet that lets users transfer money between each other. Members can, furthermore, pay at selected merchants, either online (using the Pay With Venmo feature) or via the company's debit card.
Venmo makes money via merchant fees, Instant Transfers fees, interchange and withdrawal fees, spreads and fees on cryptocurrency transactions, fees on cashing checks, and affiliate commissions.
Founded in 2009 and headquartered in New York, Venmo soon became a hit with its predominantly millennial user base. In 2012, the company got acquired for $26.2 million by Braintree, which a year later was purchased by PayPal for $800 million.
What Is Venmo?
Venmo is a mobile peer-to-peer (P2P) app that allows its users to transfer funds between each other.
The app, furthermore, enables users to pay at selected merchants, split costs between them (for example when having dinner), or simply talk to each other.
In order to transfer funds, the two parties need to be registered as users on the platform.
What sets Venmo apart from other payment apps is its focus on social interaction. Members can connect with each other via their respective user names and even send text messages, which can entail emojis and stickers, to each other.
The app is tied to a user's bank account or debit/credit card. This allows them to transfer money from and to their Venmo accounts. Right now, Venmo can only be set up if the user has a bank account or credit/debit card from an American financial institution.
Consequently, businesses can also integrate with Venmo to accept payments through the app. Merchants have to adjust their existing PayPal Checkout configuration and simply add Venmo as another payment method. Example merchant partners include Grubhub, Uber, Poshmark, or Lululemon.
Venmo also offers a debit card that is connected to the app. The card allows users to make purchases in the 'real world', for instance at coffee shops or grocery stores. Furthermore, users can receive paychecks via the associated account and earn cash back at selected merchant partners.
Lastly, users can even purchase various cryptocurrencies directly within the app. Supported coins include Bitcoin, Ethereum, Litecoin, and others.
Venmo itself is primarily accessed via its mobile app, which is available on Android and iOS devices. However, users can also access the services via a web browser.
A Short History of Venmo
Venmo was founded in 2009 by Andrew Kortina and Iqram Magdon-Ismail. The company was initially headquartered in Philadelphia, but soon after its inception relocated to New York.
Kortina and Magdon-Ismail met each other in 2001 during a freshman event at the University of Pennsylvania, their alma mater. Both majored in Computer Science but Kortina later changed his major to Creative Writing and Philosophy.
The duo started their first company during their senior year. My Campus Post was a classifieds site aimed at, you guessed it, college students. Throughout the years, the pair continued to experiment with various ideas until adult life caught up with them.
Kortina moved to New York and became one of the first engineers at URL shortener bit.ly (which was founded by betaworks). Magdon-Ismail, in the meantime, did software work for Ticketleap in Philadelphia.
In 2009, Magdon-Ismail decided to pay Kortina a visit in New York. Unfortunately, he forgot to bring his wallet along with him, which forced Kortina to pay for the weekend. Luckily, this little incident sparked the idea for Venmo.
The name for Venmo is a combination of the Latin word vendere ("to sell") and "mo", which stands for mobile. At first, Venmo was designed to allow users to send and receive payments via SMS. Soon after, their inboxes were filled with funny messages accompanying those payments.
The duo realized that the social aspect of the app was what attracted people to Venmo. They added in a social feed (similar to the one on Facebook), which allowed users to check for what purposes their friends were exchanging money. Magdon-Ismael's old boss at Ticketleap became the company's first angel investor.
In 2010, the team raised their first-ever official round of venture capital funding from RRE Ventures, betaworks (Kortina's former employer), Lerer Ventures, Founder Collective, and more. The $1.2 million seed investment allowed both founders to pursue Venmo full-time.
Until 2012, and for the first two years of full-time operation, Venmo remained in private beta. The app was only accessible via invite, which allowed the founders to focus on delivering the best possible product experience.
That strategy certainly paid off big time. When Venmo was released to the public in March 2012, its product was already on pace to facilitate $250 million in payment exchanges for that year. Venmo's team grew to over 20 people in the meantime.
A few months after the public launch, Braintree announced it would acquire Venmo for a combined $26.2 million. Braintree, a past darling in the FinTech world, was handling the payments backend for companies like Uber and Airbnb. The acquisition of Venmo was a result of its strategic initiative to establish a strong presence in the mobile payments space.
Just a little over a year later, in September 2013, PayPal announced it would acquire Braintree (and all its underlying assets, including Venmo) for $800 million in cash. Both Braintree and Venmo garnered a great reputation from the developer and consumer community, respectively. This led PayPal to allow both companies to operate under their own brand.
Both Kortina and Magdon-Ismael left the Venmo in 2014. Reports at the time stated that the founder seemed increasingly disengaged in meetings. Mike Vaughan, Venmo's COO, took over the role as the company's general manager.
The change in leadership certainly did not affect the company's growth. Furthermore, being in PayPal's ecosystem enabled them to tap into expertise and resources they otherwise wouldn't have had access to.
For instance, in 2015, Venmo launched its Pay with Venmo feature, which allowed users to pay with Venmo at any merchant that is a PayPal partner. Being one of the FinTech industry giants, this move granted Venmo access to millions of new merchant partners.
Nevertheless, the company also had its fair share of controversies throughout the years. Users issued countless complaints in which they stated that they have been scammed by others.
Venmo has, furthermore, banned certain transactions due to the usage of inappropriate terms, such as Idek, which most internet users refer to as "I don't even know". Unfortunately, in Bangladesh, it is known to be a major terrorist organization.
Others have voiced concerns over the public accessibility of Venmo's data. In 2017, Berlin-based researcher Do Thi Duc published a report that showed how easy it was to retrieve data from the company's API. What she found was numerous instances of people breaking up, exchanging money for drugs, or getting caught cheating on their partner.
To that extent, Venmo vis-à-vis PayPal had to settle with the FTC over a complaint about the company's handling of privacy disclosures back in February 2018. Its privacy woes became even more apparent in March 2021 when US president Joe Biden's Venmo account was unveiled to the public.
This led Venmo to completely redesign its app as well as privacy setting, for instance allowing users to opt out of being discovered in any feed.
Despite some of these hiccups, Venmo has grown to become one of the largest peer-to-peer payment services in the United States, just behind Apple Pay, Zelle, or Square's Cash App. Nowadays, Venmo processes close to 10 billion U.S. dollars – every month.
Its growth only accelerated, when in late 2021, PayPal announced that it had struck a partnership with Amazon. Venmo users, starting in October 2022, can now use the app to check out when they shop on the marketplace.
How Does Venmo Make Money?
Venmo makes money via merchant fees, Instant Transfers fees, interchange and withdrawal fees, spreads and fees on cryptocurrency transactions, fees on cashing checks, and affiliate commissions.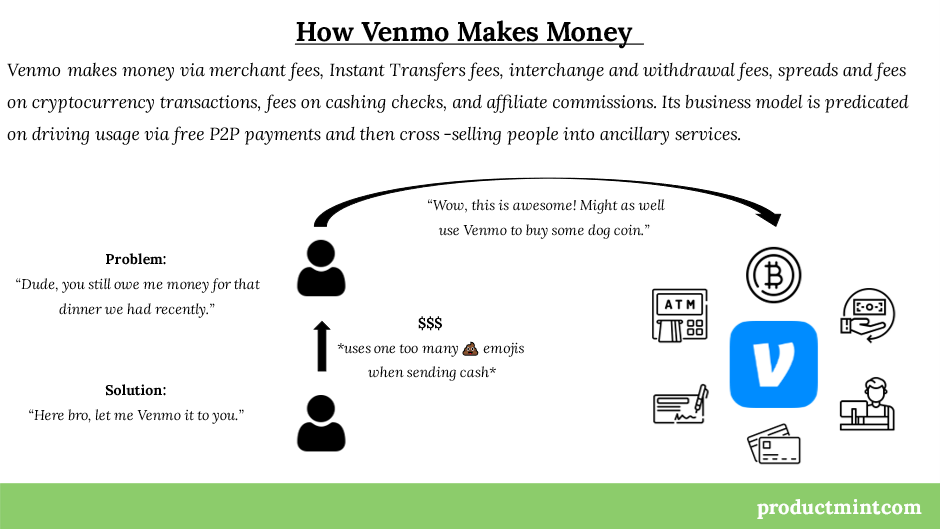 The strategy that Venmo (or rather PayPal) has employed is to become a financial super app.
It uses its free P2P payment service as a customer acquisition channel to lure in new users and then cross-sell them on a variety of different services.
Venmo's business model is thus predicated on onboarding as many people as possible while maximizing the time they spend on the app. Its social features, in particular, have enabled Venmo to move away from seen as a transactional platform to something that is fun and doesn't solely exist to extract a user's cash.
Once people are comfortable using Venmo and sending payments, it often just takes a push or in-app notification to get them to try out new products.
Additionally, the more ubiquitous the app becomes, the greater Venmo's power to impose higher prices on partners including merchants and cashback advertisers.
So, without further ado, let's take a closer look at each of the revenue streams that Venmo possesses in the section below.
Pay With Venmo
The Pay With Venmo feature allows users to make purchases at selected merchant partners using their Venmo account. Example partners include companies such as Foot Locker, Forever21, Urban Outfitters, and more.
Whenever users pay at one of those selected merchants, a fee is applied to the overall order amount. Venmo charges merchants 1.9 percent along with $0.10 per transaction.
The fee structure is in line with standard rates applied by payment processors such as VISA or Mastercard.
Merchants are willing to pay those fee because it widens the pool of available customers they can serve. Traditional banks are often not integrated with modern-day apps, which in some instances leaves Venmo as the only available payment option.
Furthermore, the transactions users conduct will be made visible in Venmo's social feed (unless users opt out of publicly sharing that information). This grants merchants additional eyeballs and can act as a valuable marketing channel to increase their exposure.
In June 2021, Venmo users protested over the changes that would now include a "goods and services" tag for payments sent to other personal accounts. While this allowed customers to be part of Venmo's buyer protection program, it also added fees to people operating side hustles that they hadn't declared as businesses yet.
Instant Transfers
In 2019, Venmo announced it would allow users to instantly transfer funds into their bank accounts. Normally, retrieving money from a Venmo account and transferring it to another bank would take 1 to 3 business days.
For the longest time, Venmo was charging 1.5 percent to instantly transfer funds. Those instant transfer fees would be capped at $15.
In April 2022, however, PayPal announced a rate increase to 1.75 percent while lifting the maximum fee to $25.
Interchange & Withdrawal Fees
Since 2018, Venmo offers its own Mastercard-branded debit card to everyone that possesses an account. Alternatively, it also offers a credit card powered by Visa. The card allows users to conduct purchases in the 'real' world and pay for items using their Venmo balance.
By being connected to the app, users can, for instance, pay for a dinner using their card and then have the option to split that bill with friends.
Furthermore, if enabled, the card's transactions will also show up in the user's social feed. Similar to Pay With Venmo, this can act as another marketing channel for businesses.
Venmo primarily makes money from the card by charging merchants interchange fees. These fees, in all likeliness, are split between Venmo and Mastercard.
When retrieving cash, customers, furthermore, have to pay a $2.50 ATM Domestic Withdrawal Fee and a $3.00 Over the Counter Withdrawal Fee.
Additional fees include a 3-percent charge when you send money to others via the credit card.
Lastly, Venmo charges between 11.99 percent and 20.99 percent in annual percentage rates (APR) on any overdue card balances.
Cash A Check
In January 2021, Venmo launched a new service called Cash A Check. As the name suggests, users can use the feature to cash in pay or government stimulus checks.
Users need location services turned on, have either Direct Deposit enabled or own a Venmo Debit Card, and possess a verified email address.
Users then snap a picture of the check and let it be reviewed by Venmo. If approved, Venmo deposits the money into the user's account.
Venmo charges 1 percent in exchange for this verification service. A minimum of $5 has to be cashed in. A fee of 5 percent is applied for non-payroll and non-government checks.
Cashback
The credit card also comes with the possibility to earn various cashback rewards at selected merchants. Example partners include Chevron, Papa Johns, Target, Dunkin' Donuts, and many more.
Cashback programs transfer a percentage of the overall purchase price back to the customer's account. This, in turn, incentives customers to shop at these merchants.
The partner then pays the advertiser, in this case Venmo, a commission for referring that very same customer.
How much Venmo makes on each purchase is subject to the overall transaction volume as well as the agreement between Venmo and the partner in question.
Many competitors of Venmo, such as Block's Cash App or Apple Pay, offer similar incentives to lure customers in.
Cryptocurrency Fees
In June 2021, Venmo introduced the option to purchase and sell cryptocurrencies via its platform.
As of now, customers in the United States can transact in four currencies, namely Bitcoin, Bitcoin Cash, Ethereum, and Litecoin.
Venmo makes money from its crypto product via a so-called spread as well as transaction fees.
The spread is the difference between the market price Venmo receives from its trading partner (Paxos) and the exchange rate between US dollars and the crypto asset displayed to the user.
The spread is dependent on market conditions such as the strength of the US Dollar. On top of that, Venmo also charges a transaction fee for each buy or sell.
Competitors, such as Block's Cash App, also offer the ability to purchase and sell cryptocurrencies. A similar fee is applied when users purchase Bitcoins and other related assets.
Venmo Funding, Valuation & Revenue
According to Crunchbase, Venmo has raised a total of $1.3 million across three rounds of funding. Investors into the company include Accel, Greycroft, Founder Collective, RRE Ventures, and many others.
Venmo was valued at $26.2 million when it was acquired in 2012 by Braintree. A year later, Braintree was acquired by PayPal for a whopping $800 million. It was not disclosed how much of those $800 million could be attributed to Venmo.
Today, PayPal chooses not to disclose the valuation it assigns to Venmo. Instead, Venmo's valuation is already priced in the market cap that PayPal has amassed, which is equal to $220 billion at the time of writing.
PayPal CEO Dan Schulman stated that he expects Venmo to generate around $900 million in revenue for the fiscal year 2021.