Executive Summary:
The Cash App is a peer-to-peer (P2P) payment application that enables people to send money to each other at no cost.
The Cash App makes money via merchant fees, payments for order flow and trading fees, interchange and ATM withdrawal fees, instant deposit and paycheck fees, and referral fees.
Launched in 2013, the Cash App has grown to become one of the biggest P2P payment platforms in the United States. In 2021 alone, it generated $12.32 billion in revenue.
How The Cash App Works
The Cash App is a peer-to-peer payment application that enables people to send money to each other at no cost.
Anyone that has a registered account on the platform can send and receive money instantly. All you need is the user's email address, phone number, or $Cashtag.
Those payments are not only conducted instantly but completely free of charge. Customers can, furthermore, pay merchants for their goods and services.
The Cash App, in recent times, has greatly expanded its product portfolio. For once, users can apply for a Cash App-branded debit card. The card, for example, can be connected with Apple or Google Pay.
The card itself is FDIC-insured for up to $250,000. While the Cash App is not a bank, it does work together with actual banks, which in turn provide its users with those assurances.
Users, apart from paying for things, can also purchase bitcoin as well as (fractionalized) stocks right within the Cash App.
The app, furthermore, allows users to receive paychecks up to two days in advance. Users are granted three free ATM withdrawals if their paychecks reach $300 at least.
Lastly, the Cash App also allows users to file their taxes right within the app – all without paying a cent.
The Cash App is primarily being accessed via mobile devices, namely smartphones, smartwatches, and tablets, via the Android and iOS operating systems.
Detailing The History Of The Cash App
The Cash App, which is headquartered in San Francisco, California, was launched in 2013 by Block Inc., formerly known as Square.
Square itself was founded in 2009 by Jim McKelvey and Jack Dorsey who, just three years before, founded messaging platform Twitter.
Dorsey was pushed out of Twitter in 2008, though. The inspiration for Square came to Dorsey when a store owner friend of his couldn't process an American Express card.
He then set out to build a better mobile payments service, which he and McKelvey eventually launched in October 2010.
For the first three years, Square was primarily focused on growing its core business and getting its terminals into as many stores as possible. By early 2013, more than 250,000 businesses in the United States alone were accepting Square Wallet payments.
However, the exponentially increasing adoption of smartphones led to the emergence of various new industries and use cases. People could, all of the sudden, order a cab or invest in stocks right from the comfort of their phones.
The first startup that made a dent in the P2P industry was Venmo, which launched in 2012. It quickly amassed over 250,000 users and was sold to Braintree for $26.2 million the same year it launched.
Dorsey figured that Square would benefit from offering a similar service as well. A free P2P app could attract more people to its ecosystem, which in turn attracts more merchants (that Square then monetizes).
The first indication of Square's ambitions in the P2P segment became apparent in May 2013. It sent invites to selected users for a service dubbed Square Cash. Interestingly, during that initial test run users were charged $0.50 for every payment they sent.
That ultimately changed in October when Square finally unveiled the product to the public, allowing users to send money to each other free of charge.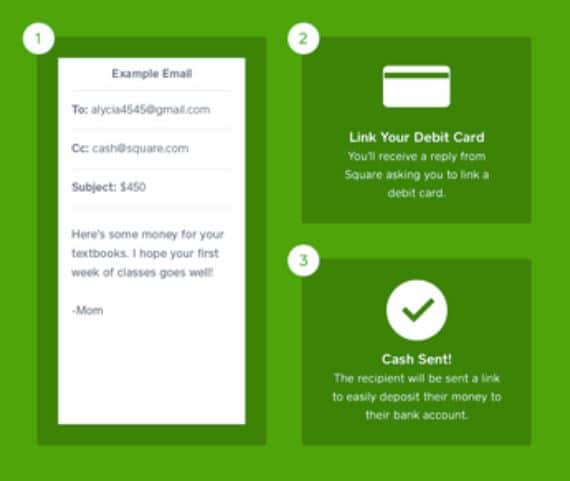 People would need to use their email, add the amount they want to send in the subject line or body, and then add the person's email as well as CC'ing [email protected].
Interestingly, just a month before the launch, Braintree had been acquired by PayPal for $800 million. Venmo, to this date, remains in PayPal's hands.
Other companies, such as Ribbon, would soon follow as well. Facebook and Snapchat were rumored to launch payment apps of their own, with the latter actually following through in late 2014.
Square, on its part, introduced a variety of new features throughout 2014, including the ability to request money from other users as well as send funds via Bluetooth or SMS.
It did, however, become the first P2P app to offer the option to pay merchants. In March 2015, Square Cash enabled users to pay other merchants for their goods and services – simultaneously the Cash App's first revenue stream.
Two months later, it introduced the '$Cashtag,' which enables you to pay other users as well as organizations via a customized link. Towards the end of the year, Square also introduced Apple Watch support for the Cash App.
One interesting and rather unintentional customer acquisition channel the Cash App would benefit from was rappers. To date, over 200 hip-hop artists have name-dropped the term 'Cash App' in their lyrics.
Dorsey, furthermore, used his celebrity status as the founder of two mega companies to lure in other celebrities and actively promote the Cash App.
In the meantime, Square continued to extend the app's functionality. In April 2017, it introduced debit cards that users could link to their accounts. One of the ways with which the card offering tried to separate itself was by allowing users to add custom drawings.
However, the app's breakthrough moment would still take another few months. In early 2018, during the height of the first globally acknowledged crypto bull run, Square added the option to purchase bitcoin right within the app.
The addition of bitcoin trading exponentially accelerated the Cash App's user growth. In February 2018, Square acknowledged user numbers, which totaled 7 million, for the first time during an earnings call.
A month later, Square also introduced the option to receive paychecks. Soon after, in April, Square launched the Cash App in the U.K., the first market outside of the States.
During the summer of 2018, the Cash App finally surpassed Venmo as the most popular P2P payment app in North America. That wouldn't last too long, though, as Square would soon be overtaken by Zelle.
One method with which Square continued to attract users was through generous giveaways. For instance, users could win $50,000 worth of bitcoin or other types of cash prices.
It would, nevertheless, take another year until Square unveiled a new major product. In October 2019, it introduced the ability to purchase and sell (fractionalized) stocks for as little as $1.
Simultaneously, bitcoin trading would soon become the platform's biggest revenue driver, at times making up over 50 percent of its overall income by the beginning of 2020. At that point, it had managed to grow from 7 million all the way to 24 million monthly active users.
The app's ascend only continued when, in March, the Covid pandemic forced users to quarantine at home. And even though its main use case, namely P2P payments, took a backseat, other products such as stock trading and early paychecks (launched in September) became substantially more popular. During the month of April, its deposit volumes grew by three times.
The Cash App also began to issue stimulus checks to speed up the process of receiving money. Dorsey and Square, in some instances, even gave money away to those that needed it the most.
In November, Square announced a deal to acquire Credit Karma's tax business for $50 million, which it eventually used to launch its own free tax filing service (in January 20220. By the end of 2020, the Cash App was already accounting for more than 50 percent of Square's overall revenue while continuing to grow like gangbusters.
Square used portions of that cash to continue to promote the app. In April 2021, for example, it launched a $1 million stock giveaway in partnership with pop star Miley Cyrus.
However, the app's growing popularity also led to increased scrutiny. Consumer groups began warning users about the risks of sending money to other people. The Cash App as well as Venmo and Zelle would record dozens of instances where people lost significant money sending it to strangers.
Meanwhile, Square continued to acquire other businesses that, in turn, would be integrated into the Cash App experience. In 2021 alone, Square bought streaming service TIDAL for $297 million (March) and BNPL service Afterpay for an eye-popping $29 billion (August).
Later that year, as a result of its TIDAL acquisition, it launched Cash App Studios, an initiative designed to help creative artists to fund their projects. Square, which renamed itself into Block Inc. in December, even opened the app up to teenagers between the age of 13 to 17.
As a result of all those initiatives and new feature launches, the Cash App's monthly active user base had reached over 44 million people by the end of 2021.
Unfortunately, the company would experience some headwinds as well. In March 2022, the Cash App was started to be investigated by the Consumer Financial Protection Bureau and multiple state Attorney Generals. Their intention was to investigate the firm's handling of customer complaints and disputes, among other issues.
A month later, things got even worse when Block revealed that approximately 8.2 million current and former accounts were comprised. More precisely, a former employee accessed sensitive reports (and thus data) after his/her termination and thus without the required permissions.
How Does Cash App Make Money?
The Cash App makes money via merchant fees, payments for order flow and trading fees, interchange and ATM withdrawal fees, instant deposit and paycheck fees, and referral fees.
The business model of the Cash App is centered around its free P2P payment offering. That way, it lures in additional users who are cross-sold into other products (which are detailed in the below section).
Apart from those P2P payments, the Cash App also offers a free tax filing service, which it launched back in January 2022.
Block has essentially managed to build a two-sided marketplace on which it can monetize both individual users as well as other businesses.
The big advantage here is that Block can integrate the Cash App into its wider ecosystem, which involves various merchant payment products (by Square) as well as businesses such as Afterpay.
Block, with the ever-increasing expansion of the Cash App's set of products, can thus engrain itself more and more into the financial lives of its users.
As a result, it could branch out into a variety of other segments including insurances, personal loans, mortgages, and more. The ultimate goal of Block is to build a superapp that can fulfill any financial need a user might have.
The more the Cash App grows, the more merchants are incentivized to join its payment network. After all, accepting payments from Cash App users is comparatively cheaper for businesses.
Additionally, new products as well as a developed ecosystem increase the stickiness of a product and thus minimizes churn rates. Block, in 2021, paid approximately $10 to acquire a new customer whose lifetime value only increases with additional offerings.
So, without further ado, let's dive into each of the income streams of the Cash App.
Merchant Fees
The Cash App's first-ever revenue stream, as previously stated, was the merchant fees it levied upon other businesses.
Dubbed Cash for Business, the service enables merchants to accept unlimited payments of any size using their $Cashtag, account name, or email.
A flat fee of 2.5 percent is applied whenever someone pays a business for their goods and services. That fee is upped to 2.75 percent if the payment is conducted via an external credit card.
It has to be noted that those transaction fees are significantly higher than the fees charged by both Mastercard and Visa, which are often restricted by local caps.
Block, on the other hand, can leverage the extreme popularity and ubiquity of the Cash App to almost force merchants to accept payments.
Their reasoning is that while merchants do end up paying more on average, they make up for it with the onslaught of new customers the Cash App brings.
Interestingly, Square respectively Block also essentially cannibalized its own business, namely the point-of-sale technology it sells, to widen the adoption of Cash App usage.
This, in all likeliness, is grounded in the fact that Block can cross-sell a variety of other services and products within the Cash App – some of which we'll detail in the next chapters.
Payment For Order Flow
The Cash App monetizes both its bitcoin as well as stock trading offerings via a variety of fees and other types of payments.
When it comes to both purchasing and selling bitcoin, it charges a fee that is dependent on the amount purchased. That fee is disclosed on the trade confirmation right before it is completed.
The fee itself also entails the margin or spread that the Cash App pockets. A spread is the difference between the quoted price (the Cash App's bid) and what an asset ultimately sells for.
Stock trading, on the other hand, is free and thus doesn't levy any fees upon users. This is because the Cash App monetizes that service via a fairly controversial method dubbed payment for order flow.
Whenever you place an order on (almost) any online trading platform, the order is sent to a so-called market maker who pays the platform a small fee in exchange for deal flow.
The price you end up being quoted (bid) and the price an asset is ultimately being sold for (ask) are normally not the same. The market maker, in the backend, pockets the margin between those two.
However, that margin is so minuscule that a market maker needs to execute thousands of trades at any given moment to make a significant profit.
The Cash App then receives a small fee from the market maker for bringing in additional deal flow. Consequently, the more you trade, the more money the Cash App makes.
Payments for order flow have been the primary method with which trading apps such as Robinhood generate most of their income.
It has simultaneously been subject to criticism, mainly due to a lack of transparency, causing huge market swings (due to automatic execution of billions of trades), and traders not always being quoted the 'best' price.
Interchange & Withdrawal Fees
In 2017, Square introduced debit cards that customers could link to their accounts and use as a way to pay merchants for their goods and services.
The Cash Card, which is powered by Visa, can also be used to retrieve cash from ATMs and even be designed to the user's liking (for a fee of $5).
While the card itself is free to order and use, it still acts as a significant revenue generator for the Cash App.
The way that debit and credit cards generate income is through so-called interchange fees, which are applied whenever you pay for something.
Those interchange fees are normally somewhere between 1 percent to 3.5 percent. The actual fee depends on the network (e.g., American Express, Mastercard, Visa), the type of card, and the merchant category (a supermarket pays substantially less than a store selling luxury clothing).
In the case of the Cash App, those fees are then ultimately shared with Visa, the issuer of its debit card. The detailed split is, however, not publicly disclosed.
Moreover, the card also generates revenue from withdrawal fees. It imposes a flat $2 fee for withdrawing money from any ATM.
The card itself has become a huge revenue generator for Block. In 2021, it made a profit of around $500 million from the 13 million people that actively used it. Almost a third of the Cash App's overall user base now own a debit card.
The Cash Card is normally a user's first banking product when they begin to use the app. From there, Block can create a more detailed picture of a user's spending patterns and overall financial situation.
Going forward, the Cash App could use that data to promote other related products and services. For example, if the Cash App records regular expenditures on fuel, it could, for instance, offer things such as car insurance or accessories.
Instant Deposit & Paycheck Fees
Both businesses and individual users can significantly speed up their deposits, which normally take between one to three business days.
In the case of individual users, they pay anywhere between 0.5 percent to 1.75 percent, which ultimately depends on the amount of money deposited.
Similarly, the Cash App also charges users whenever they decide to receive their paychecks via the platform.
Those fees can range anywhere from being free all the way to five percent, which again is dependent on the amount deposited, partnering banks, and such.
The Cash App incentivizes the usage of the paycheck feature by granting users up to three free ATM withdrawals whenever they receive at least $300.
Referral Fees
The last income source of the Cash App is the referral fees it collects for promoting other products and services.
Those are advertised via the platform's Cash Boost product, which grants customers cashback rewards at various coffee shops, restaurants, and other merchants.
More precisely, customers need to use their Cash Card as a debit card. Cash App Pay transactions, which is the firm's version of Apple and Google Pay, are excluded from those rewards.
The Cash App works together with some of the world's biggest merchants including Walmart, DoorDash, Domino's, McDonald's, Twitch, and dozens of others.
Discounts can be as high as 15 percent and are often only available for a selected time period to encourage customers to make a purchase.
The platform, whenever a customer pays at one of those partnering merchants, will receive a referral fee for bringing in additional business.
Those business partners, much like the merchants that accept Cash App payments, simply benefit from the additional demand that the platform is able to generate.
Moreover, customers are much likelier to convert due to the offered discounts as well as because rebates are offered for a limited time only.
And since the Cash App has extensive data on a user's spending habits, it can tailor those offerings to the specific needs and spending habits of said user.
How Much Revenue Does The Cash App Generate?
For the fiscal year 2021, the Cash App generated $12.32 billion in annual revenue while posting a gross profit of $2.07 billion.
Block Inc. itself recorded annual revenues of $17.66 billion (up almost 86 percent year-over-year). As a result, the Cash App accounts for almost 70 percent of Block's overall revenue.
Unfortunately, Block does not feature detailed revenue breakdowns for each of the above-highlighted income streams in its annual report.

Instead, it's broken down into transaction-based revenue, subscription and service-based revenue, as well as Bitcoin revenue (which also involves Block's overall holdings).
More precisely, Block discloses how much it derives from bitcoin trading. In 2021, the Cash App's bitcoin trading revenue was equal to about $10 billion.
Meanwhile, subscription and services-based revenue accounted for $1.89 billion while transaction income made up for the rest (~ $409 million).