Executive Summary:
Zilch is a FinTech company that offers 'Buy Now, Pay Later' (BNPL) solutions to both merchants and customers.
Zilch makes money by charging fees to both customers and merchants as well as via interchange fees from its debit card.
Founded in 2018, Zilch has become one of the fastest-growing startups out there. Its founders have raised close to $390 million.
How Zilch Works
Zilch is a FinTech company that offers 'Buy Now, Pay Later' solutions to both merchants and customers.
The service essentially offers two payment options: either over a six-week period at no interest or immediately (one installment), which provides users with 2 percent in cashback rewards.
Whenever you use Zilch to pay for a product, simply select it as the preferred payment method when checking out. The first 25 percent of a purchase is normally paid during checkout.
Users can also shop directly within Zilch's mobile app, which features all of the companies it works together with.
Zilch works together with thousands of online stores including Amazon, Best Buy, eBay, Nike, Zara, and many more.
Those payment services are, furthermore, offered in conjunction with Mastercard. Zilch has issued a credit card that allows customers to pay (and earn rewards) even when using the physical card.
Zilch connects to a user's account through open banking APIs (such as Plaid) to extend a customer's credit.
Loans sourced via Zilch won't affect a customer's credit score. However, customers are barred from using the service after they miss a payment.
Over two million people have already conducted a purchase using Zilch. The service is currently available in the United Kingdom as well as the United States.
Zilch Company History
Zilch, which is headquartered in London, the United Kingdom, was founded in 2018 by Philip Belamant and Sean O'Connor.
The driving force behind Zilch, however, is Belamant who currently acts as its CEO. Belamant, in the past 15 years, has started and sold various businesses in the financial technology industry.
All while he was busy building those companies, startups like Clearpay or Klarna were redefining how consumers would have to deal with credit.
Participants in the BNPL industry would soon go on to raise billions of dollars while attracting millions of customers and merchant partners.
But both Belamant, as well as various consumer protection groups, didn't like what they were seeing. They each felt that existing BNPL providers would encourage reckless financial behavior, for example by not conducting any background checks and leaving credit scores unaffected.
Given his extensive experience in the FinTech industry, Belamant figured that he could create something better without exploiting consumers.
While he started working on the company back in August 2018, it would take exactly one more year until Zilch finally launched.
The firm launched its beta product back in August 2019, primarily to test how users would interact with it. For the next year, Belamant mainly focused on refining the product experience. Finally, in September 2020, Zilch was unveiled to the public.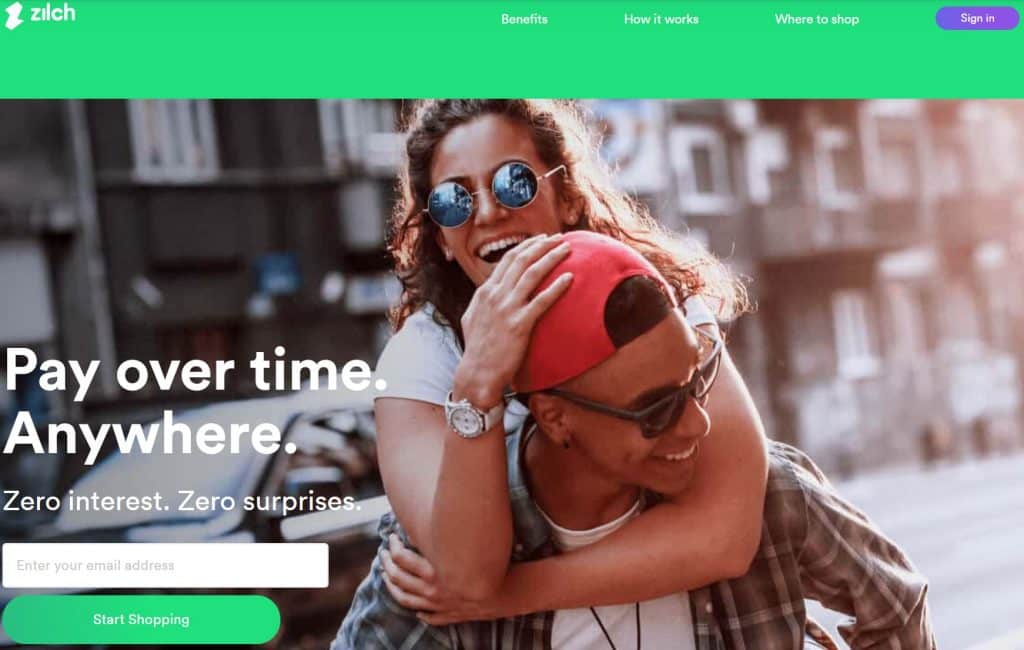 Zilch, alongside the launch, also unveiled that it had raised $10 million in venture funding (Series A round). At the time of the launch, Zilch was already growing by around 15,000 new users per month while counting firms such as Amazon and Nike as merchant partners.
The firm, right from the get-go, utilized AI and Open Banking connections to ensure that loans are adjusted to the customer's level of affordability. As a result, the amount one could borrow would be limited by how much he or she holds in their connected bank accounts.
And due to the already-existing partnership with Mastercard, which enabled users to pay in installments, new merchants did not have to undergo any lengthy integration process.
Zilch, furthermore, required customers to pay 25 percent of the purchase price upfront (during checkout), which encouraged customers to complete the remaining purchases – and allowed the company to counter-position itself against other BNPL providers.
And Zilch continued to double down on that premise by partnering with services such as Credit Kudos to better assess a customer's creditworthiness and affordability. That same month, it also secured a consumer credit authorization with the Financial Conduct Authority (FCA).
In the meantime, the firm benefited from one of the biggest tailwinds the online world had ever seen. The Covid pandemic forced people across the globe to hunker down, which greatly accelerated the adoption of online purchasing.
Naturally, many BNPL providers, including Zilch, would benefit from the increase in buying activity. Zilch, to capitalize on those headwinds, raised another $30 million (Series B) from Gauss Ventures in December 2020.
By the end of 2020, Zilch doubled its customer acquisition numbers to 30,000 a month while counting 160,000 members in total.
But instead of resting on its laurels, Zilch continued to harness the opportunity. In April 2021, it extended its Series B round by another $80 million while being valued at $550 million. At the same time, its user count had risen to over 500,000 members.
And it again would only take another three months until the firm's next funding round. In July, Zilch extended its Series B by another $110 million.
It used portions of that money to make its first acquisition in August. That month, Zilch purchased Miami-based NepFin for an undisclosed sum. The deal enabled Zilch to secure key licensing and regulatory capabilities to eventually expand into the United States.
All of that money was put to good use, mainly by promoting the business through a multitude of marketing channels. As a result, Zilch managed to cross the inaugural mark of one million members by the end of September – just 13 months after officially launching.
The firm's growth was rewarded with yet another funding round in November. Zilch amassed a valuation of $2 billion, thus becoming a unicorn within 15 months. Another $110 million were added to the firm's balance sheet during that round (Series C).
The new year was ushered with some major news: Zilch and Mastercard decided to deepen their partnership, which would enable the BNPL service to launch all across Europe.
Unfortunately, not everything was always going according to plan. The firm would face a huge backlash after it encouraged customers to use BNPL in grocery shopping to buy pizzas and other treats. The company, as a result of that criticism, removed all marketing materials pertaining to that copy.
By March, just six months after reaching its one-millionth user, Zilch already crossed the to-million-member threshold. Two months later, Zilch officially launched in the United States. Over 150,000 people had pre-registered for the firm's launch.
In the meantime, Zilch topped up its Series C round by another $50 million in June 2022. Competitors such as Affirm and Klarna suffered major valuation declines due to heightened interest rates and the prospects of a looming recession.
Zilch, on the other hand, was able to raise at the same valuation ($2 billion). Portions of that funding will be used to fund the firm's U.S. expansion where Zilch is licensed to do reciprocal lending in about 60 percent of all states (as of July 2022).
How Does Zilch Make Money?
Zilch makes money by charging fees to both customers and merchants as well as via interchange fees from its debit card.
So, let's take a closer look at each of the firm's revenue streams.
Merchant & Transaction Fees
The majority of the revenue that Zilch generates comes from the fees that it charges merchants for its BNPL services.
Unfortunately, Zilch does not disclose its fee structure. For reference, its competitors charge somewhere in the range of 2 percent to 6 percent.
The percentage paid is ultimately dependent on the merchant's industry, expected payment volumes, country of operations, and more.
Zilch is able to charge merchants because it takes on the risk of credit default. Merchants get paid regardless of whether the customer ends up paying for his or hers.
Apart from the zero risk, merchants also benefit from allegedly higher basket sizes, increased likelihood of repeat purchases, and better conversion rates.
In essence, the fees that they pay are essentially compensated by the increase in both orders as well as basket sizes.
Zilch, on its part, deliberately makes it harder for customers to be converted by requiring them to pay 25 percent upfront. However, this little hack ultimately leads to more sound financial decisions and thus lower loan default rates.
Customers, at selected stores, also have to pay a small transaction fee that is being displayed upfront.
Additionally, whenever they use Zilch's Snooze feature a fee of £1.50 is applied if the feature is used to pause the payment of the second or third installment.
Zilch's business model is thus predicated on attracting high-quality merchants to its service. The more merchants it has in store, the greater the pool of customers it can tap into. And greater numbers of customers drive merchant growth in return.
Interchange Fees
The other way that Zilch makes money is via so-called interchange fees, which it derives from the customer's usage of the debit card.
Interchange fees are applied whenever you purchase something using a debit or credit card. Those fees are ultimately paid by the merchant that accepts said payment.
Mastercard and Visa, after Brexit, have upped the interchange fee cap in the United Kingdom. Since October 2021, the fee is capped at 1.15 percent for debit cards and 1.50 percent for credit cards.
The previous fee, a result of the country's membership in the European Union, was capped at 0.20 percent and 0.30 percent, respectively.
Mastercard, the issuer of the card, and Zilch consequently share the revenue they derive from the usage of the card. The exact percentage split is not being publicly disclosed, though.
Interchange fees are also the reason why Zilch is able to offer cashback rewards, which consequently act as a loss leader to lure in additional customers.
However, it may be possible that Zilch also receives a referral fee from certain merchants for attracting new customers, which is normally higher than the 2 percent it pays out. And lastly, some merchants may also be official partners and thus pay the above-highlighted fees.
Combining BNPL offerings with a debit card likely encourages card usage, which in turn maximizes Zilch's interchange earnings.
At the same time, the firm can reliably assess default risk since it taps into a customer's bank statements. In fact, Zilch's current default rate on loans is only around 1 percent.
Zilch Funding, Revenue & Valuation
Zilch, according to Crunchbase, has raised a total of $389.3 million across six rounds of venture funding.
Notable investors are Gauss Ventures, Goldman Sachs Asset Management, Ventura Capital, and many others.
Zilch is currently valued at $2 billion after extending its Series C round by another $50 million back in June 2022.
Unfortunately, Zilch does currently not disclose how much revenue it generates. It may do so during a future funding round or whenever it files to go public.