trivago is a travel metasearch engine on which users can compare and book accommodations, cars, flights, and travel packages.
The company, which is headquartered in Düsseldorf, Germany, was founded in 2005 by Malte Siewert, Peter Vinnemeier, Stephan Stubner, and Rolf Schromgens.
Being a metasearch engine means that trivago actually doesn't, for the most part, work directly together with airlines or property owners.
Instead, it scours the web for applicable results, aggregates those data points, and then displays them in an organized manner on either its app or website.
With regards to trivago, it works together with 180+ booking sites, such as Booking.com, Expedia, or Vrbo, to surface those results.
In total, trivago's sites, which also include TripHappy or Weekend.com, cover more than 5 million hotels and other types of accommodations.
trivago, furthermore, puts its own twist on the results it ranks. For instance, it highlights third-party reviews, information about the accommodation or airline, price, as well as its own proprietary score.
The platform, throughout 2021, counted over 282 million qualified referrals. Those qualified referrals are primarily monetized via cost-per-click (CPC) as well as cost-per-acquisition (CPA) advertising.
Revenue, over that same time period, was equal to €361.4 million on profits of €10.4 million. Over 1,000 people are employed by the company on top of that.
Nevertheless, success wasn't always guaranteed. Founder Schromgens was essentially broke when he started trivago after burning through the cash he earned from his first startup sale. Additionally, Stephan Stubner, one of trivago's original co-founders, departed from trivago a year after its launch, only to be replaced by investment banker Siewert.
The founding team only raised around $2 million over the next few years, mainly to maintain a controlling stake in trivago. When they ultimately sold the business in 2012, the payday was thus so much sweeter.
Travel giant Expedia spent $632 million in cash and common stock to acquire 61.6 percent of trivago. Four years later, trivago went public on the Nasdaq stock exchange, becoming the first German company to do so.
Unfortunately, trivago also had to experience some setbacks along the way. Much like the rest of the travel industry, it suffered greatly from the quarantine orders due to the Covid-19 pandemic, which evaporated earnings quite literally overnight.
Additionally, the Australian government, in April 2022, imposed a $32.6 million penalty on trivago. The governing body alleged that trivago made misleading representations about hotel room rates on its website as well as via TV commercials.
The methodology with which competitors of trivago are ranked is based on publicly available information. Data points such as revenue, the number of listings and bookings, the number of employees, and anything else that might be relevant will be considered.
This article only looks at booking site competitors who either aggregate listings from other platforms or directly work together with property owners, airlines, and such. As a result, indirect competitors, such as hotel chains (who actually own the locations they advertise on their websites), will be excluded.
We also consider sister companies of trivago, namely the ones owned by Expedia as well as the parent company itself, as competition.
It has to be noted that this analysis should not be seen as an endorsement of either service. It is merely a summary of the competition that trivago faces as of today.
So, without further ado, let's take a closer look at the top 7 competitors of trivago.
1. Booking.com
Headquarters: Amsterdam, The Netherlands

Founder(s): Geert-Jan Bruinsma

Year Founded: 1996
Booking.com is one of the world's biggest travel sites, allowing customers to book accommodations, cars, flights, travel packages, and more. The website itself can be accessed in 43 different languages and offers bookable options in nearly every country imaginable.
A total of 28 million accommodations are listed on the platform. Apart from offering site-specific discounts, Booking.com also runs its own mini-social network on which travelers can post pictures and write reviews about locations.
Booking.com is part of Booking Holdings, which considers itself the world's leading provider of online travel and related services. The holding company (known as Priceline Group until 2018), apart from the namesake Booking.com, also owns and operates brands such as Agoda, Rentalcars.com, Kayak, and OpenTable, among many others.
University graduate Geert-Jan Bruinsma started Bookings.nl after discovering that the Netherlands, his home country, did not have a popular site to book hotels online.

In 2000, he agreed to merge with another site called Bookings Online. The dot-com crash had wiped out many of the funding opportunities previously available to startups like his, thus forcing him to join forces with another startup.
They then acquired the Booking.com domain name soon after. Priceline, after failed acquisition talks with Expedia, acquired Booking for $133 million in 2005 – a huge bargain in hindsight. Booking Holdings is now worth over $70 billion.
In 2021, Booking Holdings, which unfortunately doesn't break down income figures for its namesake site, generated $11 billion in revenue. Gross bookings were equal to $76.6 billion over that time span. Booking.com itself employs over 15,000 people across the globe.
Source: Booking.com, Booking Holdings, Skift
2. Google Travel
Headquarters: Mountain View, California

Founder(s): Google

Year Founded: 2011
Google Travel is the search giant's own travel-related search engine. It allows customers to search for and book hotels, flights, as well as vacation rentals. Google Travel, as opposed to trivago, utilizes reviews from its Maps product to provide travelers with inspiration.
The search giant officially entered the travel segment in 2010 when it purchased flight information software company ITA for $700 million. A year later, it launched both Hotel Finder and Flights, which have since grown into very profitable revenue streams for Google.
However, due to Google's sheer size (and thus required coordination) as well as pending antitrust lawsuits, it has been very deliberate about introducing new features to its travel product. For example, in May 2022, Richard Holden, Google's VP of Travel Products, unveiled more planning tools for travelers as well as a price notification system.
Being the dominant search platform and a key mobile OS player (via Android) enables Google to favor its own products over those of competitors such as Expedia or TripAdvisor. For example, simply searching for 'flights' on Google will prominently feature the platform's comparison tool over those of other competitors.
Even trivago CEO Axel Hefer has publicly criticized Google in the past. Hope may be on the horizon, though. In June 2021, Congress passed the American Choice and Innovation Online Act, which would prohibit platforms such as Amazon or Google from promoting their "own products, services, or lines of business over" those of competitors.
Until then, companies like Booking, Expedia, or trivago will have to spend billions in ad dollars to have a chance at competing with Google's own travel products.
Source: CNBC, Redeam, Skift, Travel Pulse
3. Expedia
Headquarters: Bellevue, Washington

Founder(s): Rich Barton, Richard Bangs

Year Founded: 1996
Expedia is the world's second-biggest travel holding company with combined yearly earnings of $8.6 billion on gross bookings of $72.43 billion. As previously stated, Expedia owns a large chunk (> 60 percent) of trivago.
Additionally, it has acquired 20+ brands such as Hotels.com and Vrbo, apart from owning the namesake Expedia.com platform. On Expedia.com itself, travelers can book anything from activities, cars, cruises, flights, stays, and more.
More than 3 million property owners as well as 500+ airlines, cruises, and car rental companies are now directly working together with Expedia.
Expedia has since expanded into other verticals. For example, it offers a white-label software solution with which businesses can launch their own comparison sites.
The site was initially launched as a sub-division of Microsoft, dubbed Microsoft Expedia Travel Services, with the purpose of being promoted on the firm's MSN portal. Expedia itself is a combination between the words 'exploration' and 'speed', which the platform prided itself upon from the get-go.
Three years after it launched in 1996, Expedia was spun out of Microsoft and went public on the Nasdaq stock exchange. In 2003, Barry Diller's IAC acquired a controlling stake in Expedia. And just another two years later, the Expedia Group was spun out as a separate entity once again.
However, being a company of such size certainly doesn't free Expedia from controversies. It became subject to a class-action lawsuit for refusing to hand out refunds on canceled flights during the Covid-19 pandemic.
Source: Expedia Group, Funding Universe, USA Today
4. Airbnb
Headquarters: San Francisco, California

Founder(s): Brian Chesky, Joe Gebbia, Nathan Blecharczyk

Year Founded: 2008
Airbnb is an online marketplace that connects travelers with property owners (so-called hosts) who are renting out their homes for a limited amount. The platform has since onboarded 4 million hosts, boasts 6 million worldwide listings, and facilitated over 1 billion guest arrivals.
Travelers can book all kinds of accommodations including beach houses, cabins, cottages, treehouses, tiny homes, and many more. They can, furthermore, purchase travel activities (such as city tours or cooking classes) in those very same locations.
What makes Airbnb so appealing is its user-centric focus. For example, hosts are advised to use professional photos. Additionally, bookings can often be completed in as little as three clicks, thus minimizing friction.
Today, Airbnb generates $6 billion in annual revenue (2021) while employing 6,000 people across the world. Travelers can find an Airbnb-listed property in more than 100,000 cities and towns.
Being an Airbnb host can mean profitable business as well. The average U.S.-based property owner makes close to $14,000 per year on the site alone. In total, Airbnb's hosts have earned over $150 billion via the platform.
However, on its way to global dominance, Airbnb has also been embroiled in various legal battles with cities across the world. These cities claim that property owners would run illegal hotel operations without paying the necessary tax.
Additionally, some have argued that Airbnb's mere existence has led to higher rental costs (especially in popular destinations such as Barcelona or New York City), pricing out locals in the process. Trashed Airbnb rentals are certainly not uncommon, either.
Investors didn't seem too worried, though. They have poured a combined $6.5 billion into the company, which went public in December 2020 and is valued at over $60 billion.
In recent times, Airbnb underwent one of its biggest-ever redesigns, putting travel inspiration at the forefront of its platform. The redesign itself has been aided by former Apple designer Jony Ive.
Source: Airbnb, Crunchbase, The Verge
5. Agoda
Headquarters: Singapore

Founder(s): Robert Rosenstein, Michael Kenny

Year Founded: 2005
Agoda surfaces results for what it thinks are the best accommodations, flights, car rentals, airport transfers, and bookable activities. Close to 3 million accommodations and over 200 airlines are featured via the platform.
In fact, with around 4,000 employees as well as 25 local offices spread across the globe, Agoda is considered one of Asia's leading tech companies. The core Agoda.com platform is, furthermore, available in 200 countries.
It has, due to its regional presence, dominated the Southeast Asian market for the first few years of its existence. However, towards the beginning of the 2010s, new entrants began to take away its market share, which prompted Agoda to expand into other regions across the globe.
Interestingly, Agoda wasn't the first startup endeavor of co-founder Michael Kenny. He first arrived in Thailand back in 1994 to work for the Arcadia Hotel Group, which is now known as Hilton Hotels.
As the internet began to take shape, he launched various travel-related sites such as PlanetHoliday.com (1997) and PrecisionReservations.com (2003). The former, for example, became one of the region's first hotel reservation sites.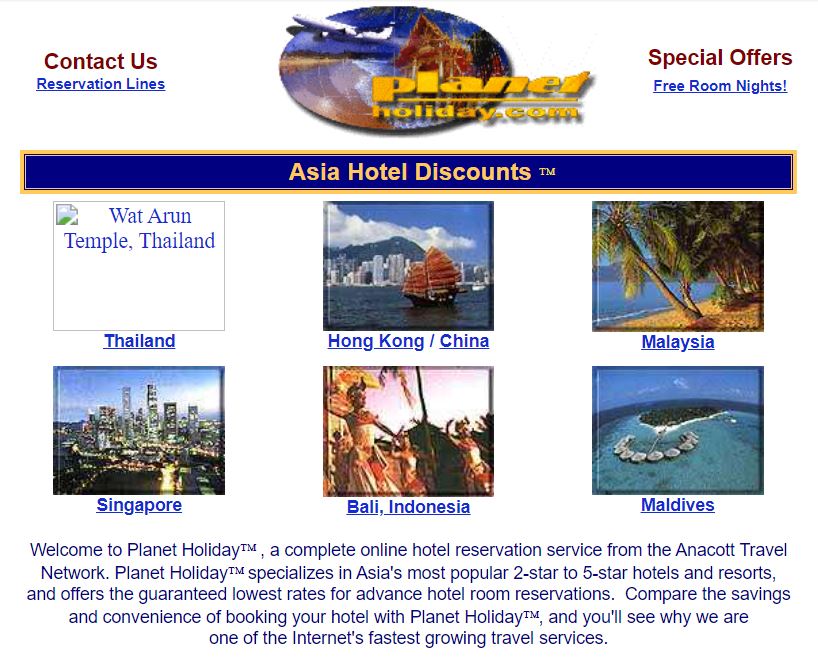 In 2002, friend and fellow internet entrepreneur Robert Rosenstein joined Kenny and even invested money into Agoda Ltd., a newly formed entity that combined PlanetHoliday and PrecisionReservations. Three years later, they terminated those projects and merged them into Agoda.com.
In 2007, just two years after the launch of Agoda, the founders already sold the business to Booking Holdings (then Priceline Group) for an undisclosed amount. Unfortunately, Booking Holdings does currently not disclose revenue figures for Agoda.
However, Agoda, instead of surfacing results from other websites, directly works together with hoteliers, property owners, and such.
6. Trip.com
Headquarters: Shanghai, China

Founder(s): James Liang, Min Fan, Neil Shen, Travis Katz

Year Founded: 1999
The biggest Chinese travel site, initially dubbed Ctrip, is Trip.com. The platform fulfills any need a traveler might have, allowing them to book accommodations (hotels, houses, apartments, etc.), flights, trains, cars, tours, cruises, and activities.
Trip.com claims that it can grant you access to app-only prices, which are discounted by up to 20 percent. Its loyalty program, furthermore, gives customers access to a variety of benefits including discounts or 24/7 support.
The platform currently works together with 480 airlines while offering 1.4 million hotels and homes. With over 400 million members, $1.1 billion in annual revenue (2021), and around 45,000 employees, it is rightfully considered one of the biggest travel agencies in the world.
However, not all of those employees work for Trip.com directly. In November 2016, for example, it acquired leading flight comparison site Skyscanner for $1.6 billion. Apart from Skyscanner, Trip.com also owns and operates Ctrip, MakeMyTrip, and a slew of other web properties.
Trip.com itself, during the peak of the dot-com bubble, was initially launched as Ctrip and solely focused on the Chinese travel market. Former Oracle software engineer James Liang and three of his acquaintances started the firm as a local copycat version of sites like Booking.com.
China's rising economic power and the thus wealthier population eventually allowed Ctrip to go public on the Nasdaq stock exchange in 2003. Decades later, in 2017, Ctrip acquired Trip.com, which at the time boasted 3.5 million registered members. Two years after, Ctrip changed its name to Trip.com Group to highlight the firm's wider international ambitions.
Unfortunately, Trip.com also continues to suffer from the effects of the Covid-19 pandemic. Most of its revenue is still derived from China, which continues to impose strict lockdown measures on its citizen – thus limiting travel in and out of the country.
7. HomeToGo
Headquarters: Berlin, Germany

Founder(s): Nils Regge, Patrick Andrae, Wolfgang Heigl

Year Founded: 2014
HomeToGo is another Germany-based aggregation. The firm claims to offer the world's largest selection of vacation rentals. In fact, HomeToGo says that it features over 15 million properties on its platform.
Much like trivago, it does not work together with hosts and hoteliers directly. Instead, HomeToGo sources results from hundreds of sites including Airbnb, Booking.com, Vrbo, and TripAdvisor. It provides travelers with information on price, destination, dates, and amenities. The platform, as of today, doesn't surface results for flights or car rentals, though.
HomeToGo, furthermore, operates local booking platforms in 25 countries across the globe. The platform, for example, owns CaseVacanza.it, Tripping.com, or Wimdu (which was launched as the European version of Airbnb but ultimately failed).
Recently, the company went on an acquisition spree to take advantage of the heightened increase in travel. In March 2022, for example, it acquired e-domizil for $45 million. Six months prior, HomeToGo went public on the Frankfurt Stock Exchange (September 2021).
Investors had previously poured $176.7 million into the business. HomeToGo, which employs over 500 people, generated €123 million (up 51 percent) during the fiscal year 2021.
Customers on HomeToGo can book anything from apartments all the way to farmhouses or castles. Investors have poured a combined $176.7 million into HomeToGo, which went public in September 2021. That same year, the company, which employs over 400 people, recorded $105 million in revenue for the fiscal year 2021.
Source: Crunchbase, HomeToGo, PhocusWire