Executive Summary:
Strike is an online real estate agency that allows users to purchase and sell a home without paying the associated agent fees.
Strike makes money via premium services as well as from referral fees paid out by the companies it partners with.
Founded in 2007, Strike is now one of the biggest online real estate agencies in the UK. The firm has sold homes worth more than £5 billion since it was started.
What Is Strike?
Strike is an online real estate agency that allows users to purchase and sell a home without paying the associated agent fees.
In fact, Strike claims to be the "fastest-growing estate agent in the UK" – when it comes to both online and offline agencies.
The firm has sold more than £5 billion worth of homes since it launched. Every month, Strike helps over 3,000 people to find a new home or sell their current ones.
Selling a home via Strike is fairly straightforward. First, sellers provide photos, floorplans, detailed descriptions, as well as the property's Energy Performance Certificate (EPC).
A Strike agent provides the seller with a valuation. If the seller agrees, then the listing is uploaded on a multitude of real estate sites such as Rightmove or Zoopla.
Optionally, sellers can choose to arrange viewings and even have Strike negotiate on the owner's behalf. Strike also manages the whole sales process, from talking to buyers all the way to closing the deal.
Customers benefit from using Strike due to the lower associated cost of both buying and selling. Strike also doesn't operate any costly branches and can thus pass on those savings.
Additionally, the firm says that it can facilitate transactions substantially faster than a common real estate agent because of the tools it provides agents with as well as due to the traffic its website generates.
Apart from being able to buy or sell a home, users can also access Strike's own moving services, mortgage advice, and conveyancing offering.
Strike itself can be accessed by visiting the firm's website or downloading its mobile app, which is available on Android and iOS devices. The service is currently available to users across England.
Recapping Strike's Founding Story
Strike, headquartered in Colchester, United Kingdom, was founded in 2007 by Alexander and Sophie Gosling.
Back when it launched, Strike was actually called HouseSimple while Sophie's last name had been Cronin.
Alexander and Sophie, as you've probably guessed, eventually married while building the business from the ground up.
When the duo launched HouseSimple back in June 2007, it was one of the first digitally-enabled real estate agencies in the country.
At the time, and probably still applicable to this date, real estate agents were pocketing fees that they then invested into fancy cars and luxurious offices – costs that the Gosling's thought could easily be avoided and passed onto the customer.
And they were certainly well equipped to tackle that problem. Sophie's father spent his entire career as an architect and property developer. His daughter eventually followed in his footsteps and ended up working in relocation at companies such as Deutsche Bank for six years.
Alexander, on the other hand, worked in various marketing roles and managed projects for brands such as Pixar, Vodafone, BT, Lloyds TSB, Vauxhall, Ralph Lauren, and L'Oréal.
When they launched HouseSimple back in June 2007, they did so by aggressively pricing their offering.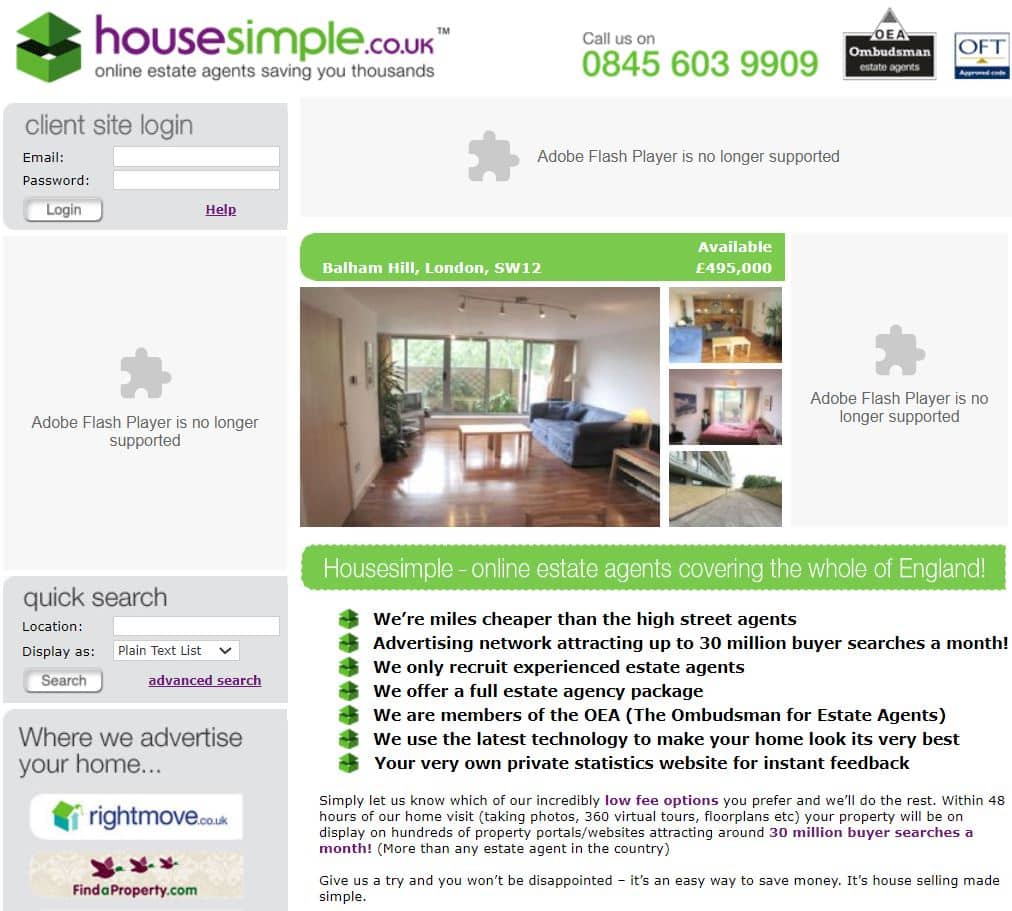 They essentially offered three plans: pay £199 upfront and the firm takes a 0.10 percent fee of the sale price; £99 upfront with a 0.25 percent fee; or pay nothing and have HouseSimple charge 0.50 percent.
Traditional real estate agencies, in the meantime, were charging 2 percent at the absolute minimum – and oftentimes even more than that.
In October, a mere four months after they launched, Alexander and Sophie completed their first big sale. They managed to sell a £3 million Essex home for which they 'only' charged 0.67 percent, allowing the seller to save over £40,000 in fees.
Interestingly, for the next years, HouseSimple stayed relatively quiet while the founders focused on bootstrapping the business. The great financial crisis of 2008, which caused housing prices across the globe to plummet, likely contributed to the founders refusing to raise capital since they would've received unfavorable terms.
Yet, the team still managed to double revenues every year on average for the first seven years. By the end of 2015, HouseSimple was already claiming to be the second-biggest online agency right behind PurpleBricks.
Around the same team, the team managed to attract their first round of outside funding. Carphone Warehouse founder Sir Charles Dunstone poured £5 million into the business.
In the meantime, HouseSimple was voted online estate agency of the year at the 2014 and 2015 Negotiator Awards. The increased recognition enabled HouseSimple to raise another round of funding in June 2016.
The firm, which tripled property listings for the previous year, managed to raise another £13 million in funding. HouseSimple essentially just kept up with industry trends since competitors such as PurpleBricks, easyProperty, and eMoov also announced raising money.
At the time, only around 5 percent of all homes in the UK were sold online, a figure that was expected to grow to over 50 percent by 2020.
To capture more of that market share, the firm decided sharply drop its prices amidst others, such as eMoov and PurpleBricks, raised theirs.
However, the firm's low prices and more specifically its claims also got HouseSimple in trouble. Clearcast, the body that decides whether TV advertising can be displayed, investigated one of the firm's ads for allegedly claiming its fees were too low (among other statements). Luckily, the complaints issued against HouseSimple were ultimately resolved in August 2017.
This enabled HouseSimple to finally go through with its first national TV campaign dubbed 'Who's Derek?'. In order to finance those campaigns, it raised another £20 million in funding in December 2017.
Meanwhile, founder and longtime CEO Alexander Gosling announced that he would step down from his role that same month. Sam Mitchell, who spent over a decade in real estate at firms such as Rightmove, became his replacement.
Another portion of the funding was used to implement further discounts. In April 2018, it became a no sale, no fee only agency, meaning the firm would only charge fees whenever it successfully sold a home.
And exactly a year later, in June 2019, it lifted those fees altogether. This meant that even if the firm managed to sell a property, it wouldn't charge an agent fee.
Some of HouseSimple's competitors, such as Russell Quirk (founder of Emoov), began to publicly criticize the firm for dragging fees down as much as possible. HouseSimple, on the other side, argued that the greater number of leads would certainly make up for the lack of earnings.
In the meantime, it continued to expand its model across the nation. In December 2019, the agency introduced its service in the British Midlands.
Half a year later, during the summer of 2020, HouseSimple managed to raise another investment round involving media powerhouses such as ITV and Channel 4. Both agreed to heavily feature the company's services in exchange for equity.
Additionally, HouseSimple unveiled its new brand identity, which involved a rebranding into Strike back in July. The firm, in an effort to overtake its largest competitor PurpleBricks, also began to expand its services across the nation.
By January 2022, Strike had finally managed to become available across England. It had previously raised another £11 million to fund those efforts. Strike is now considered one of the fastest growing online agencies in the UK while accounting for more than 10 percent of home sales in various markets.
How Does Strike Make Money?
Strike makes money via premium services as well as from referral fees paid out by the companies it works together with.
As previously stated, Strike made some serious headwinds when it announced the removal of its agent fees back in June 2019.
This move stood in stark contrast to common practices in the real estate brokerage model. Even the firm's online competitors, such as PurpleBricks, still charge around 1.5 percent (some more, some less) whenever they manage to sell a property.
Traditional real estate agents normally charge anywhere between 0.75 percent to 3 percent, depending on location, the type of property, and so forth.
Strike, in adopting its cheaper volume-based business model, basically took a page out of the retail playbook popularized by firms such as Tesco or Walmart.
In essence, Strike's free selling service acts as a loss leader through which the company is able to acquire leads (similar to the heavy discounts a chain like Tesco offers).
However, its thinking is that the volume of leads will likely make up for that. This means its free services are likely to attract a sufficient number of people who are open to purchasing additional packages or services.
Meanwhile, the firm utilizes technology and is thus able to automate tasks such as the uploading of listings on the hundreds of sites they're advertised on.
Additionally, Strike does not operate any costly physical branches, which allows the firm to substantially minimize costs.
In the case of Strike, it offers various add-on packages including hosted viewings (starting at £699) or increased listing exposure (costing at least £599).
Strike claims that 60 percent of its users do opt into one of its paid packages while the rest chooses to not pay anything.
The agency, apart from its own services, also refers customers to other products. For example, Strike's mortgage advice is free in 99 percent of all cases while the complex 1 percent are charged £499.
But the money is actually being made from referring customers to those borrowers. Strike essentially gets a cut from the interest that home buyers would pay for that loan.
Going forward, it isn't impossible to imagine that the firm continues to expand its premium service offerings. Strike could, furthermore, create products aimed at real estate agents and allow them to directly interact with the platform's customers – in exchange for a fee, of course.
Strike Funding, Revenue & Valuation
Strike, according to Crunchbase, has raised £33 million across two rounds of venture funding thus far.
Its investors include Freston Ventures, Toscafund Asset Management, as well as co-founder of mobile phone retailer Carphone Warehouse Charles Dunstone.
Unfortunately, Strike is not obligated to disclose revenue or valuation figures as a company in private ownership. It may decide to do so during a future funding round or whenever it decides to go public.