Executive Summary:
Poshmark is a marketplace where merchants offer fashion-related items to interested buyers. The company differs from other operators (e.g. eBay) by incorporating social elements, such as likes and followers, into the platform.
Poshmark makes money via commissions on peer-to-peer sales, its premium boutique service, as well as by taking a cut on products sold via wholesale.
Founded in 2011, the company has proven to be hugely successful. More than 60 million users access its platform every month. Poshmark went public in January 2021.
What Is Poshmark?
Poshmark is a social commerce application available on both iOS and Android as well as their website. The platform offers female, male, kid fashion and home décor items.
On the platform, users are responsible for uploading and selling the products. Hence, Poshmark does not own the articles sold within the application. Poshmark can therefore be seen as an online marketplace where sellers exchange goods and services with potential buyers.
Poshmark is thereby only responsible for facilitating the transaction, that is providing safe payment solutions and shipping options. Authentication services are furthermore provided by Poshmark for any articles sold above 500$ (called Poshmark Authenticate).
What makes Poshmark different from other shopping platforms is its emphasis on social and user interaction. For instance, merchants are not limited to selling goods, but have a social profile consisting of shares and followers.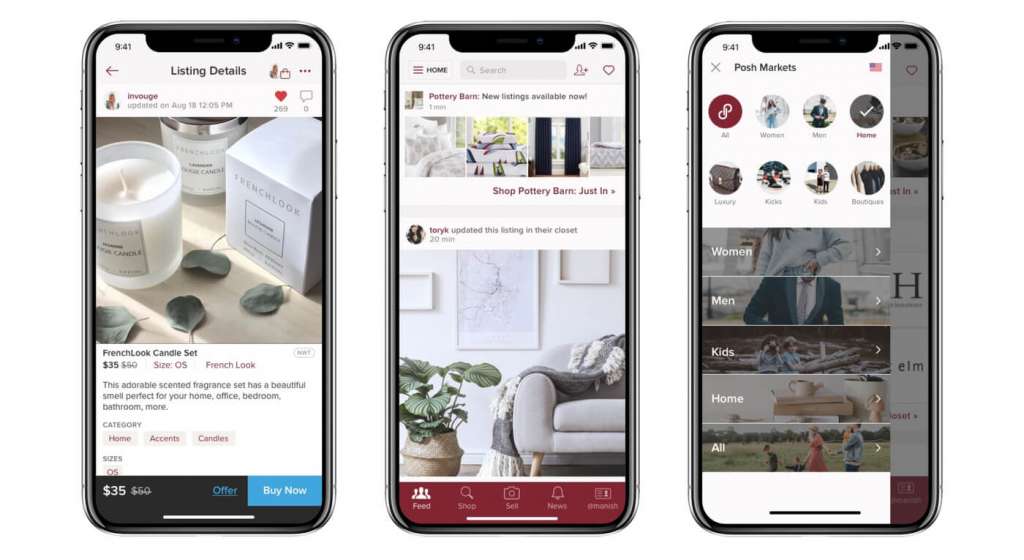 Furthermore, Poshmark organizes live events called Posh Party. These take place either within the platform or in different physical locations across the US and Canada.
Posh Parties are hosted around different themes, for instance Chanel or certain product types such as shoes. Within the party, users can interact with and get to know each other or simply sell a product of their choice.
Lastly, users can create virtual closets that people can follow. This acts as an inspiration and then appears on the user's feed. But as opposed to social apps such as Instagram or Pinterest, all the shared items are actually for sale.
A Short History Of Poshmark
Poshmark, headquartered in Redwood City, California, was founded in 2011 by Manish Chandra, Chetan Pungaliya, and Tracy Sun.
Chandra, who is the company's acting CEO, grew up in India. He spent the first 15 years of his life moving homes every two to three years due to his father's placement as a judge. Judges in India are moved frequently between jurisdictions to avoid bribery and corruption.
He then went on to study computer science at the elite Indian Institute of Technology Kanpur, followed by a master's at the University of Texas, Austin. His professional career started in 1989 when he got assigned to work on database systems at Intel. After a year at Intel, he worked for numerous database startups and completed his MBA at UC Berkeley in 1995.
At his daughter's school, Chandra ran into Pungaliya, who he had previously worked together with at one of the mentioned startups.
Chandra shared his ideas about a bookmarking site, which would allow visitors to collect links to home décor items they intend to buy. That site became Kaboodle, which the pair sold to Hearst Media for a reported $30 million in 2007.
As both social media and mobile phones reached mass adoption, Chandra was itching to start another business in the social commerce space. And four years after his successful exit, that urge manifested itself in the launch of Poshmark.
Months earlier, he got introduced to Sun through a mutual friend. After graduating from prestigious Columbia University, Sun started her career as a clinical researcher in the field of neuroscience. She then went on to do her MBA at Dartmouth and held various marketing-related positions.
That experience led her to start her own business, a platform to design and share your own fashion designs, in 2007. The startup gained early traction, but the technology couldn't support it as the site kept constantly crashing. Add to that an ongoing financial crisis, which made it very hard to raise the necessary capital to keep the business afloat.
After her failure, Sun moved to San Francisco in 2009 where she ended up meeting Chandra. They bounced off numerous ideas – and in the end launched Poshmark, a hybrid between posh and marketplace.
They officially launched as a mobile-only company in 2011. While they were only able to gather over 1,000 users in their first year, things still looked promising. One key data point they observed was that users spend on average 25 to 30 minutes a day on the app. This measure was very much in line with other social media players like Facebook or Instagram.
Over the next years, user growth matched the impressive engagement numbers the founders observed. By end of 2013, people were uploading a million dollars worth of merchandise a day.
The reason the app grew exponentially over the following years was twofold: First, Poshmark heavily engaged with its user base by establishing a close relationship. For instance, they organized (and still do) regular events for their sellers called Poshfests.
Second, sellers were seeing massive financial gains on the platform. Some of their merchants are supposedly making over six figures a year. This, in turn, makes them upload more engaging content and products, which fuels user engagement and growth. These are key characteristics of a modern marketplace model.
Nevertheless, Poshmark's tremendous growth hasn't been without roadblocks. In 2013, the company almost went bankrupt because servers couldn't keep up with the influx of people coming to the platform.
A few years later, in 2019, Poshmark's database was breached. Hackers stole information such as the user's name, birth date, email, and passwords.
In recent times, Poshmark has helped thousands of its sellers to generate additional income during the Covid pandemic.
Some of the sellers even become influencers themselves, taking advantage of the company's social features, which allow them to cross-promote into other platforms like Instagram and Tik Tok. The increased fame allows them to close brand partnerships
In September 2020, Poshmark announced that it confidentially filed for an IPO, which it did a few months later in January 2021. Just like many of the other recent IPOs, Poshmark's stock soared by over 140 percent at the date of going public.
In recent times, Poshmark has expanded into new categories such as pets and announced partnerships with the likes of Snapchat, which created an in-app store dubbed Poshmark Mini.
Today, Poshmark's platform attracts over 60 million users every month, which are served by 5 million sellers. The company employs more than 2,000 people across 5 global offices.
How Does Poshmark Make Money?
Poshmark makes money via commissions on peer-to-peer sales, its boutique service, as well as products that it offers on wholesale.
Let's dive into each of these revenue streams in more detail below.
Peer-To-Peer Sales
Poshmark does not hold any inventory of its own but acts as a facilitator of the transaction. For this service, it takes a percentage cut from each transaction. Hence, Poshmark operates on a commission-based business model.
As opposed to its other competitors, Poshmark bets on making the process as smooth and transparent as possible for its merchants. For every sale below $15, the company charges a flat fee of $2.95. For any sale above the $15 mark, a 20 percent commission is charged.
As discussed in previous chapters, Poshmark is a peer-to-peer marketplace where private merchants sell new or used fashion-related items to interested buyers.
If an article passes the threshold of 500$ (and thus classifies as a luxury good), Poshmark handles the authentication process. Other duties include the handling of the payment and logistics process.
The fees it charges are used to cover the cost of running its platform as well as authenticating the products.
Boutique
Boutique sellers on Poshmark are merchants that operate more professionally, similar to a small brick and mortar store.
Being tagged as a boutique on Poshmark acts as an indicator that the products sold are authentic, in new condition, and of good quality.
Boutique sellers have to follow a couple of rules, ranging from clear photos and product descriptions to a proof of where the goods were bought.
If a merchants wants to become a boutique seller, he or she has to obtain a certification. To receive it, interested sellers pay a flat fee of $20.
Wholesale
In late 2015, Poshmark launched a new service called Poshmark Wholesale. The portal allows sellers to buy bigger quantities of inventory to sell in their store.
As such, sellers can take advantage of price discounts and make greater profits on their listings. To access the wholesale portal, sellers need to have at 10 or more sales, a rating of 4.5 or above, and the Boutique Certification.
Within the portal, sellers buy from established wholesale retailers such as April Spirit or Function & Fringe.
Similar to the peer-to-peer transactions, Poshmark takes a percentage cut from each wholesale transaction. Unfortunately, these numbers are not publicly disclosed.
Poshmark Funding, Revenue & Valuation
According to Crunchbase, Poshmark has raised over $153 million in six funding rounds. Its last Series E funding round came in November 2017 and was led by Singaporean holding company Temasek. Although not publicly disclosed, the round valued Poshmark at roughly $600 million.
Other major investors into the company include Mayfield Fund, Menlo Ventures, GGV Capital, Inventus Capital Partners, and private angels such as Ashton Kutcher.
During the firm's January 2021 IPO, Poshmark was able to raise another $277.2 million. Poshmark was valued at $3 billion when it went public.
Poshmark reported revenues of $262.1 million for the fiscal year 2020, up 28 percent from the year prior.