Executive Summary:
Pinterest makes money from advertising. The company offers a variety of different ad formats such as Idea Pins or Shopping ads.
The advertising-based business model of Pinterest is thus reliant on driving user growth, which it does by supporting creators on its platform.
What Is Pinterest?
Pinterest is a visual bookmarking platform that enables its users to discover and save images or videos in their own albums called Boards.
The company, which is headquartered in San Francisco, California, was founded in 2010 by Ben Silbermann, Evan Sharp, and Paul Sciarra.
Pinterest, as the name would suggest, is often used as a virtual pinboard to capture one's interest across a variety of categories such as cooking, fashion, and so much more. The images, called Pins, are then saved on boards.
Once the platform learns what your preferences are, it tailors the personal feed according to them. Users can consequently follow other accounts as well as like, share, and comment on their posts.
Furthermore, users can create boards, which are digital photo albums that include all of the saved photos. Boards can then be organized within sections.
Pinterest has since expanded from its photo-first approach to also include short-form videos under a dedicated Watch tab.
Users, due to the platform's inherently visual nature, can not only discover ideas but shop products they find via Pinterest as well.
Today, Pinterest is one of the biggest social and visual platforms of its kind and is right up there with competitors such as Instagram or TikTok. After raising $1.5 billion in venture funding, its founders took Pinterest public back in April 2019.
The Pinterest Business Model Explained
The business model of Pinterest is largely based on advertising. Relying on ads remains the modus operandi for almost all social media platforms like Facebook or Instagram.
The reasoning behind pursuing an ad-based business model is that it allows the platform to remain free to access.
This, in turn, brings in substantially more users as well as creators. Those creators are attracted to the platform due to the prospects of building a substantial following, which they can then monetize in a variety of ways.
Being engaged (= ensuring that users consume the ads they see) by creator-led content is thus a core pillar of Pinterest's advertising-based business model strategy.
Engagement & Creators At The Center
Pinterest, due to its inherently visual nature, is particularly reliant on users to create engaging content that keeps people on the platform.
Again, the better the content on Pinterest, the more users will join the platform, which means that more ads can be served.
On the creator side, Pinterest has been engaged in various initiatives to attract them. And since money makes the world go round, that's exactly what Pinterest has focused on as well.
In April 2021, it announced the launch of a $500,000 creator fund through which it would compensate users for posting certain types of content. A year later, Pinterest added another $1.2 million to the fund but ultimately closed the program in November 2022.
However, what remains is another initiative called Creator Rewards, which Pinterest is investing $20 million into. There, creators can get paid for meeting certain goals such as impressions or likes.
Pinterest isn't the only one that's paying creators on the platform, though. Since the summer of 2021, creators can earn income by inserting their own affiliate links. Those recommendations are based on so-called Product Pins, which enable users to click through to find and then buy a product.
Simultaneously, Pinterest also introduced a Paid Partnership tool that enables creators to find other brands to promote.
Apart from helping creators to monetize their accounts, Pinterest aids them in promotion and growth as well. First, creator profiles are prominently featured in its search tab.
The company has also introduced Pinterest TV, a series of live and shoppable episodes that highlight its most popular creators. The series allows creators to showcase their own or recommended products. In July 2022, Pinterest extended the format to over 50 different shows.
Pinterest has since added a TikTok-style Watch tab for short-form videos as well as live-stream events to its slate of video-related content. Extending to videos consequently diversifies the types of users Pinterest can attract.
The firm's commitment to creator growth even extends beyond its own platform. In March 2022, Pinterest announced that creators could export their content to other video platforms. This is particularly accommodating considering that competitors like Instagram have tapered the exposure of videos with a TikTok watermark in an effort to boost their own short-form video offering.
Other initiatives that Pinterest has undergone include organizing a dedicated event called Creator Festival, releasing dedicated video editing tools and guides, launching a trend analysis tool, and much more.
Once again, the more content its creators release into the wild, the likelier Pinterest is to continue growing. However, it has also worked on a variety of initiatives to boost user growth without relying on creators.
For example, back in 2019, it released a 'Lite' version of its app for developing markets that do not have a sufficiently fast internet connection. Extending its platform to other languages and regions, such as Hebrew in March 2022, is yet another key growth initiative.
Yet another huge pillar of Pinterest's ongoing growth is the utilization of artificial intelligence (AI) technology, which certainly warrants its own chapter.
Utilizing Artificial Intelligence
The reliance on AI, namely in the form of machine and deep learning technology, has allowed the likes of Apple, Amazon, and Google to grow into the world's greatest money-printing machines.
Pinterest, although not nearly as sophisticated as the trio mentioned above, has certainly benefitted from the AI revolution as well.
Today, AI-based technology is present in the entirety of Pinterest's platform, ranging from discovery to moderation.
The firm realized how important machine learning-based content discovery is as early as 2015 when it acquired recommendation engine startup Kosei for an undisclosed sum.
Kosei's and internally developed tech are then used to serve the most relevant content based on the user's search history and the limited search input they provide (e.g., 'blue sofa').
Pinterest, once it has built a user profile, then uses an internally-developed technology called graph stages, which essentially is a giant database that hosts images and recommends similar ones based on the user's preferences.
Consequently, the more the user adds to his or her board, the better Pinterest understands what they like and dislike.
Within its graph stages database, Pinterest utilizes a neural network dubbed PinSage. Each image is consequently assigned a specific theme (oftentimes by manual reviewers). This enables Pinterest to contextualize those images and thus surface related ones (again, based on the tagging that has been done before).
Pinterest's image recognition technology also comes into play when talking about augmented reality (AR). In January 2020, it unveiled a new feature that enabled users to virtually try on products such as lipstick.
That feature has since been extended to include eyeshadows and even furniture that can be placed within a room. Users even have the ability to snap a picture of a piece of furniture or clothing to receive similar product recommendations.
Alternatively, thanks to the firm's integration with the likes of Walmart, they can also access other product catalogs and use AR to check how a certain piece of furniture would look like in a room.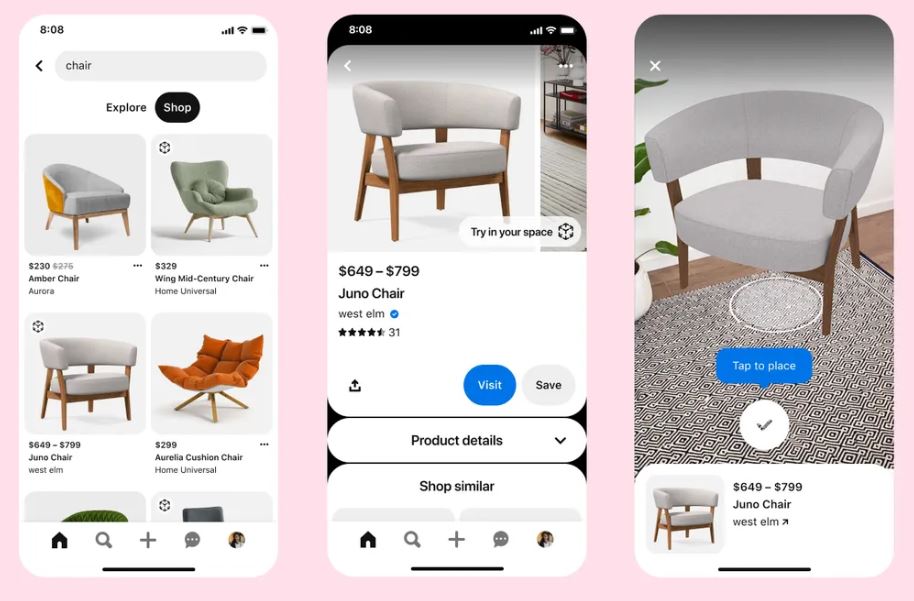 Human-reviewed pins are also utilized to train its algorithms on flagging and then limiting the reach of harmful content. Pinterest uses a scoring model to flag suspicious boards and user accounts. Once an account hits a certain score threshold, it is either paused or outright banned.
For example, one of its models specifically scours the platform (text and images) to find keywords or texts commonly associated with medical misinformation. Those images are then blocked across search, the home feed, as well as related pins.
All of this tech is enabled by Pinterest's experimentation platform that the company built from scratch. It enables its engineers and product managers to run hundreds of experiments at any given moment in time.
Interestingly, but certainly not all that uncommon in the world of tech, over 70 percent of experiments never see the light of day because they weren't deemed successful. Instead, the focus is centered around quick iteration and learning to release as many desired features as possible.
Pinterest, despite being able to churn out quite a number of features, isn't able to do everything by itself, though. For a lot of initiatives, the firm actually relies on partnerships, which we'll cover in the next chapter.
Growth Through Partnerships
Now, although Pinterest is a company that generates billions of dollars in revenue per year, it certainly can't do everything.
As a result, it's often reliant on partnerships to extend the functionality of its platform. Partnerships are a fairly common pillar of the tech business model playbook.
Pinterest's most significant partner is likely Shopify whose business model is predicated upon inserting itself into as many social platforms as possible.
That partnership has been ongoing since May 2020 and enabled Shopify users to turn their catalogs into shoppable product pins. Merchants would, furthermore, be able to add key info such as price, availability, and product descriptions.
A year later, the two expanded that partnership into 27 new countries. And when Pinterest introduced in-app checkouts in March 2022, they were powered by Shopify, too. Within e-commerce, Pinterest has also integrated its platform with WooCommerce, a Shopify competitor.
On the content side, multiple partnerships have been formed as well. The 50 new Pinterest TV episodes that I've mentioned above are actually produced by the media company Tastemade.
Talking about media, Pinterest has also reached licensing deals with major record labels like Warner Music Group, thus enabling creators to use music within their videos.
On the creator side, Pinterest partnered with Vimeo to give its users access to the video platform's Vimeo Create tool.
And with regards to distribution, Pinterest is natively integrated into Microsoft's Edge browser, thus displaying its recipes and other content within Bing's search results. Users can even save their pins directly within the browser.
All of these examples are meant to highlight that Pinterest heavily relies on partnerships across all of the firm's core areas, whether that's growth, content distribution, creator monetization, and more.
Snapchat is another social startup that has leaned heavily into partnerships (as well as localization) within its business model strategy.
However, one last pillar that I haven't mentioned yet certainly warrants special consideration as well. Ensuring that everyone feels welcomed on Pinterest is the last part of making its business model work – and the topic of the next chapter.
Positivity & Safety
The last pillar of Pinterest's business model can largely be classified as positivity and safety. The backbone of that is the platform's Creator Code, which is a commitment to kindness for everyone on Pinterest.
Pinterest's goal is to lead with kindness and eliminate all potential negativity. This obviously starts with creators who publish the content that users consume.
Apart from championing kindness, Pinterest incentivizes creators to check their facts, watch out for potential triggers, and practice inclusion.
And should users slip, then Pinterest has so-called 'positivity reminders' in place, reminding them to reconsider what they're about to post.
However, one has to note that this is slightly hypocritical given that the company settled a gender discrimination lawsuit for $22.5 million brought on by its former COO Françoise Brougher.
Hypocrisy aside, Pinterest has made multiple other strides to ensure that its platform is fun and safe for everyone involved.
For instance, it has banned climate and vaccine misinformation, on top of removing conspiracy-spreading organizations such as QAnon.
And as I've written above, Pinterest heavily utilizes AI to moderate content as well. It runs models that proactively detect policy-violating Pins. With regards to health information, for example, the model internally browses certain keywords or text related to misinformation and automatically blocks pins with that language.
The firm's commitment to moderation and safety also extends to its own bottom line. In fact, Pinterest became the first social platform to ban political and weight loss ads.
Naturally, one would assume that this means less revenue for the company. While this may be true in the short term, it certainly isn't when taking a longer view.
"We continued to benefit from marketers who are prioritizing positivity and brand safety," Pinterest CFO Todd Morgenfeld told investors during one of Pinterest's past earning calls. "Advertisers tell us that Pinterest is brand-safe relative to other consumer internet platforms, and we benefited from this in Q3 [2020]."
When looking at the various scandals that Facebook (now Meta) has been embroiled in, one can see why he made that statement. Interestingly, TikTok has adopted a similar strategy on the road to building a multi-billion-dollar business.
Even Reddit, which has been known to take a hands-off approach with regards to content moderation, has since taken a harder stance in an effort to lure in more advertisers.
With that being said, let's explore how Pinterest actually makes money.
How Does Pinterest Make Money?
As previously mentioned, Pinterest makes money from advertising. In this regard, it is fairly similar to the likes of Instagram or Snapchat, which all operate under advertising-based business models.
Pinterest offers a variety of different ad formats and claims that it "is the only platform where ads are additive."
This essentially means that its ads are not only natively integrated into the overall user experience but are often hard to distinguish from the regular content on the platform.
This can be explained by the inherently visual and, at times, commercial nature of the platform. Members tend to use Pinterest as a digital collage to get inspired about things like home decor, fashion styles, and cooking, among many others.
The huge benefit to advertisers is that they can then natively insert themselves into that user experience.
With that being said, Pinterest currently offers seven different ad formats. The first one is Standard Pins, which are vertical or squared pictures. Interestingly, once a user saves that pin, then the "Promoted by" label disappears and the ad essentially becomes organic content.
Similarly, Pinterest also offers Video Pins (videos instead of images) and Idea Pins, which is a multi-page canvas that can feature both images and videos. Moreover, Promoted Pins allow users to promote existing pins they already uploaded.
Another ad format, which is fairly similar to Idea Pins, is Carousel ads. Much like the other options, they also appear natively in the home feed, search, and other locations. Carousel ads can normally be identified by the dots that underpin them.
Collection ads normally appear as a group of one huge asset (image or video), followed by three smaller ones.
The last group of ads can largely be classified as Shopping. Shopping ads normally appear as regular pins that are simply purchasable. However, in recent times, Pinterest has also natively integrated them into its AR features. For instance, users can purchase lipsticks or eyeliners that are suggested to them based on the colors they dig.
Boosting commerce capabilities is a key pillar of the firm's business model strategy going forward. "I want to identify every single item on Pinterest and show where you can get every one of them," said Pinterest's Head of Engineering Jeremy King in an interview with Quartz.
To display shopping adverts, merchants first need to upload their product catalogs, which they can do manually (e.g., via a CSV file), through Pinterest's API, and with the help of its native Shopify or WooCommerce integrations.
Merchants can also enrich that information by adding information such as the product's color, size, and so forth. That information is then used within Pinterest's product recommendation engine, thus allowing it to display more relevant products to users.
Pinterest has since expanded its commerce capabilities by allowing users to check out directly on the platform and not being forced to click through to the advertiser's page, which should significantly boost conversions.
Connecting to the Pinterest API then ensures that the products that are being advertised are actually in stock, which consequently optimizes return on advertising spend (RoAS).
Talking about advertising spending, Pinterest monetizes advertisers through impression (CPM) and click-based (CPC) models. The rate that advertisers pay is based on the ad format chosen, the country that's targeted, what niche they're in, and so forth.
Consequently, users can be targeted based on a variety of factors as well, including demographics (age, gender, location, etc.), interests, keywords they entered, customer lists of people that have already engaged with the merchant, and more.
Pinterest claims that its varying ad formats, due to their native integration with the platform, are 2.3x more efficient than ads on other social platforms.
Going forward, Pinterest will likely introduce ad formats that could also benefit creators. As mentioned before, creators can already earn money through affiliate commissions whenever they successfully promote a product pin.
Other ad formats could allow advertisers to promote existing content posted by creators who would then receive portions of that ad income.
How Much Revenue Does Pinterest Generate?
Pinterest has managed to become one of the highest-grossing social platforms out there. As we've outlined above, advertising continues to be core to its revenue mix.
Below is an overview of Pinterest's revenue and profit/loss figures over the past few years:
| | | | |
| --- | --- | --- | --- |
| Year | Revenue | Net Income | Users |
| 2017 | $473 million | ($130 million) | 185 million |
| 2018 | $756 million | ($63 million) | 231 million |
| 2019 | $1.14 billion | ($1.36 billion) | 300 million |
| 2020 | $1.69 billion | ($128 million) | 416 million |
| 2021 | $2.58 billion | $316 million | 454 million |
As you can derive from the table above, Pinterest's revenue is inherently tied to the number of users that are registered and actively engaged on the platform.
The more members are accessing Pinterest, the more ads are thus being consumed (i.e., seen or clicked on). However, aspects such as attribution and user engagement certainly play a key role as well.