Executive Summary:
The business model of Lyft is that of a two-sided online marketplace. There, it mostly connects drivers with passengers.
Lyft makes money from commissions, service fees, referral fees, subscriptions, interchange fees, advertising, and services.
What Is Lyft?
Lyft is a transportation app that provides users with on-demand access to drivers all around their location.
Users have a variety of options when requesting a ride, ranging from immediate and individual rides to shared ones.
Lyft itself works together with independent contractors who execute those rides on the platform's behalf.
Apart from car rides, users can also book buses, trains, e-bikes, and scooters. On top of that, they can also rent vehicles from firms like Hertz and SIXT.
Furthermore, Lyft's most loyal users can subscribe to Pink, which grants them a variety of benefits such as priority pickups, exclusive savings, and so forth.
Lyft, which is headquartered in San Francisco, California, was founded in 2012 by John Zimmer, Logan Green, and Matt Van Horn.
The company eventually went public in March 2019 and is now one of the world's highest-valued ride-hailing platforms – despite only being available in the United States and Canada.
The Lyft Business Model Explained
Lyft largely operates under a two-sided marketplace business model where it connects drivers with people wanting to go from A to B.
The company, unlike its biggest rival Uber, has remained set on serving customers across North America instead of expanding abroad.
Its theory, at least, was that consumers in the United States and Canada would yield higher margins as their spending power is substantially higher.
As the intermediary, Lyft takes care of processing payments, matching drivers and riders, ensuring safety, and. In exchange for that service, it gets to pocket various fees (more on that later).
However, Lyft has since extended its purpose from being a ride-hailing matchmaker to a multi-purpose transportation platform.
Nevertheless, ride-hailing and more precisely drivers remain core to its mission of improving "people's lives with the world's best transportation."
Driver At The Center
To understand just how important drivers are to Lyft's business, just see this excerpt from its S-1 filing back in 2019:
"The success of our business model depends significantly on our ability to efficiently attract and retain drivers and riders in the local markets in which we operate and increase the amounts that riders spend on our platform over time."
In order to attract and retain drivers, Lyft has implemented a variety of different measures. At a time when rival Uber was caught pocketing tips, Lyft became the first platform to allow drivers to keep 100 percent of theirs.
Not only that but it also implemented tipping as a default option soon after it launched. Another first for Lyft was the launch of Express Pay, an internal on-demand payment feature that enabled drivers to retrieve their earnings much earlier.
Lyft also made sure that the concerns of drivers would be heard. In 2016, it formed the Lyft Driver Advisory Council (DAC) whose members "test new product features and weigh in on programs and policies that impact drivers." The DAC is now available in almost every major city across Canada and the US.
Apart from having their voices heard, drivers can also get their cars fixed in one of Lyft's driver centers. Additionally, the company partners with local repair shops, on top of offering a mobile inspection service should the vehicle break down somewhere.
On top of that, all Lyft drivers get access to insurance plans that cover them in case of damages to themselves, riders, others, and property. For instance, drivers are insured for at least $1,000,000 for third-party auto liability when the Lyft app is on.
And on the financial side, it offers Lyft Direct, which comes with a free bank account and debit cards that help drivers save on expenses while allowing them to earn cashback rewards.
All of those initiatives are particularly important given that Lyft and Uber drivers essentially earn the same. In fact, many of them are oftentimes switching between both apps simultaneously.
The beginning of 2021 showed just how important drivers are to those platforms. After suffering from Covid-related driver shortages, which saw over 40 percent of drivers leave both platforms, they committed substantial financial resources to get them back.
While Uber launched a 'stimulus package' worth $250 million, Lyft began to offer $800 bonuses for each driver that returned to its platform. Prices, as a result of the shortage, began to skyrocket. Therefore, fewer consumers could afford to book a ride, thus leading to a decrease in revenue (although margins went up).
Despite investing heavily into bringing drivers back and improving their livelihoods, both Lyft and Uber have also been leading the charge in keeping them classified as contractors instead of full-time employees.
Lyft spent a total of $49 million ($57 million for Uber, respectively) to get Proposition 22, a ballot measure that would've reclassified its contractors as employees, overturned. Another $14 million was spent by the company to overturn a similar ruling in Massachusetts.
Ride-hailing drivers are also not unified, though. Some do prefer the flexibility that apps like Lyft offer while others claim that working for those very same apps makes it impossible to earn a liveable wage.
What's certain is that although drivers remain a core part of its platform, reclassifying them as full-time workers would mean that its business model simply doesn't work anymore. Those regulatory concerns are one of the reasons why Lyft has since been expanding into other business lines, which we'll cover now.
All About Transportation
As I've written above, Lyft doesn't just allow you to be driven around but offers all kinds of transportation options.
Unlike rival Uber, Lyft has not extended its business toward food delivery and freight. "We don't think the world needs another one of those," co-founder Zimmer said in an interview with Fortune back in 2020. "It's also not our specialty. Our focus is on transportation—on going deep on personal transportation."
And going deep they have. In 2018, Lyft introduced e-scooters as an additional transportation option. They then acquired various bicycle-sharing operators, such as Capital Bikeshare and Citi Bike, to later include bikes. Lyft has since developed its own fleet of e-bikes (an upgraded version has been unveiled back in June 2021).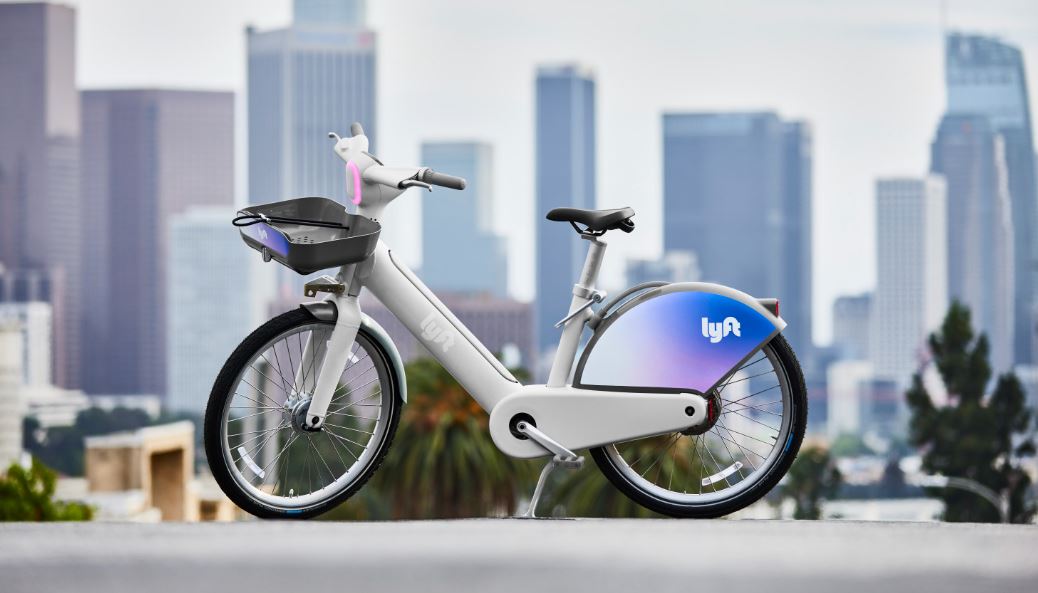 Moreover, Lyft has partnered with various municipalities to give its users access to public transit options such as buses or trains.
And if users want to take matters into their own hands, they can do so by renting a car directly via the platform thanks to a partnership with Hertz and SIXT (more on Lyft's partnerships in the upcoming chapter).
Offering multimodal transportation also extends to the firm's core ride-hailing business. Customers can book rides just for themselves. By paying a higher fee, the driver will even show up earlier.
Apart from individual bookings, users can carpool, meaning they share portions of the ride with each other. They can also request rides for someone else (such as an elderly or disabled person) or even request one by telephone.
The implicit goal of Lyft is to create a transportation super app where users can fulfill a journey from point A to point B without leaving the platform.
By offering different modes of transport, it can accommodate all kinds of consumers. For instance, cost-conscious people may opt into doing portions of their trip by utilizing public transit systems while folks with deeper pockets simply get a private driver.
Not only does this improve the user experience for everyone but it also allows Lyft to monetize customers across every point of their journey. After all, the marginal cost of upselling them into another transport option is near zero since the customer has already been acquired.
Consequently, the more options Lyft customers have, the likelier they are to stick around, thus increasing the customer's overall lifetime value. And the longer a customer is expected to stick around, the more Lyft can spend in acquiring them.
Nevertheless, many of those options wouldn't be possible without the other core pillar of Lyft's business model, which is partnerships.
Partnerships
A good chunk of the features that we've covered are actually a result of Lyft partnering with another company to bring this to life.
For instance, the above-mentioned car repairs are not only offered by Lyft itself but also in conjunction with Openbay, an online marketplace that allows users to find shops nearby.
And Lyft's driver insurance, especially since it is not one of the firm's core skills, is actually provided by Allstate, Liberty Mutual, State Farm, and others.
But drivers aren't the only ones benefitting from partnerships. One of Lyft's key initiatives has been to expand into the healthcare business. Through partnerships with firms like CommonSpirit Health and LogistiCare Circulation, Lyft is able to offer transportation services to medical appointments.
Lyft has even developed a dedicated API to allow medical providers like Allscripts to seamlessly schedule appointments with patients and track their arrivals accordingly. Non-emergency medical transportation is a market worth $3 billion in the US alone. And since some insurance providers do cover the cost of transportation, there are margins to be had.
Another partnership lever of Lyft is making its drivers available for other tasks that are not driving people around. The business line was a result of lockdown measures due to the Covid-19 pandemic, which essentially evaporated its ride-hailing business overnight.
In December 2021, for example, Lyft announced a partnership with the on-demand restaurant platform Olo to lend out its drivers. Apart from food deliveries, Lyft also offers deliveries for intrastate packages and other types of e-commerce orders.
However, the firm's biggest and strategically most important partnerships are those with autonomous taxi operators.
"The reason Uber could be expensive is because you're not just paying for the car — you're paying for the other dude in the car," Uber co-founder Travis Kalanick famously said during the 2014 Code conference hosted by Kara Swisher.
While the statement added to mounting negative sentiment against Kalanick, it nonetheless revealed the dirty secret that industry insiders have long been aware of, which is that autonomous driving is the future.
Both Lyft and Uber spent billions of dollars to set up world-class autonomous divisions only to sell them off due to increased financial pressures. In April 2021, Lyft sold its autonomous vehicle division to Toyota for around $550 million in cash.
Yet, autonomous driving remains key to the firm's path toward profitability. Just a few months prior, Lyft had signed a partnership with Motional (a joint venture between Hyundai and Aptiv) to test the concept in selected US cities. Ford's Argo AI is another key partner.
Together, these firms have launched autonomous vehicles in a multitude of cities such as Austin, Las Vegas, Los Angeles, and more. So far, Lyft and its partners have successfully conducted over 100,000 rides.
Autonomous driving, as Kalanick hinted, is particularly promising from a cost perspective. A machine-operated vehicle is substantially cheaper, with some speculating that cost could be cut by more than half.
On the other side, Lyft also opens itself up to huge competitive threats. While those partners may be happy to access Lyft's customer base, for now, nothing is really stopping them from building a consumer-facing app. And since price remains the #1 reason why people choose a particular ride-hailing app, those operators could snatch up market share just by underpricing Lyft and Uber.
As a result, Lyft could eventually become an attractive acquisition target to accelerate the customer acquisition process. A potential acquirer would not gain access to over 20 million users but a beloved brand – which, conveniently, is the topic of the next chapter.
Branding
Uber raised close to $25 billion before it went public. Contrast that with Lyft's 'measly' $5 billion, which led many to believe its days were numbered.
Yet, Lyft not only managed to survive but thrive in an environment where a huge financial war chest was almost seen as essential. One of the key reasons why Lyft exists to this date is the branding strategy that the firm adopted.
For the better part of 2017, Uber went from one scandal to another, which ultimately culminated in the ousting of CEO and founder Travis Kalanick.
Lyft, at a time when the sentiment against gig economy platforms like DoorDash or Uber was at an all-time low, cleverly positioned itself as the brand that cares.
Whereas Uber saw itself as a transactional black car service, best exemplified through the firm's black-and-white coloring, Lyft adopted a quirkier image. Its cars were initially equipped with a pink mustache, which Green and Zimmer had given away for free during events.
The pink color was deliberately chosen to signal friendliness and thus increased safety, which was particularly helpful in attracting female customers. And although it eventually replaced the mustache in 2016 with a LED screen, those very same values of friendliness and openness remained.
Another key to Lyft's branding was branded entertainment. In 2017, for instance, Lyft teamed up with comedian Kevin Hart to create a web series for the comedians' LOL Network.
Its Undercover with Lyft series would be another branding avenue, featuring stars such as Chance The Rapper, Alicia Keys, and Odell Beckham Jr., among many others.
It also launched various ad campaigns with actors like Jeff Bridges and Tilda Swinton who, in response to Uber's various troubles, would ask the audience whether they "really want to ride with a company of d-bags."
Lyft would also try and show concern for the communities it operates in. Since 2015, the company began to issue its Economic Impact Report to quantify what effect ride-hailing had on those local economies.
The company was also the first to offer drivers access to 24/7 phone assistance as well as discounted GED and college-level online courses. Additionally, it put an emphasis on diversifying its driver base and making sure that a significant portion of them were females, minority groups, and elderly people.
This even meant covering legal costs for all of its drivers that were subject to Texas' new and restrictive abortion law, allowing anyone to file a lawsuit against a person getting an abortion after 6 weeks.
All of those initiatives gave Lyft a reputational edge that allowed it to survive in an environment where its competition would be able to raise substantially more funding.
Key to ensuring a positive brand image is to offer an overall safe brand experience. Apart from doing background checks on drivers, Lyft also collects ratings, monitors unusual activity (such as the driver deviating from the expected road), and allows users to share their location in real-time.
Additionally, Lyft offers live human support, allowing riders to quickly connect with an ADT security professional right from the app. Lyft is transparent about its incidents as well and regularly publishes safety reports to inform consumers about crimes.
With that being said, let's take a closer look at how Lyft actually makes money.
How Does Lyft Make Money?
Lyft makes money from commissions, service fees, referral fees, subscriptions, interchange fees, advertising, and services.
Let's take a closer look at each of the firm's revenue streams in the section below.
Commissions & Fees
The bulk of the revenue that Lyft generates comes from the commissions and (service) fees it charges to both its drivers and riders.
On the driver side, Lyft charges a commission of around 25 percent for every successful booking facilitated through its platform.
However, Lyft does not let drivers know how much the customer paid and solely displays how much they would earn.
The Washington Post previously reported on incidents where riders paid $43 for an airport trip while the Lyft driver only pocketed $16.
Lyft, at least compared to Uber, also does not rely as heavily on surge pricing, which means drivers would even earn less. "Uber was offering surge rewards to drivers in excess of $40 a ride, yet Lyft was offering nothing," one driver recalled during the Washington Post piece.
Lyft has since responded and refined its offering, thus allowing drivers to see destination and pay details before accepting a request.
As a two-sided marketplace, Lyft consequently monetizes riders, too. Passengers pay three types of fees, namely:
Platform Fee: variable amount to maintain and enhance the platform, grow its community, and more
Service Fee: based on region and used to pay for operational expenses
Third-Party Fees: local fees like taxes or airport fees
The third-party fees are not profit generators for the company, though. They're likely applied to cover the cost that is levied upon Lyft to operate in those locations.
Those fees naturally apply to Lyft's ancillary businesses, such as scooter or bike rentals, as well. There, it does not pay a commission and pockets the revenue completely (minus the cost).
For instance, a Lyft scooter costs $1 to activate and $0.20 – $0.39 per minute, depending on the city. A similar fee structure is applied to its bike business as well.
Referral Fees
Not all of the services that Lyft provides via its platform are actually conducted by the firm. As we previously alluded to, partnerships remain core to its business model strategy.
For example, Lyft users can rent cars from Hertz and SIXT through the platform, using them for road trips, weekend escapes, or even a quick errand.
While the bulk of that revenue goes to those partners, Lyft pockets a small referral fee for bringing in new customers.
Similarly, Lyft partnered with scooter provider Spin to offer additional capacity in cities such as San Francisco or Phoenix.
Those partnerships not only create an additional revenue stream but ultimately contribute to the firm's mission of improving people's lives through transportation. The more options Lyft makes available, the likelier customers are to stick around.
Additionally, it represents a risk-free option for the firm to expand into new service lines. For instance, instead of purchasing the cars outright and hiring expensive staff, it can take advantage of Hertz's and SIXT's network.
Subscription
Lyft offers a premium subscription called Pink, giving users access to a multitude of perks including:
Free priority pickup upgrade
5 percent off Lux, Preferred, and XL rides
Roadside assistance
Relaxed cancellations
Free Grubhub+ for a year
SIXT car rental upgrades
12 free bike or scooter unlocks per year
On top of that, users can also subscribe to Lyft Pink All Access, which provides additional benefits such as unlimited e-bike and scooter discounts, access to even more rewards, and the like.
Both subscriptions are available on a monthly as well as a yearly discounted basis. Offering subscriptions, especially on a yearly basis, poses a variety of advantages.
When providing yearly plans, Lyft can already book that revenue and thus utilize it for other purposes.
Apart from creating an additional revenue stream, subscribers also tend to be more engaged on the platform to make back the money they spend each month or year. As a result, can continue monetizing them through its core services.
At times, those users also tend to become advocates for the platform, thus bringing in new ones through word-of-mouth. This, in turn, attracts more drivers, which ultimately decreases waiting times for riders and improves the overall user experience.
It has to be noted that Lyft isn't the only platform that offers a premium subscription to lure in more customers. Marketplaces like DoorDash, Instacart, and Uber all rely on similar strategies.
Advertising
In August 2022, Lyft announced the launch of its Media division, which would allow brands to promote their goods and services within its own app and in the physical world.
A few months prior, Lyft had acquired Halo Cars, which enabled drivers to earn additional income through digital advertisements displayed on top of their vehicles. Said acquisition likely played an integral role in the launch of its media division.
With Lyft Media, brands can get access to a variety of different ad formats, namely:
Lyft Halo: smart digital rooftop screens that capture attention with engaging videos targeted to the vehicle's exact location and time
Lyft Tablets: in-car tablets are mounted into the car and may show ads next to the navigation and other information
Lyft Bikes: ads are displayed next to the bike's docking station
Lyft Skins: skins replace the car that's shown in the app with branded icons
Advertising campaigns are likely conducted on a fixed-fee basis, meaning the advertisers pay Lyft a certain amount to have those ads displayed over a previously agreed-upon period.
One of the biggest benefits of Lyft's advertising business is that it scales with the expansion of its user and driver base. The more people are accessing the platform, the more ads are consumed, which is what advertisers care about.
This is, however, an impression and not an engagement play. People that view those ads are likely not as engaged. Trackability, especially for ad formats like Halo, may also be an issue.
Nevertheless, Lyft has been able to sign up some absolute heavy hitters to its advertising business. Clients include firms like Google, DoorDash, Starbucks, Red Bull, and many others.
Interchange Fees
Lyft provides a debit card to its drivers that comes with a free bank account. The card was specifically designed for drivers, meaning it guarantees instant access to their earnings, offers an easily understandable interface, and even enables them to earn cashback on purchases such as fuel or dining.
On top of that, drivers get access to 20,000+ no-fee ATMs, can save on car-related driving costs (through discounts from Jiffy Lube, National Tire and Service Center, Pep Boys, and more), while having their account FDIC-insured for up to $250,000.
The cards and bank accounts are issued in cooperation with Stride Bank and Payfare. But how does Lyft make money from the card?
Simple – through interchange fees. Whenever you use a debit or credit card, a so-called interchange fee is applied, which is paid by the merchant who receives that payment.
Lyft will then share that interchange revenue together with Mastercard, which issued the card, as well as Stride Bank.
The interchange fee is dependent on where the customer pays and what card (debit vs. credit) he or she uses. A fee of around 1 percent plus fixed fees of $0.15 should be the norm for a card of this type.
Services
The last and likely smallest revenue stream is the repair services that we covered in the business model section.
Consequently, Lyft charges a fee for the repairs that it offers within its own network of shops. The pricing is ultimately dependent on the location and type of service needed.
The company may also receive a referral fee whenever a driver books a repair through its Openbay integration. That few would be fairly minuscule as Openbay itself is also an intermediary and would thus lose out on margin.
How Much Revenue Does Lyft Generate?
Lyft, despite only operating in the United States and Canada, has built a multi-billion business. In fact, it is now one of the highest-grossing platforms of its kind.
Below is an overview of Lyft's revenue and profit/loss figures over the past few years:
| | | |
| --- | --- | --- |
| Year | Revenue | Net Income |
| 2017 | $1.06 billion | ($688 million) |
| 2018 | $2.16 billion | ($911 million) |
| 2019 | $3.62 billion | ($2.60 billion) |
| 2020 | $2.36 billion | ($1.75 billion) |
| ­2021 | $3.21 billion | ($1.06 billion) |
As you can see, Lyft is yet to turn a profit and thus continues to be a loss-making operation. On an adjusted basis, it recorded its first positive net income in 2021 of $82.2 million.
The Covid pandemic continues to affect its business performance as well. Throughout 2021, Lyft struggled to regain drivers who were concerned with getting sick, thus forcing the firm to hand out hefty bonuses.
However, the firm's cash reserves still stand at around $2.2 billion, so there's at least some leeway. Furthermore, it could also issue new stock or raise debt to beef up its balance sheet.