Executive Summary:
Vinted is an online marketplace that enables the purchase, sale and exchange of fashion items among private consumers. The company focuses on second-hand fashion in the female, male, or kids categories.
Vinted makes money via fixed and variable fees as well as advertising for sellers (called Wardrobe Spotlight and Item Bump, respectively).
Founded by two Lithuanian entrepreneurs in 2008, Vinted has become a household name in the fashion industry. The company has raised over $562 million in venture capital funding.
How Does Vinted Work?
Vinted is an peer-to-peer online marketplace that facilitates the purchase, sale and exchange of clothing items. As the name indicates, Vinted primary focus lies in vintage and/or second-hand fashion.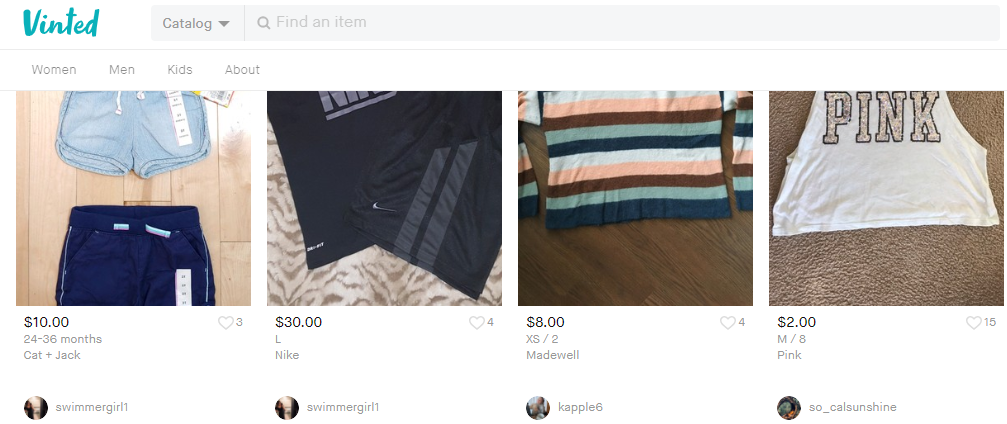 Users can sell clothes in either the Women, Men or Kids category. Sellable items include things such as:
Jeans, skirts, lingerie, dresses or sweaters
Shoes, i.e. sandals, heels, boots, or flip-flops
Bags, including shoulder bags, fanny packs, handbags, backpacks and more
Accessories, for instance watches, sunglasses, belts, jewelry, or hats
Beauty products such as perfume, hair and nail care, or makeup
Entertainment items such books or consoles
If a user finds an item of his/her liking and they agree to the price set, they can simply proceed to purchase the product. Vinted will then equip the seller with a prepaid shipping label, making it easy for sellers to ship the products.
Furthermore, as the operator of the marketplace, Vinted takes care of the payment and refund process while ensuring that the buyer receives their products in the desired quality and time.
The items itself can be listed and sold for free, so what you earn is essentially what you keep. On the buyer's side, Vinted also offers protection such as free refunds as well as access to its customer support team.
Vinted itself can be accessed by visiting the platform's website or by downloading its mobile app (available for both Android and iOS devices).
A Short History Of Vinted
Vinted was founded in 2008 by Milda Mitkute and Justas Janauskas in Vilnius, Lithuania. As with every idea worth pursuing, the concept of Vinted originated from a conversation Janauskas shared with a friend at a bar.
They chatted about creating a website that would allow people to trade their used fashion items with each other. Soon after, Janauskas and Mitkute (who joined him later on as co-founder) created a prototype and released it into the world.
Without any dedicated marketing efforts, the pair saw their platform grow on the backbone of users engaging in their forum-style community.
While coding on his project one night, a couch-surfing guest of Janauskas from Munich, Sophie Utikal, prompted him on what he was working on. His explanation excited Utikal so much that she wanted to take that concept to Germany.
The pair agreed that Janauskas would take care of all technical work (as he himself is a software engineer by profession) while Utikal would handle all promotional activities.
Today, Vinted operates under the brand name Kleiderkreisel in Germany and is one of the company's top-performing markets. Similar to Lithuania, the platform mostly grew by word of mouth.
That same model was replicated in countries such as the Czech Republic or Great Britain. The success drew a lot of attention towards the startup, which ended up receiving an investment from Lithuanian angel investor Mantas Mikuckas. Soon after, Mikuckas joined the company as COO in 2013.
By 2015, the company was able to expand into the US on the backbone of a €25 million funding round. A year later, the company attracted over 12 million users, with another 11,000 joining daily. Over 22 million items were listed across the 11 countries it was involved in.
Despite all these positive growth numbers, Vinted's journey hasn't been without obstacles. In the early 2010's, users of Kleiderkreisel revolted heavily against the company imposing fees on selling (selling on the platform had been free of charge prior and monetization occurred through display ads).
By 2016, the company was burning tremendous amounts of cash with prospects of eventually becoming bankrupt. Insight Venture Partners, one of the company's investors, hired Thomas Plantenga to work out a mitigation plan with the company.
As a result, Vinted closed down its offices in San Francisco, London, Munich and Paris while reducing headcount from 240 to 150. Furthermore, the company decided to focus on two core markets: France and Germany.
The turnaround became a great success, which allowed Vinted to raise additional capital in two more funding rounds. As for Plantenga, he became the company's new CEO in 2017 and manages the company's strategic direction to this date.
2020, in particular, became an extremely successful year for the platform. The coronavirus pandemic, which forced people across the world into locking down at home, also led to a surge in customer demand.
The growth allowed Vinted to raise another round of funding in May 2021. Investor poured in a whopping €250 million in a round that valued Vinted at $4.5 billion.
Days after the fundraise, Vinted announced that it would also expand its platform to Canada. The platform was even able to strike lucrative advertising deals, for instance with Channel 4's Hollyoaks.
Unfortunately, not everything was always going according to plan. In November 2021, dozens of its users issued complaints after Vinted asked them to send a scanned copy of their ID cards to release seller funds. As a result, privacy regulators in Lithuania, Poland, and France began to corporate to monitor Vinted's adherence to the EU's General Data Protection Regulation.
Months later, in May 2022, a Polish consumer protection agency fined Vinted 5.3 million zloty (€1.14 million) after it allegedly had failed to provide adequate information about the conditions of access to the money earned by sellers. Vinted said it would appeal the decision.
Today, Vinted employes over 1,000 people across the world. Furthermore, the platform boasts over 45 million members.
How Does Vinted Make Money?
Vinted makes money by charging buyers a fixed and variable fee on every successful transaction facilitated through their platform and through advertising.
The fixed fee is used to cover fixed costs such as payment processing or providing the shipping label and is equal to $0.70 for every transaction.
Additionally, a variable fee of 5 percent is applied. If the article sells for $100, then the buyer pays an additional $5 in buying fees.
Interestingly enough, online marketplaces normally charge sellers instead of buyers. In fact, selling on Vinted is completely free!
Many of Vinted's competitors, which include platforms like Poshmark or Depop, are charging its sellers for helping them facilitate transactions.
Additionally, Vinted has two other monetization streams, which are:
Closet Spotlight
Bumping listed items
Closet Spotlight is a paid feature that promotes a seller's wardrobe (list of products they offer) to other users with similar fashion preferences.
For seven days, buyers will see 5 listings from a seller's wardrobe in special spots on their newsfeed. Three items include the most favored products from the seller's wardrobe while the other two will match the buyer's newsfeed preferences.
Closet Spotlight costs $6.95. The fee is paid every time a seller intends to promote his or her listings.
Item Bump is a paid feature that guarantees sellers more visibility for their items, which allows to speed up the selling process. When a listing is "bumped", it is shown to more potential buyers in their feed and search results over a span of 7 days.
Fees for item bumps can range anywhere between $0.5 and $5, depending on the category of given item, the price of an item, and amount of products that are currently bumped on the Vinted platform.
Vinted itself operates an online marketplace business model. As such, it connects buyers and sellers on a proprietary platform in which it takes care of product assortment, payment processing, and sometimes even shipping.
Additionally, it enables sellers to create public profiles that contain reviews and other data points, which further increases trust. Nevertheless, where it differs is that it actually charges buyers a fee in exchange for its Buyer Protection Services.
This allows customers to get their products refunded if something is wrong. Additionally, it also increases supply on the platform since sellers can offer their items at zero cost.
And the more items are listed on Vinted, the greater the choice for buyers, which attracts more of them in turn.
Vinted Funding, Valuation & Revenue
According to Crunchbase, Vinted has raised a total of $562.3 million in six rounds of venture capital funding.
In its latest Series F round, announced in May 2021, the company raised €250 million at a valuation of more than $4.5 billion.
Notable investors of Vinted include the likes of Lightspeed Venture Partners, Accel, Insight Partners, Sprints Capital, or Burda Principal Investments.
As with any venture-backed startup, Vinted does not disclose any revenue metrics to the public.
Who Owns Vinted?
Vinted, as previously indicated, remains in private hands and is thus not obligated to disclose its ownership structure to the public.
It can, however, be assumed that its investors do hold a significant stake in the company.
Accel, Burda Principal Investments, EQT, and Sprints Capital have each led funding rounds and participated in multiple others. Especially the investors who provided money at an earlier stage, such as Accel, should likely owns a significant chunk of Vinted.
Moreover, CEO Thomas Plantenga, who has been with the firm since July 2016, is probably the biggest personal shareholder. After all, he was responsible for turning the company around. Plus, externally hired CEOs are often compensated with generous equity packages to motivate them further.
As far as founders Milda Mitkute and Justas Janauskas are concerned, they probably do not owns much of the firm anymore. They both became operationally less involved once Plantenga stepped in, which means that they probably sold off a significant portion of their equity.