Executive Summary:
Depop is an online marketplace as well as a social media platform that allows users to buy and sell clothes.
Depop makes money from transaction and payment fees as well as from allowing sellers to advertise on its platform.
Founded in 2011, Depop has grown to become one of the most prominent fashion marketplaces. The company was acquired by Etsy for $1.625 billion in June 2021.
What Is Depop?
Depop is an online marketplace where people can buy and sell clothes. Customers can shop on Depop using the platform's website as well as by downloading its mobile apps (available on Android and iOS devices).
Users can engage with each other within the app. Depop has developed an Instagram-like feed that allows them to like and share content or follow other users.
Furthermore, Depop also operates two physical retail locations. The stores are located in New York and Los Angeles.
Customers can either purchase new or already worn clothing. Nevertheless, the platform primarily focuses on used (or vintage) clothing to promote sustainable practices.
There are hundreds of brands available for purchase, including household names like Adidas, Dr. Martens, Urban Outfitters, and many more.
Sellers on Depop can either just sell a few items or even set up a professional store. Some even make a living selling on the platform.
Stores can process the incoming orders themselves or work together with Depop's fulfillment to have them shipped. The platform also takes care of the payment process.
Depop Company History
Depop, headquartered in London, UK, was founded in 2011 by Simon Beckerman. Beckerman, who is of English descent but was born and raised in Italy, sought to become an industrial designer after graduating high school.
In 1994, he enrolled at the Polytechnic University of Milan to study industrial design but dropped out after his first semester.
Consequently, Beckerman held a variety of different jobs to put food on his table, even going as far as trying his luck at DJ'ing.
In 1998, he started People In Groove (PIG), a lifestyle and news magazine, together with his brother. They sold about 3,000 copies every month, enough to fund their lives and eventually even pursue other ventures.
One of those ventures became a company called RETROSUPERFUTURE (RSF), an eyewear brand aimed at more affluent consumers, that he co-founded in 2006.
To get some buzz going, Beckerman handed the glasses to stylists, photographers, or friends of well-known celebrities who'd eventually wear them in public.
That pre-social-media version of influencer marketing would eventually propel RSF to more than $13 million in annual sales.
In the meantime, Beckerman was still working on PIG. Being technologically adaptable, he soon realized that a physical magazine would not be how customers will consume media in the future.
While PIG already had a website, it was still lacking a shop that allowed customers to purchase the items they saw advertised in the magazine.
He, therefore, set out to build an online shop that could be integrated into PIG. After conducting a small online experiment, he decided to pivot to an app format as more and more companies were going mobile-first.
Beckerman eventually pivoted from PIG selling the items to opening selling opportunities up to everyone. He presented that concept (the idea was only in the design phase) to H-Farm ventures, which decided to give €1 million in seed funding to develop the actual product.
Back then (in 2011), startups like Poshmark, Shpock, Stuffle, Rumgr, or Yardsale were already creating some buzz in the peer-to-peer 'flea market' space, hence it became easier for H-Farm to understand the use case that Beckerman was raving about.
Depop soft-launched in Italy back in August 2012. Eight months later, in April 2013, Depop was finally made available to the greater public.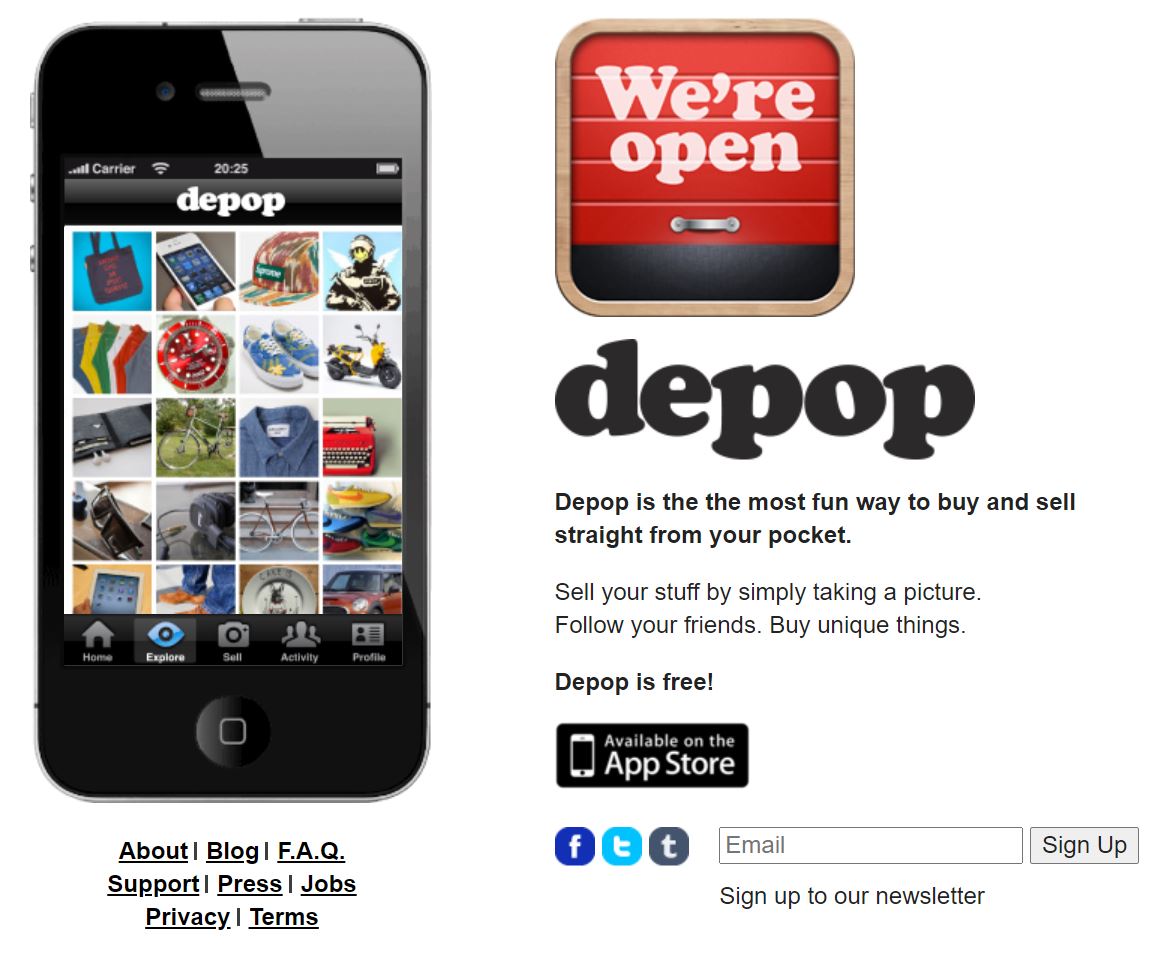 By that time, Beckerman had already relocated to London since it promised greater access to talent as well as funding. And it didn't take him long to attract more cash. In October, Depop raised another €1 million.
The additional funding allowed the team to develop and launch a separate Android app in February 2014, which further extended its reach. By that time, more than 200,000 items had been sold via the iOS app alone, equaling around €5 million.
Around the same time, Beckerman stepped down from his role as CEO and handed the keys to Runar Reistrup who had joined the company as COO a few months prior. Under Reistrup's tenure, which lasted around three years, Depop grew from 50,000 to 5 million users and €100 in gross merchandise volume (GMV).
He also led two major funding rounds, netting the company $8 million and $12 million, respectively. The funding also allowed Depop to set up a second office in New York City (January 2015) to further its expansion into the United States.
That expansion was managed and led by Maria Raga, who became the firm's newest CEO in September 2016. Raga had joined Depop as its VP of Operations back in 2014 and spent the previous four years building up Groupon's travel business.
Over the next three years, Depop continued to grow exponentially, largely supported by word-of-mouth and its social sharing options. By mid-2019, Depop had amassed a user base of more than 13 million fashion enthusiasts.
As a result, it was able to raise its largest-ever round of funding. In September 2019, Depop raised $62 million led by General Atlantic, one of the world's most prominent venture capital firms.
Later that year, Depop announced its first major partnership with Ralph Lauren. The collection, named Re/Sourced, would be comprised of 150 items that would be specifically sourced by Depop sellers. Subsequent collaborations with the likes of Richard Quinn or Vans would follow.
Unfortunately, Depop also began to experience some growing pains. In November 2019, reports emerged that sellers on the platform would receive highly inappropriate comments and messages from anonymous users. Some even saw their accounts being hacked only to be used to sell fake products to other Depop users.
Depop responded by upping the resources on its Trust & Safety team as well as investing in technology (mainly speech recognition) that prevents these types of activities. Nevertheless, as the platform continues to grow, its problems will likely grow in complexity.
Despite some hiccups, Depop has continued to exponentially grow. 2020, in particular, has been tremendously successful. Sales have accelerated as a result of the coronavirus pandemic, which forced customers to revert to shopping from home.
The firm's tremendous growth ultimately led marketplace giant Etsy to splurge $1.625 billion (mostly in cash) to acquire 100 percent of Depop. The acquisition is expected to go through in Q3 of 2021.
Depop's exponential growth even required the company to move headquarters in London to accommodate all the new employees it was hiring. Unfortunately, not everyone was along for the ride.
CEO Raga, in July 2022, stepped down from her position after 8 years at the firm's helm. She was ultimately replaced by Etsy's Chief Product Officer Kruti Patel Goyal.
Today, more than 30 million users are registered on Depop. The company, furthermore, employs over 1,000 people across offices in London, New York, and Manchester.
How Does Depop Make Money?
Depop makes money from transaction and payment fees as well as from allowing sellers to advertise on its platform.
The first fee is what the company refers to as the Depop fee, which is equal to 10 percent. So, if an item sells for $100, Depop gets to keep $10.
According to Depop, it imposes the fee "to keep the app up and running, with general up-keep costs and to pay all of our employees, from engineers, to design, to our product team."
In comparison, Poshmark charges 20 percent on sales above $15 (and a $2.95 fixed fee on sales below) while Vinted asks its buyers to pay 5 percent.
Second, Depop charges a so-called transaction fee which covers the cost of facilitating the payment. The fee is equal to 2.9 percent plus $0.30. Customers can either pay via Apple and Google Pay, PayPal, or debit and credit card.
The fee is applied to cover the cost that is imposed by the payment providers Depop works together with, namely Mastercard, Visa, PayPal, and more.
What separates Depop from many other traditional marketplaces like Amazon or eBay is the social component. Users can build up their own following, like and share content, as well as engage with other users.
The social clout, in turn, allows them to basically become influencers – and in some cases even full-time sellers on the platform.
The most prominent example is Bella McFadden (known as Internet Girl) who had built a seven-figure business as a result of her Depop stardom.
Furthermore, the social aspect engages sellers to only offer and sell high-quality and legit products.
In the past, some sellers had copied existing Depop designs from famous sellers by dropshipping the products from China and selling them at a much lower price. As a result, Depop banned the practice to promote sustainable practices and uniqueness on its platform.
The business model strategy of Depop is thus predicated on being a space where its predominantly Gen Z userbase not only gets fashion inspiration but even become small business owners.
The greater one's perceived chances of deriving a full-time income from Depop, the likelier people are to set up shops. This, in turn, means more products listed on the platform, which then attracts even more buyers.
Power users, in particular, often become advocates for a platform and help with promotional aspects, for example by creating educational content around selling on Depop.
Depop, apart from transaction and payment fees, also makes money from advertising via a format called boosted listings.
Boosted listings, as the name suggest, enable sellers to increase the visibility of their products, which appear as a separate tile within the search results.
Sellers are charged an additional 8 percent if they use boosted listings, on top of the 10 percent in transaction fees and 2.9 percent in payment fees.
Utilizing advertising is a fairly common monetization strategy among online marketplaces, especially as demand on the platform grows. As levels of competition among sellers keeps rising, they do need to find other avenues to generate eyeballs and consequently sales.
One interesting aspect in the way Depop utilizes advertising is that boosted fees are only charged if an item is actually sold. More sophisticated marketplaces like Amazon normally charge sellers for every click.
Since Depop largely deals with smaller sellers (e.g., university students doing Depop on the side), they likely cannot afford paying hefty upfront fees.
Depop Funding, Revenue & Valuation
According to Crunchbase, Depop has raised $105.6 million across seven rounds of venture capital funding.
Notable investors include HV Capital, Creandum, Octopus Ventures, General Atlantic, Balderton Capital, Klarna founder Sebastian Siemiatkowski, and many others.
Depop is currently being valued at $1.625 billion – at least to Etsy, which paid that sum to acquire the company in June 2021.
Depop recorded annual revenues of $70 million for the fiscal year 2020. The company has grown close to 70 percent every year from 2017 to 2020.
Who Owns Depop?
Etsy is now the sole owner of Depop after spending $1.625 billion (primarily cash, some stock) to acquire the company.
The acquisition allowed Etsy to tap into a completely new user base and product category. Over 96 percent of Depop's user base is below the age of 26, thus being extremely popular among Gen Z.
Furthermore, Etsy is not particularly strong in the fashion category and derives the majority of its sales from artisan and home goods. With Depop, Etsy will expand its business into the trillion-dollar fashion industry.
According to Beauhurst, both founder Beckerman and former CEO Raga each held a 4 percent stake in the company before the acquisition. The sale will, therefore, net them around $68 million each.
Depop's largest shareholder prior to the acquisition was HV Capital (formerly Holtzbrinck Ventures) with an ownership stake of 18.75 percent. The sale yielded them close to $300 million in return.