Executive Summary:
Etsy is an online marketplace that offers handmade, vintage, or craft items from sellers around the world. Items are sold in categories such as Clothing & Shoes, Home & Living, and many more.
The business model of Etsy is based on charging sellers a fee for listing products and whenever a successful sale is made. Additional sources of income include a website builder tool, Etsy Plus, product advertising, and payment processing.
Founded in 2005 and based out of Brooklyn, the company has been hugely successful across the globe. Etsy went public in 2015. Today, the company generates over $1.7 billion in annual revenue while being profitable.
How Etsy Works
Etsy is an online marketplace that connects sellers with buyers around the world. The platform's major appeal comes from the fact that its sellers offer handcrafted, non-branded, and unique items that are oftentimes only available Etsy.


Buyers can shop products in some of the following categories:
Home & Living
Clothing & Shoes
Jewelry & Accessories
Toys & Entertainment
Art & Collectibles
… and many more. Signing up to the platform as a merchant is fairly straightforward, which aids the platform in adding more sellers and subsequently products.
Sellers can furthermore opt-in to have process steps such as payments, storage, and shipment of goods handled by Etsy. This allows Etsy to compete with comparable marketplaces such as eBay, Poshmark, or Vinted, which offer the same services.
Other seller features include a forum as well as Etsy Teams, which allows merchants to collaborate with nearby sellers and find strategies to boost sales.
Etsy's marketplace is available either via the company's website or downloadable on Apple's App and Google's Play Store.
A (Not So) Short History Of Etsy
Etsy was founded in 2005 by Robert Kalin, Chris Maguire, Haim Schoppik. Kalin, who at the time was an amateur furniture maker, saw himself troubled marketing the wood-encased computers he produced.
Etsy originated from a freelance design project that Kalin, Maguire, and Shoppik carried out for GetCrafty.com, an online bulletin board for creators and crafters. While working on the design project, the team observed two issues: first, that many creators didn't have a platform to sell on and, second, that the fees eBay charged for uploading products were too high.
At the time, listing a $25 item on eBay would cost 50 cents plus a commission of 8 percent to 15 percent. Furthermore, maintaining an eBay store would come in at another $20 per month.
The trio would get together in Kalin's Brooklyn apartment and within two months launch what would later become Etsy. Not only was the platform specifically designed to suit the needs of creators, but be significantly cheaper than eBay and other marketplaces (maintaining the store was free of charge and four-month listings would only cost 10 cents, on top of a 3.5 percent commission for each sale).
Due to some real estate connections Kalin held, the company was able to secure $50,000 prior to the launch (another $100,000 followed within six months of operation). But because of the insane product-market fit, that money wasn't really required.
Etsy became a runaway success immediately after its launch. By 2007, Etsy counted 450,000 registered sellers on its platform that generated $26 million in yearly sales. That very same year, the firm took in over $3 million in venture funding.
Apart from the cheaper listing fees, there were plenty of other reasons for Etsy's lightspeed growth. For once, sellers and buyers alike were pushing the company and their stores on the newly established social media channels such as Facebook.
Furthermore, Etsy was tightly connected to its community of creators. The company's employees were regular attendees in some of America's most in-demand art galleries, fashion shows, and creator exhibitions – convincing creators to join the platform and advertise their products on Etsy.
At the same time, dissatisfaction with Kalin's leadership style was increasing as exponentially as the company's sales. Maguire and Schoppik worked night shifts to keep Etsy's website from crashing. Meanwhile, Kalin (who finished high school with a 1.4 GPA and graduated from university after attending five different colleges) was dreaming up new features, such as live video feed for sellers to broadcast their shops, which were not grounded in any sort of research or validation process.
As a consequence, both Maguire and Shoppik left the company in 2008. In June 2008, Kalin removed himself from his CEO role and became the Etsy's Chief Creative Officer. The company's COO, Maria Thomas, became took over leadership.
Kalin spent the next 12 months dedicated to solve the existing problems of Etsy sellers. He founded a nonprofit named Parachutes. Furthermore, he offered merchants free office space in Brooklyn and conducted weekly workshops on how to create a business.
Sellers continued to struggle for the time being. Many of them struggled to keep up with demand, ending up with 100-hour workweeks in some instances. The company's focus remained on handcrafted goods, but the increasing customer demand asked for more automated operations.
In late 2009, Kalin returned to Etsy, urging his board to dismiss Thomas and restore him as CEO. He argued that Etsy moved away from the values it was founded upon while needing to focus more on customer service, improving its website, and maximizing its sellers potential.
Because of his existing board seat and considerable equity stake, he ultimately was able to replace Thomas and assume the role of CEO once again. Despite the hostile takeover, Kalin only lasted two more years.
In 2011, Kalin was supplanted as CEO by Chad Dickerson, urged by the board of directors. Mr. Dickerson, at the time, acted as the company's Chief Technology Officer (CTO), overseeing many of the major improvements that were made to Etsy's website.
Dickerson continued to hold the company to high moral standards. In 2012, Etsy became a certified B-Corp. The company offered perks such as six months of fully paid parental leave, daily yoga classes, or shared bathrooms between men and women (some of Etsy's employees are transgender).
The ethos of being socially responsible originated from the vision Kalin had for Etsy. In early team meetings, he used to read out on children's books (such as on this blog post), stating that "We do not want Etsy itself to be a big tuna fish." He expanded that "Those tuna are the big companies that all us small businesses are teaming up against."
Fast forward to October 2013, this mission was slightly altered. Under the leadership of Dickerson, Etsy announced that they would allow sellers to contract with manufacturers to speed up the production process. The only requirement was that they continued designing the products themselves and were ready to give detailed explanations of their design process to Etsy's Marketplace Integrity team.
This (and many other initiatives) helped propel Etsy's growth into new stratospheres. The continued success led to the company's IPO in 2015, which allowed them to raise another $266.7 million in the process.
Under the leadership of Dickerson, Etsy grew to 1.4 million active sellers, had close to 20 million buyers, and accounted for platform sales (GMV) worth $2 billion. But Etsy's investors became increasingly concerned despite the impressive growth up to the IPO.
Being a public company often comes with its own set of problems. In the first ten months after going public, Etsy's stock dropped by over 75 percent. The company was still focusing heavily on growth and marketing, which resulted in continued losses every quarter.
Company insiders began selling shares. On top of that, Amazon launched Handmade, a competing platform aimed at crafters (that could utilize Amazon's supreme operations and ecosystem). Meanwhile, private equity firms like Dragoneer were buying up more and more Etsy shares (and thus voting power).
With no improvements on the horizon, the inevitable happened. In 2017, Dickerson was ousted from his role as CEO and replaced by Josh Silverman, who joined the company as a board member a year prior.
Silverman himself possessed years of experience as an executive, being the founder and CEO of Evite as well as holding senior leadership positions at companies such as eBay, American Express, and Skype.
But the transition wasn't without pain. Silverman identified multiple projects that had been in the works for months and terminated the ones showing no promise, all while letting go over 80 employees. A few months later, another 140 employees got their resignations handed to them as well.
Another necessary change that didn't sit too well with its seller community was Etsy's move towards free shipping. In July 2019, the company told sellers to offer free shipping for orders above $35, essentially implying that anyone who didn't follow along would be de-prioritized on their platform. Although the move caused tremendous scrutiny on the seller-side, it was necessary to keep up with the likes of Amazon Prime and other platforms offering similar shipping services.
While painful, the restructuring turned out to be vastly successful for the company. 2020, in particular, proved to be a very positive year for the company. Lockdown measures due to the coronavirus pandemic forced customers to conduct their shopping predominantly online, which greatly benefitted Etsy. In particular, sales of masks became a huge revenue driver ($740 million, in fact).
Oddly enough, the company even received a boost after Tesla and SpaceX CEO Elon Musk tweeted that he 'kinda loves' the company.
Nevertheless, Etsy also struggled with content moderation. For instance, the platform was bombarded with QAnon and Capital Insurrection merch, which was sold by the thousands – and removed soon after. Other examples included fake vaccination cards.
In 2021, Etsy has doubled down on the success from the previous year by acquiring a variety of complementing businesses. In June alone, Etsy announced the acquisition of fashion marketplace Depop ($1.6 billion) as well as Brazilian competitor Elo7 ($217 million).
Today, Etsy is a profitable business that generates millions in profits (more on that later). The company employs over 1,000 full-timers across 9 offices.
How Does Etsy Make Money?
Etsy makes money from listing fees, transaction fees, promotional ads, subscription fees, and payment processing fees. Etsy operates on a marketplace business model.
Since the company's foundation, Etsy has evolved its business model from simple listing and commission fees towards a platform approach in which it can monetize across different points of the customer journey.
Let's take a closer look at each and every income stream in the section below.
Listing Fees
Sellers are charged a $0.20 listing fee for every item that they place on Etsy's platform. Fees do not apply for Pattern or Private listings (more on that later).
Charges are furthermore imposed whenever a listing is renewed. Listing fees are independent of successful future sales.
Offers are typically uploaded on a four-month cadence and will be automatically renewed after the period expires. Nevertheless, sellers can opt into disabling automatic renewals.
Transaction Fees
Etsy applies a 5 percent commission fee for every successful sale facilitated on its platform. Other charges include the cost a seller sets for shipping and gift wrapping.
For over 13 years, the company stuck to its 3.5 percent commission rate, only adjusting it in 2018. Many sellers were frustrated by the announcement of its commission increases, but Etsy remains one of the cheapest platforms to sell on.
eBay, for instance, pockets 10 percent for every sale on its platform. Amazon applies commission rates anywhere between 8 to 15 percent.
Advertising and Promotional Fees
Etsy offers an array of promotional services to help its merchants increase sales. These include Etsy Ads and Offsite Ads.
Etsy Ads are shown throughout Etsy's website, for instance on search, category pages, or market pages. Sellers are only charged when a user clicks on the ad. Different CPC (Cost Per Click) rates apply depending on advertising spots, categories, and the country advertised in.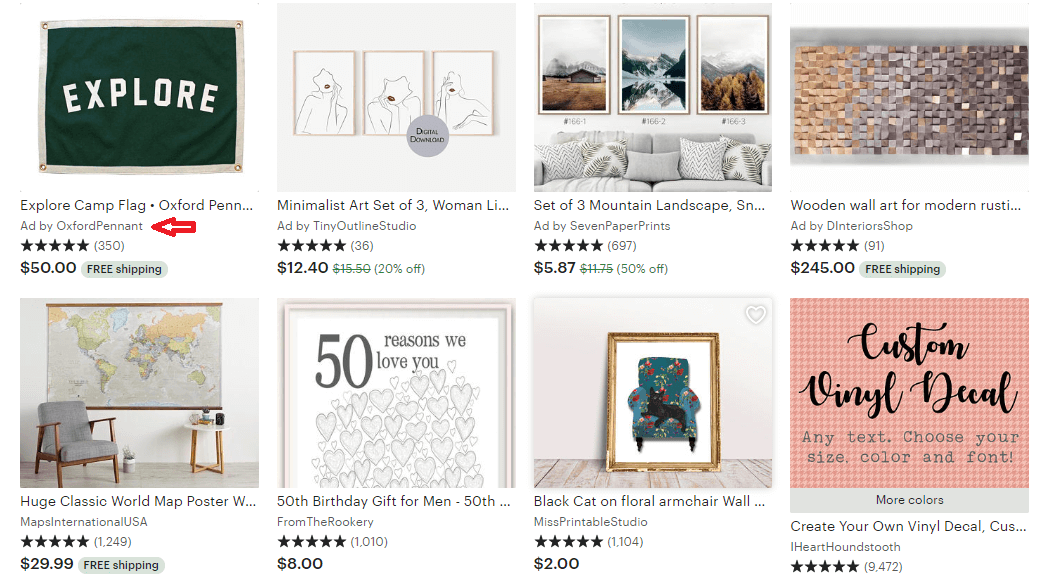 Offsite Ads, as the name indicates, are shown outside of the company's platform. Typically, Etsy buys up advertising spots on other platforms such as social media networks or search engines. For offsite advertising, sellers are only charged when a user clicks on the offer and completes a purchase within 30 days of the initial click.
Merchants pay a commission of either 12 or 15 percent when they make a sale through offsite ads. The fee charged depends on the merchant's sales history.
Subscriptions
Premium sellers on the platform can opt-in to Etsy Plus, a package that offers multiple add-on tools to boost sales. Etsy charges a monthly subscription fee of $10.
Premium features of Etsy Plus include:
Restock requests (allowing shoppers to receive notifications when the merchant's products are back in stock)
Advanced shop customization
Access to discounts and perks, for instance, custom shipping boxes or business cards
$5 Etsy Ads credit
15 listing credits
Etsy subscribers can furthermore register free .store domains and receive 50 percent off of domain registrations like .com or .net. The discount is valid for the first year of registration and offered in cooperation with Etsy's partner Hover.
Pattern
Pattern is a website builder that allows merchants to create their own stores on a domain-independent of Etsy's platform.
Etsy charges a monthly subscription fee of $15. The listing and transaction fees on Etsy's core platform are not applied to sales made on websites created via Pattern.
Some of the tool's features include the ability to create unlimited listings, advanced website analytics, blog, and social media sharing, or email marketing (in cooperation with MailChimp).
The first 30 days of Pattern are free of charge. This helps lure more users into the service.
Payments Processing
Etsy Payments allows merchants to accept a variety of payments in their regional currencies whilst utilizing Etsy's services.
Merchants that are signed up to Etsy Payments can receive payment by credit card, debit card, gift cards, and Etsy Credit. Alternatively, third-party platforms like PayPal, some bank transfer services, Apple Pay, and Google Pay can be utilized as well.
Etsy applies both a percentage and a fixed fee in exchange for facilitating the payment of any order. Percentage fees range anywhere between 3 to 6.5 percent while fixed fees are typically around $0.30. The actual amount is dependent upon the country the seller's bank account is located in.
The above fees apply to online sales. Should the merchant operate a physical store, he or she can opt-in to use a card reader (issued by Square) to process in-person sales.
Physical sales are subject to Square's payment processing fees. It can be assumed that Etsy takes a chunk of that percentage in return for facilitating the transaction and promoting Square's card reader.
---
Advertising, Pattern, payments processing, as well as Etsy Plus all fall under Etsy's so-called Service category.
Service revenue makes up about a quarter of Etsy's overall revenue. This shows the power of established marketplaces, which can make money not only from the commission, but the fierce competition among its sellers.
The more buyers a marketplace amasses, the higher the likelihood of seller's willing to pay for add-on services.
Etsy Funding, Valuation & Revenue
According to Crunchbase, Etsy has raised a total of $97.3 million in nine rounds of venture capital funding during its life as a private company.
Notable investors into the company included the likes of Accel, Index Ventures, Union Square Ventures, and many others.
The company raised another $266.7 million during its IPO on April 1st, 2015 (nope, no April Fools going on here).
At the time of the IPO, Etsy was being valued at $1.8 billion (with a share price of $16). Nowadays, Etsy's share price floats around the $200 mark, giving the firm a valuation of around $24 billion.
Etsy reported revenues of $1.7 billion for the fiscal year 2020, representing an increase of over 100 percent from 2019 ($818 million). The company has generated $349 million in profits over that same timespan.