Executive Summary:
HelloFresh is an online food delivery company that creates and ships meal kits for groups of two and four. Customers can choose from a variety of plans, including vegetarian, family-friendly, or low-calorie meals.
The business model of HelloFresh is based on charging customers a subscription fee. The price paid is dependent upon the frequency of food ordered (two to four times per week) as well as the number of people it's ordered for (two or four).
Founded in 2011, HelloFresh became one of the world's leading providers of meal kits. The continued growth culminated in the company's IPO in 2017.
How HelloFresh Works
HelloFresh is an online food delivery company that ships ready-to-cook meal kits. The packages contain both the recipe as well as ingredients to be cooked.
HelloFresh offers personalized plans that allow customers to decide for how many people they want to cook for, how often in a week food should be delivered, and the type of food (e.g. vegetarian or low calorie).
HelloFresh offers over 30 recipes to choose from at any given time. Customers can order anywhere between 2 to 6 meals per week aimed at either 2 or 4 people.
Ingredients are made to last for about a week. Proteins are packed outside of meal kits and come with an ice pack to keep them fresh.
One of HelloFresh's major selling points is the flexibility of its plans. Customers can easily opt-out of their subscriptions for any time frame they desire.
Users can place orders from the company's website as well as their Android and iOS apps.
The service is available in 19 countries across the globe, including the United States, Germany, or Australia.
A Short History Of HelloFresh
HelloFresh, headquartered in Berlin, Germany, was founded in 2011 by Dominik Richter (CEO), Thomas Griesel, and Jessica Nilsson.
HelloFresh is a product of Germany's Rocket Internet, a startup incubator responsible for the creation of companies such as Zalando, Delivery Hero, Lazada, and many others.
The company, founded and led by Oliver Samwer, is known for copying successful businesses and deploying copycat companies all around the world. In the years prior, Samwer made billions off building and selling European versions of YouTube, eBay, Groupon, and more.
To build these companies, Rocket seeks out the most talented individuals from the world's best business schools. Work experience in management consulting and investment banking, as well as a competitive background in sports, round up the profile.
Richter and Griesel were both fitting the mold. They earned degrees from WHU-Otto Beisheim School of Management in Vallendar, Germany (Samwer's alma mater), and the London School of Economics, had work experience at Goldman and OC&C Strategy Consultants, and played soccer on a semi-professional level.
The initial idea for HelloFresh came from Sweden. Linas Matkasse, a Swedish startup, offered meal kits with corresponding recipes that shipped weekly via the mail. In Sweden, the model was highly popular. In its fourth year of operation, Linas Matkasse was projected to accumulate revenues of $45 million.
Richter, who joined Rocket Internet first, then recruited Griesel (a former WHU classmate of his) and Nilsson (who left the company in 2014) to join him in building HelloFresh.
Armed with an initial investment from Rocket, the trio immediately got to work. The company shipped its first meal kit within three months of operation. Weeks later, the team sends employees to Amsterdam, London, Paris, and Sydney to launch local HelloFresh subsidiaries.
A year later, in the summer of 2012, the company announced its first major round of funding. $10 million were poured into the startup by existing investor Rocket Internet as well as Holtzbrinck Ventures and Kinnevik. At this point, HelloFresh employed more than 100 people across seven global offices.
Around the same time, word got out about the US launch of competing services Blue Apron and Plated. Weeks later, the founders decided to open an office in New York City. The company closed 2012 with $3 million in revenues.
While impressive, these numbers were nowhere near the $10 million in annual revenue that Samwer traditionally expects from his first-year startups. Furthermore, the startup's extreme focus on growth came with a variety of operational problems.
First and foremost, the company was spending huge amounts of money to acquire customers. Its marketing spend rose from $2.3 million in 2012 to close to $30 million in 2014. Meanwhile, the newly acquired customers were often only testing the meal kits out for a couple of weeks and dropping the service soon after sign-up.
Furthermore, shipping groceries, building up warehouses, storing large amounts of ingredients, and employing hundreds of people were all very costly activities. By 2014, the company's operational cost (excluding marketing budgets) made up over 80 percent of the revenue it generated.
To make matters worse, employees in the American warehouses were caught taking drugs and having sex while at work. One former employee even posted to social media, holding a gun at work and claiming he'd shoot anyone coming his way.
Rocket's interest in continuing to fund the startup began to dwindle. Existing investors Holtzbrinck and Kinnevik bailed on the company altogether and sold their shares.
Luckily for the founders, Jeffrey Lieberman, founder of Insight Venture Partners, came for the rescue. His company led a $34 million round (at a $178 million valuation) in June 2014. The company's new investment round rekindled Samwer's interest in the company.
In February 2015, Rocket Internet led another funding round of $124 million, valuing HelloFresh at a whopping $700 million. As a result, Rocket's stake in HelloFresh rose to over 50 percent.
That very same year, news from inside broke that the company tried going public. Unfortunately, investors weren't comfortable with the company's extreme cash burn and its lagging path to profitability.
As a result, HelloFresh decided to raise another round of funding. The company also worked on improving its operational metrics and hired more experienced executives. Additionally, the company decided to raise minimum wages to $13, leading to higher employee satisfaction and less turnover.
In the meantime, the meal kit industry began its consolidation. Its competitors were either brought out by larger players such as supermarket chain Albertsons or simply saw their sales volumes decline (for instance Blue Apron).
By 2017, HelloFresh became the de-facto market leader for meal kit deliveries in the US. Other markets, such as the UK or Australia, followed suit. The continued growth led to the company's IPO in November 2017, allowing them to raise another $330 million at a valuation of $1.9 billion.
Over the coming years, HelloFresh continued to expand into new markets. However, the biggest accelerant to its business came years after its IPO.
The Covid pandemic, which forced people across the world to lockdown in their homes, led to a rejuvenated interest in meal kit services and a doubling of HelloFresh's revenue.
The increased income also enabled HelloFresh to splurge. In November 2020, it acquired meal delivery service Factor for a cool $277 million. And 6 months later, it bought rival Youfoodz for another AU$125 million.
Unfortunately, not everything was always going well. In September 2021, American HelloFresh workers began protesting the firm's workplace practices and started to unionize.
Its woes continued when, in September 2022, HelloFresh disclosed that one of its beef suppliers may have shipped products contaminated with E. coli. Just a few weeks later, the company was forced to lay off 600 workers after it closed down a facility in Richmond.
How Does HelloFresh Make Money?
HelloFresh makes money via subscription fees for its meal kits as well as from advertising.
The price range of a meal kit varies depending on the amount of food ordered the frequency as well with which a customer places his/her order.
For instance, the price per serving for a two-person meal is $8.99 while ordering for four gets you a cheaper rate of $7.49.
HelloFresh can offer a cheaper rate for mass offers due to the fact that the company is vertically integrated.
This means that HelloFresh manages the whole value chain, including sourcing the ingredients, creating the recipe, storage, and delivering the food to customers.
This is also the reason why the company was losing stacks of money in the beginning. Building up warehouses, renting delivery cars, hiring employees, and creating a variety of meals are just some of the initial setup cost that only amortize over time.
Building up that supply chain prowess is essential given that HelloFresh operates in highly competitive markets like the United States, which boast local powerhouses like Blue Apron.
The competition that HelloFresh faces is amplified by the fact that its subscription can be cancelled at any time. As a result, instances like contaminated meat can lead to severe and immediate losses in income as subscribers cancel their plans while HelloFresh still grapples with high fixed costs.
HelloFresh, to offset some of that risk, has begun to vertically expand into advertising. The HelloFresh Group currently counts 7.5 million active customers who collectively ordered over 1 billion meals in 2021 alone.
And those customers are certainly deeply engaged with their purchases, meaning they are extremely likely to cook the meals that HelloFresh sells them.
As a result, HelloFresh has begun to work with other brands to launch sponsored boxes. Back in February 2022, for example, HelloFresh introduced a box in partnership with Nintendo.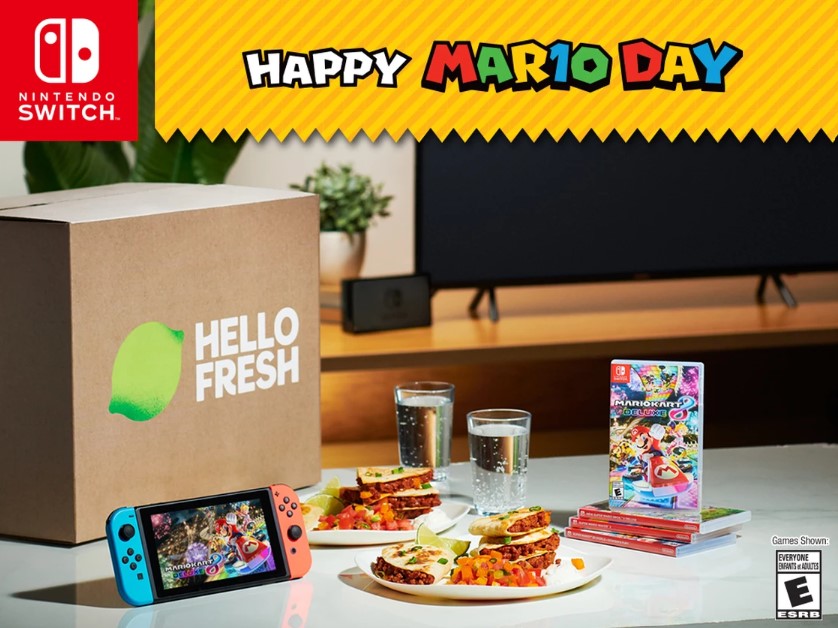 HelloFresh sold customers Mario Day meal kits and provided them with a chance to enter a Super Mario contest.
This is just one of the many branded meal kits that HelloFresh has launched. The company, in all likeliness, agrees on a fixed and performance-based fees with its advertising partners.
The business model strategy that HelloFresh pursues will continue being centered around reaching the necessary production scale in each of the countries it operates. That scale may be achieved via acquisitions or by building out the necessary supply chain capabilities by itself.
HelloFresh Funding, Valuation & Revenue
HelloFresh, according to Crunchbase, has raised a total of $367.5 million in six rounds of venture capital funding.
Notable investors during the company's startup life include the likes of Rocket Internet, Insight Partners, Baillie Gifford, Phenomenon Ventures, and many more.
The company raised another €320 million (at a valuation of €1.7 billion) during its IPO in November 2017. Three years later, the food delivery giant has more than quadrupled its valuation to over €7.4 billion in 2020. Today, HelloFresh is valued at about €5 billion.
For the fiscal year 2021, HelloFresh generated €5.99 billion in revenue, up significantly from the $3.75 billion it made the year prior.