Executive Summary:
Stitch Fix is an online personal styling service that uses a combination of technology and human input to come up with styling suggestions. These styles, called Fix, are then shipped to the customer. Suggestions are based on the customer's body type, gender, preferences, and past purchasing behavior.
The business model of Stitch Fix is based on selling the clothes. The company offers over 1,000 brands as well as their own white-label clothing (called Hybrid Designs). Other sources of income include a $20 styling fee, subscription offerings, as well as a newly launched marketplace named Shop Your Looks.
Founded in 2011 by a former Harvard grad, the company has been a huge success so far. Stitch Fix went public in 2017, making its founder Katrina Lake the youngest ever female CEO to lead a company to IPO. Nowadays, Stitch Fix generates over $1.6 billion in annual revenues while being profitable.
How Stitch Fix Works
Stitch Fix is an online personal styling service. The company uses a combination of personal stylists and technology (more specifically machine and deep learning) to come up with outfit recommendations.
In the beginning, novel users take a style quiz that answers questions about their size, price range, gender, and taste.
A Stitch Fix stylist then picks a total of five items, which are shipped to the customer's home where he/she can try the clothes on.
The company claims to work with thousands of stylists across the United States. Apart from that, customers must pay for the clothing enclosed in the package.
A styling fee will consequently be deducted from the purchase price in case the customer decides to keep at least one piece of clothing.
Anything that the customer does not intend to keep can be mailed back free of charge. In case the customer decides to keep all items within a delivery, a discount of 25 percent is applied.
Stitch Fix offers its personal styling services in the Female, Male, and Kids categories. Some of the niche categories the company operates in include Plus Sizes, Maternity, or Petite.
Stix Fix is available nationwide across the United States as well as the United Kingdom.
Users can order from the company's website or via its mobile apps that are available on Android and iOS.
What Brands Does Stitch Fix Use?
Stitch Fix works together with over 1,000 brands. These include TOMS, Scotch & Soda, Barbour, Rails, LUSH, VANS, and a lot more.
Apart from other the third-party brands, Stitch fix also develops its own exclusive clothing lines.
Its in-house brands for men include Alesbury, Fairlane, Even Tide, and more. Female brands are, for example, Truly Poppy, Mauvette, Bixon Ivy, amongst others.
Where Does Stitch Fix Get Their Clothes?
Stitch Fix sources most of its clothing directly from the brand (such as Adidas or Tomy Hilfiger).
It can be assumed that the company uses algorithms that decide which brands to source and how many items are going to be needed.
Apart from buying from brands, Stitch Fix also produces items for its own exclusive labels. Its clothing is, most likely, produced in Asia.
A Short History Of Stitch Fix
Stitch Fix, which is headquartered in San Francisco, was founded in 2011 by Katrina Lake.
Lake graduated with an Economics degree from Stanford in 2005. After her undergraduate studies, she joined consulting firm Parthenon.
During Lake's tenure as a professional PowerPoint developer, she worked on a few cases in the fashion and retail space.
She ultimately grew frustrated with how slow these industries were moving. After all, despite the innovations of the early web and smartphone era, people were still doing most of their shopping offline. Retail spaces themselves largely remained unchanged, too.
Lake went on to join Leader Ventures, a VC based out of San Francisco, as an associate to cure her thirst for innovation.
Her hope was that she'd later on work for one of the many startups that she met to gain more experience and build out her network.
What she instead encountered was that many of the entrepreneurs she worked with were just as inexperienced as her. But being a risk-averse person made her put the plans of starting a business in the retail space off for just a little time longer.
Instead of starting a business, Lake pursued her MBA at the Harvard Business School. Finally, in her second year at Harvard, she took a leap of faith and went on to launch what later would become Stitch Fix (the company was originally named Rack Habit).
Lake's lack of retail experience (she previously only worked at a Banana Republic store and a smoothie shop) didn't stop her from going full steam ahead. Armed with $6,000 in credit card balances and clothes she bought in Boston's boutique shops, the founder went to work.
During the first half-year of the business, Stitch Fix did not have a website. Instead, Lake used a combination of Google Sheets and SurveyMonkey to ask customers about their clothing tastes while keeping track of all the purchase data.
She initially started out selling the service to friends and family in Boston. The service quickly grew through word of mouth from 20 friends to over 200 customers in a matter of weeks.
In April of 2011, she finalized a funding round with angel investor Steve Anderson (Instagram's first investor), who committed $750,000 to her company. A month later, she graduated from Harvard and packed her bags to move Stitch Fix to San Francisco (which remains to be the company's headquarters to this day).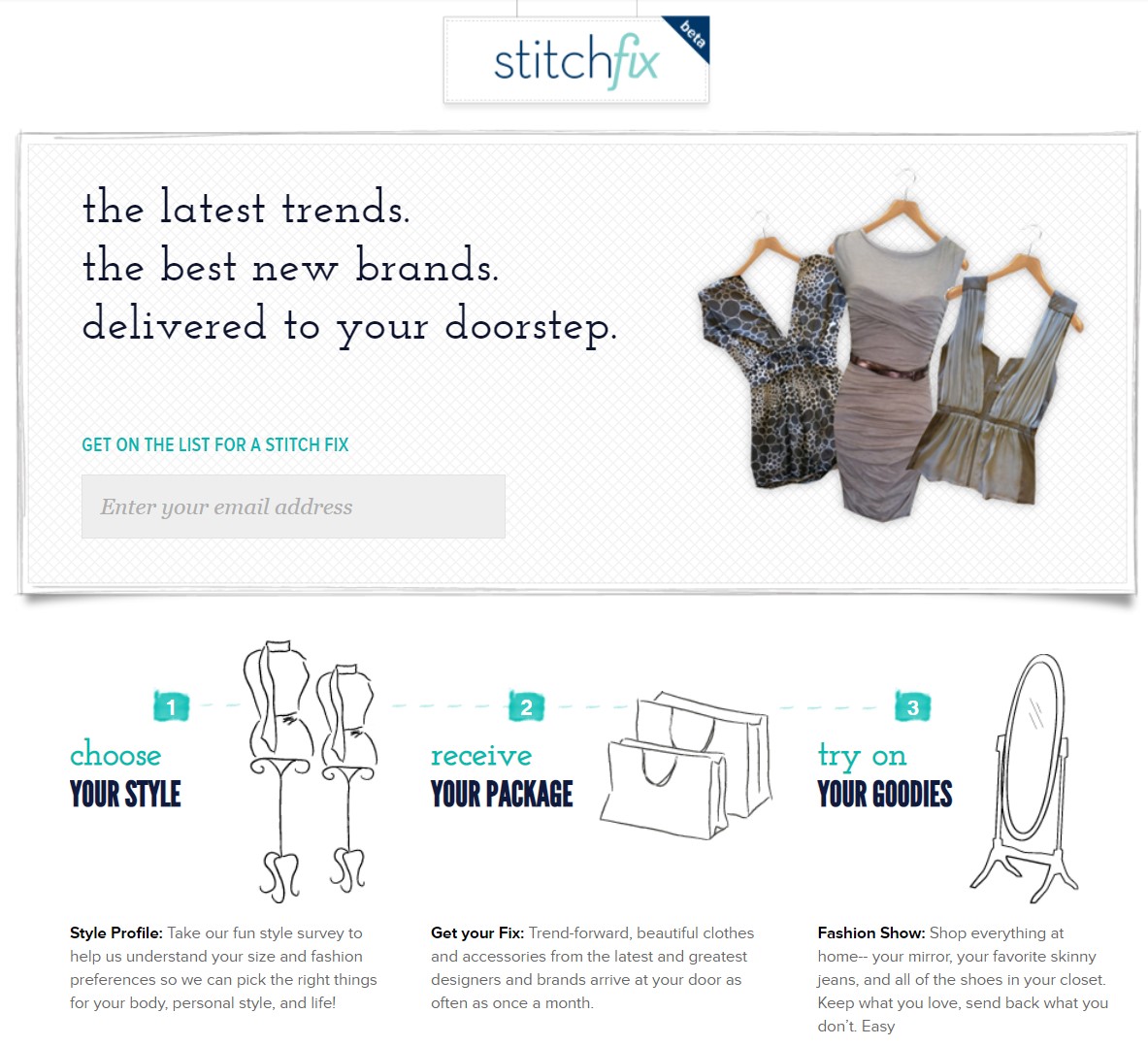 Within the first year, Stitch Fix was able to make some critical hires. Lake recruited Walmart.com COO Mike Smith as well as Netflix's VP of Algorithms Eric Colson who is still part of the company's leadership team.
Nevertheless, the first two years weren't without trouble. By the end of 2012, the company was not able to raise money. Even though Stitch Fix had tens of thousands of customers (and even a waitlist), raising money remained a challenge.
In part, investors were simply not comfortable with the high amounts of inventory the company kept (and any clothing that didn't sell counted as a loss).
Furthermore, since the venture capital industry is predominantly operated by men, many did not understand the problem Stitch Fix tried to solve.
To make matters worse, Lake even experienced an instance of sexual harassment in 2013. Justin Caldbeck, a venture capitalist at Lightspeed Venture Partners (which was one of Stitch Fix's investors), made sexual advances towards Lake. Both Lightspeed and Lake signed a mutual nondisparagement agreement in 2013.
Despite these road bumps, Lake ultimately made it work. In the years to come, Stitch Fix continued to add customers and raise money. And because of the prejudice and reservations many (male) investors held, capital and excessive funding rounds were always hard to come by. This forced Stitch Fix to focus on profitability early on.
It was, therefore, somewhat surprising when Stitch Fix announced that it would go public, which it did in November 2017. And Lake made sure to celebrate in style, holding her newborn sin in her hands while ringing the bell.
She, furthermore, became the youngest ever female founder to lead a company to IPO – a feat that was eventually surpassed in January 2021 by Whitney Wolfe-Herd, the founder of dating app Bumble.
In the coming years, Lake continued to grow the now-public business she started, for example by expanding Stitch Fix into the U.K. back in May 2019 or opening additional distribution centers.
The expansion was very much necessary as new Stitch Fix competitors, such as Amazon, began to emerge. On the other end, Stitch Fix continued to lose money.
To stop the bleeding, it laid off 1,400 of its California workers in March 2020, just as the Covid-19 pandemic began wreaking havoc. Luckily, the pandemic proved to be a blessing in disguise as customers shifted their shopping habits to online shops.
However, the company continued to be cautious about cost as evidenced by the closure of its San Francisco warehouse and consequent layoffs of 162 workers back in February 2021.
Warehouse workers weren't the only ones that departed from Stitch Fix, though. Just two months later, founder and CEO Katrina Lake announced that she would move to a chairwoman role. Her replacement became Elizabeth Spaulding who previously served as a president at the firm.
Spaulding would soon find herself in all kinds of troubles. After she decided to upend the firm's work-from-home policy, a third of Stitch Fix's stylists decided to quit.
2022, in particular, became a troubling year for the company. Heightened interest rates and rising inflation caused demand to bottom, thus forcing Stitch Fix to conduct yet another round of layoffs in June.
Its troubles continued in 2023, culminating in the departure of Spaulding in January and leading to the return of Lake as CEO. Lake's first point of action was to lay off yet another 20 percent of Stitch Fix's staff, equal to about 350 people.
How Does Stitch Fix Make Money?
Stitch Fix makes money from selling its own and other brands clothing, styling fees, and an annual subscription.
Let's take a closer look at each of the firm's revenue streams in the section below.
Selling Clothes
If it wasn't obvious by now: Stitch Fix is in the business of selling clothes. The company purchases clothes in bulk from brands such as Ralph Lauren or Calvin Klein, stores them in one of their many warehouses across the country, and sells them preferably at a profit.
When Stitch Fix started out, many investors were hesitant to invest in a startup that required a great amount of capital to operate.
After all, the company had to buy thousands of clothing items, hire a multitude of employees (ranging from data scientists to management personnel), and build out a nationwide distribution network.
On top of that, the fashion and retail industries are some of the most competitive domains to be operating in. Margins are slim (especially for lower-priced clothing) and trends oftentimes shift within a matter of months, making it hard to forecast.
So why is Stitch Fix able to compete in such as competitive industry? The answer is: data. The company employs well over 100 data scientists that work on a variety of projects ranging from automation to predicting trends more efficiently.
For instance, the company has developed re-buy algorithms that tell the company's buyers when a popular item is expected to be out of stock.
The data also helps to improve the relationships with the company's partners. Stitch Fix is able to give them exact information (in aggregated and anonymized form) on what types of styles, sizes, color combinations, etc. sell best.
In 2017, one of the firm's projects resulted in the creation of Style Shuffle, a Tinder-like application where users can swipe right or left to determine what clothing they like and dislike.
The generated data acts as input to train the company's recommendation algorithms. It furthermore draws customers back to the company's platform by giving them shopping inspiration. Over 80 percent of the company's 4+ million customers have used the tool, resulting in over a billion ratings.
Since both the algorithm and human get better with every Fix, Stitch Fix is able to not only operate more efficiently but sell the items for a higher price. Customers currently pay an average of $55 per item.
Stitch Fix, apart from sending people clothing on a monthly basis, also enables them to purchase individual clothing items directly. And again, it utilizes machine learning to show customers the products that they possibly might like the most (under a tab called Freestyle, which was launched in September 2021).
"Our ambition is to build you your own personal store," said former CEO Spaulding in an interview with Fast Company. Freestyle is an evolution of Shop Your Looks and Direct Buy.
The latter enabled customers to purchase clothes directly while the former allowed them to shop personalized outfits built around previously kept items, without waiting for their next package.
However, in order to access Freestyle, customers first need to purchase a box. Previously, customer were not required to buy a Fix but the firm reversed course in September 2022, likely to stop the bleeding its core business faced during the time.
Private Labeling
Apart from selling other brand's clothes, Stitch Fix also produces its own clothing under its Hybrid Designs brand.
The idea came when the company's data scientists were discovering product gaps in the marketplace. For instance, some middle-aged female customers were looking for capped-sleeve blouses, but that clothing inventory was simply not available.
The design process looks roughly like follows: three different algorithms are used in the process. The first algorithm three clothing parents, which are suggested clothing items that act as a template for a new design or can simply be combined.
The second algorithm proposes three separate characteristics that are known for complimenting the parent's style, like a V-neck or long sleeves. The third utilizes a little bit of randomness, which is a suggestion that is atypical for the design that was proposed before (but can be potentially interesting).
Human designers then take these algorithmic suggestions and finalize the designs. They may add things like color combinations that are currently en vogue.
Because Stitch Fix produces these clothes themselves, it can sell the items at much higher margins. Currently, 20 percent of any given order includes clothing from Hybrid Designs.
Annual Style Pass
Style Pass is a subscription offering for Stitch Fix's most loyal customers. After ordering a certain number of Fixes, the customer gets invited to join the premium Style Pass program.
In exchange for a yearly subscription fee of $49, customers will get access to unlimited Fixes.
That means they are not required to pay the $20 design fee and only pay for the clothing. On top of that, shipping and returns are free of charge.
Earnest Research reports that Style Pass customers pay 15 percent more their clothing. Annual retention rates are between 50 percent to 70 percent.
Offering a subscription allows Stitch Fix to extract even more value from existing customers. And since the subscription is paid on an annual basis, it can already book the revenue and utilize it for other purposes.
Additionally, customers paying for a subscription are more incentivized to order clothing, which leads to greater sales, too. Lastly, the more a customer purchases, the better recommendations Stitch Fix is able to make, again increasing sales.
Styling Fees
When ordering a Fix (which is how the company calls its shipments), a styling fee of $20 is applied.
The styling fee would be deducted from the order volume in case the customer decides to keep at least one piece of clothing.
The styling fee covers the cost of the stylist that picks the items. Customers can expect the item to be shipped within two weeks.
Stitch Fix Funding, Valuation & Revenue
Stitch Fix, according to Crunchbase, has raised a total of $79.4 million in five rounds of funding.
Notable investors into the company include the likes of Benchmark, Lightspeed Venture Partners, Baseline Ventures, and many more.
The company raised another $120 million during its IPO in November 2017. Public investors valued Stitch Fix at $1.4 billion.
In the three years that followed, the company's valuation rose $2.41 billion, representing close to a twofold increase. Unfortunately, its valuation has since dropped to below $1 billion.
Stitch Fix reported revenues of $2.1 billion during fiscal year 2021, up 22.8 percent from the year prior.
Who Owns Stitch Fix?
At the time of the IPO, Katrina Lake was still owning around 16 percent of the company. Today, her shares have risen to 18 percent, making her the largest personal shareholder.
Stitch Fix's largest shareholder remains to be Lightspeed Venture Partners, owning a total of 36.97 percent. The company's third largest shareholder, right after Lake, is Benchmark Capital with shares worth 14.3 percent.
Keep in mind that Stitch Fix is a public company, which means its shares are publicly accessible to the market. As such, its ownership structure might fluctuate over time.