Eventbrite is an online event management and ticketing platform, which allows almost anyone to create, promote, and host events. These events are either hosted on-site or online and span across hundreds of categories, including music festivals, yoga classes, and many more.
The business model of Eventbrite is based on charging transaction fees (paid either by customers or organizers) for every ticket sold. The company furthermore makes money from renting out physical equipment (e.g. scanning devices) to event hosts.
Founded in 2006 and based out of San Francisco, the firm has become a global powerhouse in the online ticketing world. Eventbrite ultimately went public in 2018.
How Eventbrite Works
Eventbrite is an online event management and ticketing platform. It allows users to explore, create, and promote physical or online events.

Users can attend events in categories such as music, charity, education, sports, or food and drinks. There's even room for non-commercial gatherings, such as family gatherings or high school reunions.
On the organizer's side, an array of tools is made available to simplify the creation and management of events. These include features such as a page templates to create events, reporting dashboards (e.g. to track registrations and sales), or a dedicated support team.
Additionally, Eventbrite has developed an app (called the Eventbrite Organizer App) that helps organizers to check-in event attendees (via QR codes), track live attendance, or even sell merchandise on-site.
As a quasi-marketplace, Eventbrite furthermore takes care of the financial processing as well as advertisement of its events. Users can access the platform either via their website or any of the company's mobile apps (available on Android and iOS).
A (Not So) Short History Of Eventbrite
Eventbrite, headquartered in San Francisco, was founded in 2006 by Julia Hartz (CEO), Kevin Hartz, and Renaud Visage.
Julia and Kevin met in 2003 when the pair were seated next to each other at a wedding of mutual friends. They hit it off right away and got engaged two years later.
The next year, in 2006, they started Eventbrite. And just to make things a little more complicated, they welcomed their first child two years all while bootstrapping their company and trying to make payroll.
To understand this madness, let's roll back the tape a little. Prior to starting Eventbrite, both Kevin and Julia gained key experiences that helped them to navigate and balance the foundation of both their family and business.
Kevin, a former graduate of Stanford and Oxford University, spent his first few years building products in the dotcom era and investing in other startups as a VC. In 2001, he co-founded digital money transfer service Xoom and led angel investments in companies like PayPal, Pinterest, and Airbnb.
Julia, in the meantime, was working in television development for FX Networks in Los Angeles (Kevin was based in San Francisco). As a result, the couple had to figure out long-distance for the next two years.
In 2005, Julia decided to move to the Bay Area, where she was closer to Kevin and grew up as a child. The local cable network in San Francisco offered her a job as an executive, but she ultimately turned it down.
Julia showed Kevin the offer to get his opinion. And Kevin's response? He simply said that she could work on somebody else's dream – or they could simply start something together. Weeks later, the newly engaged couple got to work on what would end up becoming Eventbrite.
The idea for Eventbrite wasn't based on any sort of eureka moment. Instead, the Hartzes simply conducted extensive research on any consumer category that was ripe for disruption. Ticketing was one of these industries.
The space was characterized by high fees, bad customer experience, and lacking the usage of technology. Many organizers were still using emails and Excel spreadsheets to sell and track their orders and ticket redemptions. Other existing players like Ticketmaster were simply charging astronomic fees for managing a customer's ticketing operation and were focused on bigger events like concerts and festivals.
Mutual friends then introduced the couple to Renaud Visage, who previously led engineering teams and joined the company as CTO. Kevin became the company's CEO while Julia held the title of president.
After a year of fulltime development work, in July 2007, the Eventbrite website was launched. The trio made the choice to bootstrap the company in the beginning and don't seek outside investment.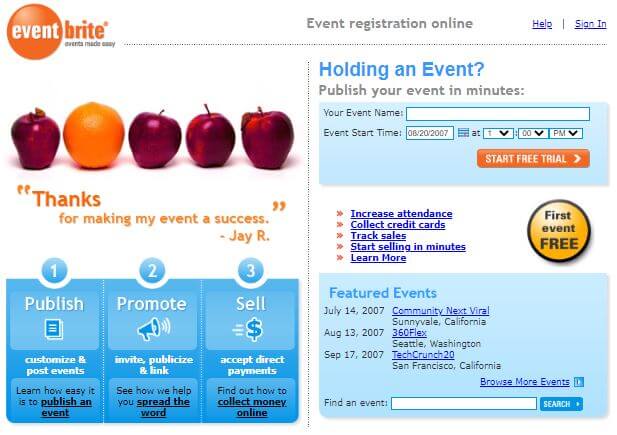 Part of the decision was grounded in the fact that Kevin wanted to take a different route from his Xoom days (the company was heavily funded by investors) to avoid any outside noise. Another reason, bluntly spoken, shortages in the capital market. Many venture capital firms had to close shop due to the financial crisis in 2007, which pretty much removed any chance of receiving an outside investment.
For the first three years of operation, Eventbrite did not take any outside investment, nor did it hire any fulltime employees. This forced the team to really listen to the needs of their customers while trying to become profitable early on. They only spent $250,000 of their own money in the first two years of operation.
Eventbrite deployed several growth tactics to carve out a niche amongst other industry giants like Ticketmaster. They found an early adopter group in tech bloggers that were hosting meetups. They actively onboarded them, which led to a unique customer experience and gave them both valuable feedback and increased word of mouth.
Oftentimes, attendees of their events were then converting into organizers themselves because of the quality of the product experience. Meanwhile, Julia and Kevin still replied to all the customer emails and calls themselves, which create a very enclosed feedback loop between customer service and product development.
They furthermore built the platform horizontally focused instead of targeting one single niche. It became a one-size-fits-all solution, meaning that anyone could create and host events. That create surprising new use cases like yoga or cooking classes that weren't necessarily lucrative for the bigger incumbents.
Lastly, Eventbrite was one of the first companies to take advantage of the rise of social media. At the time, Facebook was desperate to make sure its feed was filled with real-life events, instead of the gamer apps that were popping up left and right. Weeks later, Facebook users were able to save and buy events hosted by Eventbrite users.
In November 2009, the company finally announced its first major round of funding and raised $6.5 million from Sequoia Capital. The capital infusion allowed Eventbrite to take a major leap, growing from 30 to over 100 employees in the span of a few months.
For 2010, Eventbrite sold over 11 million tickets for a total of $207 million. By then, the company was already active in over 9,000 cities and 147 countries across the globe. In the years that followed, the company continued to expand its business while raising larger sums of cash.
The continued growth culminated in the company's IPO in September 2018, which valued Eventbrite at a whopping $1.8 billion. Ringing the bell at the New York Stock Exchange was a familiar, yet different face.
Two years prior, in 2016, Kevin stepped down from his role as CEO to focus his efforts on investing and building companies at Founders Fund. As a consequence, Julia became the company's new CEO and remains in this position to this date.
In 2019, the company hosted over 4.7 million events in 180 countries across the globe. Over 309 million tickets were sold in the same time span. Events are now hosted by more than 949,000 event organizers.
How Does Eventbrite Make Money?
Statista projects that the Event Ticket industry will reach $24.8 billion in annual revenue for the year 2020. Meanwhile, the market for online events is projected to hit $61.7 billion by 2027.
Despite the many challenges that the coronavirus brought upon the events industry, there are no signs of a future slowdown.
Eventbrite has become one of the worldwide leaders within this massive segment. Like any other marketplace, the company makes money from a variety of income streams, including sales fees, promotional activities, as well as supplier tools.
Let's take a closer look at each and every one of those.
Transaction Fees
Eventbrite charges a service as well as a payment processing fee for every ticket sold. If events are hosted for free, no fees are paid. Organizers can decide whether they pass the fees onto the customers or pay themselves.
The fees charged depend on the country the event is hosted in as well as the package that the organizer selected. Eventbrite offers three major packages, namely:
Essential
Professional
Premium
Each package comes with its own set of features. The Essential packages, for instance, offers free promotional tools (e.g. event tags), mobile-optimized events pages, or event schedules with multiple dates.
Meanwhile, the Professional and Premium packages include additional features such as detailed reports by ticket type or across multiple events, selling on the organizer's website with Eventbrite widgets, premium customer support, or team access and different permission levels.
The fee for payment processing remains consistent at 2.5 percent. Taking the United States as an example, the following fees are charged depending on the package chosen:
Essential Package: 2 percent (of the ticket price) + $0.79 per sold ticket
Professional Package: 3.5 percent + $1.59 per sold ticket
Premium Package: only available upon request
The different packages allow Eventbrite to cater to a wide audience of organizers. These range from small classes up to large-scale concerts.
Eventbrite has recently started to focus its efforts on accelerating online events sales. The company reported a 2000 percent year-over-year increase in online events taking place.
Eventbrite Organizer
The Eventbrite Organizer application allows hosts to enhance their event experience through a variety of features.
Some of the additional features include the ability to sell tickets and merchandise on-site, track attendance, or QR scans to enter any given event.
The Organizer app is free of charge. Eventbrite, again, monetizes through transaction fees whenever an attendee buys a ticket or merchandise. A payment processing fee of 3 percent plus a service charge of $1 is applied for every transaction regardless of country or volume.
Additionally, Eventbrite uses the app to cross-sell other types of services. Organizers can, for instance, rent scanning or box office equipment for the duration of the event. Pricing starts at $99 per event.
Donation Tickets
Apart from tickets, Eventbrite organizers can furthermore collect donations for the events they host. Instead of paying a fixed ticket fee, attendees themselves can choose the price they pay for a given event.
Similar to the transaction fees described above, a percentage fee is charged for every donation sold via Eventbrite. Again, this will depend on the country that a particular event is hosted in.
With donations, a maximum of 2 percent per sold ticket can be charged. In some cases, a payment processing fee of 2.5 percent may be added on.
Eventbrite Funding, Valuation & Revenue
According to Crunchbase, Eventbrite has raised a total of $557.3 million in 11 rounds of funding. Notable investors into the company include the likes of Sequoia Capital, Tiger Global Management, Francisco Partners, and many others.
They raised another $230 million during their IPO in September 2018, valuing the company at $1.8 billion. Eventbrite's valuation got cut by more than half during the coronavirus pandemic. The company has a market cap of $770 million at the time of writing.
The company reported revenues of $327 million for the fiscal year 2019, which represents a 12 percent increase from the previous year. Meanwhile, the company posted a net loss of $13.9 million, up slightly from the $13 million it recorded in the previous year.