Executive Summary:
Opendoor is a real estate platform that buys, sells, and trades homes online. The company utilizes artificial intelligence and other technological aids (such as an app) to speed up and improve its operations.
The business model of Opendoor is based on selling the houses it buys up for a profit. The company makes money through a sales fee (paid by the home seller) as well as interest on mortgage loans.
Founded in 2014 and based out of San Francisco, its business model has been widely successful so far. The company successfully went public in December 2020.
How Opendoor Works
Opendoor is an iBuyer that purchases, sells, and trades homes online. The firm's technology allows it to make near-instant cash offers on houses within 24 to 48 hours of submission.
Opendoor utilizes machine and deep learning technology fueled by masses of data (i.e. market data, input from real estate agents, or characteristics of the house) to calculate the optimal purchase and sales price, respectively. Other competing services include Offerpad, Redfin, and Knock.
Selling a property on Opendoor therefore removes the need of hiring a real estate agent, paying for professional photos, listing your property on various outlets, negotiating with buyers, or employing a real estate attorney.
In fact, receiving an offer for your home is completely free. Opendoor also does not impose any contractual obligations that would require you to sell.
After the seller accepts Opendoor's offer, a last quality check of the house will be conducted. This is to assess whether the information provided by the seller is correct and if there are any (previously undiscovered) needs for repairs. The assessment results can be viewed 5 to 7 days after the initial walk-through.
The homes that Opendoor purchases are then advertised on its own marketplace. Homes can be bought in around 40 cities across the United States. Customers can either contract directly with Opendoor or hire an outside agent that manages the purchasing process.
Homes can, furthermore, be toured in-person or virtually through the company's mobile app.
Opendoor focuses most of its efforts on cities in the medium price range (e.g. Jacksonville, Phoenix, or Orlando), where the company claims to be able to get better deals – both on the buying and selling side. Costs in these cities also tend to be less volatile, which makes it easier for the company's algorithms to predict the optimal price.
Furthermore, if customers want to swap their home base, they can trade-in their house on Opendoor. In this case, the value of the existing house (as assessed by Opendoor) is used as credit for the purchase of the new house. Any difference is either paid out to the customer (if the old house is more expensive) or must be paid by them (in case the new house is more expensive).
Lastly, customers can also finance their purchases through Opendoor Home Loans. The service applies both to house purchases as well as refinancing existing loans. Rates vary depending on the length of the loan.
A Short History Of Opendoor
Opendoor, headquartered in San Francisco, was founded in 2014 by Eric Wu (CEO), Ian Wong, Justin Ross, and Keith Rabois.
To say that Wu, who graduated in 2005 with an Economics degree from the University of Arizona, has a knack for real estate would probably be quite the understatement.
Being a first-generation immigrant to a single mother (his father passed away at the age of 4) taught him from an early age how to save and use money efficiently. In fact, it was his mother who sparked his initial interest in real estate.
Despite raising three children (Wu has two sisters) on a social worker salary, she was able to buy a house for their family – with the belief that paying money on rent is simply a waste.
Wu took a page out of that playbook when he started attending college. He used $20,000 of his scholarship money as a down payment to buy a three-bedroom house close to college. He then rented out the two other rooms to classmates.
The money that he made from rent (along with the value of the house) was then used as down payment to buy another house. By the time he graduated, Wu owned close to 25 homes in the Phoenix area.
While building up his housing portfolio, Wu spent the remaining time he had on learning how to code. After graduating college, he utilized his passions for coding and real estate to launch RentAdvisor.com, a website for people to share reviews of neighborhoods and landlords.
In 2013, RentAdvisor sold for an undisclosed amount to Apartment List, but Wu already moved on to start his next venture. That venture became Movity, a service that used data on neighborhoods (such as crime rates or commute times) to aid homebuyers in their purchasing process.
The startup launched out of the Y Combinator program, instantly received $1.3 million in funding before being sold to Trulia in 2010. Wu went on to serve as Trulia's Head of Geo & Social Products for the next two years.
While Wu's resume within the real estate space is nothing to scoff at, it wasn't him who had the idea for Opendoor. Keith Rabois, who held executive roles at LinkedIn, PayPal, or Square, came up with the concept for Opendoor back in 2003.
He tried raising $10 million to start the company (codename Homerun), but ultimately fell short as investors were too concerned with the amount of capital and risk associated with such a business. Nevertheless, the idea stuck with him. Through the years, Rabois kept asking people in his network to pursue Homerun, but no one bit.
At least not until he became acquainted with Wu, whom he met at Y Combinator in 2009. In the years that followed, Rabois became his mentor and urged him to pursue his idea. In 2013, ten years later, that idea finally came to life.
To test the concept for OpenDoor, Wu built a simple one-page website that urged interested sellers to enter their address and personal data. He would then call them to understand whether sellers would be open to selling their house online. The response to that test came back overwhelmingly positive.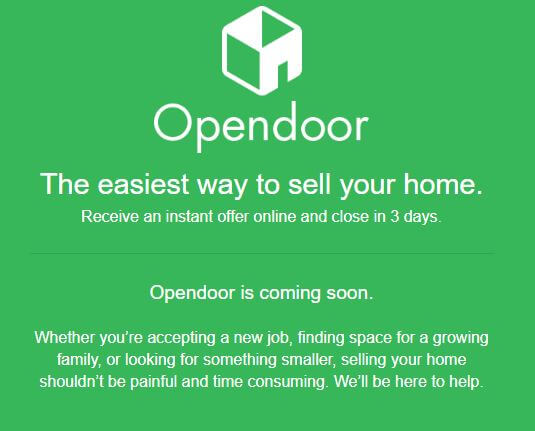 In 2014, Khosla Ventures (where Rabois served as Managing Director) led the company's Series A round by investing $6 out of the total $10 million it received. Due to Rabois' extensive network and reputation in the Valley, a group of notable angel investors joined alongside.
These included the likes of Sam Altman (former CEO at Y Combinator), Max Levchin (one of PayPal's co-founders), Logan Green (co-founder and CEO at Lyft), Jawed Karim (co-founder YouTube), and Jeremy Stoppelman (co-founder and CEO of Yelp).
To complement the team, Rabois and Wu got two more co-founders on board. Ian Wong, a Stanford Ph.D. dropout who became Square's first data scientist, joined the company as CTO. JD Ross, a product executive at Addepar, complemented the founding team. Alongside the founding team, over 10 data scientists were hired to help Opendoor develop its valuation models.
With their eyes set on industry domination, the team got to work. In December 2014, Opendoor began buying up houses in the Phoenix area. With an average sales price of $230,000, selling period of 76 days, and over 88,000 yearly transactions, its characteristics became a perfect testing ground to assess the effectiveness of the company's buying model.
Opendoor was able to use data from other metropolitan areas in the United States to train its algorithms and apply the results when it evaluated houses in Phoenix. By 2016, two years after the initial launch, Opendoor was already responsible for 2 percent of all house purchases in Phoenix.
In the following years, Opendoor continued to raise money at astronomic rates, buy up more and more houses, and expand into new markets. The company acquired over 11,000 and sold over 7,000 homes in 2018 alone.
But the speedy growth came with its own set of problems. For instance, people began camping in houses that were up for sale, requiring police to remove them. As a response, OpenDoor had to change its open-house schedule from 24/7 to only being accessible between 6 am and 9 pm. They additionally installed motion sensors and started working together with local security companies that patrol its listings on a regular basis.
Opendoor, as many other companies like Airbnb, Eventbrite, or Carvana, has been hit severely by the coronavirus pandemic. It had to lay off about 600 employees, which constitutes 35 percent of its overall workforce. Furthermore, the company had to temporarily suspend its home-buying efforts as it was unable to physically assess potential purchases.
Nevertheless, the pandemic seems not to have had a lasting effect on the company. In December 2020, Opendoor went public via a SPAC on the Nasdaq stock exchange. The IPO as well as a subsequent funding round netted the company $1.4 billion in additional cash, which it used to go on the offense.
Over the course of 2021, Opendoor continued to expand its footprint across the United States. In May alone, it added six new markets and by mid-June, it reached the milestone of 100,000 total transactions.
It also acquired two companies, namely Pro.com and Skylight, for an undisclosed amount in September 2021. However, these were acqui-hire type of purchased as Opendoor shut them down soon after the acquisition went through.
And while other competitors struggled (in particular Zillow, which had to shut down its home-buying unit in November 2021), Opendoor continued to double down on expansion.
Its continuous growth even allowed it to expand into higher-end markets such as San Francisco (December) or New York City (January 2022), among others.
Today, the startup operates in over 40 markets across the United States. To date, Opendoor has successfully worked with over 100,000 customers to help them either buy or sell a home.
How Does Opendoor Make Money?
Opendoor makes money from seller fees, interest fees from home loans, as well as by selling homes for a profit.
At its core, Opendoor is no different than any other real estate company. Essentially, it tries to buy up houses and sell them at a profit.
However, it believes that technology can help it to disrupt the traditional real estate business model. For example, its algorithms allow Opendoor to severely speed up the time it needs to make an offer.
Let's take a closer look at Opendoor's revenue streams in the section below.
Seller Fees
Opendoor charges a seller fee whenever it buys a house from someone. This is a common procedure within the real estate industry.
Real estate agents charge an average of 6 percent for that process. Opendoor, meanwhile, commands anywhere between 6 to 14 percent.
The exact fee is dependent upon associated repairs, the expected sales price, as well as the time it would take Opendoor to successfully sell the home.
So why is the company able to charge higher fees (while also offering 5 to 10 percent less for a listing)? The answer is convenience and speed.
According to Zillow, one of the company's competitors, it took homeowners an average of 65 to 93 days to sell their homes in 2018. Meanwhile, Opendoor promises it can make a competing all-cash offer within 48 hours of submission.
The startup claims that when it makes a buying offer to serious sellers, which it sees as those who plan to sell within half a year, the proposal is accepted a third of the time.
Sales Profit
When Opendoor buys up a home, it does so not for charitable reasons, but to make a profit when reselling it.
As an iBuyer, the company makes money whenever its sale price is higher than the amount the house was bought for, plus associated cost (e.g. inspections, repairs, etc.).
As previously mentioned, the company's model is predicated on calculating the correct sales and purchasing price. It is (supposedly) able to do that for a variety of reasons.
First, Opendoor focuses most of its buying efforts on single-family homes built after 1960 that range anywhere between $125,000 and $500,000. Opendoor avoids investing into distressed or luxury properties, which are generally harder to value and require much more work.
Houses with the above data points are available in abundance, which allows Opendoor to train its algorithms on much larger data sets. This ultimately makes their valuation models more efficient, increasing the likelihood to sell houses at a profit.
On top of that, Opendoor surveys its sellers to get as much precise information as possible. For instance, as opposed to just checking a box that the house possesses a pool, Opendoor would ask the seller about the size of the pool, additional features such as hot tubs, or whether it has a deck or not. The detailedness of the questions allows them to reliably assess the value of each housing item.
Second, the company has built a marketplace on top, which allows them to tap into a larger pool of potential buyers. At its peak, Opendoor had over 1 million website visitors every month.
The third reason is grounded in the fact that Opendoor uses technology not only in its valuation process, but also throughout the purchasing experience. In a traditional vacant listing, agents, sellers, and potential buyers have to coordinate on the time and duration of their visit.
With Opendoor's open-house policy, interested buyers simply use the company's smartphone app to access a listing and check it out. A real estate agent may be present, either on-site or through a video call.
Lastly, the convenience of the company's sales process allows them not only to charge higher sales fees, but oftentimes pay a smaller price for the houses it purchases. This is especially the case when sellers are rushing to load off their homes (i.e. because they need to move) and are relying on making a fast sale.
That same convenience can be applied to the buying side as well. Next to the ultra-accessible homes, Opendoor offers a 90-day buy-back guarantee if the purchase is unsatisfactory. Furthermore, a two-year warranty on electrical systems and major appliances is given on top.
On top of that, it also introduced cash advances to buyers in March 2021, a strategy that competitors like Knock had already employed for ages.
Home Loans
Home buyers can borrow money from Opendoor through its Opendoor Home Loans business unit. The service is not only available to Opendoor customers, but anyone interested in buying a house.
Customers offers conventional fixed-rate mortgages with 30-, 20-, or 10-year terms. Down payments can be as little as 3 percent.
Opendoor makes money from the interest it receives for the loans. The company has raised over $3 billion in debt financing, which allows them to go out on home-buying sprees as well as hand out these loans.
Each borrower receives assistance from a qualified mortgage consultant employed by Opendoor. The company charges no fees, apart from the interest on the loans (it claims that other lenders can command up to $3,600 in processing fees).
Lastly, borrowers can also refinance their homes with Opendoor, which allows them to be more flexible in the long-term.
Opendoor Funding, Valuation & Revenue
According to Crunchbase, Opendoor has raised a total of $1.9 billion in nine rounds of venture capital funding.
Some of Opendoor's most prominent investors include the likes of Softbank, Andreessen Horowitz, General Atlantic, Google Ventures, and many other industry giants.
The company raised another $1 billion when it went public in December 2020. When Opendoor IPO'd, its business was valued at $18 billion.
For the fiscal year 2021, Opendoor generated $8 billion in revenue, up 211 percent from the year prior.