Executive Summary:
Redfin is a real estate brokerage that utilizes technology to optimize the home buying and selling experience.
The business model of Redfin is based on charging a listing fee for every home sold through its platform. Furthermore, Redfin makes money by flipping homes, charging a service fee (via RedfinNow), referral fees from mortgages, as well as a concierge service.
Founded in 2002, Redfin has become one of North America's leading online brokerage firms. The company went public in 2017 while now generating more than $1 billion in annual revenue.
What Is Redfin?
Redfin is a real estate brokerage that utilizes technology to improve the home buying and selling experience for both consumers and agents.
Buyers can purchase homes via Redfin's marketplace in over 1000 cities across the United States and Canada. Homes can be purchased either from Redfin directly or by the seller. Redfin's agents are accompanying the buyer during the process, either on-site or online (i.e. via video-chat tours).
After the purchase is completed, Redfin then shares a portion of the seller's agent commission (typically between 2 – 3 percent) with the buyer. To aid the buyer's decision, a plethora of additional tools are provided by Redfin, for instance, its Affordability Calculator or free home buying classes hosted by its agents.
Conversely, sellers can either sell their home directly to Redfin or work together with one of the company's agents that accommodate them during the process. Sellers can use the company's home evaluation tool to calculate how much they could potentially charge.
For borrowers, Redfin operates a marketplace that allows to compare loans from over 50 lenders nationwide. Surprisingly, the marketplace is powered by its competitor Zillow. A mortgage calculator gives borrowers a rough estimate of how much interest they'd end up paying.
Additionally, Redfin, through its platform, connects its users with other service professionals in the real estate space. Apart from agents (of which the company employs over a 1,000 of), users can search for handy people, stagers, photographers, and more. Users can access Redfin via its website or Android and iOS mobile apps.
Where Does Redfin Get Its Data?
Being a brokerage allows Redfin to become a member of the Multiple Listing Service (MLS). MLS are databases/software tools populated and used by realtors to pull real estate data for appraisals.
Example data accessed through MLS include sales home data, sold home data, as well as the attributes of the property in question (e.g. bathroom size, kitchen equipment, whether it has a pool or not). To be able to display and use that data, Redfin needs to have the ok from the county's accessors office
On top of that, Redfin sells thousands of apartments per year on its platform. This data serves as an additional input when calculating its home price estimates.
Some of the listings that don't go into Redfin's estimate include:
Commercial properties
Outdated listings
Pre-foreclosure properties
Craigslist listings
Redfin updates its database every 5 minutes. Its data goes back as far as 20 years ago.
Is The Redfin Estimate Accurate?
Redfin claims that its Redfin Estimate has a median error rate (average deviation from the mean) is at 1.57 percent for homes that are listed for sale. On houses that are not on the market, Redfin's median error rate is 6.54 percent.
But, as emphasized by the company, this should only count as an estimate and not be used for appraisal. Rather, it is advised to have an agent take an in-person look at the property.
That is because its estimate might miss certain value-adding changes, such as renovations made to the kitchen or the condition of the bathroom.
A Short History Of Redfin
Redfin, initially incorporated as Appliance Computing Inc., was founded in October 2002 by David Eraker, Michael Dougherty, and David Selinger.
Eraker, who graduated from the University of Washington with a degree in biochemistry, was on the look-out for a home in Seattle.
What he experienced were masses of real estate agents that were giving him extremely different offers – for the same type of listings. Realtors were oftentimes taking advantage of their clients by jacking up prices and pocketing huge fees for themselves.
In June 2004, the team filed a patent, detailing a marketplace for online real estate transactions. The mockup included an aerial map, which can be navigated by the user.
When the company finally launched in September 2004, it became the first website with such a mapping feature – and thus drew immediate attention and visitors to its website. Soon after, the company renamed itself to Redfin while announcing its first round of funding ($770,000) led by Madrona Venture Group.
Soon after, the party for Eraker and his team was over. The founders, as common with many young startup leaders (just ask Etsy founder Robert Kalin), were pushed out by their lead investors Madrona and replaced by a more seasoned executive.
That executive became Glenn Kelman, who had previously led Plumtree Software to an IPO in 2002. Kelman remains Redfin's CEO to this date.
Although not much has been reported about Eraker's stint at Redfin, a few interesting anecdotes remain. In 2004, Eraker resided next door to Sami Inkinen and shared some insights about Redfin's business model. Inkinen, who interned at Microsoft during the time, later returned to San Francisco and started Trulia.
Even more interesting is the encounter Eraker had with Rich Barton. He met the co-founder of Expedia and lead investor in companies like Glassdoor and Nextdoor in his Seattle office in 2004. Barton offered to purchase Redfin before it raised its first round from Madrona.
Eraker declined. So a year later, Barton launched Zillow and drew extensive inspiration from Eraker's product. Just like Redfin, Zillow launched with a mapping function that provided pricing data for houses listed on the map.
While Redfin started out as a brokerage right from the start, both Trulia and Zillow adapted an advertising model. The companies essentially charged money for ads placed on their websites. But for now, let's get back to the matter at hand.
Redfin's success drew immediate headwinds from the traditionally intransparent realtor industry. The company's low sales fees, for the first time, made visible how much agents were overcharging at times. As a result, its employees encountered multiple instances of threats, stalking, and other disturbing behavior over the years.
Luckily, this did not affect the company's course, which knew only one way – up. By 2009, just three years after the public lunch, Redfin was already a profitable company while generating $15 in annual revenues. Even the housing crisis, which forced to make them lay off 20 percent of their workforce, didn't slow them down.
In the coming years, Redfin continued to add users and new product features to its platform. The company's growth can be attributed to a multitude of factors, such as:
Being transparent about the fees they charge while trying to minimize them over the years, thus passing them to the consumer. Selling fees started out at 6 percent and are now as low as 1.5 percent.
Using technology to speed up the buying and selling process. The company, for instance, developed a multitude of inhouse tools that aid its agents at processing requests much faster.
Using content marketing to their advantage. Redfin frequently publishes housing data, which in turn is distributed by major news outlets across the nation, thus creating more awareness about its brokerage service.
Not being shy about partnering up with competitors. Redfin, for instance, signed a deal with the upstart Opendoor in 2019 to collectively buy and sell homes in selected cities.
That continued growth led to Redfin IPO in July 2017, which allowed them to raise another $138 million (the company had previously raised more than $100 million) on a valuation of $1.2 billion.
Nevertheless, not everything went according to plan. In 2014, its co-founders Michael Dougherty and David Selinger sued the company over the mistreatment of their shares. The lawsuit was settled a few weeks later and Redfin agreed to pay the duo over $1 million as compensation.
And in 2020, Eraker (via his new venture Surefield) sued the company for alleged patent infringement over 3D home tour technology. The case is still pending. A few months later, in October, fair housing organizations filed another lawsuit, stating that Redfin was engaging in systemic racial discrimination.
But despite these hiccups (and Covid-19 putting a dent into demand for housing), Redfin continued to grow its business. In February 2021, the company made its second and largest acquisition. It paid $608 million to acquire online rental company RentPath (which owns Rentals.com, and ApartmentGuide.com, amongst others).
Throughout the remainder of the year, it was riding on the coattails of a heated real estate market. This enabled Redfin to make another acquisition, purchasing Bay Equity Home Loans for over $138 million in January 2022.
In April, the company settled a lawsuit with Long Island Housing Services and several other organizations who alleged that Redfin's minimum home price policy violated the federal Fair Housing Act. Redfin was forced to pay a $4 million fine.
Worsening economic conditions forced Redfin to lay of 8 percent of its workforce in June, equal to about 470 employees.
Today, over 5,000 people are employed by the company, which is scattered across over 50 locations in the United States and Canada.
How Does Redfin Make Money?
Redfin makes money from listing fees, flipping homes, referral fees, and ancillary services.
Redfin breaks its revenue down into two distinct segments, namely Service and Product. Within each segment, the company has various streams of income.
This represents a significant change from when the company first started out. Its core revenue stream, just like any classic real estate brokerage, came from charging an agent fee for every sale made through its platform.
The company's scope has widened ever since. Redfin now makes money from flipping homes, selling mortgages, as well as advertising service professionals.
It has to be noted that this analysis only looks at the revenue that Redfin itself generates. Income from acquisitions such as Bay Equity Homes is excluded.
Let's take a closer look at each of Redfin's revenue streams in the section below.
Listing Fees
When advertising your home via Redfin, sellers will pay a listing fee of 1 percent or 1.5 percent, depending on the market. Redfin applies a minimum commission rate, which varies on a city-by-city basis. For instance, the minimum commission in Dallas is $3,250 while it is $6,250 in Los Angeles.
Traditional brokerage fees are at around 2.5 percent. The buyer's agent fee is then added on top of that. For instance, if the agent fee is at 2.5 percent, the seller ends up paying a total of 3.5 percent when selling through Redfin.
Since Redfin employs over 1,000 real estate agents across more than 50 cities in the United States and Canada, its buyers are often using Redfin-employed agents during the home purchasing process.
Redfin claims that sellers can, on average, earn $2,800 more when selling their home through the platform. Furthermore, the company is able to sell homes 5 days faster than a traditional broker.
Buyers, on the other end, traditionally pay closing costs when purchasing a home. Closing costs are expenses and fees associated with the purchase and sale of a home, for instance, title insurance, taxes, appraisal, lender fees, and many more.
Buyers that work together with a Redfin agent get a refund at closing, which in turn will be applied to the closing cost total. In certain states, such as Arkansas or Iowa, Redfin Refund is prohibited by law and thus not available.
In 2019, Redfin accounted for almost 1 percent of all home sales in the United States. During the same timeframe, it saved homebuyers and sellers a total of $180 million through Redfin Refund and its lower listing fees.
RedfinNow
In 2018, Redfin announced that it would begin buying homes themselves and then resell it on their platform. Homes sold by Redfin are marked as Listed By Redfin on its platform.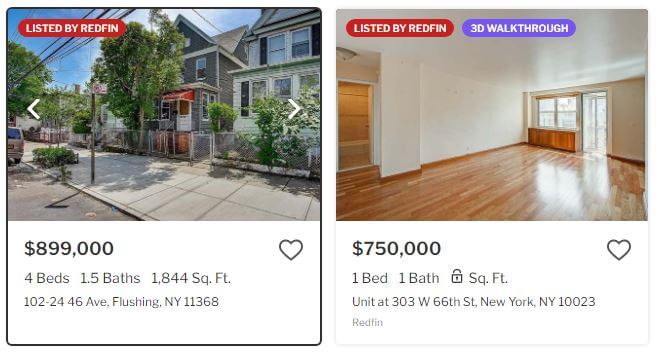 With RedfinNow, the company makes money whenever it sells a home for more than it was initially purchased for. On top of that, associated cost such as potential renovations or employee salaries have to be taken into account.
Redfin's push into flipping homes is part of a wider trend called the iBuyer (or Instant Buyer) model. Within that model, companies use algorithms based on massive amounts of data to calculate an "efficient" purchasing price.
This allows them to make offers almost instantly. Furthermore, the increased speed allows sellers to load off their homes faster, which leads to higher convenience and thus a better selling experience. Other benefits include no prep work or showings as well as flexible closing dates.
Apart from the profit that Redfin makes from flipping homes, it also generates money from the service fees it charges. The service fee ranges anywhere between 6 to 12 percent, on average. On top of that, Redfin charges another 1 percent for estimated closing cost as well as 0 to 3 percent for associated repairs.
A recent study by Collateral Analytics shows that iBuyers cost home sellers about 13 to 15 percent of a home's sale price while agents charge anywhere between 5 to 7 percent, making them significantly more expensive to sell with.
MarketWatch supports these findings by stating that Instant Buyer sales netted owners 11% less compared to sales on the open market.
Redfin Mortgage
Launched in January 2017, Redfin Mortgage is the company's home financing unit. The service allows homebuyers to finance their purchases as well as refinance existing loans.
Just like any other lender, Redfin makes money on the interest that the borrower pays for the loan. The interest rate depends on the amount of the loan, loan duration, and the down payment used to cover the loan.
Two options are available: fast pre-approval (offering a turnaround time of 90 minutes) and underwritten pre-approval. The service is available in selected states, such as Arizona, Colorado, Florida, or Georgia.
On top of its lending business, Redfin operates a marketplace in which it advertises the rates of various other lenders. The service itself is operated in cooperation with Zillow.
Redfin makes money for every lead generated through the marketplace. In all likeliness, that revenue is then shared with Zillow.
Concierge Service
Redfin's concierge service assists sellers in prepping their homes, which allows them to load off their property faster and for a higher price.
The concierge package includes services such as:
A customized home improvement plan
The vendor work being managed by Redfin from start to finish
Preferred pricing using Redfin's network of trusted vendors
Professional photos and 3D walkthrough
.. and many more. In exchange for that service, Redfin charges an additional 1 percent on top of the listing fee.
Redfin Concierge Service is available for homes priced at $500,000 or higher. The company claims that homes prepped by Redfin sell on average 15 percent faster.
Redfin Funding, Valuation & Revenue
According to Crunchbase, Redfin has raised a total of $319.6 million across 12 rounds of funding.
Investors into the company include Tiger Global Management, T. Row Price, Dragoneer Investment Group, Greylock Partners, and many others.
Redfin raised another $138 million when it went public in July 2017. The public investors valued them at $1.2 billion, with a share price of $15. Redfin is currently valued at around $2 billion.
For the fiscal year 2021, Redfin reported revenues of $1.9 billion, an increase of 117 percent year-over-year.