Executive Summary:
Nextdoor is a social networking platform that allows neighbours to connect with each other and create shared communities. Available both via the web and its mobile app, Nextdoor allows neighbours to stay updated on local news, hiring baby or dog sitters, receiving crime alerts and many other things.
Nextdoor makes money via sponsored posts, fixed fees from local deals, as well as display ads that are shown in the app.
Founded by a set of experienced entrepreneurs in 2008, the model has been proven to be a big success so far. Nextdoor went public in November 2021 on the New York Stock Exchange.
How Does Nextdoor Work?
Nextdoor is a social networking app developed for local communities and neighborhoods.
Whereas traditional platforms such as Facebook or Instagram allow you to connect to users across the globe, the appeal of Nextdoor is that people in close proximity to each other (e.g. neighbors) form groups on the app.
Interested users can join in case they:
rent or own a home,
own a second home,
own property where you are planning to build a home, or
own a rental property
… in the particular neighbourhood. Authentication occurs either through the address on the individual's phone bill or a postcard that entails a code and is sent to the address. Consequently, all signed up members go by their real names.
Once registered, users can access a variety of features with regards to their local communities (either through the web or mobile application).
These include:
receiving community recommendations for different local activities (e.g. restaurants, parks etc.)
staying updated on local news
getting crime and safety alerts (either through other users or the local authorities)
buying and selling household (and other) items
hiring various professionals (e.g. babysitters or dog walkers)
… and most importantly the ability to get to know your neighbours better.
A (Not So Short) History Of Nextdoor And Its Former CEO
Nextdoor was founded in 2008 by Nirav Tolia, Sarah Leary, Prakash Janakiraman, and David Wiesen. The company was spun out of Benchmark, on of the world's leading venture capital firms and responsible for investments in Snapchat, Uber, and WeWork amongst many others.
The story of Nextdoor starts nine years earlier though, right at the turn of the century in 1999. Tolia, along with four others, co-founded Epinions, a website that reviewed consumer products.
Epinions went on to merge with price comparison site DealTime, and the two companies went public in 2004 under the joint company Shopping.com. Valuation skyrocketed to $750 million, making it one of the most successful IPO's of the year.
While Benchmark and Tolia came out with a $60 million (the firm invested $4 million at the start of Epinions in 1999) and $20 million gain respectively, Tolia's co-founders left the company empty handed.
Ironically enough, one of Tolia's co-founders called Naval Ravikant, became the founder of AngelList, a company fighting the very same methodologies that lead to his fiasco.
A year later in 2005, the co-founders (along with 25 former employees) and Tolia settled for an undisclosed amount.
And to make matters worse, Tolia was then fired from his own company for claiming that he finished his Stanford degree in 1995 (he, in fact, finished in 2004 right before the IPO) and having worked as an analyst at McKinsey (nope, he never did).
To save face, he was hired to work as an entrepreneur in residence at Benchmark. And three years later, this very same move culminated in the creation of Nextdoor.
And Tolia wouldn't be Tolia if that start wasn't without controversy. One of his former business partners, Raj Abhyanker, filed claims against Tolia and Benchmark for copyright infringement. Abhyanker allegedly tested out a neighbourhood social network in Lorelei, situated in the Menlo Park area before and told Benchmark about it. They went on to tell Tolia, who then started a similar company soon after.
But now back to Nextdoor. After a year of beta testing, the service ultimately launched in 2011 with 175 neighbourhoods across 26 states being registered on the platform already.
The company became an immediate success with users. Just three years after its inception, Nextdoor had amassed over 22,500 neighbourhoods (out of an estimated 150,000 across the nation) on its platform.
In 2018, Tolia decided to step down as the company's CEO to transition into a board member role. Sarah Friar, former CFO of Square, became his successor.
But Tolia wouldn't be Tolia if he didn't have one last scandal during his Nextdoor tenure. In 2014, the former CEO was charged with a hit-and-run that caused a woman to injure her hand and neck. The consequence: 30-day sentence through a weekend work program and a $239 fine.
Despite the founder's various antics, Nextdoor continued to grow both in the United States and abroad. In September 2019, it launched in Canada, its 12th country.
2020, in particular, became a very important year for the company. As people began to shelter in their homes as a result of the novel coronavirus, many of them began using Nextdoor to help their neighbors for essential activities (such as buying groceries).
To aid its users, Nextdoor launched a feature called The Help Map which allowed them to identify neighbors in need. The platform furthermore partnered with Walmart to assist those in need with essential items.
Unfortunately, just like any large-scale network, not everything was always going according to plan. There were numerous recorded instances of racist commentary while users supporting Black Lives Matter were even banned by the platform's local moderators.
As a result, the platform removed a feature that allowed users to forward requests directly to one's local police department. Nextdoor, furthermore, updated its user guidelines, thereby explicitly allowing discussions on racial inequality and related topics.
It also launched a feature called anti-racism notification, a a pop-up notification that halts the user's post and prompts them to reconsider what they wrote.
The firm's strong growth in 2020 allowed Nextdoor to finally become a public company. In July 2021, it entered a definitive agreement with Khosla Ventures Acquisition Co. II which took it public in November 2021.
Today, Nextdoor has more than 66 million registered users, of which 33 million use the platform actively. Over 750 people are furthermore employed by the company.
How Does Nextdoor Make Money?
Nextdoor makes money via sponsored posts, fixed fees from local deals, as well as from display ads popping up on the app.
Nextdoor is a venture-funded company, and as such, has previously not been required to generate any revenue to fuel its operations. Therefore, the company has not been making any money until four years ago.
As of 2016, the company has started to implement various income streams. Today, Nextdoor's business model is based on three distinctive income streams: sponsored posts for different brands, local deals, and neighbourhood sponsorships.
Let's look at each and every one of them in more detail.
Sponsored Posts
Sponsored posts is content created and shared by businesses that part of Nextdoor's advertising program. This content, once approved, will then appear in the user's news feed and daily neighbourhood newsletter emails.
Messages look like any other news feed content, but differentiate by having a "Sponsored" tag attached to the post.
Sponsored posts are only available to bigger local businesses or national brands. Companies have to commit a minimum of $25,000 a month to be able to publish sponsored content.
Apart from the newsfeed, sponsored posts are also displayed in emails, the search section, as well as within in-app digests.
Local Deals
The Local Deals program allows local businesses to share coupons and discounts with their local community. Meanwhile, the program allows locals to support companies in their community.
Businesses pay a fixed fee to Nextdoor for the deal to show up. Deals can cost as little as $3, but often float around $60 to 90$, depending on the region.
In order to create a deal, businesses must set up a local account. The authentication works similar to when private consumers sign up.
Neighbourhood Sponsorships
Nextdoor's Neighborhood Sponsorship program allows local service companies to promote their services on the platform. Examples of businesses that can promote their services include:
Home Insurance, Mortgage or Renovation Experts
Real Estate Agents or Brokers
Rental Property Experts
Roofers
Vacation Rental Experts
The posted ad will then again appear on the user's feed as well as in special sections regarding that advertisement (e.g. Real Estate section).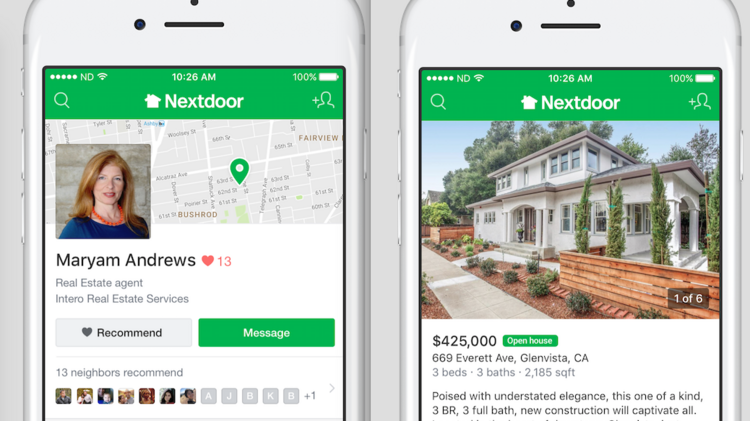 Similar to Local Deals, neighborhood sponsors pay a fixed fee (on a monthly subscription basis) to Nextdoor for the opportunity to appear on the user's feed.
Subscriptions can be cancelled at any time, thus allowing local experts to stay flexible on their spending. Agents and other service providers can build customer relationships in a multitude of ways, including:
Sharing the latest neighbourhood news and developments
Share their content through videos
Arrange in-person meetings
Creating polls to gauge customer sentiment
As with the other ad programs, the sponsored content is only shown to users in close proximity to the business.
Nextdoor Funding, Valuation, Investors & Revenue
According to Crunchbase, Nextdoor has raised over $717 million in 11rounds of venture funding.
Investors into the company include Benchmark, Kleiner Perkins, Tiger Global Management, Redpoint, and Riverwood Capital amongst many others.
Nextdoor was valued at $4.3 billion as part of its SPAC merge with Khosla Ventures Acquisition Co. II in November 2021. Previously, in 2019, investors valued the company at $2.17 billion.
For the fiscal year 2021, Nextdoor generated $192 million in revenue (up 56 percent year-over-year). However, the company still managed to loose $95 million over the same timespan.
Who Owns Nextdoor?
Nextdoor revealed its ownership structure as part of its S-1 filing when it went public in November 2021.
Benchmark, represented by Bill Gurley, obtains the largest voting power in the company with a combined ownership of Class A and B common stock of 16.88 percent.
This is followed by Shasta Ventures (8.77 percent), Greylock (6.80 percent), and Tiger Global Management (5.37 percent).
Co-founder Nirav Tolia is the largest individual shareholder with a combined ownership stake of 9.14 percent.
All the remaining co-founders, namely Sarah Leary, Prakash Janakiraman, and David Wiesen, each own less than one percent. Current CEO Sarah Friar was granted a stake of 4.40 percent.